The shutdown of the leaking Aliso Canyon underground gas storage facility has caused a loss of about 70bcf of stored gas that Southern California utilities have historically counted on to see them through the hot, high-demand summer months. The California Independent Service Operator (CAISO), which manages the California grid, estimates that as a result all customers should expect to be without power for a total of 14 days this summer. Some 21 million Southern Californians stand to be directly affected.
Are blackouts on such a scale likely? It seems they are. According to Business Insider
SoCalGas uses Aliso Canyon to provide gas to power generators that cannot be met with pipeline flows alone on about 10 days per month during the summer, according to state agencies. In the summer SoCalGas strives to completely fill 86.2-billion cubic feet (bcf) Aliso Canyon to prepare for the upcoming winter heating season when gas demand peaks. State regulators, however, ordered the company in January to reduce the amount of working gas in Aliso Canyon to just 15 bcf and use that fuel to reduce the risk of gas curtailments and power interruptions this summer. State regulators will not allow SoCalGas to inject fuel into the facility until the company inspects all of its 114 wells.
And from the Wall Street Journal
But the pipelines can only bring in about 3 billion cubic feet of working gas a day into Southern California, below the daily demand, which gets as high as 5.7 billion cubic feet.
Figure 1: Remedial work in progress at Aliso Canyon
Aliso Canyon has a capacity or 86bcf but presently contains only 15bcf, representing a shortfall of 71bcf. How much gas generation does this represent? According to the conversions given in the BP Statistical review it's 7.7 TWh. And how much gas does Southern California consume in the summer, which will continue for about another three months? Data are scanty, but the following approximate calculations based on 2014 data provide an indication.
According to the California Energy Commission Almanac the three largest Southern California Utilities generated 128 TWh in 2014, the last year for which data are available:
Southern California Edison Company (SCE) – 82.849 TWh
Los Angeles Department of Water and Power (LADWP) – 27.628 TWh
San Diego Gas & Electric (SDG&E) – 17.670 TWh
To this total we must add generation from a number of smaller municipal, rural and irrigation district utilities, According to the Almanac these aggregated about 13TWh in 2014:
Anaheim – 2467 GWh
Burbank – 1331
Glendale – 2109
Imperial Irrigation District – 3700
Pasadena – 1174
Riverside – 2324
Bringing the total to 141 TWh.
Then there are a number of even smaller utilities which I have assumed, somewhat arbitrarily, will raise the total to 150TWh in 2014 (which I further assume will not be that different to the 2016 number).
And how much of this will be gas generation? According to Southern California Edison 44% of California's total generation in 2013 came from gas, and according to the California Energy Commission the 2014 number was 41%. I have assumed 40% for calculation purposes. This gives 150*0.40 -= 60 TWh of gas generation in Southern California.
And how much of this gas generation is used during the three summer months that remain in 2016? According to this graphic from EIA average demand in these months is about 26GW compared to about 23GW for the rest of the year, which gives 28.5% of total annual gas generation in July, August and September.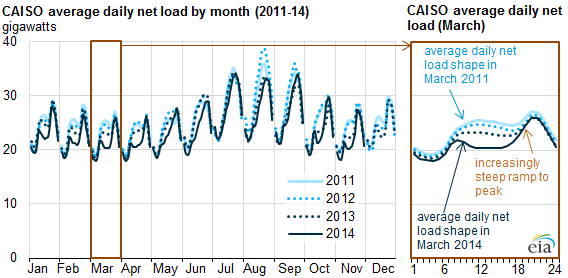 Figure 2: Average California daily load by month, 2011-14 (data EIA)

Which in its turn gives 0.285*60 = 17.1 TWh of gas generation in Southern California during the remaining summer months. The 7.7 TWh shortfall in the Aliso Canyon storage represents 45% of this, indicating that Southern California utilities will indeed be quite heavily dependent on what they can get through existing pipeline networks for the rest of the hot season once the 15 bcf currently stored at Aliso Canyon is exhausted.
Compounding the problem is the California Duck Curve, a product of the large amount of solar capacity that California has added in recent years.
Figure 3: The California "Duck Curve" (data GreentechMedia)

What the added solar capacity has done is increase the ramp rates that gas-fired plants must meet to follow load during peak demand periods. As can be seen ramp rates have already increased by a factor of about three since 2012. If insufficient gas is available during ramp-up periods the lights will likely go out.
So will Southern California suffer blackouts? Right now it doesn't look good, but there are too many variables, chief among them being the weather, to say for sure. It is interesting to note, however, that the response of the California Public Utilities Commission to this terawatt-hour crisis was to demand more megawatt-hour battery storage:
The California Public Utilities Commission wants Southern California Edison to expedite plans to acquire electricity storage using batteries to help prevent potential blackouts.
This, I think, stands as a telling commentary on the state of knowledge of the people who are currently writing the rules.