Season's Greetings to all our readers. This week we kick off with Saudi politics. Below the fold different perspectives on the oil price, peak coal, thorium in Indonesia, Belgian reactor restart upsets Germany, Cameron & the EU, Kellingley closure marks end of an era, UK steelmakers get green tax compensation, Donald Trump loses Aberdeen wind farm appeal, Energiewende slows down, renewables face extinction in the Czech Republic, dim prospects for a White Christmas and the thorny question of whether self-driving cars should be programmed to break traffic regulations if it improves safety.
What are the Saudis up to now?
34-state Saudi-led Islamic military coalition to combat terrorism. (Image Credit Reuters)
Washington Post:  Saudi Arabia's islamic military alliance against terrorism
This week, Saudi Arabia announced that it was forming a new "Islamic military alliance" devoted to fighting global terrorism. The plan stemmed from the "keenness of the Muslim world to fight this disease, which affected the Islamic world first, before the international community as a whole," Deputy Crown Prince and Defense Minister Mohammed bin Salman told reporters during a rare news conference. In many ways, this alliance seems designed to calm Western critics who have frequently complained that the Muslim world isn't doing enough to combat terrorism and extremism. However, the details of the planned alliance are more than a little unclear and have left some scratching their heads, unsure who exactly is in the alliance and what it is actually designed to do.
Telegraph:  Russia plans $40 a barrel oil for next seven years as Saudi showdown intensifies
Russia is battening down the hatches for a Biblical collapse in oil revenues, warning that crude prices could stay as low as $40 a barrel for another seven years. Maxim Oreshkin, the deputy finance minister, said the country is drawing up plans based on a price band fluctuating between $40 to $60 as far out as 2022, a scenario that would have devastating implications for Opec. It would also spell disaster for the North Sea producers, Brazil's off-shore projects, and heavily indebted Western producers. "We will live in a different reality," he told a breakfast forum hosted by Russian newspaper Vedomosti. The cold blast from Moscow came as US crude plunged to $35.56, pummelled by continuing fall-out from the acrimonious Organisaton of Petrol Exporting Countries meeting last week. Record short positions by hedge funds have amplified the effect. Bank of America said there was now the risk of "full-blown price war" within Opec itself as Saudi Arabia and Iran fight out a bitter strategic rivalry through the oil market.
Bloomberg:  China thinks oil is too cheap
China's decision to suspend fuel price cuts as crude continues its decline is sending a signal to the Organization of Petroleum Exporting Countries that prices are too low, according to a report from Sanford C. Bernstein & Co. The move gives oil a price floor around $38, according to the analysis. "China's decision to not cut refined product (gasoline, diesel) prices is a first," analysts including Neil Beveridge wrote in the report. The move "sends a signal to OPEC that its largest customer (China) believes that oil prices are too cheap." China, the world's second-biggest oil consumer, said it will suspend fuel price cuts while crude continues to fall in order to slow consumption growth and trim automobile emissions. Gasoline demand in the country increased 10.4 percent in the first 10 months of the year from the same period of 2014, according to the Paris-based International Energy Agency. OPEC raised crude production to the highest in more than three years in November and scrapped its output ceiling at a Dec. 4 meeting as it pressed on with a strategy to protect market share and pressure competing producers. Brent crude, a benchmark for most of the world's oil, has fallen about 14 percent this month.
Ship & Bunker:  Nigeria: OPEC Will Need a "Very Urgent" Meeting if Prices Don't Recover
Nigeria and Indonesia have said that the Organization of Petroleum Exporting Countries (OPEC) may need to call an emergency meeting within the coming weeks in order to stabilize oil prices that have tumbled even further since the cartel's December 4 meeting, the Telegraph reports. Emmanuel Kachikwu, oil minister for Nigeria, and who until earlier this month was also the president of OPEC, this week said that while the cartel is still hoping prices will recover by February, "If it doesn't, then obviously we're in for a very urgent meeting." Indonesia meanwhile has issued similar warnings over recent days, suggesting the OPEC majority may try to force a meeting if Saudi Arabia's strategy of flooding the market creates a deeper crisis. OPEC Secretary-General Abdullah al-Badri meanwhile has dismissed the need for alarm over the current conditions, saying that the situation "will not continue." Last week Ship & Bunker reported that OPEC's December 4 meeting in Vienna, Austria had ended with members failing to agree on an oil production ceiling.
Ship & Bunker:  OPEC Secretary-General: Low Oil Price Cycle "Will Not Continue"
Abdullah al-Badri, Secretary-General of the Organization of the Petroleum Exporting Countries (OPEC), says that oil prices will head higher in "a few months or a year," the Globe and Mail reports. "I've been in the oil business all my life. I saw six cycles – I saw very high price, I saw low price, and this is one of them. This will not continue," said Badri, who was speaking at the first OPEC-India Energy dialog in New Delhi. "In a few months or a year or so this will change." He noted that although OPEC does not have an official target price for oil, the group's member countries want a price where they can have a "decent income." It is also important to have a price where OPEC members can invest in more supply to consumers, he added. Badri noted that low prices have already resulted in $130 billion worth of planned industry investment being cut this year, and that non-OPEC supplies will decline by about 400,000 barrels per day next year. However he believes that even events like a lifting of the crude oil export ban in the U.S. will not further weaken prices or affect OPEC's production level.
Bloomberg:  OPEC's Next Battle Ground Will Be Choosing New Top Official
Deciding how much crude to pump isn't the only dispute splitting the Organization of Petroleum Exporting Countries. The group is also fighting over who will be its next top official. As it became clear last week in Vienna that a push for oil production cuts was failing, ministers from Venezuela, Algeria, Iran and Ecuador huddled around OPEC's conference table and tried a different tack in their quest to boost crude prices. It was time, they argued, to find a new secretary-general to replace Abdalla El-Badri, according to three delegates who asked not to be identified because the discussions were private. The four countries want to pick someone who will press their case that OPEC's biggest members should cut production, the delegates said. The dispute over the secretary-general position reflects the clash within OPEC over whether to keep pumping to pressure rivals including U.S. shale producers, a strategy that has driven oil prices to six-year lows. Richer members led by Saudi Arabia prevailed again at the Dec. 4 meeting as the group endorsed current production levels. However, the four price hawks succeeded in limiting El-Badri's tenure to an additional seven months, hoping to appoint a replacement at the next meeting in June.
Rig Zone:  Indonesia Plans New Revenue Deals to Lure Oil and Gas Companies
Indonesia plans more generous production- sharing arrangements for oil and gas companies to spur exploration and lift a flagging economy, the minister overseeing the energy industry said. Oil companies that promise to spend more on exploration will get 20 percent of the proceeds after cost recovery, up from 15 percent currently, said Rizal Ramli, a senior minister coordinating energy and mining. He aims for the change to take effect early next year. "Our policy with respect to production sharing has been very static," Ramli told a Jakarta Foreign Correspondents Club luncheon on Wednesday. "This is a way to take benefit of the low cost situation in the oil and gas industry." The plan comes after foreign companies have been put off from exploring in Indonesia by the slump in oil prices, in-creasing resource nationalism, and an uncertain legal and regulatory environment. The country, a net oil importer, reactivated its OPEC membership this month in an effort to ensure energy security through crude supply deals. Oil and gas investment reached $13.6 billion in the first 10 months of 2015, short of the government's full-year target of $23.7 billion, according to energy ministry data. Ramli, who also oversees transport, tourism and fisheries, said President Joko Widodo is trying to cut red tape across the economy to attract investors. Before the August reshuffle that saw him join the cabinet, there was no clear policy direction, Ramli said.
Rig Zone:  Mexico's Onshore Oil, Gas Bidding Round a Success
Mexico's onshore oil and gas bidding round beat initial expectations, with participating companies taking all of the available 25 contract areas of mature onshore fields. The round would have been considered successful if 20 percent of the areas had been awarded, according to an analysis published by law firm Akin Gump Strauss Hauer & Feld LLP. But appetite seen for the blocks was high, with many companies offering bids with surprising royalties, said Alfredo Alvarez, Mexico Oil & Gas Leader at Ernst & Young (EY), in a statement to Rigzone. Designed to encourage more Mexican oil and gas companies and a greater diversity of players to enter Mexico's oil and gas industry, nearly 100 companies expressed formal interest in taking part in the process. Seventy-one companies – including 36 individual companies and 16 consortiums – prequalified to present bids in Mexico's third tender, according to Akin Gump Strauss Hauer & Feld. The oil and gas fields in the contract areas – spread across the states of Chiapas, Nuevo Leon, Tabasco and Tamaulipas – are estimated to hold around 2.5 billion barrels of oil equivalent, according to Akin Gump Strauss Hauer & Feld. The Mexican government expects nearly $620 million in revenues over the first five years of the contracts
Telegraph:  International Energy Agency sees 'peak coal' as demand for fossil fuel crumbles in China
China's coal consumption has been falling for two years and may never recover as the moment of "peak coal" draws closer, the International Energy Agency (IEA) has said. The energy watchdog has slashed its 2020 forecast for global coal demand by 500m tonnes, warning that the industry risks unstoppable decline as renewable technologies and tougher climate laws shatter previous assumptions. Mines around the world are at increasing risk as prices slump to 12-year lows of $38 a tonne, and the super-cycle gives way to a pervasive glut. The IEA said the $40bn Galilee Basin project in Australia may never become operational. There is simply not enough demand, even for cheap, open-cast coal. "The golden age of coal seems to be over," said the IEA's medium-term market report. "Given the dramatic fall in the cost of solar and wind generation and the stronger climate policies that are anticipated, the question is whether coal prices will ever recover."
Itheo:  Indonesia and ThorCon to Develop Thorium MSR
Indonesia has signed a memorandum of understanding with ThorCon to develop thorium molten salt reactors. The resulting Indonesia Thorium Consortium has three partners from the Indonesian side. The memorandum was signed in Washington DC between ThorCon and three Indonesian companies. Together these companies have formed the Indonesia Thorium Consortium whose purpose is the development and implementation of thorium molten salt reactors based on the ThorCon design.The first plant is scheduled to be commissioned in 2021. INUKI with its license to import nuclear fuel will provide the thorium and uranium as required. Pertamina will provide its expertise in moving large scale power projects from cradle to maturity and help navigate the governmental bureaucracy. PLN will provide its expertise regarding siting the plant and connecting with the grid. Importantly, PLN will buy the power generated. Indonesia is the world's leading producer of tin, and part of the waste from tin mining is monazite, containing thorium. 'Indonesia has an abundance of monazite which could last for the next 1000 years, securing Indonesia's energy supply if the thorium is used as a nuclear fuel', says Dr. Yudiutomo Imardjoko, CEO of the Indonesian Nuclear Company (INUKI).
BBC:  Torness nuclear power station reactor shutdown
There has been an unscheduled shutdown of one of the reactors at Torness power station in East Lothian. Reactor 2 stopped automatically during routine testing when an issue with an electrical system was detected. EDF energy which operates the plant said there were no health or environmental impacts. Paul Winkle, Torness Power Station director, said: "Reactor 2 automatically shut down during routine testing when an issue was detected in an electrical system. Protection equipment, which is designed to 'fail safe', operated to automatically shut down the reactor. The reactor shut down safely and cooling to the reactor was maintained at all times. There were no health or environmental impacts."
Guardian:  Belgium angers Germany with reactor restart
Belgium has restarted an ageing nuclear reactor after a nearly two-year shutdown, angering neighbouring Germany which fears the danger of a Fukushima-style meltdown. Power company Electrabel said it put the Tihange 2 reactor back online "in complete safety". There had been opposition from officials in adjacent North Rhine-Westphalia, Germany's most populous state. Belgium has been hit by a series of nuclear mishaps in recent years, with three of the country's seven reactors at one point closed, due in two of the cases to the discovery of tiny cracks in the reactor casings. The Belgian nuclear authority in November gave the green light to restarting Tihange 2, as well as another reactor near Antwerp, in November, giving Electrabel permission to operate the plant until its legislated final closure date in 2023. Garrelt Duin, North Rhine-Westphalia's economy minister, had warned strongly against the relaunch of Tihange, calling it outright "irresponsible". Four of Germany's 10 biggest cities – Cologne, Düsseldorf, Dortmund and Essen – are located within the state. The city of Aachen, 40 miles (60km) from Tihange, said it had explored legal options to stop the reopening but without success. Germany, unlike Belgium and France, decided to phase out what was a substantial nuclear energy programme after the 2011 disaster in Fukushima, Japan. At the time Belgium also committed to a withdrawal from nuclear power but has backtracked due to a lack of reliable alternatives.
Bloomberg:  Cameron's Optimism Over EU Deal May Mean June 2016 Referendum
Prime Minister David Cameron's optimism that he can seal a deal on Britain's relationship with the European Union early next year has increased the possibility that he will call a referendum on continued membership for as early as June. "There's a pathway through this to a deal in February," Cameron told reporters in Brussels late Thursday night after talks over dinner with his EU counterparts, referring to the next planned summit on Feb. 18-19. He would then be able to immediately start the process of legislation needed to hold a vote, leading to a referendum within four months. "I believe 2016 will be the year we achieve something really vital: fundamentally changing Britain's relationship with the EU, and finally addressing the concerns of the British people about our membership," the premier told reporters at the end of the two-day meeting on Friday. "Then it will be for the British people to decide whether we remain or leave."A quick campaign might enhance Cameron's chances of winning a vote to remain in the 28-nation bloc. He would be able to take advantage of the disarray in both the U.K. Independence Party and the main opposition Labour Party, which are both battling internal divisions, and avoid coordinated scrutiny of his deal. Cameron's comments Friday were his strongest indication yet that the vote will be held next year.
Market Watch:  The unraveling of the European Union has begun
Whatever spin comes out of the Brussels summit this week, the European Union finds itself in the midst of an existential crisis after the bloc's most challenging year since the launch of economic and monetary union in 1999. National leaders will continue to do what they do best — muddle through in a fog of obfuscation as they fail again to address the fundamental problems that have led to a string of financial, political and foreign policy crises from the Ukraine incursion through the Greek bailout to a flood of refugees. Even as British Prime Minister David Cameron tries to renegotiate his country's terms of membership to avoid an exit from the EU, recent elections in Poland, France and Portugal reflect a shift in public opinion to question whether European integration on the current model is such a good idea after all. Spain faces an election Sunday in which the conservative Popular Party, which has toed the Brussels line on austerity, is sure to lose its majority as voters are poised to create a new political landscape with four major parties and big questions about the future of the country. And Cameron himself is wrestling with a growing momentum in Britain favoring an exit from a Brussels regime that seems increasingly onerous or irrelevant.
Guardian:  Shabby end for an industry
When the last shift of underground miners emerges at Kellingley colliery in North Yorkshire on Friday, it will bring down the final curtain on one of Britain's most successful and enduring industries. Coal has been dug out of the ground since pre-Roman times. It fuelled the Industrial Revolution and was still providing 40% of power for electricity generation as little as three years ago. But deep mining and its workplace culture of hard graft, comradeship and danger has been killed off by a mixture of cheap imports, low-carbon energy alternatives and government indifference. "Its a sad, sad day," said Stuart Oliver, a veteran coal executive of 40 years. "It took around 30m years to create the geology that has produced coal and yet we have burned most of it off in a little less than 100 years." Dennis Skinner, who as MP for Bolsover has represented coal communities for more than 45 years and is himself a former miner, said the closure of Kellingley was a shabby end for an industry that had once been the lifeblood of the UK economy.
Guardian:  UK steelmakers boosted by EU aid approval
The government has won EU approval to compensate steel producers for the cost of green taxes, but unions warned that the concession was not enough to save the industry. British energy-intensive industries such as steel paid 80% more for electricity in the first half of 2015 than the EU average, which is itself about twice as high as in the US. High energy costs have contributed to thousands of job losses at British steelmakers, including 2,200 at Redcar in north-east England. Business secretary Sajid Javid said: "This is very welcome news and meets a commitment we made to deliver energy compensation for the steel industry by the end of the year. Relief from energy costs will save our steel industry hundreds of millions of pounds."But the industry and unions called for more action to stop alleged Chinese dumping of cheap steel and to put in place a procurement policy for big state projects. Alex Flynn, of the Unite union, said: "The government has dragged its heels on this and it's all very late, too late for those 2,000 workers at Redcar who face a very uncertain christmas and new year."
ABC:  UK Supreme Court Rules Against Trump Over Wind Farm
Britain's Supreme Court on Wednesday ruled unanimously against tycoon and U.S. presidential contender Donald Trump in his pitched battle to stop an offshore wind farm near his upscale Scottish golf resort. Trump claims the 11-turbine project, approved by the Scottish government in 2013, will spoil the view from his golf course near Aberdeen in eastern Scotland. He has vowed to stop further development of the resort if the wind farm goes ahead. Two Scottish courts had previously ruled against Trump, who had claimed the Scottish ministers had no power to authorize the wind farm. The Trump Organization said the verdict is "extremely unfortunate" for all residents of the Aberdeen area and will "completely destroy the bucolic Aberdeen Bay and cast a terrible shadow upon the future of tourism for the area." The organization said it will continue to fight the proposed wind farm "on every possible front." The decision comes amid a storm of criticism in Britain over Trump's campaign comments about Muslims. The Scottish government has revoked Trump's status as an unpaid business ambassador with its GlobalScot network, and Robert Gordon University revoked his honorary degree. A record number of Britons last week "signed" an electronic petition calling for Parliament ban Trump from entering the United Kingdom after he called for a temporary ban on Muslims entering the United States.
Bloomberg:  Germany Pays to Halt Danish Wind Power to Protect Own Output
Germany's wind farms are now producing so much electricity one of its grid managers is paying generators in neighboring Denmark to shut down to keep its network from over-loading. German network operator TenneT TSO GmbH paid Danish power producers to withhold 37 gigawatt-hours of output in November, or about a day of production from the region's biggest nuclear reactor, according to data from the Nord Pool Spot AS exchange in Oslo. The increase from 1.5 gigawatt-hours a year ago came as TenneT began from 2015 to boost payments to Danish producers via its neighboring grid to avoid cutting German output. When gusty weather floods the network with power and threatens stability, Germany can seek cuts, according to grid rules. If such reductions are still not enough, Germany will then start shutting its own turbines. The country's shift to renewables has more than doubled its wind power over the past decade, with output reaching a record on Nov. 18. Investment in power lines to move it across the country has failed to keep up. "It's mainly old wind mills that aren't receiving so much compensation from subsidies any more," Peter Markussen, the head of system services at Danish grid operator Energinet.dk, said by e-mail from Fredericia, Denmark. "The wind turbine owners potentially want the same payment to halt as they would receive for producing."
Renewables International:  Renewables face extinction in Czech Republic
Renewable energy plants in the Czech Republic are at risk of going bankrupt, as the Energy Regulatory Office has unlawfully refused to issue an obligatory pricing decision continuing the support for renewable energy sources in 2016. If a solution is not found by early January, there is a very real chance that the Czech Republic will be hit with a spate of lawsuits and international arbitration claims. In total, about 25,000 entities are in jeopardy, most of which—up to 22,000—produce solar energy. The owners of solar installations may go bankrupt if aid is not granted. And not just companies will be affected. So too will the many homeowners who have installed solar panels on their roofs to boost their energy self-sufficiency and lower energy bills. Considering the size of the renewable sector, more than just solar installation owners will be affected. Green energy projects have been financed by banks; discounting support will also impact loans totaling more than 5.6 billion EUR (150 billion Czech crowns). Therefore, this situation might result not just in an energy crisis, but in a national economic crisis as well.
TNI:  Move to renewables jeopardized by EU corporate trade deals
Proposed special rights for corporations in EU trade agreements threaten to prevent the necessary energy transition to tackle climate change according to a new report released today. "Polluters Paradise – How investor rights in EU trade deals sabotage the fight for energy transition" shows how planned trade deals such as TTIP2 and CETA3 would help entrench a global corporate bill of rights that will impair efforts to tackle global warming. Explaining the dangerous investor-state dispute settlement (ISDS) provisions in trade and investment deals and the resulting power for companies to sue governments in special tribunals over policies that effect profits, the report shows how ISDS could deter future climate-friendly public policies.It finds that 35% of all known investor-state claims relate to oil, mining, gas and electricity, with the number of lawsuits targeting state initiatives in the energy sector on the rise. From the phase out of nuclear power in Germany4, to the moratorium on fracking in the Canadian province of Quebec5, big corporations are using ISDS's rigged rules to challenge virtually any attempt by governments to implement progressive energy policies.
North America Windpower:  EU Countries Need To Step Up Post-2020 Renewables Plans
European Union (EU) member states must show more political will in their plans for renewable energy after 2020, according to the European Wind Energy Association (EWEA). The latest conclusions by the Energy Council – a meeting of the EU's 28 energy ministers and the European Commission – recommend that member states set out plans for climate and energy, including a component on renewable energy, by the end of 2019. Giles Dickson, CEO of EWEA, says, "Many member states seem to be ducking out of the challenge. It's not clear how they will contribute to the binding renewables target of at least 27 percent of Europe's energy by 2030. So far, only five out of 28 EU countries have commitments and policies in place for renewables beyond 2020. This is depriving investors of the signals they need. "And delaying national energy plans until 2019 makes things even worse. Member states will only hurt themselves. Investors will put renewables projects on ice, and that will have knock-on effects for jobs and growth in Europe," he explains.
Renewables International:  German government clamps down on renewables growth
Remember the target corridors introduced in 2014? Up to then, Germany only had goals of "at least" a certain amount, such as 35 percent renewable electricity by 2020 and 50 percent by 2030. For the first time ever, the 2014 Renewable Energy Act (EEG) introduced limits with intermediate corridors of 40-45 percent renewable power by 2025 and 55-60 percent by 2035. But until recently, it was unclear how those limits would be imposed. Now, the new position paper for amendments to be adopted in 2016 (PDF in German) gives an indication. When auctions are held for PV and wind power, the volume will be adjusted based on the current percentage relative to the maximum target. PV will continue to grow outside of these options, however, because small arrays can still be built (on rooftops, for instance); the options will only apply for systems larger than 150 kilowatts. So some of that growth is uncontrollable/unstoppable. The situation is different for wind power, practically all of which will be auctioned soon. The problem is that Germany is already close to the 2020 target this year, with a full 33 percent of electricity coming from renewables. Over the next 10 years, that growth has been kept in check if the maximum of 45 percent remains standing. So annual growth of all renewable electricity must be reined in at no more than 1.2 percentage points.
Motor Authority:  California looks to tighten rules for driverless cars
California has become one of the top states for autonomous car research, primarily due to the number of tech firms based there including Google which is already testing self-driving cars on the state's roads. However, state regulators are now making moves to tighten the rules for autonomous cars, including potentially banning them from traveling without a human driver onboard. Under new proposals being drafted by the California Department of Motor Vehicles, all autonomous cars would require a steering wheel and pedals plus a capable, licensed-driver behind the wheel to take control should something go wrong. Such rules would end up negating some of the biggest benefits self-driving cars could deliver, such as providing flexible mobility for the elderly and vision impaired as well as reducing congestion via greater use of car sharing. For instance, a family could rely on one car, with the car returning home alone after making a drop-off to then pick up the next user. However, tighter rules are logical at this early stage given the potential unknown reliability of the technology and level of proficiency at handling the various situations that can arise on public roads, especially when there are other, human drivers around. Google said it was "gravely disappointed" that California is looking at limiting the potential of autonomous car capability. It's likely such proposals will also slow the development of self-driving cars as well as force researchers to move to more welcoming states such as Nevada and Texas.
Gulf News:  Driverless car crash rate double that of humans
The self-driving car, that cutting-edge creation that's supposed to lead to a world without accidents, is achieving the exact opposite right now: The vehicles have racked up a crash rate double that of those with human drivers. The glitch? They obey the law all the time, as in, without exception. This may sound like the right way to program a robot to drive a car, but good luck trying to merge onto a chaotic, jam-packed highway with traffic flying along well above the speed limit. It tends not to work out well. As the accidents have piled up — all minor scrape-ups for now — the arguments among programmers at places like Google Inc. and Carnegie Mellon University are heating up: Should they teach the cars how to commit infractions from time to time to stay out of trouble? "It's a constant debate inside our group," said Raj Rajkumar, co-director of the General Motors-Carnegie Mellon Autonomous Driving Collaborative Research Lab in Pittsburgh. "And we have basically decided to stick to the speed limit. But when you go out and drive the speed limit on the highway, pretty much everybody on the road is just zipping past you. And I would be one of those people."
Weather.com:  Warmest US Christmas Week in Living Memory Possible as 'Blowtorch' Weather Pattern Likely in the East, Midwest
There is growing confidence that the widespread warmth we've seen so far this December will also dominate much of Christmas week in the eastern half of the United States. Depending on how long the mild weather pattern holds on, next Friday could be the warmest Christmas Day of your lifetime, particularly if you live in one of the East Coast states. This mild forecast means the prospect for a white Christmas is highly unlikely for many of those states. Meteorologists sometimes jokingly refer to the type of warm weather pattern we have seen recently, and the one coming next week, as a "blowtorch" in social media. The term may be a reference to weather maps showing temperatures compared to normal; these patterns tend to resemble a large red or white scorch mark surrounded by shades of orange and yellow, as if a giant blowtorch had been pointed at the Earth. Of course, the actual cause is not a blowtorch but a weather pattern that keeps typical winter chill at bay and holds air from the Pacific or the tropics over the mainland United States. The current warm weather pattern in the East is coming to an end as a cooldown is arriving in time for the weekend. However, computer model forecast guidance is giving us a strong signal that widespread unseasonable warmth will return for much of Christmas week in most areas east of the Rockies. This could add to the more than 2,300 daily record high temperatures that have been tied or broken across the Lower 48 in the first 15 days of the month.
BBC:  December weather: Why is it so mild?
Unseasonably warm weather across the UK has seen daffodils blooming as far north as Ayr. Temperatures are expected to continue in the double figures for the next week – possibly reaching as high as 16C in London on Saturday.Tropical air from the Azores and beyond is blowing in from the south west.As is often the case in meteorology, no one specific factor can explain what has caused this influx of warm air – but this year's strong El Nino weather phenomenon is thought to play a part.The event occurs when the waters of the Pacific become exceptionally warm and distort weather patterns around the world.This almost continual warm stream has also been the source of all the moisture and strong winds that brought such devastation to parts of the UK with Storm Desmond. The chances of a white Christmas look like nil in most parts of the UK, with mild temperatures expected to continue right into the new year.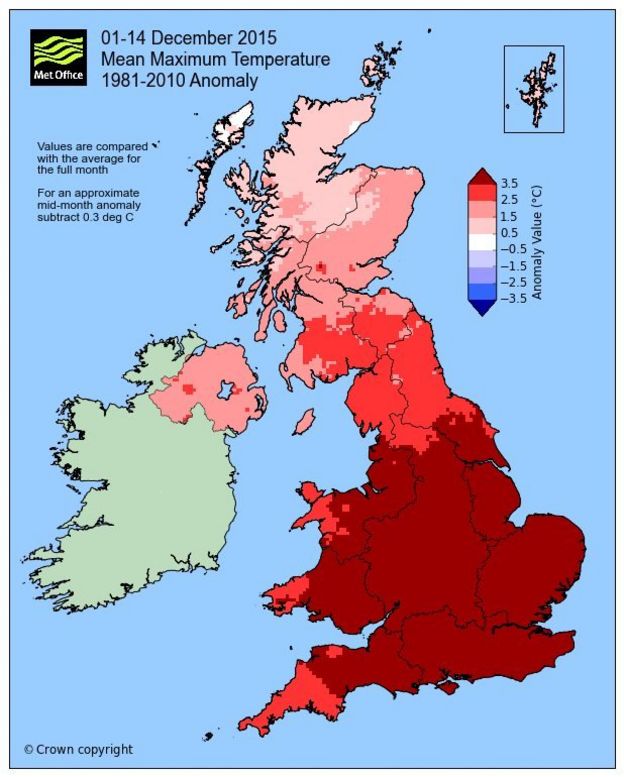 Christian Science Monitor:  Old whaling logbooks offer new insights on Arctic climate
NOAA is heading up a new approach to understanding the Arctic: studying the detailed logbooks of whalers, who sailed due north from New England from the mid-1700s until about 1965. The records, climate scientists believe, may offer clues to the sorts of changes being witnessed today, and provide a longer arc of Arctic weather patterns. Whaling ships kept meticulous daily logbooks of weather conditions during their often years-long voyages searching the globe for whales, valued for their light-giving oil, said Michael Dyer, senior maritime historian at the New Bedford Whaling Museum, which is supplying much of the data, in an interview with the Associated Press. The New Bedford Whaling Museum has about 2,600 whaling logbooks dating from 1756 to 1965, but the project, called Old Weather: Whaling, so far includes just about 300 logbooks related to whaling trips to the Arctic from the mid-1800s to the first decade of the 20th century. Those digitized logbooks are being put online so "citizen-scientists" can join in helping climate scientists sort through the epic amounts of data logged at sea.