Back to the harsh realities this week. The UK is going to freeze in the dark after all:
Institution of Mechanical Engineers:  Closure of UK coal and nuclear plants to create electricity supply gap of up to 55% by 2025
UK Government's policy to close all coal-fired power stations by 2025, combined with the retirement of the majority of the UK's ageing nuclear fleet and growing electricity demand will leave the UK facing a 40-55% electricity supply gap, according to a new report by the Institution of Mechanical Engineers.
The Engineering the UK Electricity Gap report says plans to plug the gap by building Combined Cycle Gas Turbine (CCGT) plants are unrealistic, as the UK would need to build about 30 new CCGT plants in less than 10 years. The UK has built just four CCGTs in the last 10 years, closed one and eight other power stations. In addition, in 2005 twenty nuclear sites were listed for decommissioning, leaving a significant gap to be filled. According to the report, the country has neither the resources nor enough people with the right skills to build this many power stations in time. It is already too late for any other nuclear reactors to be planned and built by the coal 'shut-off' target of 2025, other than Hinkley Point C. The report also highlights that a greater reliance on interconnectors to import electricity from Europe and Scandinavia is likely to lead to higher electricity costs and less energy security. Dr Jenifer Baxter, Head of Energy and Environment at the Institution of Mechanical Engineers, and Lead Author of the report said: "Currently there are insufficient incentives for companies to invest in any sort of electricity infrastructure or innovation and worryingly even the Government's own energy calculator does not allow for the scenarios that new energy policy points towards. Under current policy, it is almost impossible for UK electricity demand to be met by 2025."
We continue with OPEC's call for production cuts, Petrobras slashes reserves, help for the North Sea, Japan restarts another reactor, Elon Musk on clean energy in China, solar and wind victorious in Germany, rooftop solar wars in the US, more delays at Hinkley, the EC delves deeper into Drax, a 50MW wind turbine, the Zika virus, how global warming has brought seedless table grapes to UK, conspiracy theory and the Atomic Clock stays at three minutes to midnight.
World Oil:  OPEC's El-Badri calls on global oil producers to help curb glut
The head of the Organization of Petroleum Exporting Countries said he wants oil producers outside the group to assist in reducing the global oversupply, signaling once again that OPEC won't make output cuts alone. "It is vital the market addresses the issue of the stock overhang," Secretary-General Abdalla El-Badri said Monday at a conference in London. "It should be viewed as something OPEC and non-OPEC tackle together." With OPEC effectively abandoning its output ceiling in December, Russia pumping near record levels and U.S. shale fields proving more resilient than forecast, the global surplus has continued to swell. "It is crucial that all major producers sit down to come up with a solution to this," El-Badri, 75, said at the Chatham House think-tank. There are signs supply and demand will start to come back into balance this year, he said, citing a forecast increase in global demand of about 1.3 MMbopd, and a contraction in non-OPEC supply of about 660,000 bpd. Brent oil, the global benchmark, is down about 16% this year as volatility in global markets adds to concern over brimming U.S. stockpiles as well as the prospect of additional Iranian exports following the removal of international sanctions. The slump in prices is putting future investment in new oil supply at risk, according to El-Badri. "New barrels are needed not only to increase production, but to accommodate for decline rates from existing fields," he said.
Hellenic Shipping News:  Decision On Oil Cut Only Possible If All Exporters Agree, Russian Energy Minister Says
A decision on cutting oil production is possible only if all crude-exporting nations are in agreement, and there's no timing for talks, Russia's Energy Minister Alexander Novak said. "We're ready to discuss the issue of cutting oil output volumes" but not ready for a decision, Novak said in an interview with Bloomberg Television. "We're ready to consider the possibility; this should be a consensus. If there's a consensus, it makes sense." Oil pared gains after Novak's comments. Traders have looked for signs of cooperation between producing nations after a global glut of crude pushed prices to a 12-year low. The head of OPEC this week called on producers outside the group to assist in reducing the oversupply, signaling once again its members won't make output cuts alone. "There's no set date" for a meeting, Novak said. "As far as I understand they are discussing it with other possible participants." Russia has taken part in such consultations before and "nothing new happened," he said.
RT:  Russia could cut oil exports by 6%
State-owned oil transportation monopoly Transneft says Russian oil companies have applied for 215 million tons of crude exports in 2016. This is 6.4 percent less than last year, business daily Vedomosti reports. In 2015, the situation was the opposite for Transneft, which accounts for almost 90 percent of Russian oil shipments. The company transported seven percent more oil than in 2014. "It's hard to say what caused the drop in export applications. There is no evident reason for oil production to fall in Russia," EY's (Ernst & Young) Moscow oil and gas director Denis Borisov told Vedomosti. Russian Energy Minister Aleksandr Novak has repeatedly said Moscow does not intend to reduce production, as oil companies do not want to lose their global market share. This was confirmed by Rosneft CEO Igor Sechin. "Rosneft will be flexible and smart, and will fight to keep its market share in its traditional deliveries," he said.
Business Insider:  Iran pushes OPEC oil output to new high as sanctions are lifted
OPEC oil production has jumped to its highest in recent history in January as Iran increased sales following the lifting of sanctions and its rivals Saudi Arabia and Iraq also boosted supply, a Reuters survey showed on Friday. The January supply figures contrast with statements from multiple OPEC officials and recent comments from non-OPEC Russia about the need to cooperate and possibly restrain supply to help oil prices to recover. OPEC supply has risen in January to 32.60 million barrels per day from a revised 32.31 million bpd in December, according to the survey, based on shipping data and information from sources at oil companies, OPEC and consultants. December's total was revised higher because of the return of Indonesia as an OPEC member on Dec. 4. January's output from the other 12 OPEC members, at 31.90 million bpd, is the highest in Reuters survey records, starting in 1997.
MySanAntonio:  More than 60,000 Texas oil and gas workers out of work, and counting
More than 60,000 oil and gas workers in Texas have been thrown out of work by the slump in crude oil prices. The Texas Alliance of Energy Producers this week released an outlook for 2016 that looks grim, and includes the expectation that more employees will face layoffs in the industry. Here's the state of the Texas oil and gas industry, according to the Texas Alliance of Energy Producers: "Compared to peak levels established in 2014, the rig count is now down by 68 per-cent, drilling permits are off 70 percent, and oil and gas well completions have each declined by about 60 percent. "Massive layoffs" have caused total oil and gas industry employment to decline from a record 306,330 workers in December 2014 to about 246,150 in December 2015."
Reuters:  Petrobras slashes oil reserves to lowest level in 14 years
Brazil's state-controlled oil producer Petrobras slashed its oil and natural gas reserves 20 percent on Friday, hit by a plunge in energy prices, a heavy debt load, high costs and a corruption scandal. The filing showed Petrobras reduced proven reserves to 10.52 billion barrels of oil and natural gas equivalent (boe) as of Dec. 31, their lowest since 2001, according to standards set by the U.S. Securities and Exchange Commission. Petrobras booked 13.13 billion boe a year earlier. Petrobras said its reserves now account for 11.3 years of output, down 24 percent from 14.7 years in 2014. "Oil prices played a big part, but Petrobras has itself to blame too," said Fadel Gheit, an oil and gas analyst with Oppenheimer Inc in New York. "It's a classic case of misman-agement and government interference. Low oil prices pushed them over the cliff, but they got to the precipice themselves."
Sky:  £250m Deal Unveiled For North Sea Oil Industry
A £250m funding package to help northeast Scotland's economy has been announced. It comes as the region continues to suffer from the longest oil price decline in 20 years. The UK City Deal for Aberdeen includes plans for innovation in the North Sea oil and gas industry and sets out ways the local economy can be diversified. Both the UK and Scottish Government will put in equal funding for the package. Prime Minister David Cameron has been visiting Aberdeen to meet local oil and gas workers and industry bosses for talks on the current situation. Mr Cameron told the Commons on Wednesday he would be outlining ways to help the "vital industry at this vital time".
Express:  Could fracking free Britain from depending on Middle East?
The British Chambers of Commerce (BCC) has urged ministers to push through the UK's shale gas revolution by progressing planning applications. Dr Adam Marshall, executive director for Policy and External Affairs for the BCC, said: "Ministers must take urgent action to pare back the long-winded cycle of applications and appeals, which is undermining both interest and investment in energy projects across the UK. "We face a double threat of rising energy costs and reduced supply, a cocktail that could stifle domestic business growth and reduce our international competitiveness. Winter black-outs are currently a very real prospect, and we are becoming increasingly dependent on imported fuel from politically volatile regions. The rising cost of the next generation of nuclear power plants, and the energy shortages already being caused by the closure of the UK's coal power stations, make it essential that we pursue other secure and plentiful sources of energy here at home. Given that we already import around half of our gas, a green light for shale gas exploration must be a top priority."
Bloomberg:  Japan Restarts 3rd Reactor
Kansai Electric Power Co. resumed operations at the No. 3 unit of its Takahama plant near the ancient Japanese capital of Kyoto at 5:00 p.m., the company said in a statement. The country's 40 other operable reactors remain shut in the aftermath of the massive earthquake and tsunami in March 2011 that caused a meltdown at Tokyo Electric Power Co.'s Fukushima Dai-Ichi facility. Twenty-five have applied to restart. More nuclear-powered electricity generation will help reduce Japan's fuel import bill and lead to lower electricity rates for consumers. The restart will also help the government reach its goal of having nuclear power make up as much as 22 percent of the nation's energy needs by 2030. A total of about 30 to 33 reactors will need to restart to meet the government's target, according to Syusaku Nishikawa, a Tokyo-based analyst at Daiwa Securities Co. The restart at Takahama "underscores the country's commitment to returning to nuclear energy," said Rob Chang, a managing director and head of metals and mining for Canada, who forecasts three reactors will come back online this year, bringing the nation's total to five. Eight more will start in 2017 and a total of 37 reactors will be online by 2020, he said in an e-mail.
Scientific American:  Coal for Electricity Hits a 45-Year Low in USA/
The amount of electricity generated using coal in the U.S. slid to its lowest level since at least 1970 in November, according to data released this week by the Energy Information Administration. Coal-fired power plants generated 29 percent of the U.S. electric power supply in November, dropping from nearly 35 percent in July and 39 percent for all of 2014. The trend continues coal's long slide away from national dominance as the primary source of electricity in the United States, EIA analyst Glenn McGrath said Wednesday. "Coal generation is about as low as it's ever been," he said. "It's never been that low for a particular month." Although the EIA does not have data prior to the 1940s, McGrath said it is unlikely that coal has ever had a lower share of U.S. electric power generation. Coal's dominance has been slipping since 2007 when it slowly began losing ground to natural gas thanks in part to the fracking boom in the U.S. Overall coal consumption dropped 24 percent between November 2014 and November 2015, while natural gas use spiked 21 percent during the same period, according to EIA data.
South China Morning Post:  China can 'easily' support all its energy demand using homegrown solar power, says Musk
China can use its huge land mass to harness enough solar energy to "easily" generate enough power to satisfy the needs of the whole country including Hong Kong, Tesla CEO Elon Musk said in Hong Kong today, as China moves towards more sustainable energy production. "China has an enormous land area, much of which is hardly occupied at all," said Musk at the Start-meupHK Venture Forum in Hong Kong. "You can easily power all of China with solar [energy]." "What you can do is [install] ground-mounted solar power near Hong Kong, and tap into the existing power lines that are coming in [to the city]," said Musk. "You can supply Hong Kong with solar power. It just needs to be coming from a land area that's not too far away."
CNN:  Deaths, travel disruption as bitter cold grips Asia
Record low temperatures have wreaked havoc in several Asia countries, with 85 people reported dead in Taiwan and tens of thousands stranded at airports because of the unprecedented cold snap. In South Korea, at least 90,300 saw their flights canceled over the weekend due to bad weather and more than 10,000 travelers faced severe delays at Kunming airport in southwestern China. Taiwan authorities advised people to stay indoors after the deaths, while in Hong Kong, teeth-chattering temperatures forced kindergartens and primary schools to shut Monday. China renewed an orange alert, its second most serious weather warning, with major highways blocked by snow and sleet just as peak travel season for the Lunar New Year vacation kicks off.
RenewEconomy:  Germany says solar and wind energy have won the technology race
The minister responsible for Germany's ambitious Energiewende, or energy transition, from coal and nuclear to renewable energy says it is clear that solar and wind energy have won the technology race. In an interview with RenewEconomy in Abu Dhabi last week, special minister of state Rainer Baake said the task now for Germany was to focus on integration, "digitising" the electricity grid, and on storage, efficiency, and other energy uses such as transport and building and industrial heat. Baake, attending the International Renewable Energy Agency annual summit, said renewable energies were becoming cheaper and cheaper. "They are taking over," he told RenewEconomy. "So far nobody else has supplied the industrial economy with secure and price-effective electricity from solar panels and wind turbines. I am confident we can succeed and that we will have a superior energy system." Germany created its renewable energy support scheme in 2000, and Baake says the purpose has been about testing technologies. And it is clear which technologies are the winners.
EnergyTransition:  Renewable energy could supply Russia and Central Asian countries with all the electricity they need by 2030
Renewable energy could supply Russia and Central Asian countries with all the electricity they need by 2030 − and cut costs significantly at the same time. A new study says that Russia and the countries of Central Asia could become a highly energy-competitive region by getting all their electricity from renewable sources within the next 15 years. The modelled energy system is based on wind, hydropower, solar, biomass and some geothermal energy. Wind amounts to about 60% of the production, while solar, biomass and hydropower make up most of the rest. One of the key insights of the research is that energy sectors' integration lowers the cost of electricity by 20% for Russia and Central Asia. When moving to a renewable energy system, for example, natural gas is replaced with power-to-gas, converting electricity into gases such as hydrogen and synthetic natural gas. This increases the overall need for renewable energy.
Cleantechnica:  Mammoth 50 MW Wind Turbine Blades Could Revolutionize Offshore Wind
A new design for mammoth wind turbine blades longer than two football fields could deliver 50 MW offshore wind turbines. The research for the new wind turbine blades designs has been conducted by the Sandia National Laboratories, a multi-program laboratory operated by Sandia Corporation for the US Department of Energy's National Nuclear Security Administration. According to Sandia, it was challenged to design a low-cost offshore 50 MW turbine with wind turbine blades of more than 650 feet, or 200 meters in length. That's two and a half times longer than any existing wind turbine blade. 50 MW wind turbines are a long way off, but according to Sandia, "studies show that load alignment can dramatically reduce peak stresses and fatigue on the rotor blades." This would not only reduce blade costs, but eventually lead to the mythical 50 MW wind turbines. And these developments are vital to the offshore wind industry in the US. The US has great offshore wind energy potential, but offshore installations are expensive, so larger turbines are needed to capture that energy at an affordable cost."

Sandia's 100-meter blade is the basis for the Segmented Ultralight Morphing Rotor (SUMR), a new low-cost offshore 50-MW wind turbine. At dangerous wind speeds, the blades are stowed and aligned with the wind direction, reducing the risk of damage. At lower wind speeds, the blades spread out more to maximize energy production. (Illustration courtesy of TrevorJohnston.com/Popular Science)
Ecowatch:  US Rooftop Solar Wars Continue
The fierce counterattack by utilities against the disruptive surge of rooftop solar peaked this month on the West Coast. California's big utilities successfully petitioned for increased "exit fees" for cities or counties leaving the utility to purchase electricity for their residents on the open market—typically obtaining greener power with equal or lower rates. But next door, in Nevada, with the highest percentage of solar energy of any state in the union, state regulators were more generous to the state's utilities. First they levied $126 million in exit fees on three casinos seeking to negotiate their own direct power purchases. Then gave Nevada Energy (owned by Warren Buffett) an enormous increase in residential rooftop solar fees, while drastically cutting what the utility pays those customers when they feed electrons back into the grid. More shockingly, these changes were initially retroactive to some 10,000+ Nevada households who had already leased solar and were stuck with the costs. Effectively the new rules make rooftop solar no longer competitive in Nevada, where companies like SolarCity had located both training facilities and major investments. (Which the company announced it would have to shut down along with laying off much of its workforce.)
Telegraph:  Hinkley Point go-ahead delayed amid EDF funding doubts
EDF has delayed its final investment decision on the Hinkley Point new nuclear plant yet again, amid claims it is still struggling to finalise funding for the £18bn project. The French energy giant had been scheduled to take the long-awaited decision at a board meeting on January 27, but is now thought unlikely to do so until its annual results on February 16 at the earliest. EDF had said in October it would take the decision within "a few weeks", after unveiling a deal for Chinese nuclear group CGN to take a 33.5pc stake in the project. But it is reportedly still struggling to find the cash for its own 66.5pc stake, as its finances come under pressure from falling wholesale power prices and its acquisition of Areva's reactor-making business. It is now "putting pressure on the [French] state, which owns 84.5pc of EDF, to come up with fresh funds" and looking to find new investors, according to French newspaper Les Echos.
Reuters:  Energy security threat as SSE mulls early closure of coal plant
Energy giant SSE is considering shutting its Fiddler's Ferry coal-fired power plant early, threatening to blow a hole in the Government's plans to keep the lights on, the Telegraph has learnt. The 2GW power plant in Cheshire produces enough electricity to power two million homes and in 2014 secured a subsidy contract with the Government to guarantee three of the plant's four units would be available to generate in 2018-19. But SSE is now understood to be considering pulling out of the contract and shutting the plant sooner, because the subsidies through the 'capacity market' scheme may not be enough to outweigh losses the plant is incurring. Although no decision has yet been taken, analysts say SSE could even opt to shut part of the plant before next winter, when the UK's capacity margins are already expected to fall dangerously low. One of the four units at Fiddler's Ferry has a contract with National Grid to provide back-up power for next winter, but the other three could be in doubt, Lakis Athanasiou, analyst at Agency Partners, said.
BBC:  Swansea Bay tidal lagoon 'viable with longer lifespan'
The proposed £1bn Swansea Bay tidal lagoon could go ahead if the cost is spread over a longer timescale, it has been claimed. Swansea Bay City Region board chairman Sir Terry Matthews said the standard 35 year lifespan "did not make sense". He said the UK government subsidy could be equivalent to nuclear energy prices if its lifetime was over 100 years. Mr Matthews told BBC Wales the strike price could come down from the reported £160 a megawatt hour to nearer £100 – similar to the new nuclear plan proposed for Hinkley Point – if the project was seen as having a longer lifespan. It comes after Welsh Secretary Stephen Crabb said last week a "big call" was needed on the future of the proposed scheme. He said the project had a "very large subsidy" and other options need to be looked at to see if they were more affordable. Prime minister David Cameron also recently said his enthusiasm was cooling due to costs.
Seenews:  EC to look further into CfD for Drax biomass plant
The European Commission (EC) has opened a formal investigation procedure related to the planned UK subsidy contract for a 645-MW biomass-fired power unit of Drax Group Plc. Drax is working to convert to biomass three of the six coal-fired power generators at the Drax power station at Derby. The third such unit is planned to receive a Contract for Difference (CfD), under which it will get compensations when the average wholesale price of electricity falls below a pre-determined strike price. At this point, "the Commission doubts that the aid is limited to the minimum necessary and that the distortions of competition on upstream biomass market are not too significant," it said in an official statement.
Solar Power Portal:  UK government seeks 'clear ideas' from industry on energy storage policy
The UK government's Department of Energy and Climate Change (DECC) is seeking answers from the energy storage industry on how best to define and consider the various technologies, both behind and in front of the meter. A DECC official confirmed the department will issue a Call for Evidence from the energy storage industry, at the annual meeting of the Electricity Storage Network yesterday. The Electricity Storage Network – and others – have also been advocating that, while the industry is not interested or does not need subsidies, it requires a clear definition from DECC and Ofgem as to the role it can play, both for individual system owners, and for the wider network. While the majority of topics covered at yesterday's event were regarding "in front of the meter", grid-scale batteries, both DECC and Ofgem are seeking evidence on energy storage at all scales. According to DECC's Danae Marshall, the Call For Evidence will include "everything" and could also cover related technologies such as hot water tanks.
Irish News:  Northern Ireland wind energy 'cheaper than gas generation' by 2020
Generating power through onshore wind farms will be cheaper than through new gas projects by 2020, according to a leading lobby group. But the Northern Ireland Renewable Industry Group (NIRIG) said that would only be possible if "appropriate policy and regulatory conditions" were in place. The body is holding its annual conference in Belfast today.
International Business Times:  After Paris Climate Talks, Investors Wrestle With How To Pay For Clean Energy Transition
Less than a month after world leaders meeting in Paris signed a sweeping deal to fight climate change, a major question looms: Who will pay for the plan? Curbing the planet's carbon emissions and shifting away from fossil fuels will require investments on the order of $1 trillion a year — more than triple what the world now spends on solar, wind and other renewable energy supplies. At Wednesday's gathering, investors were expected to discuss four broad themes, including "decarbonizing" investment portfolios to include fewer fossil fuel companies, as well as the push to make publicly traded companies disclose more details about their carbon emissions and exposure to climate regulations. The group also planned to discuss broader climate policies, including a price on carbon dioxide emissions, and how to boost investments for clean energy technologies. Fatih Birol, executive director of the International Energy Agency, told the New York Times this week that the lure of cheap fossil fuels is a "litmus test" for governments that will show "whether or not they are serious about what they have done in Paris."
Independent:  Global warming means exotic fruits now being grown in Britain
An agricultural revolution has been quietly gaining momentum in the fields of southern England with climate change meaning apricots, peaches and all manner of exotic crops are springing up in a way unimaginable just a generation ago. Britain's first ever crop of sweet, seedless "table" grapes will hit Asda's shelves this autumn, as global warming adds another exotic fruit to the nation's tables. It's the latest in a growing list of now regular crops that also includes tea, sun-flowers, sweet potatoes, water melons and walnuts. Existing crops, such as strawberries, raspberries, sugar beet and asparagus, have also flourished – and not just in the south – as global warming pushes up the temperature and extends the growing season. The trend is set to keep on improving yields across a wide variety of crops in the UK and much of Northern Europe in the coming decades.
AJP:  Climate change could worsen diseases like Zika virus
A study published in the journal Emerging Infectious Diseases this week documents the spread of the virus in Columbia, while Brazil is experiencing the largest known outbreak of Zika virus, which is being linked to the deaths of babies affected by microencephaly, or abnormally small brains. Health authorities in Brazil, Ecuador, Colombia, El Salvador and Jamaica are warning women to avoid having children if they cannot avoid mosquito bites. In December, the Brazilian health ministry described the situation as a health emergency as it investigated more than more than 2400 suspected cases of microcephaly and 29 infant deaths. "Regions with increasing average temperatures are at increased risk of mosquito-borne diseases, as mosquitoes thrive in and move to warmer regions. Zika is the latest example of the many mosquito-borne viruses which pose an increasing threat to humans due to warmer and wetter conditions associated with climate change.
Breitbart:  Friends of the Earth claim fracking sand is carcinogenic
The group distributed thousands of leaflets claiming fracking could lead to cancer because it involves "pumping millions of litres of water containing a toxic cocktail of chemicals deep underground… [that] could end up in your drinking water". When fracking company Cuadrilla complained it did not use toxic chemicals, Friends of the Earth responded: "We understand that Cuadrilla used a significant amount of sand to frack the well at Preese Hall [in Lancashire in 2011]. Frack sand tends to contain significant amounts of silica which is a known carcinogen." The group provided a link to a report by Clive Mitchell of the British Geological Survey to back up their assertion, but Mr Mitchell dismissed their claims, telling The Times: "It's tantamount to scaremongering. It's inaccurate and misleading. Sand is silica. It's exactly the same stuff that's on every sandy beach in the country. What are they proposing? That we treat all beaches as contaminated land and pave them over? The debate about fracking should be on the basis of reason, not wild, unsubstantiated allegations that reveal that they don't have the first clue about mainstream chemistry, let alone environmental toxicology."
PhysOrg:  Equation shows that large-scale conspiracies would quickly reveal themselves
A study by Dr David Robert Grimes suggests that large groups of people sharing in a conspiracy will very quickly give themselves away. Dr Grimes initially created an equation to express the probability of a conspiracy being either deliberately uncovered by a whistle-blower or inadvertently revealed by a bungler. This factors in the number of conspirators, the length of time, and even the effects of conspirators dying, whether of old age or more nefarious means, for those conspiracies that do not require active maintenance. Dr Grimes then looked at four alleged plots, estimating the maximum number of people required to be in on the conspiracy, in order to see how viable these conspiracies could be. These include: the theory that the US moon landings were a hoax (411,000 people); that Climate Change is a fraud (405,000 people); that unsafe vaccinations are being covered up (22,000 people); that the cure for Cancer is being suppressed by the world's leading pharmaceutical firms (714,000 people). Using the equation, Dr Grimes calculated that hoax moon landings would have been revealed in 3 years 8 months, a climate change fraud in 3 years 9 months, a vaccination conspiracy in 3 years 2 months, and a suppressed Cancer cure in 3 years 3 months. In simple terms, any one of the four conspiracies would have been exposed long before now.
CNN:  Doomsday Clock stays at three minutes to midnight
The Bulletin of the Atomic Scientists left the hands in place from last year, which is the closest it has been to midnight since the Cold War days of 1984. "Three minutes (to midnight) is too close. Far too close," the Bulletin said in a statement. "We, the members of the Science and Security Board of the Bulletin of the Atomic Scientists, want to be clear about our decision not to move the hands of the Doomsday Clock in 2016: That decision is not good news, but an expression of dismay that world leaders continue to fail to focus their efforts and the world's attention on re-ducing the extreme danger posed by nuclear weapons and climate change. When we call these dangers existential, that is exactly what we mean: They threaten the very existence of civilization and therefore should be the first order of business for leaders who care about their constituents and their countries."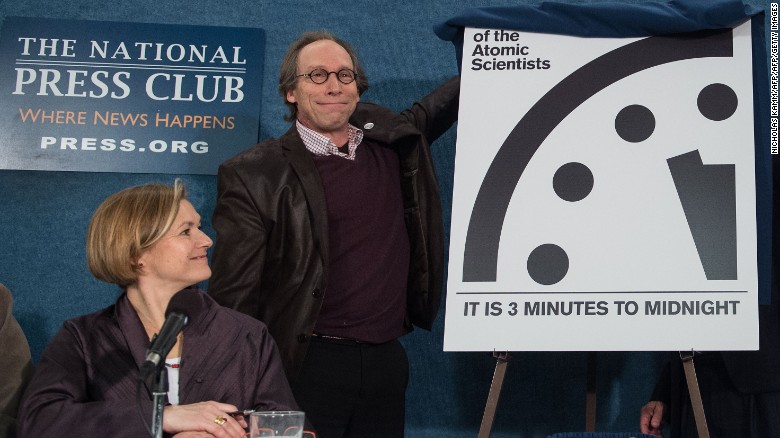 So why are they smiling?