This week's Blowout features Nicholas Stern, whose economic models were instrumental in getting the UK Climate Change Act passed. Lord Stern now says that these models grossly underestimated the risks of unmanaged climate change and that the costs of climate change inaction are in fact much worse than we thought:
Nature:  Current economic models are grossly misleading, says Stern
Current economic models tend to underestimate seriously both the potential impacts of dangerous climate change and the wider benefits of a transition to low-carbon growth. There is an urgent need for a new generation of models that give a more accurate picture. The Fifth Assessment Report of the Intergovernmental Panel on Climate Change (IPCC), published in 2013 and 2014, provided a comprehensive overview of the literature on the costs of action and inaction. But the assessment understated the limitations of the research done so far. Essentially, it reported on a body of literature that had systematically and grossly underestimated the risks of unmanaged climate change. The IPCC pointed out that estimates of losses resulting from a 2 °C increase in mean global temperature above pre-industrial levels ranged from 0.2% to 2% of global gross domestic product. It admitted that the global economic impacts are "difficult to estimate" and that attempts depend on a large number of "disputable" assumptions. Moreover, many estimates do not account for factors such as catastrophic changes and tipping points. It is these hard-to-predict impacts that are the most troubling potential consequences of inaction. The next IPCC report needs to be based on a much more robust body of economics literature, which we must create now. It could make a crucial difference.
Below the fold: US shale producers are finally buckling – or are they? Plus the budding US/Russia natural gas war, China now number one in wind, nuclear power plant costs, EDF calls for EU market reform, German solar "too much of a good thing", Drax threatens a shutdown, the Didcot accident, Swansea tidal has a competitor, Solar Scotland, the ITER nuclear fusion machine, another battery storage breakthrough, the global warming pause is real, sea levels are rising faster than ever, the Heathrow 13 avoid jail terms and the SeaVax cleaner, the solution to ocean plastic waste.
Bloomberg:  U.S. Shale Oil Drillers are Finally Buckling
U.S. oil drillers are finally beginning to buckle. For more than a year, American oil producers found a way to keep pumping despite a worldwide slide in crude prices. Like cartoon character Wile E. Coyote, U.S. drillers dashed off the cliff and somehow kept running in midair, maintaining volumes even as revenue plummeted. The companies' latest projections, released in earnings reports in recent days, suggest gravity is finally taking hold. With crude prices near a 12-year low, drillers are deciding it's best to keep their barrels in the ground, heeding the advice this week of Saudi Arabia's Ali al-Naimi. In comments at the IHS CERAWeek energy conference in Houston, Naimi told U.S. producers their only choices were to "lower costs, borrow cash or liquidate" to survive the downturn.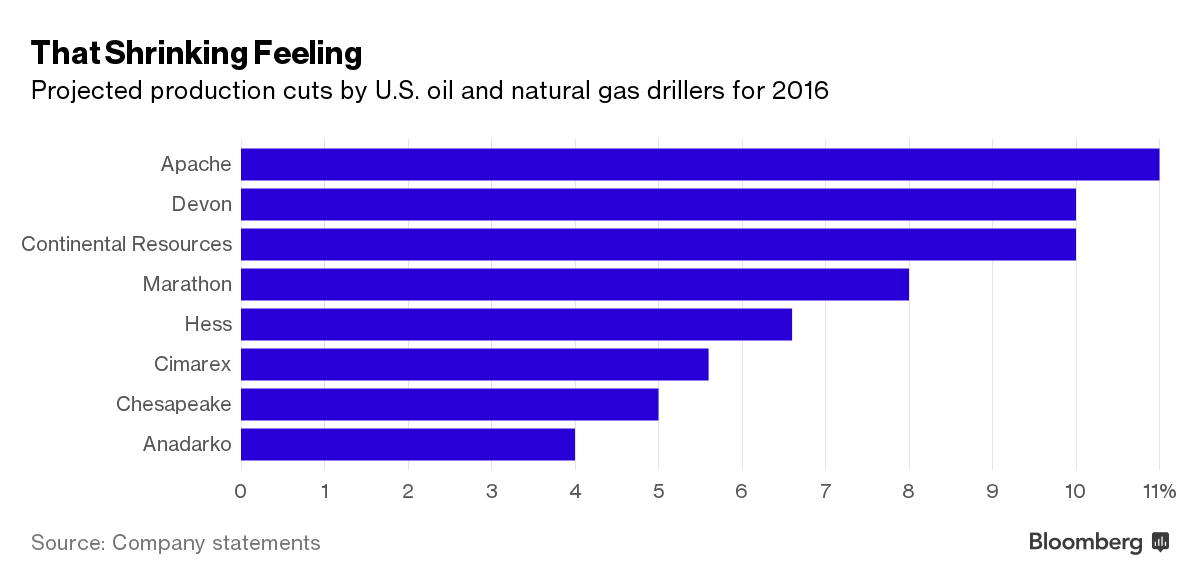 Telegraph:  OPEC has failed to stop US shale revolution, admits energy watchdog
The current crash in oil prices is sowing the seeds of a powerful rebound and a potential supply crunch by the end of the decade, but the prize may go to the US shale industry rather Opec, the world's energy watchdog has predicted. America's shale oil producers and Canada's oil sands will come roaring back from late 2017 onwards once the current brutal purge is over, a cycle it described as the "rise, fall and rise again" of the fracking industry. "Anybody who believes the US revolution has stalled should think again. We have been very surprised at how resilient it is," said Neil Atkinson, head of oil markets at the International Energy Agency. The IEA forecasts in its "medium-term" outlook for the next five years that US production will fall by 600,000 barrels per day (b/d) this year and 200,000 next year as the so-called "fracklog" of drilled wells is finally cleared and the global market works off a surplus of 1m b/d. But shale will come back to life within six months – far more quickly than conventional mega-projects and offshore wells – once crude rebounds to $60. Shale output is expected to reach new highs of 5m b/d by 2021. This will boost total US production of oil and liquids by 1.3m b/d to the once unthinkable level 14.4m b/d, widening the US lead over Saudi Arabia and Russia.
Reuters:  Whiting slashes budget, suspends fracking
North Dakota oil producer Whiting Petroleum Corp said on Wednesday it will suspend all fracking and spend 80 percent less this year, the biggest cutback to date by a major U.S. shale company reacting to the plunge in crude prices. Whiting's cut is one of the largest so far this year in an energy industry crippled by oil prices at 10-year lows. Denver-based Whiting said it will stop fracking and completing wells as of April 1. Most of its $500 million budget will be spent to mothball drilling and fracking operations in the first half of the year. After June, Whiting said it plans to spend only $160 million, mostly on maintenance. Rival producers Hess Corp and Continental Resources Inc have also slashed their budgets for the year, though neither has cut as much as Whiting. "We believe this conservative strategy should help us to maintain our liquidity posi-tion and leave us well positioned to capitalize on a rebound in oil prices," Whiting Chief Executive Officer Jim Volker said in a statement. The cuts will drag down production and likely reverberate in the economy of North Dakota, the second-largest U.S. oil producing state after Texas, which currently pumps 1.1 million barrels per day.
Investors:  Moody's Puts Chevron On Review; Lack of Investment To Hit Exxon Mobil
Moody's put Chevron on review for a downgrade on expected negative free cash flow and changed Exxon Mobil's debt rating outlook to negative, as lower capital reinvestment will likely haunt the oil major for the rest of the decade. The ratings agency predicts negative free cash flow this year and next at Chevron, according to a note from Pete Speer, Moody's senior vice president. Last month Chevron cut its capital spending for this year by 25% vs. 2015, but Moody's sees negative free cash flow to exceeded $15 billion in 2016, despite the spending cut. Chevron had negative free cash flow of around $16 billion in 2015. Moody's changed Exxon's debt rating outlook to negative from stable on "negative free cash flow and weak cash flow based leverage metrics for ExxonMobil in 2016 and 2017." Exxon is also cutting capex this year and Speer thinks the "diminished level of capital reinvestment could adversely affect Exxon's reserve replacement and production profile in the latter part of this decade." Moody's also downgraded ConocoPhillips', Marathon Oil's, Devon Energy's and Apache's senior unsecured ratings with a negative outlooks late Thursday. It also cut ratings on EOG and Occidental Petroleum, but sees a stable outlook.
Telegraph:  Energy price war spreads to gas as US shale storms global market
The US has exported its first shipment of natural gas in a historic move that shifts the balance of power in the global energy market and kicks off a struggle with Russia for market share. Surging US supply over the next five years threatens to break the Kremlin's dominance over Europe's gas market, and is already provoking talk of a "Saudi-style" counter attack by Moscow to drive US shale gas frackers out of business before they gain a footing. At the very least, it sharpens a global price war as liquefied natural gas (LNG) bursts onto the scene, and closes the chapter on the 20th century system of pipeline monopolies. Gas is starting to resemble the spot market for crude oil, with the same wild swings in prices and boom-bust cycles. The US is ramping up LNG exports to almost 130bn cubic metres a day (BCM) by the end of the decade, roughly equal to Russia's gas exports to Europe. This may rise to 200 BCM and possibly beyond as the shale industry keeps finding once unthinkable volumes of gas.
Reuters:  Coal remains top U.S. power source in 2015, gas a close second
Coal managed to retain its top spot in U.S. power generation in 2015, while natural gas came in a close second, according to the latest data from the U.S. Energy Information Administration on Friday. EIA said gas produced a record high 1.3 billion megawatt hours per day of electricity on average in 2015. Coal, meanwhile, produced about 1.4 billion MWh per day. Although data from EIA showed that power plants used more gas than coal to produce electricity in seven of the 12 months in 2015, including every month between July and December, coal maintained its lead due to high usage during the polar vortex winter. Many of the coal units that operated during the winter of 2015 however, have since retired. In 2015, power companies shut over 15,000 MW of coal plants, the most ever in any year, as inexpensive gas reduced what generators could charge for electricity, making it uneconomic for them to upgrade coal plants to meet increasingly strict federal environmental rules.
The Hill:  US tax credits boost wind, solar
The renewable energy tax credits Congress extended last year are likely to increase solar and wind power in the United States and decrease the country's carbon emissions. That's the conclusion of a study from federal scientists, who said Monday that the five-year extension of the wind and solar tax credits will lead to up to 53 gigawatts of additional renewable energy power by 2020 than if the credits had lapsed. The study said the new renewable energy will decrease carbon dioxide emissions from the power sector by between 540 million metric tons and 1,400 mil-lion metric tons between 2016 and 2030. Both figures are contingent on the price of natural gas. If prices remain at their current low levels, the National Renewable Energy Laboratory said in its report, utilities are likely to move more slowly to deploy wind and solar power than if the price increases. But either way, the report said, "these findings suggest that tax credit extensions can have a measurable impact on future renewable energy deployment and electric sector carbon dioxide emissions under a range of natural gas price assumptions." The White House touted the study on Monday, with Dan Utech, Obama's deputy assistant for energy and climate change, calling the new tax credits "one of the biggest investments in clean energy in our country's history."
Financial Times:  China breezes past EU as top wind power
China has overtaken the EU to become the world's top region for wind power, thanks to a burst of turbine installations in the past year, a new report has found. China installed nearly half of the 63 gigawatts of wind power added globally in 2015, the Global Wind Energy Council said on Wednesday, and now accounts for about a third of the world's installed wind power capacity. That is almost twice the figure for the US (17 per cent) and three times that of Germany (10 per cent), the biggest by capacity, according to the council's data. But as Chinese wind and solar installations have soared, so too has curtailment, or the degree to which installed capacity is not used. Part of the reason is the power grid's continued inability to accommodate fluctuating sources of power, as well as rising overcapacity in power generation from all sources. Political issues are also a factor, industry sources complain. Local power bureaucrats are under pressure to maintain power purchases from beleaguered local coal-fired plants, as an economic slowdown softens demand from industrial customers. Moreover, as each province meets its own quotas for low-carbon energy generation, power bureaucrats become reluctant to source electricity from wind or solar installations in neighbouring provinces. This has led to a particularly high degree of curtailment for wind farms in Inner Mongolia and other northwestern provinces, which were built with the intention of exporting power to the more industrialised Chinese heartland.
Reuters:  China to close more than 1,000 coal mines in 2016
China will aim to close more than 1,000 coal mines over this year, with a total production capacity of 60 million tonnes, as part of its plans to tackle a price-sapping supply glut in the sector, the country's energy regulator said. China is the world's top coal consumer but demand has been on the wane as economic growth slows and the country shifts away from fossil fuels in order to curb pollution. In a notice posted on its website on Monday, the National Energy Administration (NEA) said the closures would form part of the plan released earlier this month to shut as much as 500 million tonnes of surplus production capacity within the next three to five years. China has a total of 10,760 mines, and 5,600 of them will eventually be required to close under a policy banning those with an annual output capacity of less than 90,000 tonnes, the China National Coal Association has estimated. China has promised to stop approving all new coal mine projects for three years in a bid to control capacity. The country produced 3.7 million tonnes coal last year and has an estimated capacity surplus of 2 billion tonnes per annum.
Environmental Research Web:  PV solar in Germany: too much of a good thing?
An interesting study from the German Development Institute (DIE) of Germany's ambitious green energy policy asks whether its support for PV solar, and its subsequent rapid expansion, has been a good idea. PV has expanded to over 38GW to almost match wind, now at 40GW, but it has been a costly exercise, since PV was much more expensive than wind. As a result PV has received the lion's share of support, up to 3 times more than wind, in part since it expanded under the Feed-in Tariff much faster than expected. And although its costs have dropped dramatically, it is still getting proportionately more of the subsidy. In terms of overall energy industry policy, the DIE report notes that, while on the one hand, Germany has succeeded in building up world-class renewable energy technologies and has captured large segments of the world market, on the other hand, it has been argued that 'German households have, through the renewable subsidies they pay, made the world a gift of solar technology which China has now been happy to exploit'. In the end, the report says 'it is hard to escape the conclusion that the deployment of solar PV in particular has in recent years been out of line both with its long-term expansion potential and its reasonable relative weight within the renewable energy mix – in a country with less-than-ideal climatic conditions for heavy reliance on solar energy'
World Nuclear News:  EDF calls for urgent EU electricity market reform
French utility EDF is calling for "rapid and radical reform" of Europe's electricity market structure to allow for future investments in new generating capacity. This is needed, it says, to "face up to current challenges of the energy transition and to consumers' expectations". The company said it sees "two key actions" that should be prioritized in reforming the market model in order to provide a low-carbon electricity mix in Europe. Firstly, it calls for a "significant" floor price for carbon dioxide to be established within the EU to encourage investment in generation facilities using non-fossil fuels. According to EDF, this floor price should be set at a minimum of €30 to €40 ($33 to $44) per tonne. Secondly, EDF seeks the promotion of "effective capacity mechanisms so as to ensure that the continent has long-term security of energy supply, despite market turbulence, and in the best interest of all customers".
Nuclear Street:  AREVA Posts Fifth Consecutive Loss
French nuclear giant AREVA continued to struggle in 2015, losing $2.2 billion in the year, compared to $5.2 billion in 2014. But the company touted progress on its turnaround plans Friday in its annual report, include the planned sale of radiation monitoring industrial Canberra and reactor and propulsion business AREVA TA. In addition, the company has initiated discussions with TVO that aims to clear a path for the completion of the Olkiluoto 3 (OL3) reactor in Finland, where arbitration suits are contesting overrun expenses due to extended delays. The company has been in the red for five consecutive years and maintains that delays at the project in Finland have been a major drag on the company's books. "AREVA and TVO have initiated discussions aiming at ensuring the completion of OL3 project and to settle disputes," said the company, which is 87 percent stated owned. In a statement, Chief Executive Officer Philippe Knoche explained the company's position in a positive light. "The group's competitiveness plan had a very positive impact on costs and cash," he said. "Half of the ($2.2 billion) loss is due to additional provisions for OL3 and half to provisions for restructuring and impairment related to market conditions." The CEO said the company was aiming, with liquidation plans and volunteer retirements, at "creation of New AREVA."
Energy Policy:  Historical construction costs of global nuclear power reactors
The existing literature on the construction costs of nuclear power reactors has focused almost exclusively on trends in construction costs in only two countries, the United States and France, and during two decades, the 1970s and 1980s. These analyses, Koomey and Hultman (2007); Grubler (2010), and Escobar-Rangel and Lévêque (2015), study only 26% of reactors built globally between 1960 and 2010, providing an incomplete picture of the economic evolution of nuclear power construction. This study curates historical reactor-specific overnight construction cost (OCC) data that broaden the scope of study substantially, covering the full cost history for 349 reactors in the US, France, Canada, West Germany, Japan, India, and South Korea, encompassing 58% of all reactors built globally. We find that trends in costs have varied significantly in magnitude and in structure by era, country, and experience. In contrast to the rapid cost escalation that characterized nuclear construction in the United States, we find evidence of much milder cost escalation in many countries, including absolute cost declines in some countries and specific eras. Our new findings suggest that there is no inherent cost escalation trend associated with nuclear technology.
Renewable Energy Focus:  The end of the line for today's wind turbines
EDF's recent announcement that they will extend the life of 4 of their 8 UK-based nuclear power plants has focussed analyst's minds on the pros and cons of extending service life. There are numerous cost and engineering issues at play here. These obviously include balancing the initial investment cost against profits already made and the potential decreasing efficiency alongside the increasing maintenance costs in an aging facility. The issues cut across the whole energy sector, but they aren't something many of our renewable technologies have yet had to face. Wind turbines, for example, are currently designed to be efficient and reliable for 25 years with possible extensions beyond that. According to Renewable UK, wind (and particularly offshore wind) is the UK's most promising renewable source to help meet the targets set by the EU in 2007 of obtaining 20% of total energy from renewable sources by 2020. As a result, vast numbers of turbines have already been installed on and offshore, and many more will be deployed in the next 5-10 years. What, though, will be happening in 20-25 years' time when today's turbines are reaching the end of their lives?
BBC:  Didcot Power Station collapse
One person has died and three people are missing following the collapse of a building at Didcot A Power Station. A major incident was declared at the site in south Oxfordshire after initial re-ports of an explosion at 16:00 GMT. Thames Valley Fire Control Service confirmed the fatality and also reported four people were injured in a "very severe incident". The decommissioned Didcot A plant closed in 2013 and demolition work has been taking place. A senior spokesman for Npower said that it was a partial collapse, not an explosion, that caused a section of the building to come down.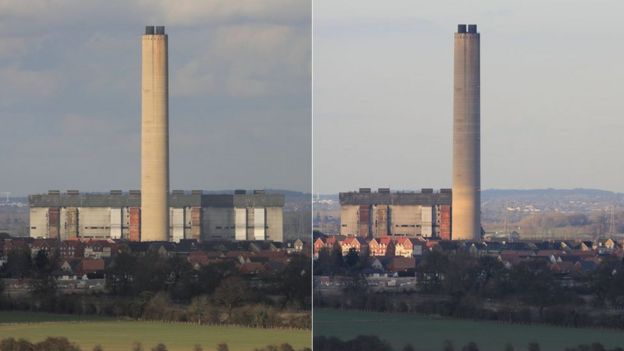 Former power station employee Nigel Brady took these images before and after the collapse
Telegraph:  Half of Britain's biggest power station could be shut down, boss warns
Half of Drax, Britain's biggest power station, could be shut down or mothballed because it is struggling to make money, its chief executive has warned. Dorothy Thompson said Drax had launched a strategic review of the three coal-fired units at its Yorkshire power plant and was considering all options including closure. The disclosure casts fresh uncertainty over the Government's plans to keep the lights on in coming winters, in the wake of announcements by SSE and Engie that they plan to shut coal plants this year. Mrs Thompson said the review had been triggered by commodity markets, with the coal units "struggling to make money" from current low power prices, and by the Government's proposal to end UK coal generation by 2025. Drax has so far converted half of its units to burn biomass wood pellets and is lobbying for Government subsidies to convert the remainder of the plant. Ministers have yet to indicate that such subsidies will be forthcoming.
Drax:  Biomass could save UK consumers £2 billion
An independent report published today has revealed consumers could save more than £2 billion if the Government's planned renewable energy auctions are opened up to include a wider mix of technologies. Drax commissioned NERA Economic Consulting and Imperial College to look at hidden costs that are not reflected in the contracts Government awards for renewable generation. These hidden costs, or whole system costs are increasing as intermittent renewables – those reliant on the sun and wind – increase. These intermittent renewables mean other forms of power generation need to kick in, and flex up and down to meet electricity demand. These costs are passed on to consumers via their energy bills. Currently the Government is planning three auctions for new renewable energy contracts – Contracts for Difference (CfDs) – planned over the next four years, and all are focused on offshore wind. The new research shows significant differences in the true costs of renewables once these additional costs are recognised. Offshore wind could require a CfD of £127 per MWh, onshore wind £92-97 per MWh, solar £96 per MWh, and biomass £84 per MWh. Once these new support levels are modelled over the planned energy auctions, the new energy mix that could win contracts is shown to save consumers £1.9 -£2.2 billion. This support is already paid for through energy bills and the new cost-efficient mix would lessen the impact.
Industrial Communities Alliance:  Lights out!
For more than thirty years, a dozen or so very large coal-fired power stations have been the backbone of Britain's electricity generation system. These power stations have given superb service to the nation. We entered the present winter (2015-16) with ten of these stations still on the grid and delivering power. However, over the last few months five of them have now been announced for full or partial closure this spring: Britain doesn't have a big surplus of generating capacity. Indeed, for a number of years electricity has been imported more or less round the clock via two interconnectors with the continent. Nor are the five power stations unserviceable. They are all relatively old but could remain on the grid for years to come. To varying extents, they've all been retro-fitted with anti-pollution equipment as well. And just at the moment coal is relatively cheap, so that's not the problem either. The problem – and it's a problem for every electricity consumer in the country – is that if all these closures go ahead there won't be enough generating capacity to keep the lights on next winter.
Herald Scotland:  Lib Dems to back fracking after policy U-turn
A moratorium on fracking should be lifted and the controversial gas extraction method given the green light, according the the Scottish Liberal Democrats. The party today reversed its policy on the issue, having voted in 2013 to back a temporary fracking ban. The decision was taken in light of a 2014 report on the topic, commissioned by the Scottish Government, which concluded that fracking could be carried out safely if robust regulation is in place. The SNP has said it plans to continue a moratorium until 2017, when Nicola Sturgeon will take a decision over whether to lift it or back a permanent ban following a fresh round of evidence gathering and a public consultation. At the LibDem conference, the SNP was accused of playing politics with the issue. One delegate said "scaremongering" had surrounded the debate over fracking and that the party should be led by evidence.
Herald Scotland:  Scottish Power to invest billions in UK renewables market
The head of Scottish Power has underlined the company's enthusiasm for the renewable energy business in the UK where it intends to invest €8.4 billion (£6.3bn) over the next five years. Chief corporate officer Keith Anderson said the investment will be concentrated on boosting the company's renewable energy generating capacity and related networks reflecting the Spanish-owned company's confidence in the UK market. "Our renewables business has been performing very, very well. We have seen the profitability of the business grow very, very rapidly," he said. As Scottish Power gave the green light to plans to build a £2.5bn windfarm off East Anglia yesterday, Mr Anderson emphasised the appeal of such assets compared with traditional plants. "Coal and gas generation is not making any money," complained Mr Anderson, who said the supply of gas and electricity to consumers is a fiercely competitive business. Scottish Power will close the coal fired Longannet power station in Fife next month. However, Mr Anderson said the Government needed to do more to encourage firms to build new gas plants as growing numbers of coal-fired generators are closed. "Otherwise longer term we're going to have some significant issues around security of supply," warned Mr Anderson.
Solar Power Portal:  STA Scotland calls for solar action
The Scottish arm of the Solar Trade Association (STA) has called on the Scottish government to consider a series of 'key asks' on solar to support the industry and help reach the country's renewables targets. The Holyrood government plans to meet 100% of electricity demand from renewables by 2020 and has already achieved half of this target with 7.5GW supplying the nation. While 5GW comes from onshore wind, STA Scotland says solar can make an important contribution towards meeting this goal, as well as an "essential balance" to the mix of renewables in Scotland. To do this, the organisation has called for the establishment of a Solar Action Plan for Scotland, which would set targets for deployment of both solar PV and thermal systems. It suggests 2GW and 200,000m2 or 141MWth respectively for the two technologies by 2020 would be "ambitious and achievable" targets. In policy terms, it also asks for financial support mechanisms for all solar projects to be implemented using the devolved powers of the Scotland Bill following a widespread withdrawal of support by the UK government. These would bridge the gap to subsidy-free solar projects, which STA Scotland estimates will emerge in the early 2020s.
BBC:  Rival emerges for Swansea's tidal energy plans
A competitor has emerged to challenge Tidal Lagoon Power (TLP) as the first to develop tidal energy in the UK. TLP's £1bn project aims to pioneer the technology with Swansea becoming the first of six lagoons around Britain. But now Ecotricity, one of the first green energy companies in the UK, said it is working on proposals to generate electricity through tidal energy. In a letter sent to the UK government, it claimed Swansea could be the wrong place for such a project. Ecotricity claims it can generate tidal energy at a lower price and financed over a shorter time than TLP. The company's founder Dale Vince said the technology used to build the "sea walls" in Swansea was hundreds of years old and offered "no technological advance". In the letter sent in January, he said: "Our analysis suggests that Swansea Bay is simply the wrong sized project in the wrong place and it is these constraints that are at the root of its very high cost of energy." The company will not say which sites it is looking at – including whether they would include Swansea – but acknowledges that the tidal range of the Severn Estuary is very attractive. It will make a further announcement in the summer.
Reuters:  Gas only a stopgap for UK without carbon capture
Natural gas only has a stopgap role in moving Britain to low-carbon energy until 2020 and will then be limited without carbon capture and storage (CCS) technology, a UK Energy Research Centre report said on Tuesday. Britain has set an ambitious target to reduce greenhouse gas emissions by 80 percent from 1990 levels by 2050 and gas has been seen as a bridging fuel until more clean energy comes online since it emits less carbon dioxide than coal or oil, but more than nuclear or renewable energy. The government said last year it would shut coal plants and replace them with cleaner gas plants by 2025, but experts warn these are not being built fast enough to compensate. It also scrapped plans to help commercialise CCS, which captures emissions and stores them underground. "Gas can play only a modest role between now and 2020 and in the medium to long term has no role as a bridging fuel because the UK has exploited a large amount of the decarbonisation potential in the power sector," the report said. The scope for gas use in 2050 is little more than 10 percent of 2010 levels, the report said. "Without CCS gas must be steadily phased out over the next 35 years and almost entirely removed by 2050," it added.
Guardian:  Heathrow climate protesters avoid jail
Six women and seven men have avoided jail for trespassing at Heathrow, following a protest against the possible expansion of the airport. The activists, dubbed the Heathrow 13, were given sentences of six weeks suspended for 12 months, which means that if they break the law within a year, they are likely to serve the sentence. They had been found guilty in January of aggravated trespass and entering a security-restricted area of an aerodrome. They had been warned by district judge Deborah Wright to expect a custodial sentence. During the trial at Willesden magistrates court in north-west London, the defendants had argued that their actions were reasonable, proportionate and necessary to prevent death and serious injury via air pollution and climate change, saying that 31 people a year die prematurely around Heathrow due to its pollution, and thousands die due to the effects of climate change.
Science Alert:  This $14-billion machine is set to usher in a new era of nuclear fusion power
The first and largest machine of its kind is currently under construction at the French scientific research centre Cadarache, which specialises in nuclear power research. It's called ITER, Latin for "The Way", and is expected to usher in a new era of nuclear fusion-powered electricity – something scientists and engineers have been working toward for over 40 years.
By fusing two forms of hydrogen – called deuterium and tritium – together, the machine would generate 500 megawatts of power. That's 10 times more energy than it would require to operate. Once completed, ITER would measure 100 feet (30 metres) in diameter and height, representing a new breed of nuclear fusion device. If it reaches its energy output goals, it will be the first machine of its kind to bridge the gap from fusion research in the lab to readily available fusion power for cities. As of June 2015, construction costs for the machine exceeded US$14 billion. But, in the end, experts say it will be worth it. After all, nuclear fusion is the process that powers stars like our Sun and offers a number of advantages to current energy sources if we can harness that power here on Earth.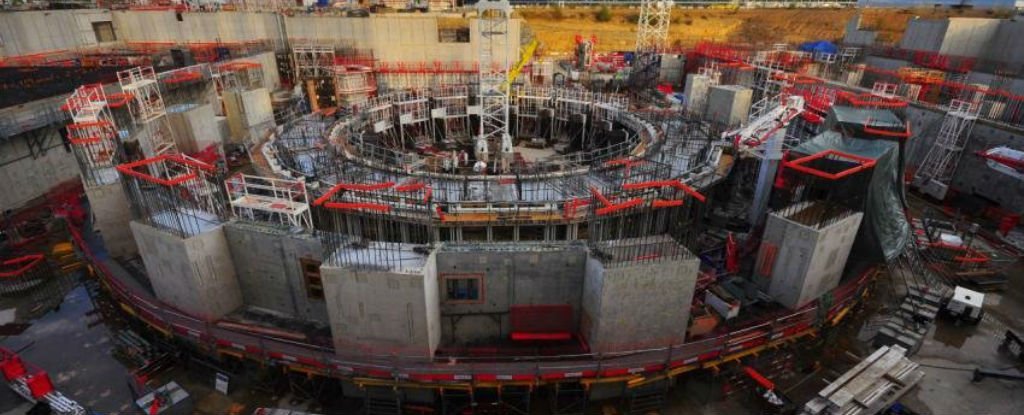 Cleantechnica:  Energy Storage Breakthrough Aims At $54 per kWh
Just a couple of years ago, researchers in the energy storage field were hungrily eyeballing a goal of $100 per kWh for the next generation of low cost, high capacity batteries that could enable electric vehicles to compete with gasmobiles, and it looks like a company called BioSolar is set to blow right past it with a new "super battery" that could achieve $54 per kWh in commercial development. The BioSolar energy storage approach solves two core problems of conventional lithium-ion battery technology. One is the cost of materials, and the other is the limited capacity of the cathode compared to the anode (the cathode and anode are the parts of the battery that receive and discharge the current). BioSolar has solved the cost and capacity problem in one blow, by developing an inexpensive polymer for the cathode. BioSolar's research also indicates that the new polymer enables batteries to charge and discharge rapidly while far outlasting the lifecycle of conventional lithium-ion energy storage. According to the company, conventional batteries drop down to 80 percent of their storage capacity after 1,000 charge/discharge cycles. When the new polymer is used in a supercapacitor, BioSolar's labwork has demonstrated a lifespan of 50,000 cycles without degradation (a supercapacitor is a type of energy storage device that discharges quickly)
Washington Post:  Top scientists insist global warming really did slow down in the 2000s
A group of top scientists has just published a paper in Nature Climate Change robustly defending the idea that, as they put it, "The observed rate of global surface warming since the turn of this century has been considerably less than the average simulated rate" produced by climate change models. The authors include noted climate researchers Gerald Meehl of the National Center for Atmospheric Research, Benjamin Santer of Lawrence Livermore National Laboratory, and Michael Mann of Penn State University. The research was led by John Fyfe of the Canadian Centre for Climate Modelling and Analysis at the University of Victoria. The authors also argue that a large body of research into the causes of the apparent slowdown — which tended to target natural fluctuations, and especially the behavior of the Pacific Ocean — represents valuable work that advances our understanding of "a basic science question that has been studied for at least twenty years: what are the signatures of (and the interactions between) internal decadal variability and the responses to external forcings, such as increasing GHGs or aerosols from volcanic eruptions?" To be sure, the researchers behind the current paper absolutely do not think that global warming is over or anything of the sort — rather, the argument is that there was a real slowdown that's scientifically interesting, even if it was brief and is now probably over. After all, even if they paused, temperatures now seem to be rising again, with 2014 and 2015 setting back-to-back global temperature records.
Washington Post:  Seas are now rising faster than they have in 2,800 years, scientists say
A group of scientists says it has now reconstructed the history of the planet's sea levels arcing back over some 3,000 years — leading it to conclude that the rate of increase experienced in the 20th century was "extremely likely" to have been faster than during nearly the entire period. "We can say with 95 percent probability that the 20th-century rise was faster than any of the previous 27 centuries," said Bob Kopp, a climate scientist at Rutgers University who led the research with nine colleagues from several U.S. and global universities. Kopp said it's not that seas rose faster before that – they probably didn't – but merely that the ability to say as much with the same level of confidence declines. The study was published Monday in the Proceedings of the National Academy of Sciences. Seas rose about 14 centimeters (5.5 inches) from 1900 to 2000, the new study suggests, for a rate of 1.4 millimeters per year. The current rate, according to NASA, is 3.4 millimeters per year, suggesting that sea level rise is still accelerating.
Express:  The SeaVax cleaner, the solution to ocean plastic waste
The roaming, satellite-controlled aluminium platform powered by sun and wind operates like a giant vacuum cleaner, chewing up and compressing the toxic garbage. Unveiled recently at a government-backed Innovate UK show, SeaVax's relevancy was brought into sharp focus last week following a scientific survey's revelation that by 2050 trash in the oceans will outweigh fish stocks. But it is its scope that sets it apart from other solutions currently being considered, says designer Bluebird Marine Systems (BMS), a small company in Lewes, Sussex, working on environmental innovations. "With our system all sizes of rubbish, from huge fishing nets to deadly micro particles, can be swept or sucked up, ground down and stored in SeaVax's tanks," explains project director Chris Close, 27. Sensors help detect the rubbish and sonar technology protects marine and bird life from getting caught in the 160 ft long vessel. Its compacted cargo is then either collected at sea or returned to port for recycling.