This week: the UK aims for a zero carbon economy, Hinkley point still on the drawing board, oil producers to meet, German utilities in trouble, Peabody in trouble, Russia plans Mars attack, Amber Rudd on a Green NGO called DECC, Venezuela on the brink, UK's £11 billion smart meter fiasco and failed state Ukraine.
Guardian:  ZERO CARBON EMISSIONS TARGET TO BE ENSHRINED IN UK LAW
The UK will enshrine in law a long-term goal of reducing its carbon emissions to zero, as called for in last year's historic Paris climate deal. Responding to former Labour leader Ed Miliband's call to put the target into law, energy minister Andrea Leadsom told parliament on Monday: "The government believes that we will need to take the step of enshrining the Paris goal for net zero emissions in UK law. The question is not whether but how we do it." The UK is already legally bound by the Climate Change Act to reduce emissions 80% by 2050, but a law mandating a 100% cut would mark a dramatic increase in ambition. The final 20% is seen as the most difficult to cut, as it would have to come from sectors such as farming, which are not as easy to decarbonise as power plants. Miliband, who played a key role in legislating the Climate Change Act and who called for zero emissions to be enshrined in law ahead of the Paris climate summit in December, welcomed Leadsom's comments. "It is the right thing to do because the science demands it, it makes economic sense and will build momentum in the fight against climate change," said Miliband, who had tabled an amendment on zero emissions to the energy bill that won cross-party backing.
Guardian:  If Hinkley Point doesn't go ahead, it could be lights out for Osborne
If you believe the story going around Westminster, the collapse of the controversial reactor project, heavily backed by George Osborne, would end his campaign to take over at Number 10, given the recent tax credit U-turn and pension retreat. But, however much the chancellor needs Hinkley, its fate will actually be decided not in Bridgwater, or London Bridge, but in the Avenue de Wagram, Paris: the headquarters of Électricité de France (EDF). It is here that the future of the £18bn scheme, a main part of infrastructure strategy and the key to Conservative Party energy policy, will be decided once and for all. Jean-Bernard Lévy, the EDF chief executive, is the man who is pushing for more financial help from the French government and to tie up a few more loose ends that would allow him, finally, to press the green button on Hinkley. Friends of Lévy describe him as a "dictator overseeing a democracy" but the stakes are high for him, too. His job is surely on the line from François Hollande's government, given Hinkley is meant to provide a French technology showcase. Yet City analysts in Britain have described the project as "insane" for a company that is already buried in a host of other problems, most of which require solving with money it has not immediately got. The temperature reached boiling point last week, when it was revealed that EDF's own finance director, Thomas Piquemal, had resigned, saying Hinkley should be postponed for at least three years while more cash was raised.
BBC:  Nicola Sturgeon acknowledges Scotland's economy faces challenges
Scotland's First Minister Nicola Sturgeon said she did not deny the country faced economic challenges. She was speaking to the BBC's Andrew Neil days after Scotland's deficit was shown to be almost 10% of its output – nearly double the UK as a whole. Ms Sturgeon said that despite difficulties particularly relating to North Sea oil revenues, Scotland's economy was "fundamentally strong". However, Ms Sturgeon believed it was important not to focus on just one year's figures. She said: "Over the past 10 years our fiscal position has been broadly similar to the UK and in some of those years it has been significantly better." Ms Sturgeon acknowledged particular difficulties in the North Sea oil and gas sector. "Those are difficult principally for the people who work in the North Sea and for the north east of Scotland, but it doesn't take away from the fact that the economy of Scotland is fundamentally strong," she added. In an interview on the BBC's Sunday Politics, Ms Sturgeon was asked what she would do to reduce Scotland's deficit. Ms Sturgeon said she wanted to look to the future and focus on "the real strengths of the Scottish economy".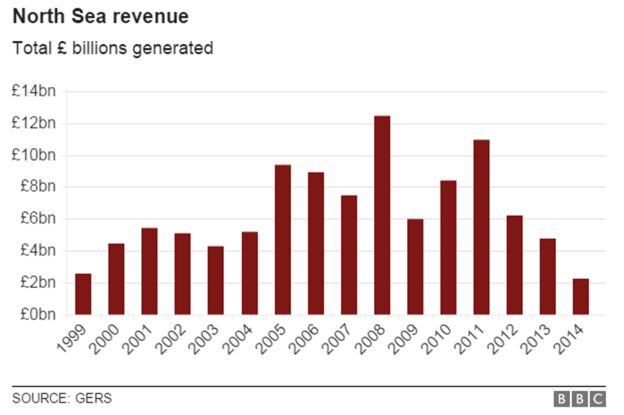 Seeking Alpha:  Can OPEC Balance Supply And Demand In 2016?
As WTI crude futures prices breached $40/b today on talk about an "Extraordinary Meeting" to be held by OPEC in April, it is worth taking a look at what OPEC thinks about the future sup-ply/demand balance, as presented in OPEC's March Oil Market Report. The follow-up question is, can OPEC balance the market in 2016? OPEC reports production in two ways: from direct communication and from secondary sources. The figures for January are 1.5 million barrels per day different with OPEC countries reporting higher production in most cases, compared to secondary sources. Given an estimated world oversupply on that order, the difference is meaningful. The differences below subtract secondary source estimates from OPEC reported levels. The largest disparity was Iranian production. They reported output at 426,000 b/d higher than did secondary sources. Another interesting point about Iranian production is that it had increased its output in the 4Q15, but not materially in 2016 after the sanctions were lifted. There had been re-ports that Iran had been selling oil on the "black market" prior to the lifting of sanctions, whereas others reported the oil going into storage. These figures may in fact represent what Iran could increase near term, given its representation of 500,000 b/d, although Iran has said it wants to boost its production to 4 million barrels per day, which is another 700,000 b/d above what it re-ported for January.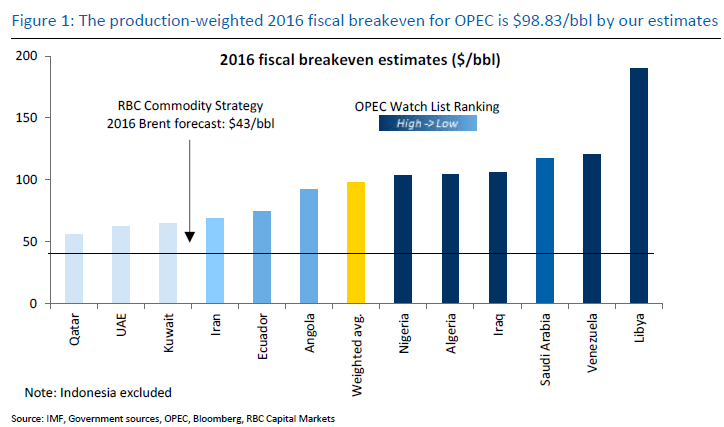 Bloomberg:  Saudi Arabia Will Join April Oil Producer Meeting in Doha
Saudi Arabia will join a meeting of producers from within and outside OPEC in Doha next month, adding weight to the campaign by financially stricken crude exporters to freeze output and overcome the glut that's weighing on the market. Qatar's oil minister said that countries would meet in the nation's capital Doha on April 17, without providing details of who would attend. While the participation of Iran is seen as critical for the deal to be effective, the meeting may go ahead without the Persian Gulf nation, according to two delegates who asked not to be identified because the talks are private. Saudi Arabia will attend, Oil Minister Ali al-Naimi told reporters on the sidelines of a conference in Berlin Thursday. Prices have rallied more than 30 percent since a mid-February proposal by Saudi Arabia, Russia, Venezuela and Qatar to cap oil output and reduce a worldwide surplus that had seen prices slump to 12-year low in January. The summit in April would seek commitments from a wider range of producers both within and out-side the Organization of Petroleum Exporting Countries. Russian Energy Minister Alexander Novak, speaking to reporters in Moscow, said that 15 countries have confirmed they'll participate and that Iran is willing to join in. Delegates from four OPEC members said they hadn't yet received an invitation.
Seeking Alpha:  Reality Bites For OPEC's Sovereign Wealth Funds
Even with the recent uptick in oil prices, the vast majority of sovereign producers are facing a difficult outlook for the remainder of 2016. As we have noted before, the spectrum of pain remains wide among OPEC, with the 'fragile five' at imminent risk for systemic crises while the smaller, flusher GCC states are better placed to ride out a continued 'lower-for-longer' storm. Yet, even some senior GCC officials have expressed anxiety about the current price environment and there is a real desire to see prices rebound to at least $50/bbl. Hence, we continue to believe that more proactive market management measures may be on the table later this year if the recent production freeze announcement, along with improving supply and demand dynamics, fails to keep prices at current levels. Given that many Middle Eastern producers vastly expanded social spending in the aftermath of the Arab Spring and have largely stuck with those policies, the fiscal gap will remain substantial even with a reset to $50/bbl. In fact, many of these producers saw their budget breakevens balloon to over $100/bbl following the toppling of successive regional autocrats. In turn, it is this gap that we believe represents a significant fiscal drag, a growing need for borrowing, and potentially a call on sovereign wealth fund assets.
Irish Independent:  German utilities battle government over nuclear ban costs
German power firms and government members clashed at a court hearing this week over the country's controversial decision to shut down all nuclear plants by 2022, in a lawsuit that could allow utilities to claim €19bn in damages. Germany's Constitutional Court will examine the ar-guments of industry giants E.ON, RWE and Vattenfall, who want to be compensated for the decision to accelerate a phase-out of nuclear power. The hearing comes five years after Japan's Fukushima nuclear disaster, which triggered Chancellor Angela Merkel's move to speed up the nuclear shutdown and reverse an earlier agreement that extended the lifespans of some plants. The decision deprived power firms of one of their main sources of profit and pitched them into crisis as the focus moved to renewables while electricity prices tumbled. The government said at the time that the risks for nuclear power had changed as a result of the Fukushima meltdown that was caused by a tsunami following a 9.0 magnitude earthquake. Utilities argue the events had no impact on the security of Germany's nuclear stations, while the accelerated shutdown cancelled 1,800 terawatt hours of planned production, enough to power Europe's biggest economy for about three years. "The risks connected with nuclear energy did not change following Fukushima, just their reception," said Matthias Hartung, head of the power generation business at RWE, Germany's largest power producer.
BBC:  Torness nuclear power station reactor shutdown
One of the two reactors at the Torness nuclear power station in East Lothian has been shutdown. The plant's operators, EDF Energy, said the incident was unplanned and the manual shutdown took place on Wednesday during routine maintenance. The station's director has issued a statement that said there were no safety, health or environmental impacts. It is the first unplanned shutdown this year. Paul Winkle, Torness Power Station director, said: "Whilst carrying out routine maintenance in the conventional turbine part of the plant there was an issue with a valve and our operations team took prompt action and manually shutdown the reactor, putting safety first. "Cooling to the reactor was maintained at all times and there were no safety, health or environmental impacts. "The reactor will be returned to power as soon as maintenance is satisfactorily completed." Lang Banks, WWF Scotland director, said: "This might be the first unplanned shutdown at Torness this year, but given similar incidents in the past few years it's clear that nuclear power is showing itself to be an increasingly unreliable source of energy."
Platts:  Majority in US opposed to nuclear power: Gallup poll
Opposition in the US to nuclear energy has climbed sharply, with a majority opposed to its use for the first time since Gallup began annual polling on the subject 22 years ago, the company said Friday. Gallup said 54% of respondents in the national poll said they were somewhat opposed or strongly opposed to nuclear energy, the first time since 2001 that more people opposed the energy source than favored it. The number saying they somewhat or strongly supported nuclear energy, 44%, was the lowest since polling began in 1994, it said. The polling company said the results suggest that low energy prices and a "perceived abundance of energy sources" are affecting attitudes towards nuclear power, trumping safety concerns. With gasoline prices dropping, perceived worry about the country's overall "energy situation" has declined to 15-year low levels, Gallup said. "This appears to have resulted in more Americans prioritizing environmental protection and fewer backing nuclear power as an alternative energy source," Gallup said. The poll was based on surveys of 1,000 adults in early March, and had a margin of error of 4 percentage points.
Science Alert:  Russia plans to fly to Mars in 45 days using nuclear power
Rosatom has the big idea for a nuclear-powered spaceship, and it's not a completely new concept either: both Russia and the United States were working on similar systems during the Cold War of the 1960s and onwards, although their efforts were focused on lightweight orbital satellites rather than space vehicles to take us to Mars and back again. While Rosatom's representatives haven't gone into detail about how the company's technology will work, it's likely to be some form of thermal fission, where the heat of splitting atoms are used to burn hydrogen or another chemical, providing propulsion for the spaceship. "A vehicle equipped with a nuclear engine is expected to have 30 times the power reserve of conventional spaceships," explains Rosatom. "The designs we are developing will enable mankind to build spaceships that can address all the space challenges of the 21st century, such as cargo transport, removal of space debris, asteroid impact avoidance, etc." A prototype will be ready for flight testing in 2018, according to the company, if they can get the funds together. We'll just have to wait and see what those Russian rocket scientists have up their sleeves in the next few years.
Reuters:  The coal loophole: doubts on China's will to enforce North Korea sanctions
Over two weeks after the United Nations slapped harsh new sanctions on North Korea, several Chinese shipping and trade sources say they have not been told of any curbs on the import of coal from the isolated nation – a lifeline for its struggling economy. China accounts for about 90 percent of North Korea's trade and its help is crucial in enforcing the sanctions announced by the United Nations on March 2 to punish Pyongyang for its nuclear and ballistic missile programs. Coal is particularly important to the economic health of North Korea because it is one of its only sources of hard currency and its largest single export item. Although some curbs have been put in place in the border city of Dandong, half a dozen trade and shipping sources at ports in north-eastern China said they had received no instructions from the government on any new rules on coal imports from North Korea. The ports account for the bulk of the coal trade between the two countries. "At this point, nobody has come to us and said you shouldn't do it," said an official at a company in the port city of Dalian that imports North Korean coal and other goods. "I'm not even clear on what the specific sanctions are."
Breitbart:  Killing Coal Means Burying America's Steel Industry Too
Hillary Clinton recently vowed to "put a lot of coal miners and coal companies out of business." But what would happen if Clinton got her wish? : Wind and solar power are intermittent forms of energy, and they simply do not scale up to the robust power requirements of America's highly developed industrial landscape. "Renewable" energy currently supplies less than 5 percent of the nation's needs. A chief drawback is that renewable power still necessitates conventional back-up generation from gas or coal systems. Renewables also struggle to generate the consistent power demanded by a modern, urban city. Only gas, coal, and nuclear can reliably undertake such a heavy lift on a continuing basis. But let's suppose that the U.S. coal industry were to be shut down. First, energy costs would rise significantly, since renewables are hardly cost-effective. Second, and more troubling—the U.S. would need to start importing the steel currently used to manufacture cars, military equipment, and whole host of other industrial products. Why this sudden importation of steel? Because without sturdy electrical generation, it's simply not possible to liquefy metal or power heavy-duty furnaces and machinery. And even more significant, it's impossible to make steel without coal. That's because steelmaking starts with metallurgical coal, which is used to make coke. Combining coke with iron ore yields steel. The domestic steel industry is already struggling to stay competitive against subsidized imports. America's steel producers simply can't bear the twin, added expenses of higher energy costs and imported metallurgical coal.
Marketplace:  Bankruptcy looms for biggest US coal-miner
'We may not have sufficient liquidity to sustain operations," the world's largest private-sector coal company, Peabody Energy, wrote in filings this week. That suggests Peabody Energy may be the next big coal company to go bankrupt and declare Chapter 11 to restructure its business. And that chapter is pretty full, as the coal mining business goes through what one analyst calls its "hour of reckoning". It's not just a question of mines and jobs – on the chopping block in bank-ruptcy is money set aside for workers pension and for cleaning up environmental damage from mines. Here's the difference five years makes. In 2011, Peabody Energy's stock flew over 1,000. Coal prices have fallen 60 percent. Peabody stock is down to $2 a share.
Guardian:  EU green transport target 'may have increased greenhouse gas emissions'
European Union renewable energy targets may have increased greenhouse gas emissions because the dirtiest biofuels produce three times the emissions of diesel oil, according to the most complete EU analysis yet carried out. Biodiesel made from palm oil emits more than three times as much and soybean oil around twice as much, when the crops' effects on land use are considered, the research by the Ecofys consultancy for the European commission found. Europe's aim of sourcing 10% of its transport fuel to "renewables" by 2020 – mostly biodiesel – will foster crop cultivation on 6.7m hectares of forests and grasslands, the paper says. When the loss of trees is factored in, such 'first generation biofuels' would generate around nearly 1bn tones of CO2 equivalent. "We need to rapidly accelerate the phase-out of first generation biofuels," said Jos Dings, director of the green thinktank Transport and Environment (T&E). "Biodiesel is a big elephant in the room. It accounts for three quarters of the biofuel we use in the EU and this report pinpoints that its emissions are much worse than fossil fuels."
RE News:  EU spotlight on offshore wind links
The EU has launched a four-year project to boost the development of meshed HVDC offshore grids. The project, part of the Horizon 2020 Research Program, aims to develop and demonstrate three technologies: diode rectifier offshore converters; multi-vendor HVDC grid protection sys-tems; and full power testing of HVDC circuit breakers. The Progress of Meshed HVDC Offshore Transmission Networks (Promotion) project will also develop a regulatory and financial framework for coordinated planning, construction and operation of integrated offshore structures. The framework will include an offshore grid deployment roadmap for the future offshore grid system in Europe. The project said currently the cost of converter technology, a lack of experience with protection and fault clearance components hamper the development of meshed HVDC grids. It consists of 34 partners coordinated by DNV GL. They include: Dutch transmission operator TenneT; Danish TSO Energinet.dk; MHI Vestas; Iberdrola; Scottish Hydro Electric Transmission; Dong Energy; Adwen; Statoil; ABB; Alstom Grid; Statoil; and EirGrid. DNV GL chief executive officer Elisabeth Harstad said: "Combining new HVDC technologies within present systems is instrumental in bringing large-scale renewables into the grid and to en-sure a future-proof grid which is affordable, reliable and sustainable."
Spectator:  Energy Secretary Amber Rudd on windmill-slaying
The problem, Rudd says, was that under Labour and then Lib Dem control, the Department of Energy had not been run much like a department of energy. 'It had been run a bit like a green think tank or a green NGO; very pure of heart, very noble. But not enough focus on bills, on the future, on planning, trying to look 20 or even ten years ahead.' British energy policy had been set by a succession of zealots. 'You had Ed Miliband, Chris Huhne, Ed Davey — there hadn't been a Conservative one for nearly 20 years.' Her predecessors, she says, had prided themselves on 'their approach to climate change rather than their approach to delivering cheaper bills'. Her priority is how to respond in a calm, sensible way. 'We account for just over 1 per cent of the world's carbon emissions", she says. 'So we can't do this on our own. But we can show leadership.' Which means continuing a move towards renewable energy, while acknowledging that it will be expensive. 'We must be frank about it: there is a bit of a cost. We're not going to be able to have renewable energy cheaper than coal and gas.' Her civil servants may remain strong believers in the green gospel, but she says she will not try to convert them. 'I wouldn't have it any other way,' she says. 'They believe passionately in what they are doing and are very supportive of the new direction that I've pushed the department in. I think we can keep people's passion — their religion — but also make them practical.'
BBC:  Tory MPs to vote with Labour in EU 'solar tax' protest
Conservative Eurosceptics are to join forces with Labour to try and defeat the government over changes to VAT on home insulation and renewable energy. At least 12 Tories are backing a Labour motion opposing any rise in VAT charged on solar panels, wind turbines, draught installation and energy-saving devices. Eurosceptics have long been critical of rules in force since the early 1990s harmonising VAT rates across the EU, arguing they undermine national sovereignty and the right of member states to set their own tax rates. The UK has long applied a 5% rate to the installation of domestic energy-saving products for anyone over the age of 60 who is unemployed, disabled or claiming benefits such as income support or housing benefit. But last year, the European Court of Justice said this was a breach of EU laws as the products and services concerned did not fall within the VAT directive which only exempts the "provision, construction, renovation and alteration of housing as part of social policy" and the "renovation and repairing of private dwellings".
Bloomberg:  Venezuela to Shut Down for a Week to Cope With Electricity Crisis
Venezuela is shutting down for a week as the government struggles with a deepening electricity crisis. President Nicolas Maduro gave everyone an extra three days off work next week, extending the two-day Easter holiday, according to a statement in the Official Gazette published late Tuesday. The government has rationed electricity and water supplies across the country for months and urged citizens to avoid waste as Venezuela endures a prolonged drought that has slashed output at hydroelectric dams. The ruling socialists have blamed the shortage on the El Nino weather phenomena and "sabotage" by their political foes, while critics cite a lack of maintenance and poor planning. Venezuela has long suffered rolling blackouts that cripple public services and leave citizens in the dark for days at a time. The extended break seeks to further ease demand on Venezuela's strained power grid and follows a forced reduction of hours at shopping malls and public institutions.
Marketwatch:  Could California's massive Ivanpah solar power plant be forced to go dark?
A federally backed, $2.2 billion solar project in the California desert isn't producing the electricity it is contractually required to deliver to PG&E Corp., which says the solar plant may be forced to shut down if it doesn't receive a break Thursday from state regulators. The Ivanpah Solar Electric Generating System, owned by BrightSource Energy Inc., NRG Energy Inc.and Alphabet Inc.'s Google, uses more than 170,000 mirrors mounted to the ground to reflect sunlight to 450-foot-high towers topped by boilers that heat up to create steam, which in turn is used to generate electricity. But the unconventional solar-thermal project, financed with $1.5 billion in federal loans, has riled environmentalists by killing thousands of birds, many of which are burned to death — and has so far failed to produce the expected power. PG&E is asking the California Public Utilities Commission for permission to overlook the shortfall and give Ivanpah another year to sort out its problems, warning that allowing its power contracts to default could force the facility to shut down. The commission's staff is recommending that it grant the extension Thursday. Spokesmen for BrightSource, which developed the technology, and NRG, which operates the plant, declined to comment on its future. NRG has said it has taken more than a year to adjust equipment and learn how to best run it.
Inside Climate News:  The Mystery of the Global Methane Rise: Asian Agriculture or U.S. Fracking?
The rise in methane concentration in the atmosphere may reflect the growth of agriculture to feed Asia's booming population, according to a study published Thursday in the journal Science.n Rice paddies in Southeast Asia and livestock in India and China are probably behind the increase, according to researchers. The study was led by Hinrich Schaefer, an atmospheric scientist at the National Institute of Water and Atmospheric Research in Wellington, New Zealand. The findings were based on a chemical analysis of methane in the atmosphere. Other scientists, however, challenged the results, arguing that the fracking-driven U.S. oil and gas boom is more likely to be the cause. Scientists have been trying to discover why methane levels in the atmosphere started rising in 2007 after holding steady for nearly a decade. As a greenhouse gas, methane is 84 times more potent than carbon dioxide over 20 years. Reducing methane emissions is considered crucial to slowing global warming. "If we want to get serious about reducing methane emissions, we now know better where we have to start working," Schaefer said.
Phys Org:  Climate repeats as fractals
"You can look at the climate as fractals, that is, patterns or structures that repeat in smaller and smaller versions indefinitely. If you are talking about 100-year storms, are there then 100 years between them? – Or do you suddenly find that there are three such storms over a short timespan? If you are talking about very hot summers, do they happen every tenth year or every fifth year? How large are the normal variations? – We have now investigated this," explains Peter Ditlevsen, Associate Professor of Climate Physics at the Niels Bohr Institute at the University of Copenhagen. "We only have about 150 years of direct measurements of temperature, so if, for example, we want to estimate how great of variations that can be expected over 100 years, we look at the temperature record for that period, but it cannot tell us what we can expect for the temperature record over 1000 years. But if we can determine the relationship between the variations in a given period, then we can make an estimate. These kinds of estimates are of great importance for safety assessments for structures and buildings that need to hold up well for a very long time, or for structures where severe weather could pose a security risk, such as drilling platforms or nuclear power plants. We have now studied this by analysing both direct and indirect measurements back in time," explains Peter Ditlevsen. The research shows that the natural variations over a given period of time depends on the length of this period in the very particular way that is characteristic for fractals. This knowledge tells us something about how big we should expect the 1000-year storm to be in relation to the 100-year storm and how big the 100-year storm is expected to be in relation to the 10-year storm. They have further discovered that there is a difference in the fractal behaviour in the ice age climate and in the current warm interglacial climate.
Power Engineering:  Intervention saves £11bn UK smart meter system from potential mass hack
The UK's electronic intelligence agency has had to act with haste to secure smart meters destined for large scale roll-out, after a security loophole was discovered on the devices. GCHQ intervened to change the original designs and save the £11bn nationwide system of smart energy meters against hackers on discovery of a fault, which meant all of the meters were given the same encryption key. If a hacker was able to crack the key, they could potentially gain control of every meter, GCHQ feared, according to a senior Whitehall official. That would allow them to "start blowing things up" the official told the Financial Times. Dr Ian Levy, the technical director of GCHQ's communications electronic security group, said in a separate interview a number of security challenges surrounded the millions of gas and electricity smart meters being installed. "The issue is will they let someone disconnect all the power to your house? Or can someone turn off the right number of meters in the right way to cause a collapse in the grid's systems?" he said.
Fort Russ:  Ukrainian Nuclear Engineers Protest the Criminal Order of the Ministry of Energy
The world must not allow a second Chernobyl in the former Ukraine

Troops with a UN mandate must, at a minimum, take control of particularly dangerous objects, from nuclear power plants and to hydropower plants

It's time to admit that Ukraine is a failed state. None of the functions of the state described in any textbook is working, monopoly on violence is lost, the economy continues to disintegrate. Instead of properly operating state institutions – cargo-cult, imitation, formal picture of activity without essential content.
Vox:  Climate change warnings on gasoline pumps.
Later this year, someone stopping to fuel up in North Vancouver will be the first customer to see the controversial warning labels. They'll be wrapped around the gas pump handles. The exact wording isn't settled yet, but here's the gist of it: Every time you pump gas, you're contributing to air pollution and climate change. What will they look like? We don't know that either, but here's one candidate considered by the city council that voted in the new warning-label law.