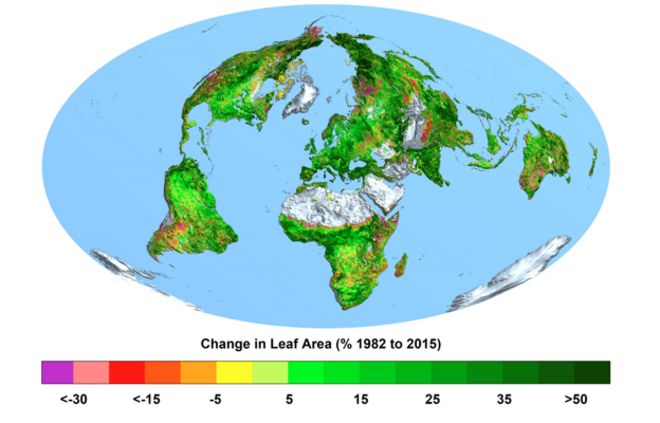 Rejoice! The world is going green after all, courtesy of man-made CO2 emissions:
Science Daily:  CO2 fertilization greening Earth, study finds
From a quarter to half of Earth's vegetated lands has shown significant greening over the last 35 years largely due to rising levels of atmospheric carbon dioxide, according to a new study published in the journal Nature Climate Change.
An international team of 32 authors from 24 institutions in eight countries led the effort, which involved using satellite data from NASA's Moderate Resolution Imaging Spectrometer and the National Oceanic and Atmospheric Administration's Advanced Very High Resolution Radiometer instruments to help determine the leaf area index, or amount of leaf cover, over the planet's vegetated regions. The greening represents an increase in leaves on plants and trees equivalent in area to two times the continental United States. Results showed that carbon dioxide fertilization explains 70 percent of the greening effect, said co-author Ranga Myneni, a professor in the Department of Earth and Environment at Boston University. "The second most important driver is nitrogen, at 9 percent. So we see what an outsized role CO2 plays in this process."
Stories below include oil companies getting back in the black, China to fund Yamal, France to issue "green bonds", Colombian imports cut Australian coal prices, Venezuela's energy crisis gets worse, biodiesel increases EU emissions, storage batteries in Germany, solar in Ireland, the US solar scandal, UK solar firms face insolvency, Sturgeon says "yes" to fossil fuels, tide power off the Isle of Wight, red meat in Denmark, insects in Sweden, a weasel shuts down the Hadron Collider and a green energy expert who consorts with extraterrestrials.
WSJ:  Oil companies begin to benefit from cost cuts
Exxon Mobil Corp. reported its worst quarterly results since 1999 on Friday. Yet despite a 63% drop in profits to $1.8 billion, investors shrugged off Exxon's performance and its shares rose less than 1% to $88.56 in midday trading—mirroring a trend that has generally pushed oil and gas stocks up after first-quarter earnings as crude prices this week rose to their highest levels of the year, spurring optimism in the oil patch. Many companies including major oil companies BP PLC and Total SA, and independent producers such as Pioneer Natural Resources Co. , saw their shares rise after reporting first-quarter earnings because they either swung to a profit or reported smaller losses than anticipated. BP said earlier this week its net loss shrunk nearly 80% from the prior quarter. On Wednesday France's Total and Norway's Statoil ASA said they were back in the black last quarter after suffering losses in the last three months of 2015. The results reflect aggressive cost cuts, including slashing spending plans for drilling and laying off large numbers of workers, that companies have made to cope with a nearly two-year slump in crude prices. Along with a surge in oil prices, which have risen more than 70% from a February low past $45 a barrel this week, the results have helped fuel a 9% rally in energy stocks in the S&P 500 index in the past month.
Christian Science Monitor:  Saudi Arabia vows to end its 'addiction to oil'
Saudi Arabia is now starting to contemplate a future in which gasoline and diesel no longer power the majority of the world's cars. Over the next decade and a half, it hopes to transition its economy away from oil, largely by investing today's oil revenues in other industries. It's part of a plan known as "Vision 2030" that Saudi Arabia claims will end its "addiction to oil." The government's first major step to address that trend will be an initial public offering (IPO) in Aramco, the Saudi national oil company. While the government plans to sell less than 5 percent of Aramco, the company's sheer size—Deputy Crown Prince Mohammed believes it will be valued at $2.5 trillion—has some analysts already describing this as the largest IPO in history. Some funds from the sale will be used to establish a $2 trillion "Public Investment Fund," which will then invest in other industries.
UPI:  Oil running quickly toward $50 per barrel
Oil prices are running toward $50 per barrel, up nearly 60 percent from 2016 lows, as more data surfaces to support a push away from supply side pressures. Oil prices have rallied as a series of reports find balance between supply and demand is starting to return. BP CEO Bob Dudley said "market fundamentals" are pointing to a market that could return to balance "by the end of the year." Data from the American Petroleum Institute, a group that also represents the business interests of those in the U.S. energy sector, reported crude oil inventories fell by 1.1 million barrels last week. Formal data from the U.S. Energy Information Administration is due out late Wednesday and any major contrast with API's data could drag on the rally's momentum. Long-term, however, a recent report from analysis group Wood Mackenzie finds the lower levels of spending on exploration and production that came as a result of lower crude oil prices could reverse the pressure from supplies long term. Even though more than 7,000 new discoveries have been made in the last 15 years, researchers there said poor exploration results suggest the global market could see a shortfall of as much as 4.5 million barrels per day by 2035.
UPI:  U.S. shale oil down, but not out
A short-term market report from the U.S. Energy Information Administration finds total U.S. crude oil production declines from the 9.1 million barrels per day expected during the first quarter of the year to an average 7.9 million bpd by third quarter 2017. Crude oil prices this year have rebounded 58 percent since dropping below $30 per barrel earlier this year. Despite the recovery, crude oil prices are still 25 percent lower than they were at this point last year. Jason Bordoff, the director of the Center for Global Energy Policy at Columbia University, told lawmakers there may be opportunities for the energy companies that survive the downturn. Crude oil prices won't be low forever and, in response, U.S. output will rebound. "And this will likely happen at lower prices than many previously believed because the intense economic pressure of this current downturn has forced oil companies to find new and innovative ways to improve their efficiency, productivity and cost-effectiveness," he said.
WSJ:  Yamal Natural Gas Project Gets Funding from China
A $27 billion natural-gas project in the Russian Arctic has secured the billions in financing it needed from Chinese banks, a hard-fought victory over Western sanctions that tightens Russia's energy relations with China. China has proved more reluctant than Russian officials hoped to provide large-scale investment to soften the economic blow of Russia's standoff with the West. But Friday, the Yamal LNG project said it had signed two loan deals with Chinese state banks in euros and yuan worth some $12 billion, enough to complete the project that is scheduled to ship its first liquefied natural gas next year. "For the Russian leadership, it's a political deal to demonstrate that it can work despite the sanctions regime," said Mikhail Krutikhin, an analyst at RusEnergy consultancy in Moscow. The Yamal LNG project had emerged as a test for the Kremlin's ability to endure Western sanctions over its interventions in Ukraine. The U.S. and the European Union have targeted Russian government officials, tycoons and companies, cutting them off from access to dollars and in many cases Western finance altogether.
Platts:  Vattenfall CEO says Germany's proposed nuclear risk premium 'too high'
The CEO of Swedish utility Vattenfall, which has large stakes in Germany's Brunsbuttel and Krummel nuclear plants, said the additional amount German nuclear power producers would have to pay for decommissioning and spent fuel storage under a proposed plan is "disproportionate to the economic strength of the utilities." The German Commission on the Review of the Financing of the Nuclear Phaseout, or KFK, recommended to the German government that nuclear utilities pay a so-called risk premium of Eur23.3 billion ($26.4 billion) into a fund for decommissioning reactors and final storage of spent fuel, which would be administered by the state. That payment would be on top of the almost Eur40 billion in provisions that utilities have set aside to finance decommissioning and storage. Speaking at a press conference Thursday on Swedish state-owned Vattenfall's first-quarter results, CEO Magnus Hall said the commission's plan "in principle is a feasible way to organize and finance the nuclear power phaseout but the risk premium is too high." However, Hall said Vattenfall, which said last week it would sell its German lignite business, had no plans to divest its other operations in the country, which also include hydropower production.
RT:  Hollande vows to shut down France's oldest nuclear power plant
The French President has promised to formally initiate the shutdown of the country's oldest nu-clear reactors on the grounds of environmental and safety concerns surrounding the Fessenheim power plant near the German and Swiss borders. Fessenheim houses two 920 megawatt reactors and has been running since 1978, making it France's oldest operating plant. Due to its age, the German government and activists alike have long been calling for it to be permanently closed. While no specific date for the closure has been offered, Hollande said that "discussions are ongoing between the state and (operator) EDF on the conditions of this move." The president also added that the plant located in the Upper Rhine would be the first in a series of nuclear facilities that will be shut down in the coming years. Hollande stressed that the closure of the oldest nuclear plant along others "must be done according to a specific timetable, respecting personal and our climate commitments.
Seeking Alpha:  Coal – an indissoluble cog in global energy production
For much of the recent history, global coal export demand was driven by European and Japanese post-war reconstruction and the emergence of the Tiger economies of South Korea and Taiwan. China and, until recently, India, have been late but significant players in the global coal market. What distinguishes both China and India from traditional coal markets in Europe and Asia, how-ever, are their relatively high degree of historical and continued coal self-sufficiency. Unlike South Korea at 98% or Japan at 100% dependent on imported coal, China and India rely on imports for a total of 7% and 11% respectively. Often the debate on coal's future centers on pollution, climate change, and the increasingly low-cost attractiveness of renewable energy production. Though these arguments are valid, over 473GW of coal power capacity was brought online in the period 2010-15, led by China and India. A further 338GW is currently under construction, rendering coal an indissoluble cog in global energy production in the medium-to-long term.
Reuters:  Australian coal prices plummet as Colombian cargoes head to Asia
Australian thermal coal prices for delivery in June have dropped to 10-year lows as Colombian miners start sending large volumes into Asia for the first time, adding cargoes to an already over-supplied market. Prices for coal cargoes delivered from Australia's Newcastle port by May 31 last closed at $46.60 per tonne, their lowest since 2006. The slump comes just as other commodities such as steel and oil enjoy rallies on the back of new investor appetite. In thermal coal markets, by contrast, an unusual new trade route has opened as low dry-bulk rates allow Colombian miners, who usually supply North America and Europe, to target Asia. South Korea's East-West Power utility (EWP) this month bought 260,000 tonnes of Colombian coal on free-on-board (FOB) terms for loading between June and August, adding to another 410,000 tonnes already on order. "We have currently got ordered 670,000 tonnes of coal from Colombia," said a utility source familiar with the matter."Currently Colombian coal is about $7-8 (per tonne) cheaper than the Australian coal and if this price trend continues, we are definitely willing to import more from Colombia," said the source, who declined to be identified.
Deutsche Welle:  Venezuela orders two-day work week for public workers amidst power crisis
Hours for public employees in Venezuela have been slashed in an effort to conserve power, President Nicolas Maduro announced on Tuesday "From tomorrow, for at least two weeks, we are going to have Wednesdays, Thursdays and Fridays as non-working days for the public sector," Maduro said during a television broadcast. The country's socialist government already gave Fridays off earlier this month to around three million public workers. On Monday, the government issued mandatory four-hour blackouts in eight regions around the country. Venezuela's vice president, Aristobulo Isturiz, added that primary and high schools will also now be closed to pupils on Fridays. However, workers at state-run hospitals and grocery stores are excluded from the work restrictions and all workers will be paid for the days they are supposed to stay home. The government blames the power shortages on a drought caused by the El Nino weather phenomenon, and hopes that rain will replenish water levels during the work restrictions. Critics, however, say the energy shortage resulted from economic mismanagement, failure to diversify energy sources, and corruption.
Oil Price:  Venezuela's Electricity Blackout Could Cut Off Oil Production
The water levels at a major hydroelectric dam are dropping close to a threshold that could require it to completely shut down in order to avoid damage. The Guri dam produces about three-quarters of the country's electricity. Without electricity, Venezuela's oil and gas sector, already on hard times, will deteriorate even further. Oil production has been in steady decline for years – Venezuela produced 2.53 million barrels per day in the first quarter of 2016, down almost 12 percent from the same quarter two years ago. International companies, including Schlumberger are abandoning the country because they have not been paid. That could cut into production even more. But the blackouts could spark a serious short-term supply disruption. The Amuay oil refinery has a capacity to produce 645,000 barrels per day, but is only producing about half of that amount today. The shortage of refined products is forcing the state-owned oil company PDVSA to reduce exports and import more. If the dam is forced to curtail power even more, or even shut down, more production will be affected. "What will happen to production of refined products and crude oil in Venezuela starting at the end of next week is a big question mark," Olivier Jakob, from consultancy Petromatrix, told the FT. "The country should continue to be considered as a real and immediate supply disruption risk."
IOL:  France to issue "green bonds".
France announced Monday it was raising its renewable energy goals and would become the first country to issue "green bonds" to fund projects which benefit the environment. Hollande was speaking at a national environment conference in Paris, where he sought to further carve out his country's role as a leader in energy transition after the signing of a global climate pact in Paris in December. Also at the conference, Environment Minister Segolene Royal said a roadmap for France's energy transition up to 2023 would be published on Wednesday, with higher objectives than initially planned. She said the number of wind farms would double in France, while electricity obtained from solar energy would triple. The amount of renewable energy sources used for heat production would increase by over 50 percent. Hollande said that to achieve the goal of decreasing the share of nuclear energy in electricity production from 75 percent to 50 percent by 2025 "renewables must be increased even faster."
GWPF:  EU Drive For 'Green' Biodiesel Has Increased Emissions, Study Finds
By 2020, continued use of biodiesel derived from vegetable oil will increase total EU transport emissions by almost four per cent compared with using its fossil fuel alternative, according to analysis by Transport & Environment, a green group. That is roughly equivalent to putting an extra 12 million cars to the road, it says. Countries across Europe have blended small percentages of biofuels into petrol and diesel in recent years in an attempt to cut emissions and to hit the EU's renewable energy directive (RED), which requires 10 per cent of transport energy to come from renewable sources by 2020. But Transport & Environment says the EU's own studies show that producing biodiesel from food crops – in particular soy and palm oil – is significantly worse for the environment than producing regular diesel. This is largely due to the knock-on effects on land usage of using food crops for fuel, which can result in rainforests or other habitats being cleared to make way for more food crops, so actually increasing emissions. Producing crop-based biodiesel has an emissions footprint on average 1.8 times the size of fossil fuel based diesel, it says.
Greentechmedia:  Batteries Will Not Be the Future of Grid Balancing in Germany
A three-year study of Germany's energy storage market funded by the government is not likely to favor batteries. Although the full conclusions won't be published for a while, a study supported by the Federal Ministry for Economic Affairs and Energy has found that grid-scale and behind-the-meter batteries are insufficient to meet Germany's energy needs. That's according to Christoph Pellinger, the coordinator for the study, called Merit Order for Energy Storage Systems 2030. Instead, residential and industrial power-to-heat systems, along with demand-side management of industrial and residential energy consumption, are the country's best options to manage large amounts of renewable energy on the German grid, said Pellinger. The report will also favor vehicle-to-grid technologies as an economic grid-balancing option by 2030. The analysts assume that adoption of renewable energy will continue as part of Germany's commitment to its energy transition policy, called Energiewende. In fact, they think that projections for renewables in Germany's generation mix are on the conservative side — predicting that renewables will account for 60 percent of energy in 2025 and 85 percent in 2035.
Solar Power Portal:  Finance and grid costs are biggest barrier to Irish solar
Concerns about the availability of finance and the cost of grid connections will be the biggest barriers to Irish solar deployment, a breakout session at the Solar Summit in London has said. With the impact of the recession still keenly felt, banks in the country continue to be extremely cautious. John Mullins, CEO of renewable power developer and investor Amarenco had some frank advice for those thinking about exploring the Irish market. "Bring your own bank if you're going to develop in Ireland," he said, adding that grid costs would also be a challenge with connection costs twice those of France, where Amarenco is also active. David Maguire, managing director of developer BNRG and chair of the Irish Solar Energy Association, echoed Mullins' concerns around grid costs and warned the market may not be as lucrative as some believe. "There's real hype at the moment around Ireland and a real gold rush, just not a lot of gold at the end of it," he said.
IOL:  Wind and solar aren't the answer for the world's poor
Do wind and PV power represent an advance for the billions of people living on less than $1 a day? Can PV panels and wind generators compete with paraffin and gas among the poor, or are they a sideshow? Imagine removing petroleum products as a source of energy for the world's poor. Replace wood, coal and dried cow dung with PV panels and wind generators. Then ask yourself if they can do the same job for cooking and heating as paraffin or liquefied petroleum gas. Then think of the maintenance. Consider rust, dust, wind and lightning storms. Think of the effect of harsh sunlight on most plastics. Then think of the insulation of electricity conducting wires. In African conditions, think of white ants. Game, set and match to petroleum products, one would have thought. So, for the poor millions in the world, the promise of PV panels and wind generators is a faint one. At first, the wonder of a single light bulb that could be switched on and off was dramatic, but ….. later, the panels were dislodged by high winds or rust, or the batteries died, or the light bulbs fizzled. At this point the recipients of this "free electricity" stood back and waited for the system to be fixed by the NGO that put it there in the first place. Not exactly a sustainable situation.
PJmedia:  A US solar scandal "more than twice as big as Solyndra"
The Treasury Department is dragging its feet on releasing its findings from an investigation into fraud allegations by solar companies that received cash grants from the government to invest in solar power as part of the president's stimulus bill. The probe centers on companies and individuals that inflated the value of their investments in order to receive larger grants from the government. Investigators believe the amount of fraud exceeds $1.3 billion — approximately 2 1/2 times the amount of taxpayer money lost in the Solyndra scandal. The Treasury Department was supposed to turn over a report on its findings in June of 2015 but has so far failed to inform Congress of the extent of the fraud. Republicans specifically called out SolarCity, a company chaired by billionaire Elon Musk, for being investigated by Treasury and Justice Department officials over allegedly abusing solar subsidies. SolarCity is being investigated for "possible misrepresentations concerned the fair market value of the solar energy systems," according to an October Securities and Exchange Commission filing.
Yorkshire Post:  UK Renewable energy firms face increased risk of insolvency
According to the insolvency trade body R3, its membership has seen a wave of insolvency activity across the UK from small and medium sized businesses in or supplying the renewable energy sector. This followed the 65 per cent cut in subsidies to solar support from last December, which coincided with increases in VAT on the installation of solar systems. Adrian Berry, chairman of R3 in Yorkshire and restructuring partner at Deloitte, said: "It was clear when the government made its latest round of subsidy cuts that there would be casualties within the renewable energy sector, and we are seeing the related insolvency procedures now." The scale of the impact is not yet clear but there has already been some consolidation in the renewables sector said Mr Berry. "The slashes to subsidies effectively made many businesses unviable overnight, with only the best managed and most adaptable outfits proving able to swiftly restructure and reorganise to make the most of a challenging situation," he added.
Cleantechnica:  IKEA Launches "Home Solar Offering" In UK
IKEA UK unveiled Solar Shops, its in-store offering to sell residential solar installations, "as part of the company's mission to help people live more sustainably and affordably in their homes." IKEA also released the results of its own survey which showed 33% of all UK homeowners would like to invest in solar panels, with most wanting to cut their electricity bills. Solar Shops will launch in stores in Glasgow, Birmingham, and Lakeside (Thurrock), and aims to be selling solar panels in all of its UK stores by the end of the summer. "At IKEA we believe that renewable energy is undoubtedly the power of the future," said Joanna Yarrow, Head of Sustainability at IKEA UK and Ireland. "We're already using solar power across our operations, and it's exciting to be able to help households tap into this wonderful source of clean energy."
Holyrood:  Sturgeon rejects calls to divest fossil fuels
Nicola Sturgeon has rejected calls to divest from fossil fuels, telling the Scottish Parliament any-thing that undermines the oil and gas industry would be "unhelpful" while it is recovering from a low oil price. Environmental campaigners have pressured institutions to shift investment strategies away from fossil fuels due to the risk posed by climate change, but a report this week from the Economy, Energy and Tourism Committee recommended the oil and gas sector needs the support of investment. In today's FMQs committee convener Murdo Fraser asked: "Does the First Minister agree that vocal campaigns for the divestment of pension funds and others from the oil and gas industry are unhelpful, potentially damaging and might, if they are followed, lead to more job losses?" Sturgeon replied: "I agree that anything that undermines the industry at this time is unhelpful. I am also aware of the report that Murdo Fraser refers to; it is helpful and is one of the many things that the Cabinet will discuss as we consider how we will continue to give the industry the support that it needs at this time."
Bloomberg:  Spring Cold Jolts U.K. Natural Gas Trading to Busiest Week Ever
A blast of chilly weather this week revitalized the U.K.'s natural gas market, where prices have been moving steadily downward since the end of 2014. Unseasonal cold sent day-ahead gas prices on the U.K.'s National Balancing Point hub up the most since November 2013 on Tuesday and then down the most in three years the following two days to end the month almost where they started. The volume of front-month gas contracts traded on the ICE Futures Europe ex-change in London rose to a record this week. Traders, who have been bearish front-month gas all but two weeks since at least April 2015, said the rally was likely a one-off, according to a Bloomberg survey. Western Europe is forecast to see average temperatures this summer, with the U.K. expected to be cooler than normal, hurting prospects for air-conditioning demand that would help draw down the oversupply.
Planning Resource:  Tidal energy project approved off the coast of the Isle of Wight
The Perpetuus Tidal Energy Centre (PTEC), a proposed offshore tidal energy farm consisting of groups of seabed turbines off the southernmost point of the Isle of Wight coast, was granted consent by the Marine Management Organisation (MMO) last week. The proposal, which would be located approximately 2.5km offshore from St Catherine's Point, is intended to provide up to 30MW of energy. PTEC is a joint venture between energy firm Perpetuus Energy and the Isle of Wight Council. It says that the consent means the project is now "the largest consented tidal stream energy project in England and Wales". The turbines would be constructed in a five square kilometre area of the sea, and specially-constructed cables would bring the energy generated by the turbines to land at Castle Cove, which will then be fed into the electricity grid.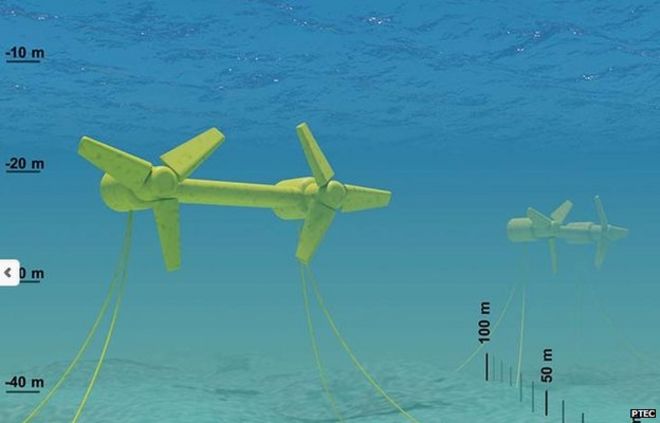 Perpetuus tidal turbines
Renewable Energy Magazine:  House of Lords blocks UK Government attempt to scrap Zero Carbon Homes
Peers urged British policymakers to support the commitment made by the UK at the COP 21 climate change conference in Paris in December 2015 by ensuring higher carbon standards are made mandatory as soon as possible. The Amendment was approved by 48 votes during the Lords Report Stage, calling on the Energy Secretary, the Rt Hon Amber Rudd MP, to ensure ensure "that all new homes in England built from 1 April 2018 achieve the carbon compliance standard". This effectively reinstates the Zero Carbon Homes standard. The proposal to scrap the standard, when it was announced last year, was greeted with condemnation by housebuilding businesses on the basis that it would add to long-term housing costs through a reduction in energy efficiency. It was also subsequently attacked by green building experts and sustainability professionals, with the Solar Trade Association (STA) commenting that the government needed to replace the policy in order to avoid an increase in carbon emissions and higher energy bills for consumers. The National Policy for the Built Environment Committee argued that the scrapping of the standard would inflict 'future misery' on homeowners if it isn't reversed.
Cleantechnica:  "Infinite" Energy Storage Finally Discovered, But There's A Catch
A research team based at UC-Irvine has created a new type of energy storage device that can last for more than 100,000 charges. For all practical purposes, that counts as an infinite battery. Under real life conditions, such a battery would most likely outlive the device it powers, and it might even outlive the owner of the device as well. The new battery is still in the early research stage, but if it pans out, it would have a significant impact on lifecycle and supply chain issues for the ballooning number of smart phones, electric vehicles, energy storage products, and countless other battery powered devices. The problem is battery lifespan. All-nanowire batteries require extraordinarily long wires. As the study describes, they don't stand up under working conditions: That's where the catch comes in. The battery being worked on by the team is not quite ready for its Tesla moment. It is a capacitor. Capacitors have many uses, but the team is some degree of labwork away from developing the kind of rechargeable battery that can power an EV or store renewable energy.
ABC:  Large Hadron Collider Reportedly Shut Down by Rodent
A weasel-like rodent shut down the world's most powerful atom smasher after it apparently gnawed through a power cable, facility officials said today. The Large Hadron Collider went offline Thursday night, according to documents posted online by the European Organization for Nuclear Research (better known by its French acronym CERN). Engineers investigating the shutdown reportedly found the charred remains of a furry animal near the chewed-up power cable. "The Large Hadron Collider is safely stopped, following technical issues, including a power cut due to the passage of a weasel on a high voltage electrical transformer," Marsollier told ABC News in a statement. "Such events happened a few times in the past and are part of the life of such a large installation," Marsollier added. "Some connections were slightly damaged and we are at work to repair, what would not take long. We will be back online soon with a very exciting scientific programme as the LHC will explore further the world of particles at high energy."
The Local Denmark:  Danes propose a 'red meat tax' to help climate
Saying that "climate change is an ethical problem", the Danish Council on Ethics has called for a climate tax on red meat. The council said that Danes have an ethical obligation to minimize their climate impact and that a natural place to start would be lowering their red meat consumption. The Council on Ethics said that in order to live up to global environmental standards, Denmark should use a 'climate tax' to bring down the nation's meat consumption. The Council said it debated the issue for six months, focusing on whether it should be left up to consumers to make more climate-friendly choices or if government should push them in the right direction by taxing the food products that have the greatest negative impact. It ultimately decided that simply leaving it up to consumers to lower their meat consumption "will not be effective". "An effective response to climate-damaging foods that will also contribute to raising awareness of climate change must be united, which requires that society sends a clear signal through regulation," council spokesman Mickey Gjerris said in a press release.
Breitbart:  While Sweden develops a climate-friendly insect diet
Vinnova, the Swedish government agency that distributes money for research and development, has announced its latest tranche of funding for creating a greener, more sustainable future — by weaning Europe off meat. It is hoped people will want to eat a so-called "climate smart" diet instead. Green activists and the United Nations are behind such political initiatives as 'Meat Free Mondays' which are based on the premise that meat consumption is driving man-made climate change. Another method to reduce that so-called burden on the earth is replacing meat protein with that harvested from insects instead. To that end, Vinnova is awarding half a million kronor each to fifteen different projects across the country, each of which tasked with creating an "edible prototype" of a new food. Among the mouth-watering projects being funded are an attempt to produce a "good and healthy product from mealworms and mincemeat made out of "climate smart insects" such as crickets. Other enticing offerings not involving insects include "climate-fungal protein", a "healthy vegetarian barbecue" made from by-products" and "fibrous raw materials", and a "blue cheese-like product" made from beans. A competition in November will select the best product, with a potential of an extra two million kronor investment from the government to get the "food" off the ground.
Express:  Green energy expert discovers alien-hybrid community here on Earth
A green energy expert who helped shape UK renewable power policies says he is convinced aliens have been secretly implanting extraterrestrial DNA into pregnant humans. Author Miguel Mendonça, 42, now claims the so-called alien-hybrid community is expanding on Earth and vital to the future of the human race because of how they are helping us "evolve into higher beings". Mr Mendonça was formerly research manager for the World Future Council, which promotes best policy renewable power sources, and has written extensively on green energy policy. He said: "I try to keep my feet on the ground as much as possible. My background is in renewable energy policy gained as an academic, so I have to be sure of my facts."