A few careless campers who forgot to extinguish their campfire, or maybe a few kids playing with matches, or a cigarette, or an arsonist, a piece of glass, whatever, have in the last few days done more to bring the global oil market back into balance than OPEC and the rest of the world's producers put together:
Financial Post:  Fires knock out a third of Canada's oil production
The raging wildfire burning through vast areas in and around Fort McMurray has forced more nearby oilsands companies to shut down their operations and forced staff and output reductions at more far-flung facilities in northern Alberta.
Analyst estimates on Thursday put the total amount of oil shut in from the fires at one million bpd, or roughly 40 per cent of total oilsands production. But the amount of production affected is now expected to exceed those numbers as the fire grew significantly into Friday and as additional companies have reduced production. "When we're talking about a potential shutdown of up to a million barrels per day, that's very serious business for the global oil market if it persists," BMO Capital Markets chief economist Douglas Porter said Friday.
We continue with the usual story mix, including how AGW contributed to the wildfires, industry responses to David Mackay's comments, Exxon's novel CCS technology, EU CO2 emissions rise, Indonesia likes thorium, UK short 87,600 nuclear technicians, Belgium hands out iodine pills, EU's percent renewable numbers not reliable, problems with perovskite PV panels, Saudi Arabia fires Oil Minister al-Naimi, moving day for Halley Base and the world's first certified climate refugees – from Louisiana.
BBC:  El Niño and climate change contribute to fires.
El Niño and ongoing climate change have both contributed to the devastating Alberta wildfires according to experts. The weather phenomenon has caused much drier conditions than normal, leading to a massive increase in the number of fires in the province. Alberta and much of western Canada experienced a serious drought last year. The dry conditions continued through the winter with the western part of Canada then feeling the impact of El Niño. Many researchers believe that El Niño was not the only factor increasing the likelihood of a major fire in Alberta. They point to the bigger global picture of rising temperatures, which in the first four months of this year are running more than 1C above the long-term average. In January a Canadian study suggested that warming would lead to a "higher frequency of extreme fire weather days" across the country.
Guardian:  David MacKay's "appalling delusion"
The idea that renewable energy can power the UK is an "appalling delusion", according to the final interview given by former chief scientific adviser, the late Professor Sir David MacKay. The sensible energy and climate change plan for the UK, MacKay said, was for the country to focus on nuclear power and carbon capture storage technology, which traps the carbon dioxide from fossil fuel burning. In that scenario, the amount of wind and solar the UK needed would be almost zero, he said. "There is this appalling delusion that people have that we can take this thing that is currently producing 1% of our electricity and we can just scale it up and if there is a slight issue of it not adding up, then we can just do energy efficiency," he said. "Humanity really does needs to pay attention to arithmetic and the laws of physics – we need a plan that adds up. I have always tried to avoid advocating particular solutions but maybe because time is getting thinner I should call a spade a spade."
Solar Power Portal:  Renewables industry reponses to Mackay
Members of the renewable energy industry have responded to comments made by the late Sir David Mackay, who said in his final interview that further deployment of solar capacity was not an effective energy strategy for the UK …. recent data from EnAppSys has shown that solar was still able to supply over 7% of UK energy during the first quarter of 2016. James Court, head of policy and external affairs at the Renewable Energy Association, said that storage technologies can offer an effective alternative to large generation projects like Hinkley Point C. Leonie Greene, head of external affairs at the Solar Trade Association, commented "The technological challenges Professor MacKay defined are readily surmountable and the plummeting costs of renewables are our best hope of averting dangerous climate change."
Marketwatch:  Oil & gas defaults begin to affect credit market
The high default rate in the oil and gas sector after a long period of low oil prices is starting to hurt the broader high-yield market, according to a new report from Moody's. Until now, slow-but-positive U.S. growth has been a support for corporate cash flow and helped prevent commodity weakness from spreading to other sectors. "But the commodity-driven climb in defaults is contributing to an increase in investor risk aversion and borrowing costs," said analysts led by Moody's Senior Vice President John Puchalla. It's a classic Catch 22 situation. Defaults are making investors nervous and that is making it more expensive for speculative-grade, or high-yield, companies to borrow short term to resolve liquidity issues. That's because investors demand higher premiums for the extra risk they are taking on. And that in turn presents risks to the economy and makes if more likely the default risk will spread.
Penn Energy:  Nigerian militants bomb Chevron platform
Armed militants attacked a major Chevron oil and gas facility off Nigeria's southern coast, the military said Friday, and the U.S.-based multinational said it was forced to shut production there but its exports will continue. A new group called the Niger Delta Avengers said it bombed Chevron's Okan platform on Wednesday and warned international companies that "the Nigerian military can't protect your facilities. This is what we promised the Nigeria government. Since they have refused to listen to us, we are going to bring the country's economy to zero," a statement said, threatening more attacks including in Abuja, the capital, and Lagos, the commercial center. Chevron spokesman Deji Haastrup said the facility was shut down but would not say how much oil production is affected. "It will not affect our commitment to export crude," he said.
Oil & Gas News:  ExxonMobil announces collaboration for novel carbon capture technology.
Exxon Mobil Corporation and FuelCell Energy, Inc. today announced an agreement to pursue novel technology in power plant carbon dioxide capture through a new application of carbonate fuel cells, which could substantially reduce costs and lead to a more economical pathway toward large-scale application globally. Chip Bottone, president and chief executive officer of FuelCell Energy, Inc., said his company is pleased to bring its global leadership in the development of carbonate fuel cells to this project. "Carbon capture with carbonate fuel cells is a potential game-changer for affordably and efficiently concentrating carbon dioxide for large-scale gas and coal-fired power plants," Bottone said. "Ultra-clean and efficient power generation is a key attribute of fuel cells and the carbon capture configuration has the added benefit of eliminating approximately 70 percent of the smog-producing nitrogen oxide generated by the combustion process of these large-scale power plants." Two years of comprehensive laboratory tests have demonstrated that the unique integration of two existing technologies – carbonate fuel cells and natural gas-fired power generation – captures carbon dioxide more efficiently than existing scrubber conventional capture technology.
Euractiv:  Green transport target will be scrapped post-2020, EU confirms
EU laws requiring member states to use "at least 10%" renewable energy in transport will be scrapped after 2020, the European Commission confirmed, hoping to set aside a protracted controversy surrounding the environmental damage caused by biofuels. The current directive, adopted in 2008, requires each EU member state to have "at least 10%" renewable energy used in transport by 2020 – including from biofuels and other sources like green electricity. This has drawn criticism in Britain, where reaching the 10% target will require doubling current biofuel supply, adding a further penny per litre on pump prices, according to a leaked memo by the Department for Transport. But the 10% target will be dropped in the new directive, Donnelly told a breakfast seminar organised at the European Parliament on Tuesday. "What's not going to be in the text is a target for the transport sector," she said, confirming a decision by EU leaders in October 2014 to have only one target for renewable energies across the 28 EU member states that "will not be translated into nationally binding targets".
Eurostat:  EU emissions up 0.7%
Eurostat, the European Union's statistical office, has announced (3 May) that carbon dioxide (CO2) emissions from fossil fuel combustion went up by 0.7 percent last year compared to previous year. CO2 emissions went (up) in most EU countries in 2015. The highest increases were recorded in Slovakia (+9.5%), Portugal (+8.6%) and Hungary (+6.7%), followed by Belgium (+4.7%) and Bulgaria (+4.6%). Decreases were registered in 8 countries – Malta (-26.9%), Estonia (-16.0%), Denmark (-9.9%), Finland (-7.4%) and Greece (-5.0%). A cut in greenhouse emissions is one of EU's key targets for 2020. The block is aiming to decrease them by 20 percent compared with 1990 and by at least 40 percent by 2030. Other goals include an increased consumption of renewable energy and an increase in energy efficiency.
West Australian:  Half of world's leading investors ignore climate change
A report by the Asset Owners Disclosure Project (AODP), a not-for-profit organisation aimed at improving the management of climate change, found that just under a fifth of the top investors – or 97 managing a total of $9.4 trillion (6.4 trillion pounds) in assets – were taking tangible steps to mitigate global warming. A further 157 investors managing a total of $14.2 trillion were taking "first steps" towards addressing climate change, while 246 managing $14 trillion were doing nothing at all, the report said. "Climate change risk is now a mainstream issue for institutional investors and last year has seen many significantly step up their action to manage this," AODP Chief Executive Julian Poulter said in a statement. "However … it is shocking that nearly half the world's biggest investors are doing nothing at all to mitigate climate risk," he said.
Jakarta Globe:  Indonesia considers thorium reactors.
Industry Minister Saleh Husin has suggested Indonesia pursue development of thorium-fueled nuclear power plant to take advantage of the abundant radioactive material in the country and ensure energy supply for industrial developments. Minister Saleh argues that thorium could provide cheaper power compared to those sourced from coal or gas. State miner Aneka Tambang has said earlier that it is pursuing to produce thorium in industrial scale in the province by next year. "We need it because requirements for energy will be very high in the future and we need it at a competitive price," Saleh said. The minister said it is estimated thorium-based power plant would only cost 3 cents per kilowatt hour of energy. That compares to 5.6 cents for coal, 4.8 cents for gas, 18.4 cents for wind and 23.5 cents for solar energy. The element would not be able to undergo nuclear fission on its own, which means the nuclear reaction can be stopped when necessary. Thorium cannot be developed into nuclear weaponry.
Nuclear Street:  UK short 87,600 nuclear technicians by 2020
Retiring nuclear power plants in Britain and elsewhere remains a central focus of the nuclear power industry. But what about the retiring technicians who may be nearing the end of their careers just at a time when the industry will require an upswing in highly skilled workers? Not only will some highly qualified technicians more over to work in decommissioning activities, but some areas expect to see an increase in new build projects that will require highly skilled workers for construction and for plant operations positions. British Energy Minister Andrea Leadsom noted that Nuclear Workforce Assessment numbers pointed to a demand for nuclear power technicians that would rise from a current workforce of 78,000 to 111,000, a gain of 33,000. Just as the demand for highly skilled workers is expected to rise in Britain, many of those current workers are expected to retire soon. Leadsom said 70 percent of the country's highly skilled nuclear power workforce are expected to reach retirement age by 2025. Those numbers change the bottom line quickly. If 70 percent of 78,000 retire, that would leave 23,400 technicians in the workforce. With demand for workers expected to rise to 111,000, that would leave a gap of 87,600 technicians.
Nature World News:  Belgium hands out iodine pills over whole country
While there are no current nuclear disasters, the recent events involving nuclear power plants — such as the 2011 Fukushima nuclear disaster in Japan — have prompted the country to revise and improve its nuclear emergency plan. The Belgian government at present is already giving out iodine pills for emergency use to people living within 12 miles (20 kilometers) of the country's nuclear reactors. However, the government recently decided to change its rules and increase the range of the possible affected areas around its reactors to 100 kms (62 mi). Belgium currently has seven reactors at Tihange and Doel, plus a research reactor at Mol, as reported by the BBC. These reactors provide more than half of the electricity supply in the European nation.In the same report, Health Minister Maggie De Block said increasing the range to 100-kilometers essentially covers the entire population of Belgium.
STV:   Wind farms 'could have powered nearly 80% of Scots homes'
A total of 699,684MWh (megawatt hours) of electricity were supplied to the National Grid by wind farms in April, enough to power 79% of average Scottish households, equivalent to 1.9 million homes. The energy output has increased by 15% compared with the same time last year when wind energy provided 608,601MWh of electricity to the grid. Figures released by WeatherEnergy show that, after high winds on eight days in April, turbines generated enough electricity to supply 100% of Scottish homes. Despite the recent wintry weather, the data shows that in homes fitted with solar panels, there was enough sunshine to generate an estimated 95% of the electricity needs of an average household in Dundee, 87% in Edinburgh, 86% in Aberdeen, 84% in Glasgow, and 83% in Inverness. For those homes fitted with solar hot water panels, there was enough sunshine to generate 82% of an average household's hot water needs in Inverness, 80% in Dundee, 78% in Aberdeen, 76% in Glasgow, and 74% in Edinburgh.
Power Magazine:  Areva Admits to "Irregularities" in Hundreds of Nuclear Plant Components
France's nuclear sector was rocked to its core on May 4 when the country's Nuclear Safety Authority (ASN) announced that state-owned nuclear manufacturer Areva had confessed to "irregularities in the manufacturing checks" on about 400 parts produced since 1965, about 50 of which are still in service in France. The problems came to light as the result of an audit ASN began last year after defects were discovered in the Flamanville EPR reactor vessel head and a review of the manufacturing work performed at Areva's Creusot steel forging plant. That audit uncovered enough problems that ASN ordered Areva to review its records going back to 2004 when manufacturing for the EPR began. Areva said in a statement on April 29 that the audit indicated that "these anomalies relate to actions carried out in the past. The organization and procedures currently in place at Le Creusot no longer permit such actions today." ASN said, "The review process will need to be seen through to completion in order to assess all the anomalies which may have affected past manufacturing operations and draw any relevant conclusions regarding the safety of the facilities." According to reports in the French media, the falsifications were apparently performed to pass parts that came close to failing inspection tests. French Energy Minister Ségolène Royal insisted that the parts were acceptable and that the problems were only with the documentation.
Houston Chronicle:  Floating wind turbines cut offshore oil costs
DNV GL, a Norwegian consulting firm, on Tuesday unveiled the results of a study of 6-megawatt floating turbines used to power water injection for offshore oil and gas wells in the North Sea. DNV, which released its finding at the Offshore Technology Conference, found that using wind power was not only environmentally sound, but also cut the cost of production by about $3 a barrel. DNV executives said at they believe the technology is transferable to the Gulf of Mexico and even to onshore Texas oil fields that have nearby wind farms. DNV Group President and CEO Remi Eriksen acknowledged the irony of renewable technologies helping produce more oil, but he said the focus is on creating projects that benefit both the wind and oil and gas sectors. The study was dubbed "Win Win."
Wind Power Monthly:  EU-US trade talks collapse
Talks over the controversial Transatlantic Trade and Investment Partnership (TTIP) – which has been under negotiation for nearly three years – broke down on 2 May following a leak of negotiation documents.  The papers showed "irreconcilable" differences between the two blocs on issues ranging from energy policies, consumer protection and animal welfare standards. Energy and environmental issues are among the key sticking points. European negotiators have been particularly concerned by American enthusiasm to find an export market for its shale gas. A TTIP would make this easier, encouraging further development of fracking, which is inconsistent with the pledges to cut greenhouse gas emissions that both the EU and US made at the COP21 talks in Paris last year, they say. TTIP could also be used to block the efforts made by individual EU member states to clean up their electricity generation, by nuclear and fossil-fuel energy providers seeking redress through the Investor State Dispute Settlement (ISDS) process if a jurisdiction changes policy to their detriment.
Fox:  Federal rule to kill thousands of eagles at US wind farms
The Obama administration is revising a federal rule that allows wind-energy companies to operate high-speed turbines for up to 30 years, even if means killing or injuring thousands of federally protected bald and golden eagles. Under the plan announced Wednesday, companies could kill or injure up to 4,200 bald eagles a year without penalty — nearly four times the current limit. Golden eagles could only be killed if companies take steps to minimize the losses, for instance, by retrofitting power poles to reduce the risk of electrocution. Fish and Wildlife Service Director Dan Ashe said the proposal will "provide a path forward" for maintaining eagle populations while also spurring development of a pollution-free energy source that's intended to ease global warming, a cornerstone of President Barack Obama's energy plan. "There's a lot of good news in here," Ashe said in an interview, calling the plan "a great tool to work with to further conservation of two iconic species."
Sputnik News:  Dramatic fall in Swedish wind investment
Last year, investments into Sweden's wind power fell by a dramatic 40 percent, compared to the year before. Nevertheless, the total amount of investment over the next four years is estimated at approximately 21 billion krona (2.6 billion dollars), CEO of the wind power company Svensk Vindenergi Charlotte Unger told Swedish Radio. She also pointed out that the number of foreign investors is growing in comparison to local Swedes. However, the overall outlook for wind energy remains rather dismal. Slumping electricity prices have forced individual owners to dismantle and sell older wind turbines, whereas the removal of state support may turn out to be a final blow to the industry.According to an estimate by Erik Josefsson of the ES Power company, about 50 wind turbines were dismantled in Sweden and sold to other countries last year alone, Göteborgs-Posten reported. Josefsson noted that the opportunity to ease the financial burden was first seized by small-time players, such as individual farmers and small businesses.
Maritime Executive:  Wave power makes its appearance
Innovation often comes with a high up-front price, and alternative energy is no exception. Early wind turbines were small, and the cost per of their electricity was high relative to conventional sources. But economies of scale have narrowed that gap over the intervening years. Improved technology has dramatically cut the cost of turbines and solar panels, and wind and sun are free, making maintenance the primary operating expense – whereas a coal facility must continue to purchase coal. Wave and tidal energy companies would like to reach the same point, but the technology is still in the development phase. Few grid-connected test projects exist, and their generation costs are still high relative to other options in most locations. But their potential is huge, advocates say, measured in the thousands of gigawatt-hours. In their initial phases of commercialization, wave and tidal technologies may perform best in locations with a combination of favorable ocean conditions and high conventional electricity costs, analysts suggest.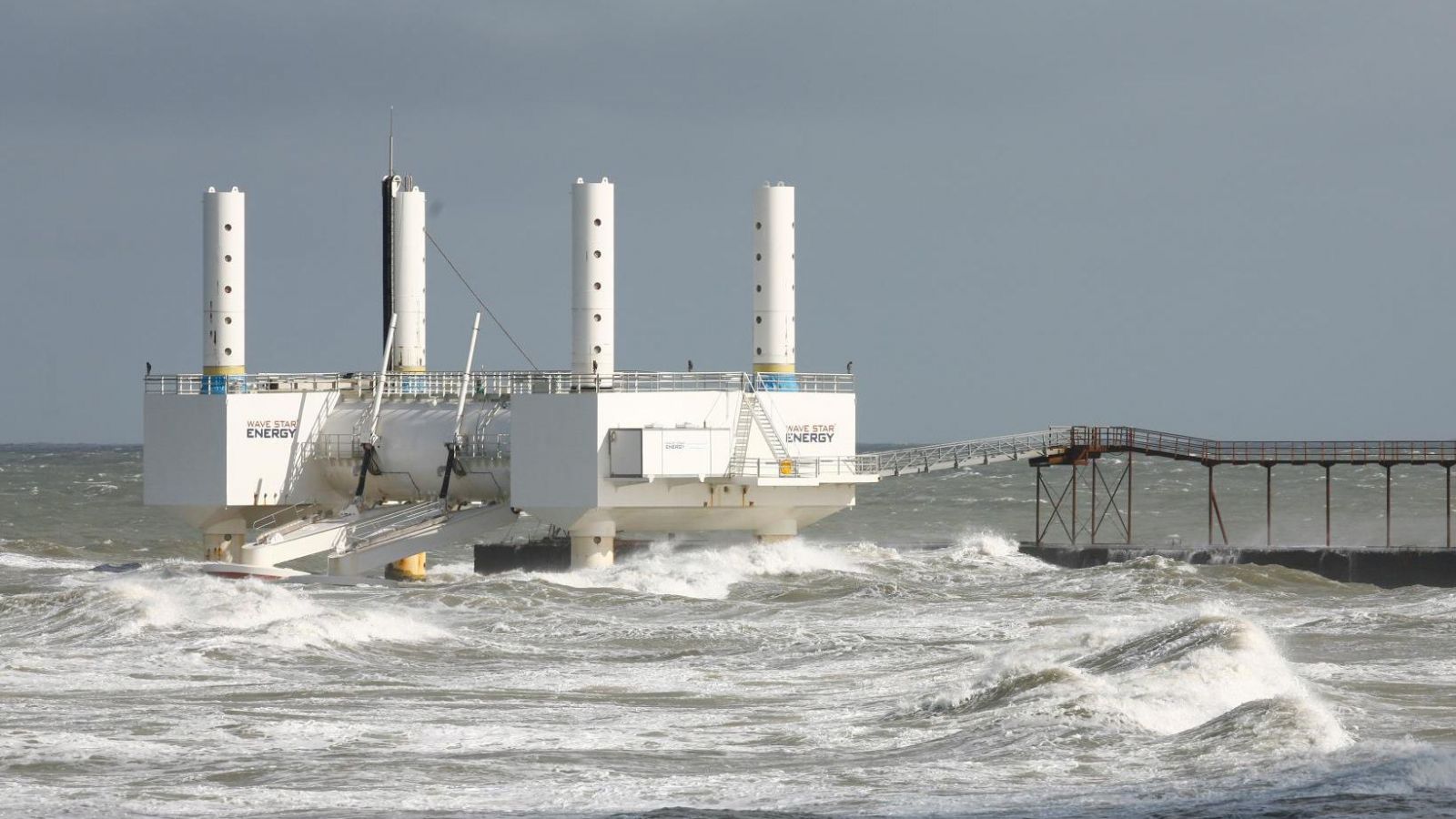 Wave Star's 500 kW demonstration unit
Energy Collective:  Why EU renewable figures are misleading
The gross final consumption of energy can be calculated by taking the production of energy in EU28, adding the energy imports and subtracting the energy exports. Thanks to Eurostat, these data are public and it can be concluded that the EU-28 currently uses about 1600 Mtoe/yr (million tons of oil equivalent) to maintain its prosperity. Incidentally, this number neglects the energy which is required to create the products (e.g. in China) that are imported by the EU-28. However, as it turns out, this 1600 Mtoe is not the denominator in the directive since several areas of energy usage are excluded. Firstly, the conversion losses in the energy sector, like in power production, are not taken into account. One could argue that this is justified since a fully renewable world would not need fossil power production any more, although the increasing amounts of wind and solar power will also have conversion losses. Secondly, the usage of fuel oil for international shipping is not taken into account. Thirdly, energy consumption for feedstocks are excluded. The result: the "gross final consumption of energy" used to calculate the percentage of renewable energy equals only 1100 Mtoe.
Popular Mechanics:  Problems with perovskite solar panels
In recent years, perovskite has been touted as a challenger to the widespread use of silicon in creation of solar panels. The material has gotten the star treatment, having been profiled in the Wall Street Journal and The Guardian. However, a new study is throwing cold water on the dreams of a perovskite future. Perovskite solar cells use a hybrid material as their active ingredient, and there are plenty of different flavors of this material depending on what ingredients you use. Iodide perovskites in particular—made by mixing certain metals—are the ones capable of converting solar electricity. But according a new study out of University College London, only "a handful of metals are able to form iodide perovskites." The material is still good, yes, but making it is actually much harder than expected. Not only can barely any metals actually be used to form iodide perovskite, but it's also hard to predict what ones can. It's a bottleneck that will cause big problems for the ubiquity of the tech going forward.
Value Walk:  Solar Power Investments Don't Pay Off
Ivanpah is a 640,000 megawatt-hour solar farm in California that received $1.5 billion in taxpayer-funded federal loans. The project benefited from a loan-guarantee program where taxpayers bear the risks and the solar industry gets favorable rates to protect their profits. The Ivanpah plant has failed to provide the energy, and thus the environmental benefits, it promised consumers. Unfortunately, this foundering is barely news. Despite decades of strong financial and popular support, government investments in solar power have yet to pay off. Research by the Institute for Energy Research shows solar power is subsidized in excess of 345 times more than generation from either coal or oil and natural gas. In fiscal year 2013 alone, the federal government spent $5.3 billion subsidizing solar energy, as reported by the Energy Information Administration. This funding, and the millions before it, has resulted in only 0.6 percent of total U.S. electricity coming from solar energy technologies in 2015. Subsidizing the solar industry has resulted in a continual retreat of the goalposts without any of the promised benefits ever coming to fruition.
PV Tech:  Europe now has 100GW of installed grid-connected solar PV capacity
Europe has surpassed 100GW of installed grid-connected solar PV capacity, according to new data from research firm IHS.The continent has risen from 3GW PV capacity in 2005 to 100GW in the second quarter of 2016, mainly as a result of an 80% reduction in costs and a host of supportive regulatory frameworks brought in by countries looking to meet the EU's Renewable Energy Directive, according to IHS.However, Josefin Berg, senior analyst for IHS Technology, warned that with an "increasingly regulated environment", the European solar industry will face new challenges in installing the next 100GW. James Watson, chief executive of SolarPower Europe, added that with many of the feed-in tariff (FiT) subsidies coming to an end across the continent, there is a need for a suitable electricity market design and long-term investments signals for solar to progress. He said: "We hope that the European Commission's forthcoming market design reform and Renewable Energy Directive will pave the way for the 200GW benchmark."
Reuters:  Germany wants Europe-wide carbon tax
Germany is considering lobbying for a minimum price to be set on Europe-wide avoidance of carbon dioxide emissions to boost the effectiveness of carbon schemes that have so far failed to cut CO2 and battle climate change, a draft document outlining the nation's energy and climate policy shows. The government wishes to reform the mandatory European Emissions Trading Scheme (ETS) to help create tightness in the market for carbon emissions permits which polluters must hold to cover their output and thus drive up prices, said the document for a policy up to 2050, seen by Reuters. In the document, an alternative paragraph yet to be decided on said the government would consider strengthening the ETS "by introducing a Europe-wide minimum price" alongside other measures to boost industrial efficiency. In text not marked as still under discussion, it suggested measures to boost industrial efficiency and thereby create emissions sav-ings, to monitor emissions better and to set financial incentives on reducing environmental dam-age. The government is due to decide on a national climate action plan for 2050 by mid-2016. Pollution permits cost nearly 30 euros a tonne in 2008 but are currently just over 6 euros.
Insider:  What happens to an economy forced to use renewable energy
Between 2005, when the EU adopted its Emissions Trading Scheme, and 2014, residential electricity rates in the EU increased by 63 percent, on average. Over the same period, residential rates in the U.S. rose by 32 percent. Industrial rates in Europe have increased about twice as quickly as in the U.S. EU countries that have intervened the most in their energy markets—Germany, Spain, and the U.K.—have seen their electricity costs increase the fastest. During 2008–12, Germany's residential electricity rates increased by 78 percent, Spain's rose by 111 percent, and the U.K.'s soared by 133 percent. The residential electricity rate increase in Germany has been 13 cents per kilowatt-hour—an increase larger than the average cost of residential electricity in the U.S. (12.5 cents).
Techtimes:  Ocean oxygen starts to run low because of global warming
Researchers at the National Center for Atmospheric Research (NCAR) warn that oceans around the world are bound to lose much of their oxygen concentrations by the year 2030 as a result of global warming. In a study featured in the journal Global Biogeochemical Cycles, Matthew Long and his colleagues at the NCAR examined how climate change impacts the amount of oxygen typically found in the Earth's oceans. While they discovered that oxygen levels in these bodies of water are diminishing, they are unsure just how much of this phenomenon is actually caused by the warming of the planet. However, they were able to determine a timeframe of when the effects of climate change could very well overwhelm the natural ability of oceans to handle such deoxygenation. Based on the team's computer simulations, global warming could cause oceans to lose so much oxygen within the next couple decades that it could end up significantly limiting the ability of marine organisms to breathe.
NYT:  Resettling the world's first climate refugees
In January, the US Department of Housing and Urban Development announced grants totaling $1 billion in 13 states to help communities adapt to climate change, by building stronger levees, dams and drainage systems. One of those grants, $48 million for Isle de Jean Charles, is something new: the first allocation of federal tax dollars to move an entire community struggling with the impacts of climate change. For over a century, the American Indians on the island fished, hunted, trapped and farmed among the lush banana and pecan trees that once spread out for acres. But since 1955, more than 90 percent of the island's original land mass has washed away. Channels cut by loggers and oil companies eroded much of the island, and decades of flood control efforts have kept once free-flowing rivers from replenishing the wetlands' sediments. Some of the island was swept away by hurricanes. The Isle de Jean Charles resettlement plan is one of the first programs of its kind in the world, a test of how to respond to climate change in the most dramatic circumstances. Under the terms of the federal grant, the island's residents are to be resettled to drier land and a community that as of now does not exist. All funds have to be spent by 2022. "We see this as setting a precedent for the rest of the country, the rest of the world," said Marion McFadden, who is running the program at the Department of Housing and Urban Development.
WSJ:  Saudi Oil Minister Al-Naimi fired
Khalid A. Al-Falih, chairman of Saudi Arabian Oil Co., the world's biggest crude exporter, re-placed Oil Minister Ali Al-Naimi as the kingdom embarks on an economic overhaul to reduce reliance on oil while it continues to battle for market share amid the global glut. U.S.-educated Al-Falih, who spent his entire career at Saudi Aramco over three decades, will head the Ministry of Energy, Industry and Mineral Resources, the kingdom's official Saudi Press Agency reported, citing a royal decree. He had also served as health minister while running the world's largest oil company. Al-Falih is known to be close to King Salman and his 30-something son Prince Mo-hammed bin Salman, the deputy crown prince who has been a growing force driving the coun-try's policies. Prince Mohammed has announced plans for an economic shakeup to reduce the kingdom's reliance on oil, and has also insisted that Saudi Arabia won't agree to a freeze in oil output to curb the global glut without the participation of other major producers.
New Scientist:  Massive crevasse in the ice forces early move for Antarctic base
Life on a floating ice shelf is precarious enough, but when a massive crack is heading your way, you know you're in trouble. This nightmare scenario is what's forcing the UK's newest research station in Antarctica to relocate.Halley VI opened in 2013 to much fanfare due to its space-age design. It's built as eight modules on skis so that it can be towed to a new location if the ice conditions change. The British Antarctic Survey (BAS) research station has been gathering atmospheric data since 1956 – measurements from Halley led to the discovery of the hole in the ozone layer in 1985. It is located on the Brunt ice shelf, a floating slab of ice some 150 to 250 metres thick attached to the Antarctic landmass and extending out into the sea. All five of Halley's predecessors had to be abandoned after becoming buried in the snow or getting too close to the edge of the shelf. But the threat now facing Halley VI is different. Extremely large cracks occasionally form when the shelf breaks in the summer but then partially heal in the winter as the sea freezes and snow accumulates. These cracks sometimes begin to grow again, which can lead to vast icebergs breaking off into the ocean.