This week we feature temperature. UAH global lower troposphere temperatures have already fallen by 0.28C since the peak of the 2015/16 El Niño in February and show every sign of continuing to fall at a rapid rate, just as they did after the 1997/8 El Niño. At what level will they flatten out? And when will the world see record high temperatures again?
Roy Spencer: UAH May 2016 temperature update
The Version 6.0 global average lower tropospheric temperature (LT) anomaly for May, 2016 is +0.55 deg. C, down 0.16 deg. C from the April value of +0.71 deg. C. Cooling from the weakening El Nino is now rapidly occurring as we transition toward likely La Nina conditions by mid-summer or early fall.
The usual mix of stories below, including two Illinois nuclear plants to close, UK solar households to pay insurance for grid access, more threats from Niger Delta Avengers, gas guzzler sales rise, first oil shipment from Yamal, Merkel puts brakes on the Energiewende, fuel shortages in France, UK to reconsider coal shutdown, more islands seek 100% renewables, a brighter future for North Sea oil, microbe energy storage, Brexit, US-Russia nuclear cooperation, the Fukushima "ice wall" and why the world isn't going to meet the 2˚C warming goal.
UPI:  New challenges for renewables
A report from the International Energy Agency finds that new problems are emerging as the sector for wind and solar power matures technologically. As long as variable renewable energy resources like wind and solar account for a few percentage points worth of total electricity, integrating those forms of energy into the grid poses few challenges. "Electricity generation from both technologies is constrained by the varying availability of wind and sunshine," the report read. "This can make it difficult to maintain the necessary balance between electricity supply and consumption at all times." The IEA finds the inherent variable properties of wind and solar create market complexities for power systems, which may hinge in part on the flexibility to adapt to wide swings in the balance between supply and demand. The report calls for a system-wide paradigm shift in managing the power system. "As wind and solar power enter their next generation of deployment, policy objectives need to be revised," it said. "Comprehensive policy, market and regulatory frameworks are needed to catalyze the transition of the power and wider energy system."
New York Times:  Two Illinois nuclear plants to close
Exelon, a leading competitive power provider, plans to shut two money-losing nuclear plants in Illinois, the company said Thursday, after efforts to push a bailout through the state legislature fell apart. The company will close the Clinton Power Station in Clinton next June and the Quad Cities Generating Station in Cordova in June 2018. Slowing demand for electricity and a flood of cheap natural gas has driven down the price of power and the two plants, like others in the aging fleet across the country, have struggled to compete in wholesale markets. The two Exelon plants lost $800 million over the last seven years, the company said. "We have worked for several years to find a sustainable path forward," Chris Crane, Exelon's chief executive, said in a prepared statement. "Unfortunately, legislation was not passed, and now we are forced to retire the plants."
Vice:  More nuclear plants to close due to fracking
The onetime energy source of the future lost more ground this week, as the largest US nuclear power company said it will pull the plug on two money-losing plants in Illinois. Not long ago, the long-stalled nuclear industry appeared poised for a renaissance. But operators are now struggling to stay afloat in an era of dirt-cheap natural gas. The industry's biggest threat now isn't from environmentalists—it's from accountants. The Nuclear Energy Institute, the industry's leading trade association, called the Illinois closures "a devastating loss for America's energy mix." But there are likely more to come: NEI President Marvin Fertel told a conference in May that another 15 to 20 plants are at risk of a premature shutdown in the next decade due to economics. Though they produce no planet-warming carbon emissions, safety and waste-storage concerns have dogged the industry since a partial meltdown at Pennsylvania's Three Mile Island plant in 1979 and the 2011 Fukushima Daiichi disaster in Japan. And since the fracking boom drove gas prices down to once-unbelievable levels, nuclear power is at a competitive disadvantage in states like Illinois, where electricity is traded on an open market.
Telegraph:  Households could be charged annual 'insurance premium' for access to electricity grid
Energy regulator Ofgem is worried that people who can afford to install solar panels and generate their own power for much of the day may end up not paying their fair share of the costs of the UK's electricity pylons and cables. Dermot Nolan, chief executive, told the Telegraph the question of how to charge for networks in an equitable way a "huge challenge" facing the UK energy system in coming years. Mr Nolan said: "We have seen already an increase in solar, particularly in the south of the UK: people putting solar panels in their back yards, getting electricity to their homes for the entire day then only using power [from the grid] at night. That may become more prevalent. "If batteries come in as well, will you see homes totally disconnected from the grid? Will they still need the grid as an insurance policy? "One of the biggest challenges for the country in energy… is how will you charge for the grid in that kind of situation?" Mr Nolan said the regulator was thinking about the issue "pretty intensively" and had not yet decided the solution. However, he said one option would be for households to "basically pay an insurance premium for access to the grid."
Bloomberg:  OPEC Finds Unity in Oil Price Optimism
OPEC will stick to its policy of unfettered production after members rejected a proposal to adopt a new output ceiling, but ministers were united in their optimism that global oil markets are improving. While crude prices dipped briefly after Thursday's meeting, there was little of the rancor that punctuated last December's gathering. The more harmonious atmosphere meant the group was able to appoint a new secretary-general — Nigeria's Mohammed Barkindo — something it hadn't been able to agree on since 2012. "The atmosphere in today's meeting was calm without any tensions," Iranian Oil Minister Bijan Zanganeh, whose disagreements with his Saudi counterpart had unsettled previous meetings. There is "very good unity" among members, he said. The change of mood reflects two developments: a Saudi Arabian oil minister determined to make his first meeting a success and, more importantly, the 80 percent rally in oil prices since January that's made ministers confident OPEC's two-year old strategy of trying to win market share from higher-cost producers is working.
Bloomberg:  OPEC's Cheap Oil Strategy Lures Drivers Back Into Gas Guzzlers
Last year, SUVs outsold any other type of passenger vehicle in Europe for the first time, according to auto industry consultants JATO Dynamics. The trend has continued in 2016, with demand for SUVs such as the Hyundai Tucson and the Renault Kadjar accounting for a quarter of sales in the biggest European countries. Europe is a mirror of what's happening across the world. From China to the U.S., drivers are buying bigger vehicles, while sales of fuel-efficient hybrids struggle. Take the U.S., home of the oil shale revolution and the world's largest oil consumer. The average car sold in April achieved a fuel economy of 25.2 miles per gallon, down from a peak of 25.8 set in August 2014, just before oil prices crashed, according to data from the Transportation Research Institute at the University of Michigan. At current trends, this year will mark the first drop in average U.S. fuel economy since at least 2007, the data show.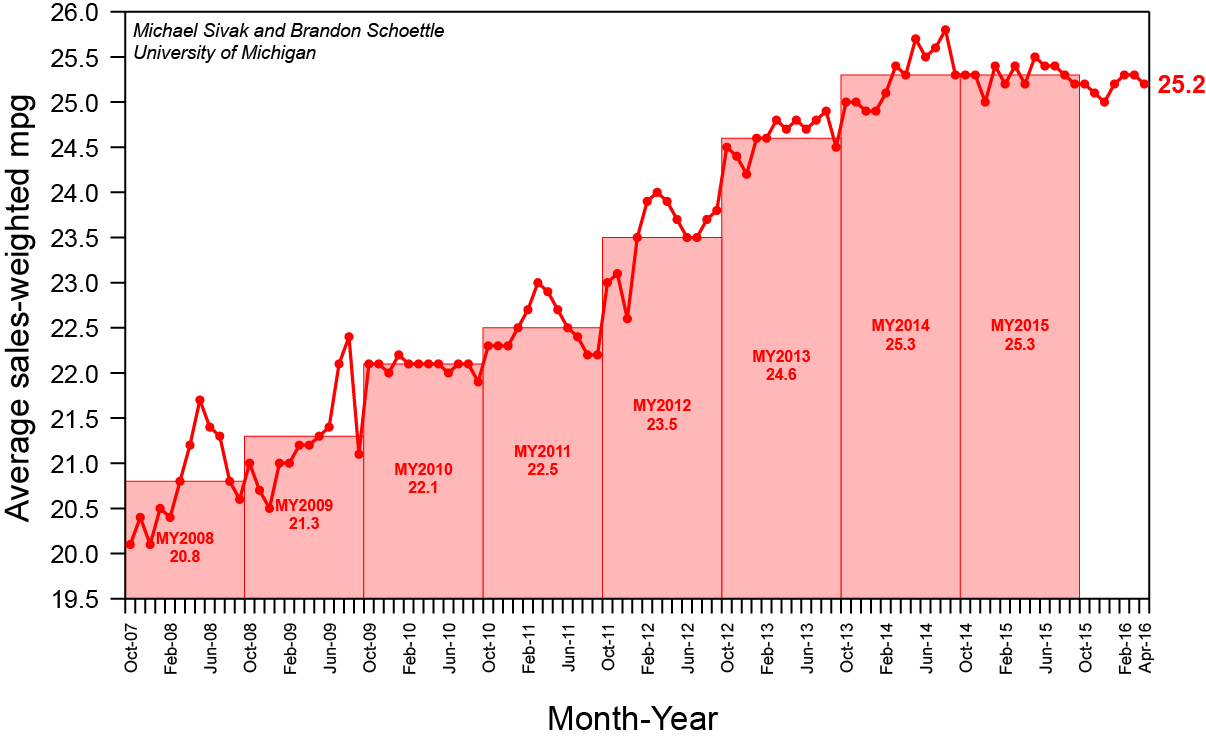 Oil and Gas 350:  French oil refinery workers' strike causing fuel shortages
A bill passed by French President Francois Hollande's government that would make hiring and firing easier in France has met with strikes from French union CGT, whose members include oil refinery workers. Six of the eight major refineries in France are either completely shut down, or producing at reduced levels, reports Marine Link, as strikes block oil terminals and fuel depots. The dramatic drop in operating refining capacity has led to fuel shortages in France's gas stations. An estimated 40% of gas stations around Paris and 20% of stations nationwide have supply problems. Of the 12,000 gas stations in France, 820 were completely out of fuel last Sunday, and another 800 lacked at least one type of fuel according to French Transport Secretary Alain Vidalies. The French government is currently drawing on its strategic fuel reserves to supply gas stations as the CGT union calls on port workers to stop working, making it increasingly difficult to supply the country with both crude oil and refined products. So far, the impact to the tanker market has been limited, but the last time the country's refinery workers walked out, France saw a 25% increase in refined product imports the following month.
Premium Time:   Niger Delta Avengers vow to bring Nigeria's oil production to zero
Niger Delta Avengers, the new militant group that has claimed responsibility for a string of attacks on oil and gas installations in the Niger Delta, continued its disruption of Nigeria's oil production with the bombing of more crude oil pipelines Thursday. The Avengers added that the latest disruption is "in line with our promise to all international oil companies and indigenous oil companies that Nigeria oil production will be zero." The group's operation had become more audacious in recent weeks as it continued to cripple Nigeria's oil production, demanding a sovereign nation of the Niger Delta people. The Avengers had rejected a meeting recently convened in Abuja by the federal government, warning of its readiness to carry out an attack that will "shock the whole world".
World Nuclear News:  Alliance brings Russian fuel to US market
Global Nuclear Fuel Americas (GNF-A) and Russian nuclear fuel company TVEL have agreed to work together to introduce Russian-designed pressurized water reactor fuel into the USA. The companies have announced a strategic alliance to introduce lead use assemblies (LUAs) of TVEL's TVS-K fuel design in the USA and to seek licensing approval from the US Nuclear Regulatory Commission to supply the fuel in reload quantities. GNF-A will provide US-based project management, licensing, quality assurance and engineering services while TVEL will provide TVS-K design expertise, engineering support and initial fabrication of LUAs. Subsequent LUAs are planned to be produced at GNF-A's facility in Wilmington, North Carolina. TVS-K is a 17×17-lattice PWR nuclear fuel assembly developed by TVEL for use in Westinghouse-designed 3- and 4-loop PWRs, drawing on TVEL's experience in the development, manufacture and operation of nuclear fuel for Russian-designed VVER-1000 reactors.
Gazprom:  First maritime shipments of Yamal oil via new Arctic Gates sea terminal
A formal ceremony marking the first year-round shipments of Yamal oil via the Arctic Gates oil-loading terminal took place today at the Cape Kamenny settlement in the Yamal Peninsula. Gazprom PJSC CEO Alexey Miller and Gazprom Neft PJSC CEO Alexander Dyukov were both present at the event. President of the Russian Federation Vladimir Putin gave the instruction to commence the loading of Novoportovskoye oil onto the tanker, by video link. Oil from the Novoportovskoye field is transported by pipeline (of more than 100 kilometres in length) to the coast of the Gulf of Ob: this offers a critically low depth for sea navigation (at just 11 metres), as a result of which the oil-loading terminal is located directly in the sea, 3.5 kilometres from the shore. The terminal has capacity to load up to 8.5 million tonnes of oil per year, allowing the year-round despatch of Yamal oil by tanker for onward transportation via the Northern Sea Route.
Telegraph:  Controversy as RSPB builds 100m wind turbine despite deadly threat to birds
The Royal Society for the Protection of Birds has completed construction of a 100 metre wind turbine at its headquarters despite warnings they are a deadly danger to some birds and bats. The turbine will save an estimated 800 tonnes of carbon emissions a year as it generates the equivalent of half the electricity the RSPB uses across its 127 sites. Critics of the technology warn turbines pose a threat to birds, particularly rare species which are already suffering from low numbers or migratory species, as well as to bats. The Scottish Gamekeepers' Association (SGA) has previously claimed wind turbines are killing more birds of prey than deliberate poisoning or shooting. But RSPB's turbine got the go-ahead as an article in the journal Nature claimed they killed far fewer birds than than other human causes such as buildings, cars, power lines, pesticides and pet cats.
BBC:  North Sea 'can have bright future'
Scotland's new economy secretary has said the country's oil and gas industry can have a bright future despite the recent downturn in its fortunes. But Keith Brown called for greater support for the sector as he met key industry figures in Aberdeen. Mr Brown said: "The Scottish government strongly believes that the North Sea oil and gas sector can have a bright future for years to come. "Given the considerable challenges faced by industry, this will require a concerted effort by all stakeholders and today's visit will help me to play as strong a role as possible in that process."Mr Brown said the Scottish government was doing everything in its power to support the industry, but that the UK government retained most of the important economic levers affecting the sector. He highlighted what he described as a lack of progress towards using the UK Guarantees Scheme for oil and gas infrastructure where it could help secure new investment in assets of strategic importance.
Independent:  UK government could ditch pledge to shut all coal-fired power stations by 2025
In the run-up to the historic Paris summit on climate change, energy secretary Amber Rudd made a startling pledge: the Government would "set out proposals to close coal by 2025". However, The Independent can reveal the Government is considering allowing coal-fired power stations to continue to operate if they can reduce their emissions by a certain amount using fledgling carbon capture and storage (CCS) technology. This would not necessarily be 100 per cent of the plant's emissions. The Government had planned to publish a consultation document setting out its plans this spring, but publication has been delayed by several months amid impassioned lobbying by the coal industry, which has complained to ministers that it is in "crisis". However, a Whitehall source suggested the news might not be quite as bad as the industry was expecting or quite as good as environmentalists had hoped. "If coal is partially abated, if you have installed CCS, could you carry on burning coal? These are all the points the consultation is going to try to address and set out what would be allowed and seek people's views on it," he said.
BBC:  Scottish Parliament votes on fracking
The Scottish Parliament has voted to support an outright ban on fracking after SNP MSPs abstained. Labour tabled an amendment saying there "should" be a full ban as part of an environment debate headed by new cabinet secretary Roseanna Cunningham. After SNP members abstained, the motion was passed by 32 votes to 29. Energy Minister Paul Wheelhouse said there needed to be proper research and a public consultation before a decision was taken on fracking.Scottish Labour said it would be "outrageous" if the SNP "ignored" the result of the vote. The amendment is not a binding policy, but represents a defeat for the SNP, which supports a moratorium on fracking but stops short of backing a full ban. The SNP's manifesto for the Holyrood election committed to there being no fracking in Scotland "unless it can be proven beyond doubt that there is no risk to health, communities or the environment".
Scotsman:  Ineos moves its fracking operation from Scotland to England
The petrochemical giant Ineos has moved its fracking operation from Scotland to England amid frustration at the Scottish Government's failure to back the controversial gas extraction technique. Scotland on Sunday has learned that the multinational has informed Scottish ministers of its decision which has been made to take advantage of fracking opportunities south of the Border. Nicola Sturgeon's administration has imposed a moratorium on fracking in Scotland and last night the government's line appeared to harden when the new energy minister Paul Wheelhouse said he was "deeply sceptical" of proposals to exploit shale gas reserves beneath the ground. In contrast, the UK government has adopted a pro-fracking stance and last week North Yorkshire County Council approved an application by Third Energy to frack a well near the village of Kirby Misperton in Ryedale.
BBC:  Renewable energy surges to record levels around the world
Investments in renewables during the year were more than double the amount spent on new coal and gas-fired power plants, the Renewables Global Status Report found. For the first time, emerging economies spent more than the rich on renewable power and fuels. Over 8 million people are now working in renewable energy worldwide. For a number of years, the global spend on renewables has been increasing and 2015 saw that arrive at a new peak according to the report. About 147 gigawatts (GW) of capacity was added in 2015, roughly equivalent to Africa's generating capacity from all sources. China, the US, Japan, UK and India were the countries adding on the largest share of green power, despite the fact that fossil fuel prices have fallen significantly. The costs of renewables have also fallen, say the authors."The fact that we had 147GW of capacity, mainly of wind and solar is a clear indication that these technologies are cost competitive (with fossil fuels)," said Christine Lins, who is executive secretary of REN21, an international body made up of energy experts, government representatives and NGOs, who produced the report.
Utility Week: Renewables industry must 'stand on its own two feet', says SSE
The renewables industry needs to "stand on its own two feet" following recent cuts to government subsidies, and amid the country's shift towards a low-carbon energy system, according to SSE director of generation development Paul Cooley. At a conference in Edinburgh on the future of renewables in Scotland, Cooley said: "The fact is that the [renewables] industry can no longer rely on public subsidy to make the projects viable so the industry as a whole needs to start to stand on its own two feet. "We are now at a point where the industry needs to start making the transition into the next phase of its development." Cooley also drew attention to the fact that the first of the current onshore wind sites will require repowering as they come to the end of their lifespan in the mid 2020s."This capacity will need to be repowered or it is going to be lost," he said. As well as urging developers to be more cost efficient and reduce reliance on subsidy, he said, that regardless, of all the recent changes SSE "remains positive" about the future of onshore wind in Scotland.
Nuclear Street:  The Fukushima "ice wall"
In a quarterly report on conditions and cleanup progress at the Fukushima Daiichi Nuclear Power Station in Japan, the Tokyo Electric Power Company (TEPCO) said that soil temperatures at more than 90 percent of the measuring points in a circumference surrounding four reactor buildings were below zero degrees Celsius or 32 degrees Fahrenheit. TEPCO is attempting to create and impervious wall of frozen soil below the damaged plant in an area that includes reactor buildings 1 through 4. The idea is to control groundwater that has been flowing under and through the damaged buildings, picking up radioactivity along the way, then flowing back into the ambient soil below the plant on the seaside, eventually reaching the ocean. TEPCO finished installation of 1,549 pipes to create the underground frozen blockade area in early February 2015. The coolant began flowing through the pipes on March 31 after a series of pressure tests. The report, that shows more than 90 percent of measuring points achieving success, covers the January through March period.
Wall Street Journal:  China's coal power overcapacity to get worse
The National Development and Reform Commission, China's top economic planning agency, has banned approvals for new coal-fired power projects in oversupplied regions. While the move may help curb planned projects, many already under construction appear to be pushing ahead. China already has more power-generating capacity than any other country. It is projected to add nearly 200 gigawatts worth of new thermal power capacity between 2015 and 2017, according to an analysis by Fitch Ratings Inc. That is more than the entire electrical capacity of Canada. While some capacity would be for natural gas, most will be coal-powered. State-led investment is still a mainstay to generate growth, and, industry analysts say, local governments are valuing the short-term over longer term financial health. "Local governments are focused on regional jobs," said Ranping Song, a China energy expert at the Washington-based World Resources Institute. "There's no question" power overcapacity stands to get worse in the coming years.
Governance Now: Coal plants behind recurring Indian droughts
According to data released by Greenpeace, the coal based power plants in India use about 4.6 billion cubic metres of water each year – which is enough to cater to basic water needs of about 25.1 crore (251 million) people. Greenpeace claimed to have collected data from seven drought hit states that links the conditions there to the increased production of coal based energy. Greenpeace has said given the proposals for power plants, the consumption of water for these is going to be three times higher across seven drought affected states and it could worsen the water crisis and also drought conditions. According to Jai Krishan, Greenpeace campaigner "This drought has been devastating for millions of people, yet we continue to ignore one of the biggest water guzzlers in the country, the coal power sector. Given the scant water supply, we have to prioritise meeting basic human needs and livelihoods over water being diverted for operating a power plant."
Bloomberg:  Chile Has So Much Solar Energy It's Giving It Away for Free
Chile's solar industry has expanded so quickly that it's giving electricity away for free. Spot prices reached zero in parts of the country on 113 days through April, a number that's on track to beat last year's total of 192 days, according to Chile's central grid operator. While that may be good for consumers, it's bad news for companies that own power plants struggling to generate revenue and developers seeking financing for new facilities. Chile's increasing energy demand, pushed by booming mining production and economic growth, has helped spur development of 29 solar farms supplying the central grid, with another 15 planned. Further north, in the heart of the mining district, even more have been built. Now, economic growth is slowing as copper output stagnates amid a global glut, energy prices are slumping and those power plants are oversupplying regions that lack transmission lines to distribute the electricity elsewhere. "Investors are losing money," said Rafael Mateo, chief executive officer of Acciona SA's energy unit, which is investing $343 million in a 247-megawatt project in the region that will be one of Latin America's largest. "Growth was disordered. You can't have so many developers in the same place."
CTV News:  Wind and solar to power Arctic communities
Some Nunavut communities could cut their fossil fuel use by up to half with renewable energy that wouldn't cost any more than the aging diesel generators they now use, a new study has concluded. The study comes as the federal and territorial governments consider what to do about 300 mostly northern communities that rely on diesel to generate electricity. Many are aging and long past due for replacement. In Nunavut, 13 of the territory's 17 generators are more than 35 years old. All are expensive to run and they emit greenhouses gases and black carbon, which contributes to melting of sea ice. It found in at least five Nunavut communities — including the capital of Iqaluit — the current generation of wind and solar systems could replace at least one-third of diesel consumption for the same price as operating and maintaining its old generator.
Phys.Org:  Galapagos Islands aim for 100% renewable generation
A global renewable energy project on the Galapagos Islands—one of Earth's most fragile and important ecological treasures—has helped avoid many tanker loads worth of risky diesel fuel imports since 2007, reduced the archipelago's greenhouse gas emissions and preserved critically endangered species. Now, after eight successful years, the project's new operators are pursuing an ambitious expansion that would multiply the benefits of renewable energy for this remote, precious archipelago with a growing appetite for electricity. A performance summary and recommendations for the expansion are contained in a new report by the Global Sustainable Electricity Partnership (GSEP), a not-for-profit association of 11 of the world's foremost electricity firms, which led and financed the $10 million project. The project's three 51-metre-tall wind turbines and two sets of solar panels have supplied, on average, 30% of the electricity consumed on San Cristóbal, the archipelago's second-largest island in size and population, since it went into operation in October 2007. The proposed expansion could boost the renewable energy share to 70 per cent, en route to a hoped-for elimination of fossil fuels, the report states. It could also be a template for energy development elsewhere in the Galapagos chain—where renewable sources now account for 20% of electricity production—and elsewhere around the world.
Channel News Asia:  Korean Island seeks 100% renewables generation
Jeju Island is known among Koreans and foreigners for its beautiful scenery and unique island culture. Despite rapid development, Jeju is hoping to become carbon-free by 2030. To achieve this, it is testing a pilot model on the nearby island of Gapado, whose 177 residents rely mostly on solar and wind power for their electricity. Gapado is aiming to become the world's first carbon-free island. To do that, the residents have replaced electricity poles with underground cables, and have also installed two wind power generators and solar panels on top of their houses. Jin Myoung-hwan is the head of Gapado, and he says most of the island's energy needs are met by the two wind power generators and solar panels. When cloudy weather disrupts solar and wind power generation, residents can rely on the energy earlier saved. The wind and solar generators are connected to a smart meter and smart system on the electricity grid.
Sciencemag:  Energy storage from microbes in hybrid solar panels
Plants are exceptional sunlight sponges. But they store only about 1% of the energy they soak up, locking it into the sugars and other organic molecules they use to build their cells. Scientists have boosted that number by a few percentage points with light-absorbing microbes and genetic engineering. But now, researchers have taken a more sizable jump with solar panels, creating a hybrid device that uses a combination of catalysts and microbes to convert 10% of the captured solar energy into liquid fuels and other commodity chemicals. The new fuels could also solve another crucial problem: renewable energy storage. As solar and wind power grow in use, researchers have begun looking for ways to store the excess energy such systems produce. Batteries are too expensive for storing more than nominal amounts. But energy-rich chemicals, which can be piped around and kept in chemical tanks, could store much more at a manageable price.
Guardian:  Merkel puts brakes on German green energy
The German chancellor, Angela Merkel, has hammered out a deal with state premiers on the latest reform to Germany's renewable energy law aimed at curbing the costs and controlling the speed of the roll-out of green power sources. After a meeting with the leaders of Germany's 16 states that stretched into the early hours of Wednesday, the government agreed to cap the expansion of onshore wind power at 2.8 gigawatts in capacity per year. In addition only a certain amount of new capacity will be permitted in north Germany to avoid overburdening the electricity grid. Generous green subsidies have led to a boom in renewable energy, such as wind and solar power. But the rapid expansion has pushed up electricity costs in Europe's biggest economy and placed a strain on its grid. The latest reforms are aimed at slowing the growth in renewables, which accounted for around a third of Germany's electricity last year, up from 28% in 2014. With the government sticking to its target for an increase in the share of renewable sources to 40-45% of total electricity production by 2025, it will have to put the brakes on growth to avoid overshooting.
Financial Times:  Environmental issues left behind as Brexit rhetoric intensifies
As the June 23 vote nears, anxiety is growing among some companies and many green groups about the relatively scant attention being paid to how a Brexit might affect the environment and UK energy industries. The future of common product standards are a particular concern for exporters selling to the single market, as well as EU energy and climate targets that have been "a real driver for low carbon goods", such as ultra low emissions vehicles. The UK got a record 25 per cent of its electricity from renewable generators last year, partly because of its own 2008 Climate Change Act, one of the most far-reaching in the EU. But growth was also driven by EU targets obliging the UK to get 15 per cent of its energy from renewables by 2020. Fresh EU renewables targets are planned for 2030, but some analysts believe a Brexit would embolden critics eager to water down environmental laws they say are pushing up energy prices and making companies uncompetitive.
Independent:  Ireland seeks a 32pc rise in levy on electricity bills
The energy regulator is proposing a massive rise in the levy imposed on household electricity bills to cover the cost of producing electricity from renewables and peat and to ensure security of supply. The regulator has proposed that the so-called Public Service Obligation (PSO) levy go up by 32pc for households from October. This would mean every household would end up paying €90 a year on the levy. And the levy proposal comes days after a report found that electricity prices here are the third highest in the European Union. The EU's statistics agency found prices were way ahead of the average across 28 countries. The levy was put in place to subsidise the production of electricity from peat and renewables and to pay power plants to produce energy to ensure we have a steady supply to the network, what the regulator calls security of supply.
MIT Technology Review:  Six Months after Paris Accord, We're Losing the Climate-Change Battle
The IEA predicts total worldwide energy demand will increase between now and 2050, but with strong government action, that increase can be limited enough to slow global warming to 2 °C or less. Cities account for about two-thirds of global energy demand and 70 percent of total energy-related carbon dioxide emissions, so limiting energy use and emissions from metropolitan areas will be critical to achieving the goals of the Paris agreement. Limiting urban energy use to an increase of 20 percent (compared to a 70 percent increase that would happen if current trends continue) would be a huge factor in staying below the 2 °C threshold, the report finds. And total worldwide carbon dioxide emissions could be halved by 2050 compared to 2013 levels—nearly three-quarters of that from urban sources. They are lofty goals, projections that even IEA executive director Fatih Birol admits could be impossible to reach. "We think we are lagging behind strongly in key technologies," says Birol, "and in the absence of a strong government push, those technologies will never be deployed into energy markets, and the chances of reaching the two-degree goal are very slim."