This weeks early bird Blowout focuses on Germany's Energiewende, which seems to be moving away from its original goal of lowering emissions in favor of a "modernisation shift" in Germany's macroeconomy involving "industrial growth and social compensation" that will allow it to meet its decarbonization goals by shutting down nuclear plants but not coal plants. At least that's what Economy Minister Sigmar Gabriel said last Thursday:
Reuters:  Germany's Gabriel rejects calls to focus on exit from coal
Germany's economy minister on Thursday rejected calls for Europe's largest economy to focus on ending coal use in the way it plans to quit nuclear energy. "I will not call for a commission to deal with a coal exit," Sigmar Gabriel told a conference of some 1,400 delegates mostly representing power utilities.
"My proposal would be for one to deal with the question how we create a modernisation shift in our macroeconomy out of the need to protect the climate." He said such a forum ought to link discussions about economic growth and social issues with the need to further develop Energiewende, Germany's drive towards a decarbonised economy. "We cannot reduce all that to the coal question," Gabriel said. "Coal is losing in importance, but (that means) we will have to talk about industrial growth and social compensation," Gabriel said.
Follow up stories include turning the C in CCS into rock, further job losses expected in UK oil and gas, forecast decline in non-OPEC oil supplies, England not windy enough, unscheduled global oil supply disruptions, more US oil patch bankruptcies, Westinghouse to build nuclear plants in India, Sweden goes nuclear again, Finland to build another nuclear plant, "incident" shuts down Tihange plant, signs of recovery in coal, Brexit to cause loss of UK energy sovereignty, ENSO events influence global temperatures for hundreds of years and the monkey that blacked out Kenya.
BBC:  CCS experiment turns CO2 into stone
Previous experiments have seen pure CO2 injected into sandstone, or deep, salty aquifers. Chosen sites – which have included disused oil and gas wells – have relied on layers of impermeable capping rocks to hold down the carbon dioxide. But the fear is always that the CO2 could find a way to leak back out into the atmosphere. Scientists think they have found a smart way to constrain carbon dioxide emissions – just turn them to stone. The researchers report an experiment in Iceland where they have pumped CO2 and water underground into volcanic rock. Reactions with the minerals in the deep basalts convert the carbon dioxide to a stable, immobile chalky solid. Even more encouraging, the team writes in Science magazine, is the speed at which this process occurs: on the order of months. "Of our 220 tonnes of injected CO2, 95% was converted to limestone in less than two years," said lead author Juerg Matter from Southampton University, UK. "It was a huge surprise to all the scientists involved in the project, and we thought, 'Wow! This is really fast'," he recalled on the BBC's Science In Action programme.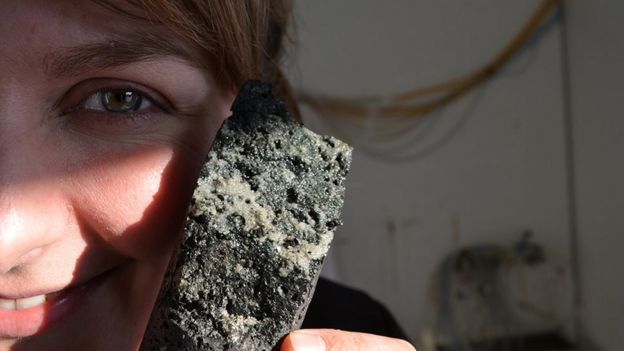 The reactions in the volcanic rock produced immobile carbonates (white deposits). Image credit Lamont Doherty Earth Observatory.
GWPF:  UK GMB Union: Green Energy Arrogance 'Not Acceptable'
The GMB Congress in Bournemouth was told that in the year from 1 June 2015 every 1 in 8 days has been a low wind day (46 days in total) when the output of the installed and connected wind turbines in the UK have produced 10% or less of the installed and connected capacity of 8,972MW. The days of low wind were 5 days in June 2015, 2 days in July, 5 in August and September, 7 in October, 3 in November, 1 in December, 2 in January 2016, 3 in February, 6 in March, 1 in April, and 6 in May. Justin Bowden, GMB National Secretary, said: "Over the last 12 months there were 46 days when wind was supplying 10% or less of the installed and connected wind capacity to the grid and on 4th November National Grid had to invoke special measures to keep the lights on. This means that on the days when the wind doesn't blow and the sun doesn't shine we need a base load electricity capacity we can rely on. If your heating is turned off, your lights have gone out and your electricity supply has "Gone with the Wind", the renewable energy suppliers cannot just shrug their shoulders and tell the public "frankly my dear we don't give a damn". The public want the lights to stay on, so until there is a scientific breakthrough on carbon capture or solar storage, then nuclear and gas are the only reliable shows in town which those advocating a renewable energy only policy have to accept."
Sputnik News:  OPEC Overproduction Could Lead to 'Regime Change' in Venezuela
The decision by the Organization of Petroleum Exporting Countries (OPEC) to drive production while oil prices fell could ultimately lead to an overthrow of the government of cartel member Venezuela, US Congressman Jeff Duncan told Sputnik on Thursday. Venezuela is in the midst of a deep economic crisis, largely driven by the drastic drop in oil revenues, which account for 95 percent of the country's export earnings and approximately one quarter of its gross domestic product. Since late 2015, the political stability in Venezuela has also been cast into doubt as the opposition Democratic Unity coalition gained control of the parliament and immediately demanded a recall vote on the socialist government of President Nicolas Maduro. "If Maduro doesn't have the oil revenues to continue supporting the socialist government… there may be regime change," Duncan said, referring to recent mass protests against Maduro staged by Venezuelans whose access to food, hospitals, and other basic needs has been cut due to the economic crisis. Despite mounting instability among cartel members including Venezuela and Nigeria, OPEC decided in June not to freeze production.
Trend:  EIA forecasts decline in non-OPEC oil
The US Energy Information Administration (EIA) forecasts non-OPEC countries oil supplies to decline to 57.04 million barrels per day in 2016 and to 56.8 million barrels per day in 2017. Non-OPEC supply of oil and other liquid hydrocarbons was 57.64 million barrels per day in 2015, according to the EIA's June Short-Term Energy Outlook (STEO). In its May STEO the EIA forecasted non-OPEC liquid supplies at the level of 56.9 million barrels per day in 2016 and 56.69 million barrels per day in 2017. The US and Russia are the largest non-OPEC oil producing countries. The US and Russia supplied 15.04 million and 11.03 million barrels of oil and other liquid hydrocarbons per day respectively in 2015, according to EIA. The STEO for June 2016 forecasts that the US will daily supply 14.49 million barrels of oil and other liquid hydrocarbons in 2016 and 14.38 million barrels per day in 2017. Supply from Russia is forecasted at the level of 11.17 million barrels in 2016 and 11.03 million barrels in 2017.
BBC:  Oil sector job losses 'to reach 120,000 by end of year'
The number of jobs lost as a result of the downturn in the UK oil and gas sector could top 120,000 by the end of this year, according to a report. Oil & Gas UK estimated 84,000 jobs linked to the industry went in 2015, with 40,000 losses expected this year. It said the offshore industry supported 453,000 jobs at its 2014 peak – either directly, in its supply chain or in trades such as hotels and taxis. The new figures suggest 330,000 jobs would be supported by the end of 2016. The analysis was carried out by marketing services company Experian. Last week a Bank of Scotland/Lloyds Banking Group survey suggested that a third of UK oil and gas businesses planned to cut jobs further during this year. Oil & Gas UK chief executive Deirdre Michie said: "The industry has been spending more than it is earning since the oil price slump towards the end of 2014. "This is not sustainable and companies have been faced with some very difficult decisions (but) with up to 20 billion barrels of oil and gas still to recover, this region is still very much open for business." Oil & Gas UK is due to hold its annual conference in Aberdeen next week to consider how it manages its way through the current downturn.
Oilandgas360:  Conflicts drive oil outages to highest recorded levels
Unplanned global oil supply disruptions reached their highest monthly level since 2011 when the EIA began tracking to what extent oil outages were affecting output. From April to May, disruptions grew by 0.8 MMBOPD, averaging more than 3.6 MMBOPD, the agency reported. The majority of the increased outages in May came from Canada, Nigeria, Iraq, and Libya—more than offsetting barrels coming back to the market from Kuwait, Brazil and Ghana. Along with rising oil demand and falling U.S. crude oil production, increased disruptions led to a month-over-month $5 per barrel increase in Brent crude oil spot prices in May, helping to push the international benchmark, along with its U.S. counterpart WTI, above $50 per barrel for the first time in 2016. Wildfires in Fort McMurray, Canada, played a large role in the oil outages recorded in May, but longer-term outages are mostly driven by political conflict, said the EIA. Global oil outages are expected to decrease in June as work restarts in Canada, but disruptions tied to political disputes or conflicts often last for years. In the first five months of 2016 alone, political disputes accounted for nearly 90% of unplanned disruptions.
ValueWalk:  Expect More Oil Patch Bankruptcies
According to law firm Haynes and Boone LP's May Oil Patch Bankruptcy Monitor, which ValueWalk has followed closely since its inception last year, during April 18 North American oil and gas producers filed for Chapter 11 listing $14.9 billion in debt, more than any other month covered by the re-port so far. Haynes and Boone's Bankruptcy Monitor last update was at the beginning of May and since then even more of the once highflying E&Ps in the North American oil patch have filed for Chapter 11. Over the past few weeks Linn Energy, Penn Virginia, Breitburn Energy LP, and Halcon Re-sources have all announced bankruptcies or restructurings bringing the total number of US E&P bankruptcies to about 75 since the beginning of last year. According to Forbes Linn Energy alone collapsed owing more than $8.3 billion in debt; Halcon is aiming to wipe out $1.8 billion in debt via a prepackaged Chapter 11; Penn Virginia collapsed with around $1.3 billion of debt on its balance sheet; and Breitburn Energy LP reported around $3 billion of both long and short-term debt. Golcman Sachs expects the number of defaults in the North American E&P to continue for the rest of 2016 and yesterday announced that it was raising its default forecast for the year to 21% from 17% previously.
RT:  Reactor at Belgian nuclear power plant shuts down after incident
A reactor at Belgium's Tihange nuclear power plant has shut down automatically following an abnormality on Friday, the plant operator said. The causes behind the incident are being investigated. There has been no radiation leak, according to the operator. A safety mechanism installed at the reactor No.2 had shut it down automatically, said Anne-Sophie Huge, a spokeswoman for energy company Electrabel. The mechanism is designed to force the reactor to shut down "when an abnormality is detected," she added, saying the causes of Friday's interruption are now being assessed by specialists. The operator said it was "certain" the problem was somewhere "in the secondary part of the plant," such as an engine room, and not in the nuclear zone. "The incident shows that the safety system works. The plant is in total safety because the Tihange 2 unit is stopped," she said, as cited by RTBF. Earlier this year, work was interrupted at another Belgian nuclear plant, Doel, which is 40 years old. A similar safety mechanism shut its reactor down just three days after it had been re-launched. In April, Germany asked Belgium to take two of its nuclear reactors at both Tihange and Doel offline, citing safety concerns. Brussels said it took its neighbor's concerns "seriously," but promised that its reactors met the strictest safety standards.
Mail:  Sweden to cut taxes on nuclear power generation and build more nuclear plants
Sweden said on Friday it would phase out some taxes on nuclear power and build new reactors to replace aging plants and secure energy supplies for decades to come. Nuclear power providers in Sweden have said they would be forced to shut the country's loss-making nuclear reactors unless a tax on nuclear capacity is abolished, risking a spike in electricity prices and energy shortages for industry."The aim is … to make sure we can always guarantee electricity at competitive prices, in a stable and sustainable way, both in the short and long term," Energy Minister Ibrahim Baylan told reporters. The tax, which brought in about 4 billion Swedish crowns ($488 million) in 2015, will be phased out over two years starting from 2017, but households will see their energy bills rise as Baylan said the government would increase taxes on energy users to make up for the nuclear tax. Heavy industry, however, would be excluded from the tax rise. In a broad deal agreed with the main opposition parties, the government also said it would allow up to 10 new reactors to be built as the country closes its old plants, built in the 1970s and 80s.
US News:  Stop prioritizing solar and wind over nuclear
If there is one thing that seems certain about meeting the nation's clean air goals, it is that shutting down nuclear power plants is nonsensical. Nuclear power doesn't pollute the air, and it is our largest source of carbon-free energy. The climate benefits of nuclear power are unmistakable. Yet since 2013, 10 nuclear plants have either been shut down or are in the process of being retired prematurely – and the Department of Energy says that as many as 20 other nuclear plants are at high risk of being closed. As a result of plant closings, greenhouse gas emissions have gone up, since nuclear power is most often replaced by natural gas, which is a major source of emissions. But another factor is now fueling the problem. It's our habit of mandating the use of subsidized wind and solar power. Twenty-nine states have renewable portfolio standards which call for energy sources like wind and solar to generate a certain percentage of a state's electricity. But nuclear power, though it accounts for nearly 60 percent of the nation's carbon-free energy, is excluded from the portfolio standards in every state except Ohio, which credits "advanced nuclear power." Consequently, at wholesale electricity auctions, electric grid operators must purchase a certain amount of solar and wind energy, even though, due to its intermittency, it is usually three or four times more expensive than nuclear-generated electricity.
Economic Times:  Westinghouse to build six nuclear plants in India
The Nuclear Power Corporation of India and US firm Westinghouse have agreed to begin engineering and site design work immediately for six nuclear power plant reactors in India and conclude contractual arrangements by June 2017, the White House said on Tuesday. Culminating a decade of partnership on civil nuclear issues, Prime Minister Narendra Modi and US President Barack Obama during their White House meeting "welcomed" the start of preparatory work on site in India for six reactors to be built by Westinghouse, officials here said. The two leaders also noted the intention of India and the US Export-Import Bank to work together toward a competitive financing package for the project, the White House said. Once completed, the project would be among the largest of its kind, fulfilling the promise of the US-India civil nuclear agreement and demonstrating a shared commitment to meet India's growing energy needs while reducing reliance on fossil fuels. These reactors would bring clean energy to India and generate thousands of jobs in the US, Brian Deese, Senior Advisor to the US President, told reporters in a conference call.
Financial Times:  Finland to build another nuclear plant
The last one in Finland is almost a decade late, and the participating companies are now embroiled in multibillion-euro lawsuits. The current one in the UK has caused intense ructions at the top of one of Europe's largest utilities and piled huge pressure on the French and British governments. So it hardly seems like the most auspicious moment for Finland to build a nuclear power plant. But Fennovoima, the company behind the project worth up to €7bn, is bullish. The 1,200 megawatt power plant — known as Hanhikivi 1 and due to be completed by 2024 — could provide Finland with about 10 per cent of its electricity, boost the country's economic growth, and be a boon for a group of local companies as well as Russia's Rosatom. Fennovoima thinks it can avoid the problems that have dogged the Olkiluoto 3 nuclear project in Finland and Hinkley Point in the UK. Unlike the former, Rosatom is not just a supplier but also a big shareholder, with a 34 per cent stake in Fennovoima. And the cost of the proposed new Finnish reactor is well below the £18bn (€24bn) estimate for Hinkley Point, even if the UK plant is bigger, at 3,200MW. "There are challenges. But we hope that we can show the way for others," says Minttu Hietamäki, a nuclear engineer at Fennovoima, which hopes to secure a construction licence for Hanhikivi in 2018.
Europarliament:  MEPs quiz Commission on Belarus nuclear power plant safety
The EU Commission was quizzed on the safety of building work at the Ostrovets (Astravyets) nuclear power plant in Belarus in a plenary debate on Monday evening. Most MEPs raised concerns about its safety and compliance with international standards. MEPs asked the Commission whether the Ostrovets plant complied with EU nuclear safety rules and urged it to use all available instruments to ensure that the plant undergoes proper safety stress tests. The issue of safety of nuclear plants throughout Europe was highlighted. Many MEPs pointed to facilities in and around Europe operating beyond their planned lifespans. MEPsThe EU Commission was quizzed on the safety of building work at the Ostrovets (Astravyets) nuclear power plant in Belarus in a plenary debate on Monday evening. Most MEPs raised concerns about its safety and compliance with international standards. MEPs asked the Commission whether the Ostrovets plant complied with EU nuclear safety rules and urged it to use all available instruments to ensure that the plant undergoes proper safety stress tests. The issue of safety of nuclear plants throughout Europe was highlighted. Many MEPs pointed to facilities in and around Europe operating beyond their planned lifespans. MEPs expressed broad concerns about the safety of the plant which is being built close to the Lithuanian capital. Many MEPs highlight-ed the cross-border nature of the issue with references to the Chernobyl disaster – and the difficulty of verifying reports of the risks around it.MEPs also pointed out that nuclear fallout cannot be contained within a country's borders.
Forbes:  Coal Deals Start To Flow As The Price Recovery Accelerates
It has to be the world's least loved commodity but if that's the case then why is the price of coal rising and, more to the point, why is someone about to spend more than $1 billion buying a suite of coal mines? The answer is that loved, or unloved, the world simply cannot function without coal which is why the price of thermal coal which is used to generate electricity has risen by up to 15% since April, and why there are four bidders left in the race for two metallurgical, or steel-making, coal mines in Australia. Potential buyers for the Moranbah North and Grosvenor mines being sold by the British-based mining conglomerate, Anglo American include commodities trader, Glencore, and AMCI, a coal specialist controlled by German billionaire, Hans Mende. The sale by Anglo American is part of that companies massive corporate clean-up which is designed to retire debt and leave it with far fewer assets that will be dominated by exposure to copper, platinum and the crown jewels in the form of the De Beers diamond business. Getting out of coal had been expected to be a difficult process for Anglo American but the latest indications are that it might fetch as much as $1.4 billion from the two mines.If a competitive bidding process for Anglo American's Australian coal business isn't seen as a convincing indication that coal is unlikely to disappear from the global economy any time soon then the rising price of thermal coal might do the job.
Businessgreen:  UK renewables industry fears 2016 investment slowdown
The UK's renewables sector is enjoying record levels of employment, delivering record levels of clean energy, and has today received a major boost to its project pipeline. But the high growth rates enjoyed by the industry in recent years are now under serious threat as a result of a wave of recent policy changes that will make it harder for the government to meet its legally binding renewable energy targets for 2020. That is the headline conclusion of a major new report from the Renewable Energy Association (REA), which today attempts to take the pulse of the UK's renewable energy sector and provide up to date information on the scale of the market and its short to medium term prospects. The REView 2016 report, which was produced in partnership with consultancies Innovas and KPMG, paints a picture of an industry that has enjoyed a bumper few years but now faces an uncertain future as a result of "sudden and severe" policy interventions from government over the past 12 months.
Register:  England just not windy enough for wind farms, admits renewables boss
The head of the wind industry's trade body in the UK has admitted England isn't windy enough for any more wind farms. "We are almost certainly not talking about the possibility of new plants in England. The project economics wouldn't work; the wind speeds don't allow for it," Hugh McNeal, head of Renewable UK told the Telegraph. McNeal joined the lobby group from the civil service, where he was "Director of Change" (a real job title) at the Department of Energy and Climate Change during its most wind-friendly phase. Subsidies for new onshore wind projects were canned on 1 April this year. But if the UK isn't windy enough for wind then surely it's sunny enough for solar? In his final interview before his untimely death, DECC's chief scientific advisor David MacKay called it an "appalling delusion" that the UK could meet its energy needs from renewables. Wind turbines were simply a "waste of money" in winter, for "when the wind blows you are going to have to either turn those wind turbines down or something else down that you have already paid for like the nukes or the CCS", he told Mark Lynas. Solar only worked in really sunny countries.
Financial Times:  Battery-power investments energise UK renewables sector
Energy companies are pouring unprecedented sums of money into batteries and other power storage systems long deemed a green pipe dream, in a move experts said would transform the face of the UK's electricity industry. "It's potentially very disruptive," said Hugh McNeal, the new chief executive of the wind industry's main trade body, RenewableUK, adding that 55 of the group's 420 members were now investing "millions of pounds" in energy storage. Power storage has long been a holy grail for renewable energy advocates and climate change campaigners because it would help wind and solar farms match conventional, but more polluting gas and coal-fired power stations that can pump out electricity at will. The relatively high cost of batteries has put this goal beyond reach but with prices more than halving in the past six years, growing numbers of companies are starting to sell storage systems, notably in the US and Germany. The UK lags behind those countries but the past 12 months has seen a surge in companies testing the market. One RenewableUK member, Norwegian gas and oil group Statoil, is installing what is believed to be the world's first offshore wind farm battery system at the Hywind floating turbine project off the coast of Scotland. Dubbed "Batwind", it will have the capacity of more than 2m iPhones, puny compared with the UK's overall power needs but still potentially transformative if adopted widely by the fast-growing offshore wind industry.
Bloomberg:  Iberdrola Protests U.K. Payout for $1.2 Billion of Small Plants
Some of the U.K.'s biggest utilities are trying to prevent smaller companies from accessing what they say are unfair benefits after missing out on a scramble to build plants burning natural gas and diesel.While the U.K. hasn't built a large-scale power station since 2012, investment in smaller generators will be about 840 million pounds ($1.2 billion) in the next two years, according to U.K. Power Reserve Ltd., which operates about 10 sites and is building more. The way they're compensated and their exemption from some grid fees places less-polluting, larger plants at a disadvantage, Iberdrola SA's Scottish Power and Electricite de France SA said in filings published by the grid in the last two weeks. The facilities are also too small to be covered by the European Union's emissions market, leading lawmakers to voice concern about the extra pollution from generators trying to access government subsidies available for 15 years. That comes as a 15 percent drop in U.K. power in the past year to the lowest since at least 2007 made it harder for the nation's six largest utilities to make money from generation, and as customers switched to smaller providers.
Businessgreen:  Brexit backfire? UK actually has more 'energy sovereignty' inside the EU than out
The UK has had lots of influence on the EU's energy policy over the years, on everything from liberalising EU energy markets to the more recent push to ditch fossil fuels for renewables. On these and other issues, the UK has led and other member states have followed. British sovereignty in respect of energy and climate change policy has been expanded, not diminished, by its EU membership. Sovereignty doesn't necessarily imply democracy, of course. Yet people sometimes call the EU "undemocratic" without having the first idea of how it operates. Don't forget that all European legislation is debated and approved, unanimously or by majority vote, by elected representatives from each member country. This means directives on renewables or energy efficiency have been agreed by British politicians in discussion with their counterparts from all other member states. They're not "imposed" by "Brussels", as such legislation is so often described. At the same time, checks and balances ensure that the EC does not over-reach itself, and national governments get to decide how most European legislation is actually implemented in their countries. Therefore it's up to the UK how it chooses to keep the lights on while reducing its carbon emissions – not the EU.
Power Line Blog:  Denmark & Germany Join the UK in Breaking Wind
(Denmark) was the first country ever to venture into offshore wind power. Now, Denmark is scaring off potential investors by abandoning some of the policies that once helped make it an international poster child for green energy. The center-right government of Lars Loekke Rasmussen wants to scrap an electricity tax that has helped subsidize wind turbines since 1998. The administration says its decision follows a complaint from the European Union that such subsidies favor domestic businesses. But Denmark's Wind Energy Association, which estimates the change would lead to a massive drop in new capacity, warns the development is dangerous. Angela Merkel has put the brakes on Germany's rollout of renewable energy following extensive talks with the country's state leaders. The rapid expansion of green energy as part of the Energiewende programme has driven electricity costs up and placed a strain on the grid in Europe's largest economy. Last year, renewables provided one-third of the total electricity in Germany, with 3.5GW of new onshore wind capacity installed. New restrictions will cap onshore wind power at 2.8GW per year. Solar PV will also have a limit of 600MW imposed upon it. Germany's economic ministry backs the energy cuts, claiming that clean energy rollout needs to be slowed in order to accommodate improvements to the national grid. Some critics fear that the cuts will lead to job losses in the green energy sector and inhibit Germany's ability to meet its long-term energy goals.
Molly Scott Cato:  MEPs support Green-led critique of Africa agriculture initiative
Green MEPs have hailed a vote today as evidence of how the European Parliament can help protect the poorest communities from misguided development initiatives and corporate exploitation. A huge majority of MEPs voted in favour of a report by Green MEP Maria Heubuch, which heavily criticises a G8 initiative aimed at levering in private investment in agriculture in Sub-Saharan Africa. The critical report – supported by 577 MEPs, with only 24 against and 69 abstentions – calls on the EU to fundamentally review its participation in a plan known as the New Alliance for Food Security and Nutrition in Africa (NAFSN). The plan aims to improve food security and nutrition but Greens says it favours large-scale farming, fosters landgrabbing and marginalises small-scale producers who were barely consulted although they are supposed to be the ultimate beneficiaries. In their report Greens call for binding legislation against landgrabbing, and argue that informed consent must be obtained from all communities, before land is transferred for a private sector project. There are also calls on the G8 not to support GMO crops in Africa and for African farmers to have the right to produce, exchange and sell seeds freely and protect seed diversity.
Fastcoexist:  These Solar Canopies Help Panels Fit Onto Tiny Urban Roofs
Just as the apartments in a Brooklyn row house might be crowded inside—with living rooms barely big enough for a couch, and postage stamp-sized kitchens—building roofs are typically crowded with skylights, hatches, and equipment. Strict fire codes require a empty path six feet wide and nine feet high, leaving little room for solar panels. A new canopy is a simple solution to the problem: By lifting solar panels 10 feet in the air, it's possible to meet safety requirements and add enough solar to offset a family's energy bill. "If you want to lay solar panels flat on the roof, you really don't have a whole lot of usable space," says T.R. Ludwig, co-founder of Brooklyn SolarWorks, which worked with local designers at Situ Studio to create the customizable canopy. "You wind up with these really small solar systems, maybe 10 panels or something like that. When you use a canopy, you raise above basically all of these requirements, and you can fit a much larger system." While there are plenty of options for the slanting roofs in a typical suburban home—where most residential solar panels are now—there weren't off-the-shelf solutions for urban roofs. The canopy also solves the problem of flat roofs; panels need to sit at an angle to get the most sun.
Enca: Pacific Ocean wind patterns responsible for global climate instability
Unusual wind patterns in the Pacific Ocean are responsible for global climate fluctuations over the past 2,000 years, a new Australian research has found. The research by Canberra's Australian National University (ANU) found that the El Niño and La Niña "wind oscillations" have been responsible for global warming and droughts for thousands of years. Researchers are optimistic that the new data, published on Friday in the British scientific journal "Nature Communications", will assist scientists in building accurate long-term future climate models. Alena Kimbrough, who led the ANU's participation in the study, said that the main focus of the study was on climate changes over hundreds of years. "Our study looked at the long, long term changes. It's really important because what we found is these century-scale changes in the Pacific can have a significant impact on global temperatures and rainfall," Kimbrough told Xinhua in an interview on Friday. "Once we started to piece things together I was quite surprised at how important it really was."
BBC: Kenya nationwide blackout caused by rogue monkey
A single monkey caused a nationwide blackout in Kenya after falling on to a crucial piece of equipment. The monkey fell on a transformer at the Gitaru hydroelectric power station on Tuesday, electricity provider KenGen said in a statement. The transformer then tripped, resulting in the loss of 180 megawatts of power and triggering a blackout across Kenya. Power was restored almost four hours later and the monkey survived its adventure, KenGen said. It has now been taken in by the Kenya Wildlife Service. "KenGen power in-stallations are secured by electric fencing which keeps away marauding wild animals," the statement said. "We regret this isolated incident and the com-pany is looking at ways of further enhancing security at all our power plants."