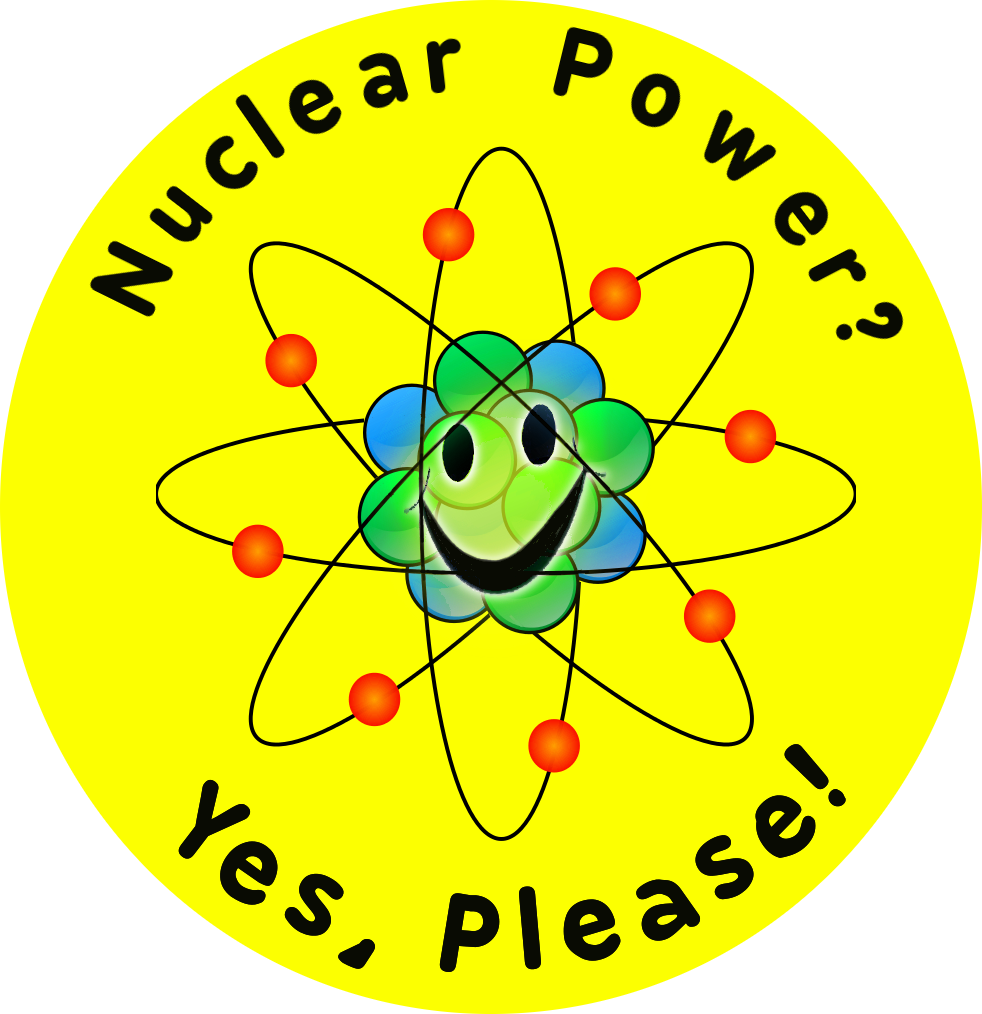 This week we resume our normal reporting with Brexit relegated for the moment to a few articles at the end. The week's lead article features some pithy comments on the Scottish government's misguided policies on nuclear power that could equally well be applied to a number of other countries:
Scotsman:  Nuclear power opposition based on slogans and fear
In 2007, Alex Salmond rejected any new nuclear Scottish power stations. Policies based on fear, rather than facts, may feel good, but they increase the overall risk by not educating the public. Successful democracy requires people understand the decisions they make; otherwise it becomes a loose cannon, with decisions based on slogans.
Accidents, when amplified by the media, induce fear far beyond realistic risk. At Fukushima none died from radiation exposure. At Chernobyl only 46 died as a result of radiation damage, an accident caused by faulty safety design and irresponsible neglect of safety procedures. In Hamburg in 2011, 54 died from eating organic beansprouts and 3,500 experienced kidney damage. This supposedly safe produce was contaminated with E.coli from clearly untreated manure; but which then is safer? What did subsequently kill thousands resulting from Chernobyl and Fukushima was the psychological trauma of enforced, and in most cases unnecessary, evacuation of local population by government edict and without explanation. Evacuation implied serious danger, ignorance of actual radiation risks led to depression, alcoholism and suicide. Good safety is a matter of distinguishing clearly those situations that are safe from those that are dangerous. Both Soviet and Japanese governments through inadequate understanding of radiation risks failed their people.
We continue with the usual mix of stories with the spotlight on nuclear energy, following up with problems with wind power and coal in China, the disgraced Kemper clean coal project, Germany votes to slow down renewables expansion, the costs of Obama's Clean Power Plan, battery power for Los Angeles, California's "duck curve" lands sooner than expected, renewable expansion in South Korea and lack thereof in Australia, National Grid's grid balancing problems, UK solar power hits record high, tide power in the Pentland Firth, and in a reversal of recent trends, a new coal mine to open in Northumbria.
Washington Post:   Clean energy is at a critical turning point, and wind and solar may not be enough
Last week at the North American Leaders' Summit featuring President Obama, Canadian Prime Minister Justin Trudeau and Mexican President Enrique Pena Nieto, the three nations announced a goal of generating 50 percent of North America's electricity from "clean" sources by 2025. It's a laudable goal, but it naturally raises a question — how exactly, in the United States, do we get there? A closer look at what the White House and its counterparts actually mean by this proposal shows that for the United States the goal relies on far more than an ongoing boom in wind and solar. It rests substantially on hydropower and energy efficiency gains and also includes under the definition of "clean energy" two technologies that are less than popular in the environmental movement — nuclear energy and carbon capture and storage. Wind and solar are growing in the United States (and elsewhere), and a doubling of their U.S. generating capacity (or even greater growth than that) by 2025 isn't hard to imagine. That's a very good thing — but even a doubling of wind and solar likely wouldn't be enough to get the United States to 50 percent clean electricity by 2025. The trouble is that in 2015, these sources contributed a little more than 5 percent of all U.S. electricity. They are starting from a relatively low level of penetration, albeit with high growth rates. For just this reason, nuclear's inclusion in the North American plan is a mathematical necessity.
Deutsche Welle: Eon loses court battle for nuclear phase-out damages
A regional court in Hanover has ruled against a claim for damages by German utility Eon. It sued the government over its abrupt decision to phase out nuclear energy and to shut down two of Eon's old power plants. The energy supplier demanded 382 million euros ($426 million) in damages from the German federal government as well as the German state governments of Lower Saxony and Bavaria for having to shut down two of its nuclear power plants in 2011. The judge in the case justified the decision to throw out the lawsuit in saying that Eon could have immediately filed a suit to appeal the closures, but instead chose to let the opportunity pass. Eight of Germany's 17 functioning nuclear plants were shut down in the immediate aftermath of Fukushima, and the rest were slated to go offline by 2022 according to a government timeline. Five years later, it's gradually becoming clear how much this hasty exit could cost. Feeling dis-possessed by the move, major utilities have filed a raft of lawsuits claiming damage payments from the government amounting to around 20 billion euros ($22.3 billion).
Guardian:  Estimated cost of Hinkley Point C nuclear plant rises to £37bn
The total lifetime cost of the planned Hinkley Point C nuclear power plant could be as high as £37bn, according to an assessment published by the UK government. The figure was described as shocking by critics of the scheme, who said it showed just how volatile and uncertain the project had become, given that the same energy department's estimate 12 months earlier had been £14bn. The latest prediction comes amid increasing speculation about the future of the controversial project in Somerset, whose existence has been put in further doubt by post-Brexit financial jitters. Officials at the Department of Energy and Climate Change (DECC) on Thursday confirmed the £37bn figure, but said it was provisional, set in September 2015, when wholesale power prices were low, and would not affect bill payers. "Hinkley will generate enough low-carbon electricity to power six million homes and around £10 [a year] from [each] consumer's bill will pay for it once it is up and running. We have set the strike price to protect bill payers if energy costs go up or down, so the cost of the project to consumers will not change," a DECC spokesperson said. "Today's report from the IPA (Infrastructure and Projects Authority) does not suggest that the lifetime costs of Hinkley have increased. It is a snapshot of the position at the end of September 2015."
Nuclear Street:  British Unions Call For Prompt Green Light On Hinkley Point
Four powerful labor unions in Britain are calling the Hinkley Point C nuclear power plant construction project the first major "litmus test" for the country in the wake of its landmark vote last week for the country to quit its membership in the European Union. The GMB, Unite, Ucatt and Prospect unions have written to EDF Energy Chief Executive Officer Vincent de Rivaz, calling the up-coming decision on financing for the $24 billion project "vital" to Britain's energy needs that would, if the project is given the green light, send a signal that the so-called Brexit vote would not derail the country's economy. "Nuclear new build is already behind the curve. We cannot afford further delay and it is vital for EDF to make a final investment decision now," the unions wrote. The unions stressed that Britain needs the new generation capacity, which is currently on a waning path with the scheduled closures of older coal burning plants and the aging of its nuclear power fleet.
NextBigFuture:  Uranium Seawater Extraction Makes Nuclear Power Completely Renewable
America, Japan and China are racing to be the first nation to make nuclear energy completely renewable. The hurdle is making it economic to extract uranium from seawater, because the amount of uranium in seawater is truly inexhaustible. And it seems America is in the lead. New technological breakthroughs from DOE's Pacific Northwest (PNNL) and Oak Ridge (ORNL) national laboratories have made removing uranium from seawater within economic reach and the only question is – when will the source of uranium for our nuclear power plants change from mined ore to seawater extraction? Nuclear fuel made with uranium extracted from seawater makes nuclear power completely renewable. It's not just that the 4 billion tons of uranium in seawater now would fuel a thousand 1,000-MW nuclear power plants for a 100,000 years. It's that uranium extracted from seawater is replenished continuously, so nuclear becomes as endless as solar, hydro and wind. Advances by PNNL and ORNL have reduced the cost by a factor of four in just five years. But it's still over $200/lb of U3O8, twice as much as it needs to be to replace mining uranium ore. Over the last twenty years, uranium spot prices have varied between $10 and $120/lb of U3O8. So as the cost of extracting U from seawater falls to below $100/lb, it will become a commercially viable alternative to mining new uranium ore. But even at $200/lb of U3O8, it doesn't add more than a small fraction of a cent per kWh to the cost of nuclear power.
World Nuclear News:  Magnox completes Bradwell decontamination
Bradwell has become the first Magnox site to empty and decontaminate all of its underground waste storage vaults ready for the care and maintenance phase, Magnox Sites has announced. Decommissioning of Bradwell's two 125 MWe Magnox reactors has been under way since the plant shut down in 2002 after 40 years of service. All fuel was removed from the site by 2005, and the turbine hall demolished in 2011.The recovered waste has (now) been monitored and characterised, which has "provided the clearest picture yet" of the total volume of waste that will need to be managed at Bradwell, according to the statement. Some is being treated in a specially designed dissolution plant, while other types of waste are being conditioned and then packaged ready for interim storage until a national geological disposal facility is available. With the vaults empty, a total area of 972 square metres has now been decontaminated to a level where it can be left for care and maintenance. In addition, three vessels, each weighing seven tonnes, have been removed and size-reduced while more than 60 waste vault covers have also been decontaminated, Magnox Sites said. The area will now be covered for the care and maintenance phase before being completely removed as part of final site clearance in the future.
Renewable Energy World:  China's Idled Wind Farms Portend Trouble in Renewables
The nation's clean-energy investment binge has made it the world leader in wind, accounting for about one in every three turbines currently installed, according to the Global Wind Energy Council. In turn, Xinjiang Goldwind Science & Technology Co., which makes the machines, has pushed past its western rivals such as Vestas Wind Systems A/S and General Electric Co. Yet even with double the wind capacity, China still produces less electricity from turbines when compared with the U.S. That's because it's installing lower-quality machines using less reliable breezes and doing so more quickly than the distribution grid can take in the flows. Findings published earlier this year in the journal Nature Energy by a group of researchers from places such as Tsinghua University in Beijing and Harvard University in the U.S. showed that the quality of wind flow explained part of the difference in electricity output between the U.S. and China. The researchers point to a myriad of other reasons for the shortcomings of turbines in China, ranging from lower turbine quality, grid connection problems and the failure of grid operators to transmit wind power to users because they prefer other types of energy sources such as coal. "Improvements in both technology choices and the policy environment are critical in addressing these challenges," the authors of the report concluded.
Reuters:  China government-run steel, coal firms to cut 10 percent of capacity in two years
China's central-government run steel and coal firms will cut capacity by around 10 percent in the coming two years, and by 15 percent by 2020, as part of their efforts to tackle gluts in the sectors, the state asset regulator said on Friday. The State-Owned Assets Supervision and Administration Commission (SASAC) held a meeting with the 25 coal and steel firms under its jurisdiction at the end of June, it said. The SASAC-run firms include China's biggest coal producer, the Shenhua Group, as well as the Baoshan Iron and Steel Group (Baosteel) and the Wu-han Iron and Steel Group, which have recently announced plans to restructure. China aims to cut 100-150 million tonnes of annual steel production capacity and 500 million tonnes of coal production capacity in the next three to five years, amid waning domestic demand and a long de-cline in prices.
New York Times:  Piles of Dirty Secrets Behind a Model 'Clean Coal' Project
The fortress of steel and concrete towering above the pine forest here is a first-of-its-kind power plant that was supposed to prove that "clean coal" was not an oxymoron — that it was possible to produce electricity from coal in a way that emits far less pollution, and to turn a profit while doing so. The plant was not only a central piece of the Obama administration's climate plan, it was also supposed to be a model for future power plants to help slow the dangerous effects of global warming. The project was hailed as a way to bring thousands of jobs to Mississippi, the nation's poorest state, and to extend a lifeline to the dying coal industry. The sense of hope is fading fast, however. The Kemper coal plant is more than two years behind schedule and more than $4 billion over its initial budget, $2.4 billion, and it is still not operational. The plant and its owner, Southern Company, are the focus of a Securities and Exchange Commission investigation, and ratepayers, alleging fraud, are suing the company. Members of Congress have described the project as more boondoggle than boon. The mismanagement is particularly egregious, they say, given the urgent need to rein in the largest source of dangerous emissions around the world: coal plants. A review by The New York Times of thousands of pages of public records, previously undisclosed internal documents and emails, and 200 hours of secretly though legally recorded conversations among more than a dozen colleagues at the plant offers a detailed look at what went wrong and why.
New Hampshire Business Review:  The renewable energy future emerges
A global renewable energy transformation is underway. The proposed merger between Tesla and Solar City outlines the shape of things to come. The integration of solar panels with battery storage and electric vehicles is the paradigm for both ecological global economic growth, and reaching the goals of the Paris climate accord. An integrated renewable energy company will combine electric vehicles, battery storage, and solar electric panels, all with rapidly expanding market share and plunging prices. Globally, investment in cheap and carbon-free solar energy is already rapidly supplanting fossil fuels. Whether or not Tesla's corporate reorganization proceeds, this is the model for a global renewable energy company with a comprehensive and compatible product line. Elon Musk of Tesla understands that the combination of increasingly cheaper solar panels with rapidly developing and affordable battery storage makes 100 percent renewable energy systems achievable globally. Mega battery and photovoltaic factories, being constructed by Tesla and others, like Faraday Future in the United States, and in India, China, Ghana, mean that global industrial productive might is being rapidly deployed for a renewable energy transformation.
Wall Street Journal:  Germany Puts Brake on Renewable Energy Expansion
German lawmakers on Friday voted to limit the expansion of renewable power, in response to to concerns that the country's efforts to promote green energy has resulted in too much too soon. A new law will require generators of renewable energy to submit bids on a restricted number of projects as of 2017, replacing a system that allowed an unlimited number of projects to go forward at guaranteed prices, called feed-in tariffs. Under the new system, prices will be proposed by bidders. The move puts a brake on Germany's aggressive drive to shift to renewables from conventional and nuclear energy, which gained speed after Japan's Fukushima nuclear accident in 2011. The quick rise of renewables has resulted in a power glut that drastically cut wholesale electricity prices and hit conventional generators hard, since renewables are given priority on Germany's power grids. The new capacity limits are aimed at slowing the tide of renewable energy flooding the market, giving the expansion of grid infrastructure time to catch up. "It's a paradigm shift; whoever makes the best offer will be awarded the project," Michael Fuchs, a lawmaker in Chancellor Angela Merkel's Christian Democratic Union party said ahead of the vote.
Hydroworld:  North American leaders sign historic renewable energy agreement
The heads of state from Canada, Mexico and the United States announced a historic partnership last week that seeks to see 50% of all North American energy come from clean generation — including hydroelectric power — by 2025. Meeting during a one-day summit in Ottawa, Canadian Prime Minister Justin Trudeau, U.S. President Barack Obama, and Mexican President Enrique Pena Nieto said the landmark agreement was in large part spurred by the Paris Accord, which was, when signed in December, hailed by Obama as a "turning point for the world." "North America has the capacity, resources and the moral imperative to show strong leadership building on the Paris Agreement and promoting its early entry into force," the leaders said in a joint statement. "We recognize that our highly integrated economies and energy systems afford a tremendous opportunity to harness growth in our continuing transition to a clean energy economy. Our actions to align climate and energy policies will protect human health and help level the playing field for our businesses, households and workers."
The Hill:  States are right to worry about clean power plan costs
Earlier this year, the Supreme Court issued a stay on President Obama's "Clean Power Plan" (CPP.) That was good news for the 29 states now on record as formally opposing the president's plan to vastly transform the nation's power grid. But those states now appear doubly justified in opposing the effort, thanks to the Energy Information Administration's (EIA) recent study on the CPP's projected costs. For starters, the EIA says the plan will mean "significantly higher" prices for residential and commercial electricity. They attribute this to "higher transmission and distribution costs" coming at a time when electricity consumption will also grow slightly (in 2015-2040.) Interestingly, the EIA projects that these higher electricity prices will actually reduce demand 2% by 2030. Why? Because "compliance actions and higher prices" will force cash-strapped consumers to adopt their own austerity measures. A key part of the CPP is the dismantling of coal-fired power in the U.S. Coal power plants currently anchor America's base-load electricity generation, so it's understandable that their elimination would drive up prices. But is such a move justified? What's instructive is EIA data on Germany, where residential retail electric prices have risen, and are expected to keep rising, due to higher taxes and fees for renewable power. Overall, Germany's foray into green energy has driven the average residential electricity price to 35 cents/kWh, almost three times the U.S. average of 13 cents/kWh.
Scientific American:  World's Largest Storage Battery To Power Los Angeles
By 2021, electricity use in the west Los Angeles area may be in for a climate change-fighting evolution. For many years, the tradition has been that on midsummer afternoons, engineers will turn on what they call a "peaker," a natural gas-burning power plant In Long Beach. It is needed to help the area's other power plants meet the day's peak electricity consumption. Thus, as air conditioners max out and people arriving home from work turn on their televisions and other appliances, the juice will be there. Five years from now, if current plans work out, the "peaker" will be gone, replaced by the world's largest storage battery, capable of holding and delivering over 100 megawatts of power an hour for four hours. The customary afternoon peak will still be there, but the battery will be able to handle it without the need for more fossil fuels. It will have spent the morning charging up with cheap solar power that might have otherwise been wasted. Early the next morning, the battery will be ready for a second peak that happens when people want hot water and, again, turn on their appliances. It has spent the night sucking up cheap power, most of it from wind turbines.
RenewEconomy:  California's duck curve arrives earlier than expected  
As early as 2013, the California Independent System Operator (CAISO) was predicting that with so much new solar generation expected by 2020, the mid-day hours on sunny days would be inundated with a flood of solar power, displacing thermal generation. CAISO was originally most concerned about the sunny spring days when California's demand tends to be low due to cool temperatures while solar generation could be high. The grid operator was also concerned about the late afternoon ramping required to make up for the loss of solar generation as sun sets with peak demand following in early evening hours. That was before the state lawmakers passed a bill to raise California's renewable portfolio standard (RPS) from 33% by 2020 to 50% by 2030, promptly signed by Governor Jerry Brown, who is as green as you can get despite his brown name. As it turns out, CAISO was spot on in predicting the deepening belly of the duck but under-estimated the speed of solar uptake by at least 4 years. The data from March-April of 2016 confirms that the belly of the duck is getting fatter much earlier than originally estimated. In a Blog titled "The Duck Has Landed" posted on 2 May 2016, Meredith Fowlie of University of California at Berkeley examined the hourly data for the period March 28 to April 3 for 2013-2016 and as illustrated in the graph below, the 2016 belly is far more pronounced that in prior years and already on par with what CAISO had projected for 2020.
International Business Times:   South Korea To Invest $36 Billion In Renewable Energy By 2020
South Korea's government unveiled a plan Tuesday to invest about 42 trillion won ($36.6 billion) in developing renewable energy industries, such as solar and wind power and eco-friendly power plants, by 2020. Under the plan, new renewable power stations will be built to produce 13 million kilowatts of electricity annually — equivalent to that of 26 coal plants in the country — according to the Ministry of Trade, Industry and Energy, the Yonhap News Agency reported. Minister Joo Hyung-hwan said at a meeting of the future energy strategy committee that some 33 trillion won will be spent on the development of renewable energy resources in the next five years, with 4.5 trillion won to be invested in energy storage systems and another 2 trillion won in eco-friendly power plants, reports said. The government raised the required ratio of renewable energy generation to 5.0 percent by 2018 and 7.0 percent by 2020, expecting the new energy sectors to create about 30,000 jobs by 2020. The ministry said individuals would also be permitted to sell the electricity produced from their own solar panels, while large commercial buildings could be equipped with 1,000 kW solar power generators to save on their utility bills. Currently, the Korea Electric Power Corp. is the only eligible player to buy and distribute electricity in the country.
Guardian:  Bank lending to Australian renewables projects tumbles
Australia's big four banks' lending for Australian renewable energy projects has tumbled in the first half of 2016, despite all of them spruiking their continuing support for the sector. Based on public announcements from the banks and their customers, the activist group Market Forces has found only two financing deals were closed this year in the Australian renewables sector. The National Australia Bank lent money to a windfarm in South Australia and both NAB and Westpac helped finance one in New South Wales. Although more financing could be revealed in the second half of the year, the figures seem to show the banks have slowed their flow of money to the renewables sector in Australia. "This is what you see when you have years of stagnation and cutting into renewable energy policy," said Julien Vincent from Market Forces.
BBC:   UK expected to miss 2020 renewables targets
The UK is almost certain to miss its EU 2020 targets for renewable energy, the National Grid has said. The firm has produced UK future energy scenarios covering four different approaches in policy. Even in the most environmentally-minded scenario, the UK is projected to fail in its target of producing 15% of total energy from renewables. The government no longer claims the 2020 target will be hit but a spokesman said the UK was making good progress. The National Grid also says the UK will not achieve its own independently set long-term CO2 reduction plans unless tougher policies are imposed very soon. The Climate Change Act mandates emissions cuts of 80% by 2050. The government spokesman said the UK was still committed to the act, and last week ministers announced a world-leading interim step towards that goal. But its advisers, the Committee on Climate Change, pointed to a huge mismatch between ministers' aspirations and their policies.
Telegraph:  Balancing demand 'could cost National Grid £2bn'
The costs of managing the UK's electricity supplies could double to £2bn a year within five years due to the growth of renewable technologies, a senior National Grid official has forecast. The company already spends just over £1bn a year on "balancing services" to ensure power supply and demand are matched, that the grid is not overloaded, and that supplies are at the correct voltage and frequency across the network. The cash is primarily paid to power generators to increase or decrease their output at short notice, and it ultimately passed on to consumers through their energy bills. The biggest element of balancing services is spent on minute-by-minute adjustments to keep supply and demand balanced and at the correct frequency and voltage across the UK's transmission network, by paying generators to increase or decrease the pow-er they are putting on to the Grid. The second biggest element is spent on 'constraints', or paying generators to turn down their output in order to deal with effective 'bottlenecks' in certain parts of the network where there is insufficient cabling capacity to transmit the power being produced. Balancing the system is becoming trickier for National Grid as Britain builds more intermittent renewable generation like solar and wind farms.
Utility Week:  'Question mark remains' over the future of gas: National Grid
The company has released the latest iteration of its annual Future Energy Scenarios report, which examines four different potential pathways for Britain's energy system between now and 2040: 'Gone Green', 'Consumer Power', 'Slow Progression' and 'No Progression'. From its current level of around 900TWh, annual demand for gas in 2040 is predicted to fall to as low as 600TWh in one scenario (Slow Progression) but remain more than 800TWh in another (No Progression). The forecast for annual domestic demand – currently around 325TWh – varies from just 150TWh (Gone Green) to 300TWh (No Progression). Speaking at the launch of the report, director of the UK Energy Research Centre Jim Watson said the extent to which CCS is developed will be one of the main factors in determining the role of gas in the future. Without it gas-fired generation will be "squeezed out of the system due to carbon constraints". However there is a large disparity in the volumes which are predicted to be produced via the hydraulic fracturing of shale. The 'Gone Green' scenario envisages no shale gas being produced whatsoever due to public opinion, whereas the 'Consumer Power' scenario sees 32 billion cubic metres a year being produced – around a third of the country's total supplies.
Yahoo Finance:  Banks Group to open UK surface coal mine
Banks Group plans to open a surface coal mine in Britain in 2018, it said after securing permission for the project this week, hoping to fill a gap in domestic supply left by the closure of the country's last deep-cast coal mine last year. The site, at Highthorn in Northumberland, is expected to produce 3 million tonnes of coal over the six- to seven-year life of the mine. "Now we have secured planning permission (for Highthorn) we will move to the next stage, to-wards making a final investment decision and expect to begin operation in 2018," Barney Pilgrim, projects director at British development firm Banks, said in an interview with Reuters. Pilgrim said there is enough domestic demand for the new site to be viable, and that it could help to meet demand from coal-fired power stations ahead of their expected closure in 2025. "There is still demand in the UK for coal from both the power and industrial sectors, and in terms of security of supply it is better that this demand is met through indigenous production," he said.
Engineering & Technology:   Solar power use hits record high in UK
Analysis by MyGridGB for the Solar Trade Association (STA) shows that solar power hit a new peak, meeting 23.9 per cent of total energy demand in the early afternoon on 5 June 2016. The solar industry estimates the country now has almost 12GW of solar panels, on homes, offices, warehouses, schools and other buildings and in solar farms – enough to power the equivalent of 3.8 million homes. An estimated 800,000 homes have solar photovoltaic panels, which produce electricity from the sun, and 200,000 use solar thermal units to provide hot water, which means the UK has a million solar homes, the STA said. The sector has been hit by major cuts to subsidies for solar panels, which have seen installation rates slowing substantially. The industry is marking its third annual 'solar independence day', with the STA pushing to raise maintenance standards for the technology. It is also highlighting how solar can protect home-owners and businesses from volatile energy prices by reducing both domestic bills and the need for energy imports. Paul Barwell, chief executive of the STA, said: "The UK has successfully deployed almost 12GW of solar across the UK, providing nearly 25 per cent during peak generation. This is what the country and the world needs to decarbonise the energy sector at the lowest price to the consumer."
Breakingenergy:  UK Tidal Wave Project Will Propel Renewables To New Levels
Harnessing tidal power for clean energy has recently taken a huge step forward in the UK, the world's leading region for development of this important new renewable resource. The MeyGen Tidal Array Project is fast moving toward the final construction of its demonstration phase, which will be the first time that underwater turbines sited together in a full-scale array have been tested. Situated in the Pentland Firth in Scotland, this ground-breaking test project is supported by £10 million funding from the UK's Department for Energy and Climate Change (DECC). It is expected to significantly advance the technology and knowledge of the marine energy sector, as well as provide clean power for up to 175,000 homes in Scotland when expanded and completed. Marine energy is in its infancy, and tidal power, in particular, is at a very early stage of development. Richard Boud, Black & Veatch's Renewable Energy Business Development Manager for Eu-rope, said, "The way the renewable energy sector has been learning is by completing projects, and to date there is hardly anyone that has delivered more than one tidal energy project. The MeyGen project is high risk, but the potential benefits it can deliver are huge. This is a brand new energy resource that is not yet being used."
Bloomberg:  Why Brexit May Be Good News for World's First Tidal Lagoons
Plans for the world's first tidal lagoons off the coast of South Wales could be bolstered by Britain's exit from the European Union, according to the developer pledging thousands of new jobs if the project is built. "Brexit doesn't do any harm," said Mark Shorrock, head of Gloucester-based Tidal Lagoon Power Ltd. "There's a bunch of Brexiteers that said, 'You're in the front rank of projects that we want to see happen."' Tidal Lagoon Power plans to build a rock wall 11.5 kilometers long, enclosing an area in Swansea Bay where 16 turbines will generate 320 megawatts of power from the ebb and flow of ocean tides. The 1.3 billion-pound ($1.7 billion) project is currently under review by the Department of Energy and Climate Change, which may take a decision as early as November on whether to provide subsidies. Similar projects have been done before in the form of barrages run across a river or body of water, forcing the current to flow past hydroelectric turbines. Tidal barrages have been built in La Rance in northern France and Sihwa Lake in South Korea. The lagoons don't fully obstruct the flow of water and has less of an impact on the environment. It's also cheaper to build, according to Bloomberg New Energy Finance.
Financial Times:  Brexit doubt weighs on green energy groups
The financial uncertainty triggered by the UK's vote to leave the EU has sent shudders through virtually every industry, but Europe's renewable energy sector faces even greater insecurity. The successful Leave campaign was led by several political figures opposed to tackling climate change by replacing fossil fuel power stations with wind farms and other sources of renewable energy. None of the contenders to replace David Cameron as prime minister are vigorous renewable energy advocates and one, Michael Gove, was once accused of trying to downgrade climate change in the national schools curriculum. With the UK political landscape in a historic state of disarray, it is unclear how the future government will behave. But the Leave victory raises questions about whether years of cross-party consensus on the need to combat global warming may fray. The UK could follow the path of Norway, which is not an EU member but has agreed to be bound by the bloc's climate targets. But no one can be certain. Still, legal experts say there could be some benefit for the industry from a Brexit, if it waters down costly EU rules protecting birds and other wildlife.
Christian Science Monitor:  Europe climate policy in doubt after Brexit vote
From oil prices and economic growth rates to the value of the British pound, a host of indicators turned more volatile on June 24 as a small majority of Britain's citizens voted in a nationwide referendum to leave the European Union. But one of the most confounding questions to come out of the vote could be on the front of climate change. Specifically, the questions are how Britain and continental Europe will separate their climate and energy policies ¬– and whether those policies will stay on track toward carbon-reduction goals agreed half a year ago, as countries of the European Union banded together to negotiate a major international climate treaty. "EU ratification of the Paris Climate treaty may be delayed by Brexit," says Maria Castellina, senior media officer at the environmental non-profit Friends of the Earth-UK. "With the UK leaving the EU, our contribution to meeting the targets will no longer be included, and how that effort will be shared out amongst the other countries will take time to work out." In just a few weeks, the European Commission was expected to present its plan for how all 28-member states would work together to reduce greenhouse gas emissions to 40 percent below 1990 levels by 2030. Now the presentation will probably be put on hold while it's determined whether Britain will continue to work toward that common target.
UK Parliament:   Leaving the EU: implications for UK climate policy
The Energy and Climate Change Committee is launching an inquiry exploring the implications for UK climate policy of leaving the European Union. The UK's climate-change agenda has been driven by a mixture of national and international policies. Nationally, the Climate Change Act 2008 sets the UK decarbonisation agenda up to 2050. On the international stage, the UK currently negotiates as part of the EU bloc. The EU 2030 target—the EU's proposed contribution at the recent COP21 climate change conference in Paris—was agreed by Member States in October 2014. The UK's participation in the EU Emissions Trading Scheme, which requires companies to purchase permits to emit greenhouse gases, will now be subject to negotiation. Withdrawal from the EU raises questions as to the UK's position with respect to existing EU pledges and policies, and its future interaction with the EU bloc to fight climate change. Through this inquiry, the Committee aims to understand the implications of the UK's departure from the EU on the UK's climate-change commitments and ambitions, and determine which climate policy areas will need to be addressed during the UK's exit negotiations. It seeks guidance on an appropriate timeline for these developments. The Committee invites responses addressing some, or all, of the following questions in no more than 3,000 words: