This week we return to Hinkley Point, where yet another potentially deal-breaking complication has arisen as a result of the US filing suit against the China General Nuclear Power Company – a 33.5% stakeholder in Hinkley – for nuclear espionage. China has warned that retaliatory measures may be taken if the UK now dumps Hinkley. So what happens next?
The Diplomat:   UK-China Ties Put to the Test Over Hinkley Point Espionage Allegation
When Theresa May succeeded David Cameron as prime minister of the United Kingdom, China didn't think that business as usual between the two countries would change overnight.
Indeed, Chinese officials were somewhat taken by surprise when, in late July, May's government delayed a final decision on the all-clear for a Chinese consortium to move ahead with the construction of the Hinkley Point C nuclear power station. May's decision appeared to have been predicated on concerns about China being able to meddle in the UK's power infrastructure, posing a national security threat. While sudden, her decision appears to now have been prescient and based on real concerns. An ongoing case in the United States, detailed in a 17-page U.S. Department of Justice indictment first unsealed earlier this year, vindicated May's skepticism of the project. A U.S. investigation found a Chinese nuclear engineer at the China General Nuclear Power Company—a firm with a major stake in the Hinkley Point C project—to have conspired to illegally develop nuclear technology in China "with the intent to secure an advantage to the People's Republic of China." Assistant U.S. Attorney General John P. Carlin provided additional details on Allen Ho, the implicated Chinese engineer earlier this year: "Allen Ho, at the direction of a Chinese state-owned nuclear power company allegedly approached and enlisted US-based nuclear experts to provide integral assistance in developing and producing special nuclear material in China. Ho did so without registering with the Department of Justice as an agent of a foreign nation or authorization from the U.S. Department of Energy," Carlin continued. "Prosecuting those who seek to evade U.S. law by attaining sensitive nuclear technology for foreign nations is a top priority for the National Security Division."
The Week:  Theresa May urged to abandon Hinkley Point
Prime Minister Theresa May is being urged to ditch the £18.5bn nuclear project at Hinkley Point, Somerset, altogether after the latest allegations against its Chinese developer. China General Nuclear Power (CGN), which is funding a third of the cost of the plant, has been accused of stealing nuclear secrets from the US. Paul Dorfman, a senior research fellow at University College London, told The Guardian the news added to "endless concern and discussion" among security experts and said a nuclear deal with China "is beginning to look like an Anglo-Sino bridge too far. No other OECD country would let China into its critical nuclear infrastructure, given its history of nuclear weapon proliferation," he said. Dorfman also said May has already taken the "diplomatic hit" by announcing an 11th-hour delay to the project, which has prompted thinly-veiled threats from China over £100bn of inward investment into the UK. Cover for abandoning the project – and preserving relations with China – could be provided by citing the untested French reactor technology, which is "over-cost and over-time where it's being built in Finland and France", he added.
CNN Money:  China warns UK: Don't dump Hinkley
China has a clear message for Britain: Dump a joint nuclear power project and you'll pay the price. A deal for a Chinese state-owned company to help build a nuclear plant in southwest England was announced amid much fanfare during a visit by President Xi Jinping last October. But the $23 billion Hinkley Point project is being reviewed by new British Prime Minister Theresa May, who succeeded David Cameron in the wake of the Brexit vote in June. That's not sitting well with China. "Right now, the China-U.K. relationship is at a crucial historical juncture," China's ambassador to Britain, Liu Xiaoming, wrote in an article for the Financial Times. "I hope the U.K. will keep its door open to China and that the British government will continue to support Hinkley Point — and come to a decision as soon as possible so that the project can proceed smoothly," he added. Liu pointed out in his article that Chinese companies have invested more in the U.K. over the past five years than in France, Germany and Italy combined. China also accounted for just over 3% of U.K. exports last year.
BBC:  Australia risks Chinese anger over power grid sale
Australia's decision to preliminarily block Chinese and Hong Kong bidders from taking a controlling stake in Ausgrid, the country's largest Australia network, over national security concerns, is likely to be met with outrage and indignation in China. The Chinese don't like being snubbed. That's not surprising – after all, who likes being dumped? And this is starting to look like a recurring pattern. Australia's move comes as the UK has postponed approval for the Hinkley point nuclear power project, in which China's General Nuclear Power Corp will have a minority stake, on similar concerns. CGN is also accused of leading a conspiracy to steal American power industry secrets to speed up the development and production of Chinese reactor technology. Szuhsiung Ho, a senior adviser to CGN, is due in court in the US next week, and is accused of recruiting American experts to obtain sensitive nuclear technology for China, in a plot that prosecutors say threatened US security. But the UK's snub has already had serious consequences – verbally at least. Writing in the Financial Times, China's ambassador to the UK, Liu Xiaming has said the delay to approving the plant had brought the two countries to a "crucial historical juncture." He hinted that "mutual trust" could be in jeopardy if the UK government decided not to approve the deal.
Sputnik News:  Iran Gets US Green Light to Go Ahead With Two Russian Nuclear Plants
Washington has officially approved Tehran's plans to construct two new Russian-built nuclear power plants under the conditions of last year's nuclear deal. According to the US State Department, the deal does not prohibit reactors of this type. According to the Washington Free Beacon, Obama Administration officials announced that orders by Iran's President Hassan Rouhani, to begin construction of two new nuclear plants, are in accord with the Joint Comprehensive Plan of Action, commonly known as the Iran nuclear deal. The [nuclear deal] does not prevent Iran from pursuing new light-water reactors," said the State Department official. "Any new nuclear reactors in Iran will be subject to its safeguards obligations." These developments have resulted in a stream of criticism from US Republican lawmakers, who insist Iran's intentions are nefarious. "Secretary Kerry seems to think that the mullahs are interested in curing cancer and civilian energy production, but their rapid progress in ballistic missile technology suggests they are far more determined to develop the nuclear weapons these projectiles are designed to deliver," the Washington Free Beacon quotes former presidential candidate Ted Cruz saying.
Bloomberg:  China's Crude Oil, Coal Output Declines Deepen Amid Cutbacks
China's crude oil and coal production declines deepened as the nation's oil companies cut spending amid low prices and coal miners slashed output to meet government-set targets. Crude production last month in the world's largest energy consumer dropped 8.1 percent to 16.7 million metric tons from a year ago, according to data from the National Bureau of Statistics on Friday. That's about 3.95 million barrels a day, sliding to the lowest since October 2011. Output is down 5.1 percent during the first seven months of the year. Coal mining during that period slowed 10 percent to 1.9 billion tons. Chinese oil majors are estimated to have cut capital spending by 10 percent in the first half of the year from the same period in 2015, resulting in a drop in domestic crude production, Sanford C. Bernstein & Co. analysts said in an Aug. 1 report. Meanwhile, coal output is contracting as President Xi Jinping's government seeks to shut overcapacity and use cleaner fuels. Coal mining fell 13 percent to 270 million tons, the slowest year-on-year decline rate in three months and helping push up spot coal prices at the port of Qinhuangdao to the highest level in 16 months. "Crude and coal production will post on-year drops throughout 2016 on cost concerns and government efforts to cut industrial overcapacity," Tian Miao, an analyst with policy researcher North Square Blue Oak Ltd., said by phone before the data were released.
Utility Dive:  California speeds battery deployment after Aliso Canyon gas leak
If there is a silver lining to California's massive Aliso Canyon methane leak, it could be for energy storage projects. The leak has led to plans for the fast track authorization of two energy storage projects totaling 37.5 MW (150 MWh) that are being built by AES Corp. for San Diego Gas & Electric (SDG&E). The projects would be put up in about six months, about a third of the time it would take to build a gas-fired power plant. "In our world, this is nothing short of incredible," Alex Morris, director of policy and regulatory affairs at the California Energy Storage Alliance, said. The project is a demonstration of the "rapid procurement potential" of energy storage, said Matt Roberts, executive director of the Energy Storage Association. It also shows that given the right mix of policies and circumstances, batteries can serve major bulk power system needs typically reserved for traditional power plants.
Utility Dive:  Court upholds Obama's social cost of carbon accounting
A pair of refrigeration rules issued by the DOE in 2014 have provided the first legal test of the Obama Administration's SC-CO2 metric, with the court coming down solidly in the government's camp on several issues. "To determine whether an energy conservation measure is appropriate under a cost‐benefit analysis, the expected reduction in environmental costs needs to be taken into account," the court ruled. "We have no doubt that Congress intended that DOE have the authority under the [Energy Policy and Conservation Act] to consider the reduction in SCC." One rule challenged set efficiency standards for almost 50 types of refrigeration; a second laid out how the standards would be tested. The Institute for Policy Integrity supported the rules, and the group's attorney, Denise Grab, told Greenwire the decision is a big win for the government's rulemaking process. "It is significant that the court resoundingly dismissed these challenges and found that the agency's approach was reasonable," she said. "This ruling will make it harder for opponents of climate action to justify spurious attacks against the social cost of carbon."
Greenpeace:  How a US energy company tried to sell its failing 'clean coal' project to the world
The company behind America's flagship 'clean coal' project tried to push the technology on countries around the world, even after they discovered its profound problems, Energydesk can reveal. Last month a New York Times investigation chronicled the spiralling costs, missed deadlines, technical issues and administrative chaos at Southern Company's coal gasification facility in Mississippi. The Kemper project, as it is called, is currently more than $4 billion over budget and more than two years late, with Southern now promising it will begin delivering 'clean coal' power no later than September 30th. Engineers who have worked on Kemper expect the project's Kemper's start-date to be delayed yet again — until 2017. A new look into Southern's PR operations over the past few years suggests that selling the technology abroad was central to the project's business model, and the company pursued that in spite of the mounting problems. In December 2015 the company announced that it had signed a letter of intent with South Korean firm Alps Energy to "evaluate the deployment" of the Kemper technology at one of its power plants. By this time, Southern was well aware of the crisis unfolding at the plant. But the South Korea deal has been perhaps the most concrete success of the global 'clean coal' offensive, standing out among Southern's attempts to hawk the technology in Poland, Norway, China, Romania, Serbia and Australia.
BBC:  Mounting oil stockpiles set to keep prices lower
In the oil storage hubs of Amsterdam, Rotterdam and Antwerp that serve northern Europe, petrol in independent storage is up more than 17% from a year ago, near its record at 1.16 million tonnes, according to industry consultant PJK International. In the US, distillate stocks (diesel and jet fuel) were more than a third above the five-year seasonal average in July, while gasoline stockpiles were also well above the norm, the Energy Information Administration said. There's so much unwanted crude oil, petrol and diesel that tanks are nearly at full capacity and traders are forced to store it on tankers that languish at sea. Some traders deliberately send cargoes of jet fuel from Asia to Europe around the Horn of Africa rather than the quicker, more direct route through the Suez Canal because they cannot find a home for it. Low freight costs mean that it is relatively cheap for traders and oil companies to let oil and petrol sit on ships in the expectation that they will get a higher price in future months.
Oil & Gas Journal:   US rig count climbs 17 units to 481
Led by a strong surge in oil-directed rigs, especially in Texas, the US drilling rig count climbed 17 units to reach 481 units working during the week ended Aug. 12, according to Baker Hughes Inc. data. Overall, however, the total US rig count is down 403 from this week a year ago. The number of land rigs reached 461, up 18 units from a week ago. Offshore rigs remained unchanged at 17 units. Rigs drilling in inland waters lost a single unit to reach 3. Oil rigs gained 15 units to reach 396, while rigs targeting gas increased 2 units to 83. Rigs considered unclassified were unchanged from last week at 2 units working. Horizontal drilling rigs gained 13 units to 375. Directional drilling rigs were unchanged at 44 units. Canada showed a 4-unit rebound this week, reaching 126 units rigs drilling. Oil rigs comprised most of the gain, up 5 units to 65. Gas rigs, meanwhile, remained unchanged at 60 units. Overall, Canada is down 85 units compared with this week a year ago.
Los Angeles Times:  PG&E files plan to shut down Diablo Canyon
A joint proposal calling for the shutdown of California's lone remaining nuclear power plant was formally submitted by Pacific Gas & Electric to the California Public Utilities Commission on Thursday. A number of environmental organizations and labor unions joined PG&E in the proposal to close both units at the Diablo Canyon nuclear facility near San Luis Osbispo by 2025. The plan would replace Diablo Canyon's 2,160 megawatts of electricity generation with a combination of renewable sources, energy storage, better energy efficiency and changes to the power grid. "Today's action represents a major milestone," PG&E President Geisha Williams said in an email to the utility's employees. The proposal was first announced on June 21. PG&E plans to pay nearly $50 million to San Luis Obispo County to help offset property taxes that would decline because of the plant closing.
Bloomberg:  Japan Reactor Restart Signals Latest Step in Nuclear Rebirth
Japan took another step to re-establish its nuclear industry on Friday as a utility on the island of Shikoku restarted the nation's fifth reactor under new safety rules enacted after the 2011 Fukushima disaster. Shikoku Electric Power Co. resumed operations of the No. 3 reactor at its Ikata facility in Ehime prefecture Friday at 9 a.m. local time, the company said in a statement. Power output is expected by Aug. 15, and the reactor is seen entering commercial operations by the beginning of September. Local court challenges threaten reactor operations in other parts of the country, and even those that have already been turned back on have faced a rocky road. While the Ikata restart is a boost to Prime Minister Shinzo Abe's post-Fukushima energy policy, the looming threat of more legal action has put the fate of numerous reactors in doubt. Japan's latest energy road map sees nuclear power accounting for up to 22 percent of its energy mix by 2030, compared with more than a quarter before Fukushima and almost nothing now. "There is no shortage of activist groups willing to file suits against nuclear restarts, and apparently no shortage of judges willing to hear the cases," said Tobias Harris, a Japan analyst with Teneo Intelligence in Washington D.C. "With a court having already successfully blocked a restart, anti-nuclear groups have every incentive to file suits against other restarts in the hope of finding a sympathetic judge."
Financial Times:  UK coal industry presses for rethink on carbon capture
Coal producers are pressing the UK government to rethink its decision to scrap a £1bn scheme to develop carbon capture and storage technology. The World Coal Association, which represents big miners such as Glencore and Anglo American, has written to Greg Clark, the new business secretary, appealing for support for carbon capture. Carbon capture technology, which involves capturing emissions from coal and gas power stations before they enter the atmosphere, has been suggested for years as a way to tackle climate change while still burning fossil fuels. Its prospects for adoption in the UK had a setback last year when George Osborne, then chancellor, cancelled a competition in which two carbon capture projects were vying for government backing. The coal industry sees the recent change of leadership in Downing Street and the Treasury, as well as the merging of the energy and business departments, as a chance to put carbon capture back on the agenda. "With a fresh pair of eyes in government, there is an opportunity for the UK to take another look at the issue," said Benjamin Sporton, chief executive of the industry group. In his letter to Mr Clark, seen by the Financial Times, Mr Sporton wrote that carbon capture was of "critical importance" to the UK's chances of meeting its CO2 reduction targets and described the withdrawal of government support as "highly regrettable".
Guardian:  Solar and wind 'cheaper than new nuclear' by the time Hinkley is built
The government expects solar and wind power to be cheaper than new nuclear power by the time Hinkley Point C is completed, its own projections show. Theresa May's government last month made a surprise decision to delay a deal on Hinkley, prompting a renewed look at what alternatives could power Britain if ministers this autumn fail to back new reactors in Somerset. An unpublished report by the energy department shows that it expects onshore wind power and large-scale solar to cost around £50-75 per megawatt hour of power generated in 2025. New nuclear is anticipated to be around £85-125/MWh, in line with the guaranteed price of £92.50/MWh that the government has offered Hinkley's developer, EDF. On previous forecasts, made in 2010 and 2013, the two renewable technologies were expected to be more expensive than nuclear or around the same cost. This is the first time the government has shown it expects them to be a cheaper option. The figures were revealed in a National Audit Office (NAO) report on nuclear in July. "The [energy] department's forecasts for the levelised cost of electricity of wind and solar in 2025 have decreased since 2010. The cost forecast for gas has not changed, while for nuclear it has increased," the NAO said.
Technology Review:  China's Solar Binge Is Turning Into a Hangover
China's epic solar binge accelerated in the first six months of 2016, as the country added more than 20 gigawatts of new solar installations. That's nearly three times as much as the same period last year, and is more than the total installed capacity of all but Germany, Japan, and the United States. But signs are growing that the boom is starting to fade. Investment firm Macquarie Capital said last month that many of the solar farms built this year were hastily completed to meet the deadline of July 1, when government subsidies for new solar were cut. Further cuts are expected next year as the government tries to rein in runaway development. China now has around 63 gigawatts of solar power capacity, more than any other country. And wind, solar, nuclear, and hydro projects continue to be built out even though energy demand in China is nearly flat. Beijing is also having trouble meeting its financial commitments to solar developers: some 21 billion yuan ($3.16 billion) in solar subsidies have yet to be paid. Much of the new solar generation, particularly in the desert provinces of western China, is not even hooked up to the grid. That means much of the power is going to waste—39 percent in Gansu Province and more than half in Xinjiang, according to the Photovoltaic Industry Association. It's part of a long-term supply glut that plagues China in the coal, steel, and concrete industries as well "We all know how prone China is to over-investment leading to massive overcapacity," Mark Clifford, executive director of the Hong Kong-based Asia Business Council, wrote last month. "Why should electricity be any different?"
Independent:  Scotland just produced enough wind energy to power it for an entire day
For the first time on record, wind turbines have generated more electricity than was used in the whole of Scotland on a single day. An analysis by conservation group WWF Scotland found unseasonably stormy weather saw turbines create about 106 per cent of the total amount of electricity used by every home and business in the country on 7 August. Gale-force winds lashed much of the country with a speed of 115mph recorded at the top of Cairngorm mountain. A 17,000-tonne oil rig broke away from a tug in the early hours of Monday morning and later ran aground near Carloway on the Isle of Lewis. And train services were cancelled as trees were blown onto the tracks, various events had to be cancelled and parts of Dundee were hit by a power cut. But WWF Scotland's director Lang Banks said: "While Sunday's weather caused disruption for many people, it also proved to be a good day for wind power output, with wind turbines alone providing the equivalent of all Scotland's total electricity needs. This major moment was made possible thanks, in part, to many years of political support, which means that across the year now, renewables contribute well over half of our electricity needs. However, if we want this ensure we reap the many benefits of becoming a low-carbon economy we need to see this political support for renewables continue."
Herald Scotland:   Scottish Renewables sees membership slide as deployment of new capacity slows
Scottish Renewables has seen a 15 per cent slump in membership after the deployment of new electricity generating capacity from renewables dropped to its lowest level since 2010. The trade body highlighted the "extremely challenging" conditions facing the sector as it reported membership numbers had dropped to 277 in 2015-16 from 328 the year before. It had 315 members in 2013-14, and 328 in 2012-13. Scottish Renewables said the decline in membership is directly linked to the withdrawal of schemes that have been vital to the development of the renewables sector, citing the UK Government's decision to end the Renewables Obligation a year earlier than planned and its removal of subsidies for new onshore wind projects, as well as cuts to subsidies for solar power and hydro projects. It also warned the renewables industry, which currently provides nearly half of Scotland's electricity, will see further contraction unless the industry secures a "viable framework for future investment".
BusinessGreen:  Solar surge helps UK set fresh renewables generation record
The amount of electricity produced by solar photovoltaics in the UK rose by over 40 per cent in the first three months of 2016, when compared to the same period in 2015, helping ensure the renewables sector provided over a quarter of all UK power during the period. New statistics released today by the Department for Business, Energy & Industrial Strategy (BEIS) show solar generation reached 1.3 TWh in the first quarter of this year, up from 1.0 TWh in the first quarter of 2015. Meanwhile, renewables capacity as a whole increased 0.7 GW during the first quarter of the year, with over half the new capacity coming from new, mainly large-scale, solar PV projects. Just 0.1 GW of the increase in solar capacity was as a result of the Feed-in Tariff scheme, which has now delivered 5.0GW of capacity across 833,785 installations. The jump in solar production helped to boost the total amount of electricity generated from renewables to a new record of 23.2 TWh between January and March, up from 21.8 TWh in the same period the previous year. Overall, renewables were responsible for 25.1 per cent of all electricity produced in the UK in the first quarter of 2016, up from 22.8 per cent in 2015. The figures also revealed good news for the biomass industry, with electricity from plant material rising to 5.6 TWh in the first quarter of 2016, an increase of 29 per cent on the same period last year – the highest increase in absolute terms across all renewables technologies.
Electrek:  Elon Musk announces the 'Solar Roof'
Tesla CEO Elon Musk was on SolarCity's conference call for its second quarter financial results today, which is unusual for the Chairman, but understandable considering the impending deal for Tesla to acquire the solar installer. During the call, Musk announced that SolarCity will unveil a "solar roof" as opposed to "solar modules on a roof". While Musk didn't elaborate on the product itself, he made it clear that Tesla/SolarCity will go after the roof industry with its new products, rather than only installing solar modules on existing roofs. Right after Lyndon Rive, SolarCity's CEO, referred to the upcoming unveiling of 2 new products before the end of the year, around the time Tesla and SolarCity are expected to close the merger (Q4 2016), Musk jumped in and said: "It's a solar roof, as opposed to modules on a roof." Rive then confirmed that they are working on a roof integrated product and Musk added: "I think this is really a fundamental part of achieving differentiated product strategy, where you have a beautiful roof. It's not a thing on the roof. It is the roof."
Elon Musk's solar roof
Climate Central:  Europe Aims to Close Loophole on Wood Energy
European officials are moving to close a loophole that promotes the burning of wood for electricity by an industry that's felling American trees, and a new report they commissioned has laid bare the urgent need for reform. European Union climate rules treat woody biomass energy as if it's as clean as solar or wind energy, despite it releasing more heat-trapping carbon dioxide for every megawatt of electricity produced than coal. Producing wood pellets for fuel can also foster climate-changing deforestation. The European Commission, which advises European Union lawmakers, last week identified myriad environmental hazards from the transatlantic wood energy trade in a 361-page report. The loophole in Europe's climate policies is a veritable accounting error that has led to national energy subsidies that are financing a burgeoning industry. The subsidies are paying for wood pellet fuel to be produced at newly built mills in the American South, where trees are plentiful and forest protections are minimal. Without reducing climate pollution, the industry is helping European countries meet European Union rules on carbon emissions, if only on paper.
Guardian:   UK's carbon footprint rises 3%
The "carbon footprint" for the pollution caused by UK consumption has increased slightly, official figures show. The amount of greenhouse gases linked to goods and services consumed by UK households, including emissions from the foreign manufacture of imported products, rose by 3% between 2012 and 2013, the most recent data shows. But the figures are almost a fifth (19%) below the peak seen in 2007, when UK consumers were responsible for nearly 1.3bn tonnes of greenhouse gases. The figures cover imported and domestically produced goods and services consumed in the UK as well as heating homes and fuelling household vehicles with fossil fuels. The carbon footprint statistics from the Department for Environment, Food and Rural Affairs (Defra) reveal the UK's wider role in the output of emissions which cause climate change, compared with other data which only account for domestically produced greenhouse gases.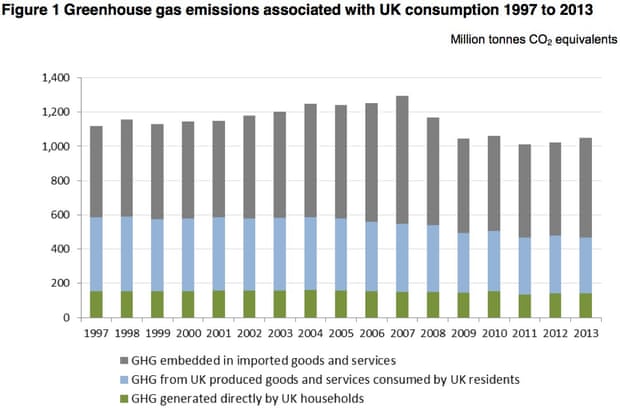 Financial Times:  RWE says UK restructuring on track as profits rise 10%
RWE, Germany's second-largest utility, said the restructuring of its UK business was beginning to bear fruit, as it reported a 10 per cent increase in profits for the first half. The company missed analyst expectations with adjusted net income of €598m, but it reiterated its earnings forecast for the full year of between €500m-€700m. RWE said the gain in profits was thanks largely to a sharp, one-off drop in the tax it paid. In March, RWE launched a big restructuring of its UK business Npower with a two-year recovery programme which it said would lead to the loss of 2,400 jobs from its 11,500-strong workforce. The move was announced after Npower revealed a €137m loss for 2015, compared to a €227m profit in 2014, and acknowledged "serious process and system-related problems in residential customer billing". In a statement on Thursday, RWE chief executive Peter Terium said the restructuring of Npower had "got off to a good start" and the operational improvements were on track. He said Npower's competitive position in the UK residential sector had stabilised since the "significant customer losses" it suffered last year.
Guardian:  Construction of giant dam in Canada prompts human rights outcry
Human rights campaigners are calling on Canadian authorities to halt construction of a huge hydroelectric dam in western Canada over concerns that the mega-project tramples on the rights of indigenous peoples in the area. A global campaign launched by Amnesty International on Tuesday called on the federal government and the provincial government of British Columbia to withdraw all permits and approvals for the Site C hydroelectric dam, a C$9bn project that will see more than 5,000 hectares (12,350 acres) of land – roughly equivalent to about 5,000 rugby fields – flooded in north-east British Columbia. The land is part of the traditional territories of indigenous peoples in the region, said Craig Benjamin of Amnesty International Canada. "It's an area that people have used for thousands upon thousands of years. Their ancestors are buried in the land; there are hundreds of unique sites of cultural importance; there is cultural knowledge of how to live on land that is associated with this specific spot."
Power Engineering International:  US energy chief makes bold claim for storage technology
The US energy secretary, Ernest Moniz, believes the advances being made in storage technology means that the country will be completely decarbonised by the 2050s. A global race, seen initially in Europe and the US is leading to a rapid acceleration in innovation that may dispense with the need for nuclear and thermal power by that time according to the technology's backers, as the Achilles heel of intermittency will no longer impact on the overall effectiveness of renewables. Surges of excess power will instead be stored for use later at times when the sun sets, and consumption peaks in the early evening. "Storage is a huge deal," says Ernest Moniz, the US Energy Secretary and himself a nuclear physicist. The Daily Telegraph reports that he is now confident that the US grid and power system will be completely "decarbonised" by the middle of the century. The US Department of Energy is funding 75 projects developing electricity storage, mobilizing teams of scientists at Harvard, MIT, Stanford, and the elite Lawrence Livermore and Oak Ridge labs in a bid for what it calls the 'Holy Grail' of energy policy. Professor Michael Aziz, leader of the Harvard project, said there are still problems to sort out with the "calendar life" of storage chemicals but the basic design is essentially proven. "We have a fighting chance of bringing down the capital cost to $100 a kilowatt hour, and that will change the world. It could complement wind and solar on a very large scale," he told the Daily Telegraph.
Climate Change News:  Development bank climate funding fell $3 billion in 2015
Last year the World Bank, African Development Bank, Asian Development Bank along with their equivalents in Europe and Latin America collectively delivered $25bn in green funding. In 2014 the figure was $28bn. World Bank climate finance flows accounted for $1bn of the shortfall, but in a report published this week the Multilateral Development Banks (MDBs) blame the fall on changes in reporting procedures. "2015 climate finance figures reflect changes in reporting parameters of the IDB and the WB Groups, and modifications in EU reporting," the report says. "A significant amount of work has also been undertaken to establishing better tracking systems within the MDBs," it adds. An official with the London-based European Bank for Reconstruction and Development said finance flows were on a "clear upward trend" despite the dip. Since last year's Paris climate summit all development banks have confirmed they plan to radically boost climate funding, ranging from the AfDB's pledge to triple support to the World Bank's projected $16bn hike by 2020. "MDBs are generally on track to meet their 2020 climate targets as announced in the second half of 2015. Financing reported in the 2015 report is a result of previous years of work on pipeline development and support for project preparation," said the EBRD official.
Norwea:   Look to Norway, not Hinkley
The controversy surrounding the new nuclear power plant at Hinkley Point C (HPC) reached new heights last week. We propose taking a step back, and to gauge the options: One of which is purchasing electricity from actually renewable sources from one of your best neighbours, at a fraction of the cost of the proposed plant. National Grid, and its Norwegian equivalent Statnett, have started work on one interconnector between Norway and the UK. Named the North Sea Link, it will have a capacity of 1400 MW and could potentially deliver roughly the equivalent of 50% of the energy HPC is expected to deliver. Yet another interconnector, the North Connect project, is under planning, connecting our countries' energy systems even closer together. The two interconnectors could deliver an amount of energy to the UK corresponding to HPC's proposed output; with two major differences: The energy delivered would be renewable, and it would be cheap. HPC is expected to cost £18bn. The subsidies over its lifetime through the CfDs is estimated at roughly £30bn. At the time of writing, the Day Base price of electricity in the UK is £46/MWh, whereas HPC's CfDs guarantee a price of £92,5/MWh. Two interconnectors would cost somewhere in the range of £3bn. The system price in Norway is £22/MWh. There is capacity in our electricity systems to add even more interconnectors, but these are long-term investments that demand political commitment. Production from HPC will correspond to around 7% of total current UK production of electricity. It is power that will ensure security of supply for UK homes and businesses, and which will contribute to the electrification of UK industry and transport.
Envirotech:  Donald Trump Continues Fighting Scottish Wind Farm
Donald Trump has taken time out of his busy presidential campaign to reiterate his intention to keep fighting the planned offshore wind farm which is scheduled to be built off the coast of Aberdeenshire. Trump owns a golf course in the vicinity and has branded the wind project an act of "public vandalism". However, Trump has already lost a legal battle with the Scottish government last year, after three senior judges in Edinburgh threw out his case last June. Despite such a setback, Trump has vowed to fight the renewable energy project in court again. However, the site has been earmarked for development for several years and Swedish company Vattenfall announced they would stick to the £300m investment commitment made prior to the Brexit vote. As a result, 11 turbines are expected to be built on the site. However, Trump has taken Vattenfall's commitment to the plan as a bull might take to a red rag, signalling his intention to bring the case before the European courts if necessary. His advisors claim that there are a number of planning conditions which have not yet been fulfilled and have said they will be lodging a claim with Marine Scotland.