This week's Blowout focuses on the "formal commitment" of Presidents Xi of China and Obama of the U.S. to the Paris Climate Accord. Xi may be in a position to commit China but it's questionable whether Obama has the ability to commit the U.S. without congressional approval. The last time the U.S. signed a major climate accord (Kyoto in 1997) it was promptly and unanimously repudiated by the U.S. Senate:
New York Times:  Obama and Xi Formally Commit U.S. and China to Paris Climate Accord
President Obama and President Xi Jinping of China formally committed the world's two largest economies to the Paris climate agreement here on Saturday, cementing their partnership on climate change and offering a rare display of harmony in a relationship that has become increasingly discordant.
At a ceremony in this picturesque lakefront city, the two leaders hailed the adoption of the Paris agreement as a critical step toward bringing it into force worldwide. Together, China and the United States generate nearly 40 percent of the world's emissions, not far from the threshold of 55 percent required for the global pact to take effect. "Despite our differences on other issues, we hope our willingness to work together on this issue will inspire further ambition and further action around the world," Mr. Obama declared. Mr. Xi praised the Paris agreement as a milestone, adding, "It was under Chinese leadership that much of this progress was made."
Huffington Post:  New York embraces Nuclear Power
In August, with the help of Governor Andrew Cuomo's leadership, the New York State PSC took unprecedented action in passing a Clean Energy Standard that, in addition to ensuring ample opportunity for more wind, solar, and energy efficiency, recognizes the important role of existing carbon-free nuclear power. This is a game-changer: never before has nuclear received economic credit for its environmental benefits. New York State is now the first government to include nuclear in its clean energy policy, providing a mechanism that will help keep New York's nuclear energy plants open. In the wake of an energy market that did not previously adequately value this power, the state faced the very real prospect of having these plants shut down. Last month's news represents a meaningful step in the fight against climate change that will impact our energy policy outlook for decades to come. This is a worthwhile cause that Governor Cuomo should be acknowledged for undertaking, not only for the sake of cleaner air, but for establishing a common sense and fair policy of recognition for nuclear that ensures that nuclear power remains a vital component of our clean energy strategy for years to come.
Power Engineering International:  EDF board members seek court annulment of Hinkley decision
Five of the 17 board members who voted to approve a decision by EDF to press ahead with the development of Hinkley Point C nuclear power plant in England are now seeking a court annulment of that decision. The board members, all union representatives, say they were not provided with information that was crucial to their decision on the day. The sticking point is, they said, that Jean Bernard Ley, the company's CEO was privy to information about the UK government's intention to delay their decision on the project, and this was not shared with the board prior to the vote. The board voted 10 to 7 in favour of the £18bn project late last month to build two reactors in Somerset, England. One board member resigned in protest against EDF's strategy. "Some board members discovered they did not benefit from the same level of information as the CEO and government representative," the CGT, CFE-CGC and FO unions said in a statement. The CFDT union did not sign the statement. Shortly after the board meeting, the UK announced that it had postponed its final decision until early autumn to allow time for further review. FT reports that law firm Alain Levy, which represents the five union board members, said on Wednesday that it had filed a complaint with the Paris commercial court, adding that the case would be heard on September 5. EDF declined to comment.
Guardian:   China expected to press Theresa May on Hinkley nuclear plant
Theresa May is expected to come under pressure from China at the G20 summit over her decision to review the proposed Hinkley nuclear plant, after the issue was raised by Beijing in a meeting with the British energy minister. The new British prime minister will have her first face-to-face meeting with Xi Jinping, the Chinese premier, at the summit on Sunday or Monday, amid continuing tensions over Hinkley Point in Somerset. May angered Beijing by deciding in July that approval of the French- and Chinese-backed £18bn nuclear plant would be delayed, apparently as a result of security concerns over Chinese involvement. The Chinese government has been publicly making its clear it wants the project to go ahead, but May and her ministers have stuck to the position that the government is "considering all the component parts of the project before making its decision in the early autumn". It is understood Chinese officials raised the issue of Hinkley last week when Baroness Lucy Neville-Rolfe, the new energy and intellectual property minister, made a low-profile trip to China. The Chinese National Energy Administration said on its website that Neville-Rolfe met one of its top officials in Beijing to discuss Hinkley Point. However, British government sources insisted that Neville-Rolfe had only made the trip to China to discuss intellectual property and would have rebuffed attempts to discuss the issue.
Deutsche Welle:  Will there be any new nuclear plants in UK?
Over the past several years, a number of companies have put forth applications to build new nuclear reactors in the UK. But none have started construction, and now, there's some doubt whether any of them will go forward. At the end of July, the new UK government led by Theresa May announced a delay in the approval of Hinkley Point C, the new-build nuclear power reactor project currently closest to going ahead, pending a review. Mycle Schneider, an anti-nuclear analyst who is convening lead author of the World Nuclear Industry Status Reports, said he doubts any new UK reactors will actually get built. And if any are built, he doubts they'll ever be put into service: "There have been at least 92 nuclear reactors construction projects around the world that were abandoned at various stages of completion." Financial rather than environmental concerns are putting the UK's new-build nuclear program in doubt. Why Prime Minister May ordered a review of Hinkley Point C is unclear, but one reason may be that the EPR reactors intended for the site are of the same design that has seen vast cost over-runs and multiple years of construction delays in Olkiluoto in Finland and Flamanville in France.
Helsinki Times:  Nuclear project could undermine sovereignty of Finland
Fennovoima's nuclear power plant project in Pyhäjoki, Northern Ostrobothnia, is a high priority for Russia and threatens to undermine the national sovereignty of Finland, warns the Finnish Institute of International Affairs. "Russia's way of geo-economically utilising energy political dependencies is already undermining the national sovereignty of especially smaller target countries," its researchers say in a newly-published analysis of changes in the foreign policy of Russia and their implications for Finland. Ville Niinistö, the chairperson of the Green League, estimates that the report substantiates concerns about the participation of Rosatom, a Russian state-owned nuclear energy company, in the nuclear power plant project and the exercise of foreign policy powers in energy-related issues by the Russian Government. The National Coalition Party – one of the most vocal advocates of the project in Finland – should according to him accept responsibility for eroding the security environment of Finland.
Focus Taiwan:  Premier vows Taiwan's nuclear power plants to close on schedule
Premier Lin Chuan pledged Friday that the government will not extend the operating life of two of Taiwan's active nuclear power plants, but he gave assurances that the country's electricity supply will remain stable in the coming years. The No. 1 and No. 2 nuclear power plants will be phased out according to the government's schedule, Lin said on a visit to New Taipei to see the Taipower Exhibit Center and meet with residents to discuss issues such as dealing with nuclear waste. New Taipei is home to the two nuclear power plants scheduled to be decommissioned from 2018 to 2023. Lin sparked controversy in June when he said consideration should be given to restarting the first reactor of the No. 1 nuclear power plant to ensure electricity supply during the summer peak season. On Friday, Lin said one of the two reactors in each of the two nuclear power plants in New Taipei are already out of service and the government is pushing to transform the country's power supply structure. He said several alternatives were available to ensure a stable supply of electricity. "Currently, there doesn't seem to be a problem," he added.
Times of India:   India powers past 6,000MW mark in nuclear energy
With synchronization of the second unit of the Kudankulam power plant, India's civil nuclear programme has reached a couple of landmarks: the Kudankulam project turned a page on protests and a legal challenge over its safety parameters in the Supreme Court, and India crossed the 6,000MW mark in nuclear power. Once the output of Unit II is scaled up to a full 1,000MW in two months, India's 22 nuclear power reactors will be able to generate 6,780MW of power and the Nuclear Power Corporation of India Limited (NPCIL) expects four more reactors to be commissioned in a year. Unit II is functioning smoothly as scientists seem to have incorporated the right lessons from hitches that marred Unit I's functioning after attaining criticality in 2013. The two 1,000MW nuclear units built with Russian assistance have made Tamil Nadu the highest consumer of nuclear power on a daily basis. Kudankulam I and II are also the last nuclear units in India built with foreign collaboration that will not attract the liability clause legislated after the India-US nuclear deal. NPCIL engineers learnt bitter lessons while commissioning Unit I. The reactor has been in continuous operation only since February 2016. Protests in 2011-12 by anti-nuclear activists delayed the project by months when it was over 90% ready, but not much is known of the problems it faced later. The Unit I has been operating continuously for 189 days since February 22 and has generated 11,269 million units of electricity since October 2013.
Telegraph:  Putin pushes for Opec oil supply freeze – with a free pass for Iran
Russian President Vladimir Putin has called for the world's largest oil producers to freeze the flow of oil into the oversupplied global market, but said Iran should be offered an exemption as it recovers from years of sanctions. Mr Putin's call for market intervention comes ahead of an informal meeting of energy ministers later this month, including the Organisation of Petroleum Exporting Countries (Opec) and Russia, the world's third largest oil producer. "I would very much like to hope that every participant of this market that's interested in maintaining stable and fair global energy prices will in the end make the necessary decision," Mr Putin said in an interview with Bloomberg in Vladivostok. The talks will be Opec's second attempt since the oil market crash to agree a deal to freeze supply. But negotiations are complicated by the defiance of Iran, which is eager to reclaim its share within the global oil market after years of sanctions that hindered its growth. Mr Putin has come out in defence of Iran, saying the country should be allowed to boost its oil output – but that a deal for the rest of the cartel should be possible with Russia's co-operation. "Iran is starting from a very low position, connected with the well-known sanctions in relation to this country. It would be unfair to leave it on this sanctioned level," he said.
The Drive:  OPEC Thinks 94 Percent of Cars Will Still Use Fossil Fuels in 2040
A survey of OPEC members found that the group of oil-producing countries collectively expects around 94 percent of vehicles will still be powered by their sweet, sweet extracts in the year 2040, according to the Financial Times. Of course, the Organization of Petroleum Exporting Countries, as the group is formally known, does have the ability to tilt the scales of the market in their favor. So long as the group can keep the throttle open on their oil production, it can help to keep gas prices low—which, in turn, could encourage buyers to continue to choose gas-guzzling vehicles over more environmentally-friendly ones. But if OPEC hopes to manipulate the automotive market by playing on consumers' love of cheap fossil fuels, other governments can—and almost certainly will—continue to push automakers from the regulatory end. In just the last year, nations across Europe have begun calling for complete bans on new gas- and diesel-powered vehicles by the middle or end of the next decade. And while the U.S. government's future moves on fuel economy standards remain up in the air, influential states like California are continuing to push for increasingly-potent zero-emissions vehicle mandates. So who'll be right in the end? Well, we only have to wait 24 years to find out.
Bloomberg:  OPEC 2016 Export Revenue Lowest Since 2004, EIA Says
OPEC members' net oil export revenue is forecast to fall to $337.9 billion this year, a drop of 16 percent from 2015 and 55 percent from 2014, according to EIA data. That's the lowest level since 2004 and while declining crude prices are seen as the main driver behind lower revenues since mid-2014, unplanned production outages such as those seen in Libya and Nigeria have also contributed to lower earnings, the EIA said in a report dated Aug. 26.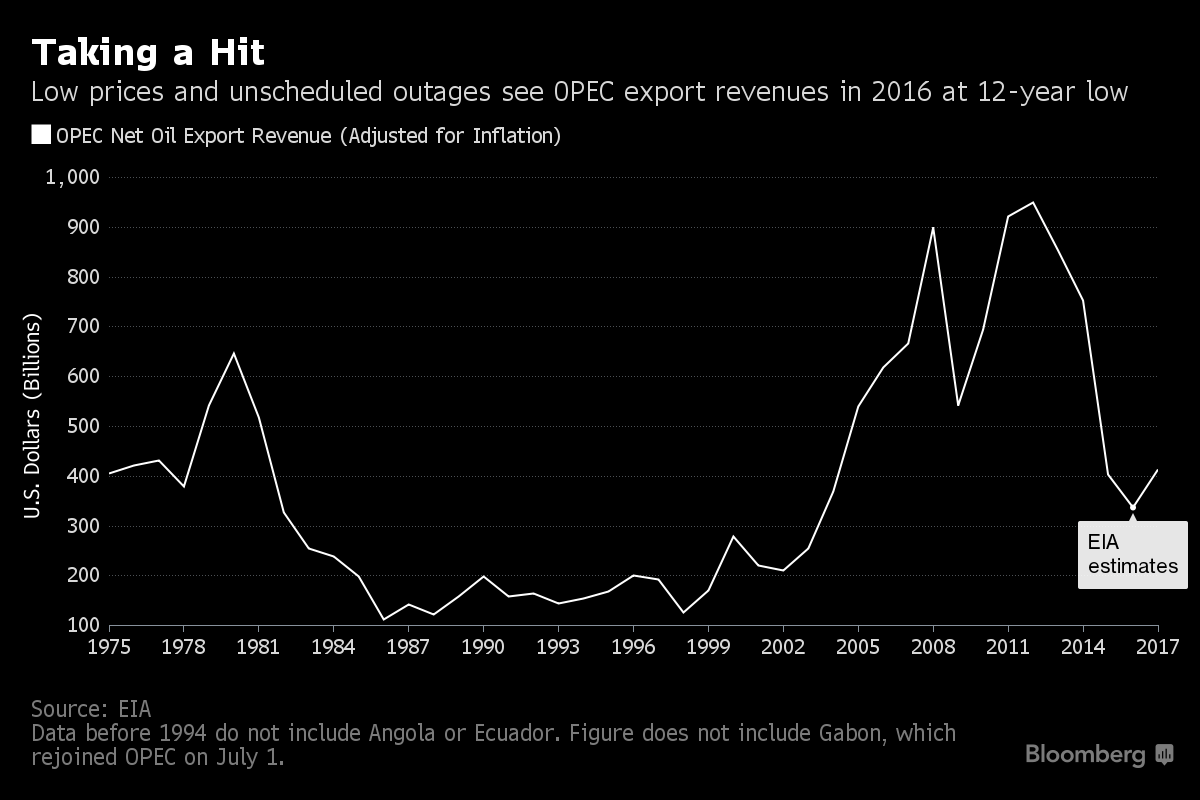 Oil Price:  Norwegian Oil And Gas To See A $50 Billion Cut In Investment
The Norwegian oil and gas industry will see $50 billion less in capital investment from 2016-2020 than previously forecasted as a result of cancelled or delayed projects, according to a study by industry consulting firm Wood Mackenzie. "Companies are seeking lower cost solutions, be that from cheaper market rates, or different development options," Malcolm Dickson, principal analyst for Upstream Oil and Gas at Wood Mackenzie told World Oil earlier this week. Ten projects on the Norwegian Continental Shelf have been shelved, the authors of the study found, and an additional three billion barrels worth of projects have been stuck at the pre-final investment decision (FID) phase, waiting for official    sanction."Mid-2017 is the bottom if you believe in oil price recovery, as we do," Dickson said. "That means that cost inflation will begin to creep into fields from 2018 onwards. FID in the next year or so would make sense to capture lower costs." Dickson added that many of the proposed projects have breakeven price points in excess of $50 a barrel, meaning simplification, standardization and optimization will be essential to ensure new endeavors are profitable. "We can't change the oil price, but we can look to bring costs in line with it," the analyst said.
Bloomberg:  Oil Discoveries at 70-Year Low Signal Supply Shortfall Ahead
Explorers in 2015 discovered only about a tenth as much oil as they have annually on average since 1960. This year, they'll probably find even less, spurring new fears about their ability to meet future demand. With oil prices down by more than half since the price collapse two years ago, drillers have cut their exploration budgets to the bone. The result: Just 2.7 billion barrels of new supply was discovered in 2015, the smallest amount since 1947, according to figures from Edinburgh-based consulting firm Wood Mackenzie Ltd. This year, drillers found just 736 million barrels of conventional crude as of the end of last month. That's a concern for the industry at a time when the U.S. Energy Information Administration estimates that global oil demand will grow from 94.8 million barrels a day this year to 105.3 million barrels in 2026. While the U.S. shale boom could potentially make up the difference, prices locked in below $50 a barrel have undercut any substantial growth there. New discoveries from conventional drilling, meanwhile, are "at rock bottom," said Nils-Henrik Bjurstroem, a senior project manager at Oslo-based consultants Rystad Energy AS. "There will definitely be a strong impact on oil and gas supply, and especially oil."
USA Today:  Magnitude-5.6 Oklahoma quake shakes up the Midwest
A magnitude-5.6 earthquake – matching the strongest temblor to ever hit the state – struck north central Oklahoma on Saturday morning and could be felt over a seven-state area, the U.S. Geological Survey reported. The jolt rattled a wide area of the Great Plains, including Missouri, Kansas, Texas, Arkansas, Nebraska and Iowa. It was centered about 9 miles northwest of Pawnee, Okla., prompting local officials to dispatch officers to check key facilities, such as the local water plant. There were no immediate reports of major damage. Pawnee County sheriff's department radio traffic noted that the quake had apparently caused several structural fires, including one barn, near the town of about 2,000 people. An increase in magnitude 3.0 or greater earthquakes in Oklahoma has been linked to underground disposal of wastewater from oil and natural gas production, the Associated Press notes. State regulators have asked producers to reduce wastewater disposal volumes in earthquake-prone regions of the state. Some parts of Oklahoma now match northern California for the nation's most shake prone, and one Oklahoma region has a 1 in 8 chance of a damaging quake in 2016, with other parts closer to 1 in 20.
Scientific American:  Natural Gas Emissions Will Surpass Those from Coal in U.S.
The U.S. is expected to reach a major carbon emissions milestone this year: For the first time, carbon dioxide emissions from burning natural gas for electricity in the U.S. are set to surpass those from burning coal—the globe's chief climate polluter. Emissions from burning natural gas are expected to be 10 percent greater than those from coal in 2016, as electric companies rely more on power plants that run on natural gas than those that run on coal, according to U.S. Department of Energy data.The EIA expects the U.S. will emit about 1.5 billion metric tons of carbon dioxide from natural gas in 2016, compared to about 1.4 billion metric tons from coal. The milestone comes as an ample supply of low-cost natural gas encourages electric power companies to use more gas than coal. That trend is leading to to a continued decline in coal production. U.S. climate policies, such as the Obama administration's Clean Power Plan, are also encouraging utilities to shift away from coal as a way to cut greenhouse gas emissions. Natural gas emits about half as much climate change-driving carbon dioxide as coal. There is a downside to the emissions milestone, however. Though natural gas burns cleaner than coal, producing natural gas and piping it to power plants leaks methane into the atmosphere.
New York Times:  The Challenge of Cutting Coal Dependence
Worried the nation might miss its 2020 target to drastically cut emissions of carbon dioxide, the German government proposed a steep levy last year on the most heavily polluting generators. The tax was intended to deliver a decisive blow against lignite or brown coal, the dirtiest fuel around and Germany's main source of electricity. But even the powerful Chancellor Angela Merkel couldn't quite pull it off. Facing blowback from labor unions and governments in coal country, Berlin backed off, replacing the levy with a subsidy of 1.6 billion euros to gradually mothball eight coal-fired plants and shut them down permanently by 2023. Berlin's hesitance may seem like little more than a snag in Germany's vaunted "Energiewende." At least the coal generators are scheduled to shut down eventually. But the resistance in the greenest of green countries underscores a more substantial challenge to the international effort to drastically reduce fossil fuels in the world's energy supply: workers and retirees, local economies and communities still depend on the fuels the rest of us hope to let go of to preserve the planet for our children and our children's children.
The Hindu:  G20 countries score poorly in climate goals report
Global greenhouse gas (GHG) emissions of G20 countries are continuing to increase, a report from Climate Transparency, an open global consortium, has shown ahead of the 2016 G20 Hangzhou summit to be held on September 4-5 in China. Between 1990 and 2013, the absolute carbon dioxide emissions of G20 countries, which account for three-fourths of global CO2 emissions, went up by 56 per cent, the report shows. Funded by Climate Works Foundation, Stiftung Mercator and the World Bank Group, Climate Transparency analysed key indicators, including carbon intensity and share of coal in total electricity produced, to assess the performance of these countries and found that half of G20 countries are "inadequate" as regards actions taken to curb climate change. This is despite energy intensity and the carbon intensity of the G20 economies decreasing as overall economic activity increased, notes the report released on Thursday. India received a 'medium' rating with good scores for emissions, share of renewables in total primary energy supply (TPES) and climate policy, but poor scores in carbon intensity, share of coal in TPES and electricity emissions. The worst overall performers were Australia, Argentina, Japan, Russia, Saudi Arabia and South Africa. "Most of the G20 countries rely heavily on coal in their primary energy supply," the report notes, pointing out that since these countries are planning a large number of new coal-fired power plants, which if realised, would almost double coal capacity, making it virtually impossible to keep the temperature increase to below 2°C, let alone 1.5˚C as mandated by the 2015 Paris climate agreement.
Utility Dive:  California passes 4 bills to boost energy storage
AB 33 directs the CPUC to consider large-scale storage, specifically pumped hydro. The bill comes after the California ISO identified a need for fast-ramping, flexible resources to balance the grid and mitigate the potential impacts of over-generation from renewables. In either a new or existing proceeding, the law would direct regulators to "assess the potential costs and benefits of all types of long duration bulk energy storage resources, including impacts to the transmission and distribution systems of location-specific long duration bulk energy storage resources." AB 2868 would allow utilities to develop an additional 500 MW of storage capacity "divided equally among the state's three largest electrical corporations." AB 1637 aims to double the Self-Generation Incentive Program. Earlier this summer regulators updated and revised the program, which currently provides $83 million a year through 2019 for behind-the-meter generation technologies including wind, fuel cells and energy storage. And a final bill, AB 2861, directs the CPUC to establish a resolution process for interconnection disputes. The bill sets a goal of resolving disputes within 60 days, and would require the commission to appoint a "qualified electrical systems engineer with substantial interconnection expertise to advise the director of the energy division and to provide adequate commission staff to assist in resolving interconnection disputes." As California moves toward higher penetrations of renewable energy and less reliance on traditional fossil generation, energy storage is expected to play an increasingly important role in maintaining reliability and power quality.
Oil Price:  How Intermittent Renewables Are Harming The Electricity Grid
Many people are hoping for wind and solar PV to transform grid electricity in a favorable way. Is this really possible? Is it really feasible for intermittent renewables to generate a large share of grid electricity? The answer increasingly looks as if it is, "No, the costs are too great, and the return on investment would be way too low." We are already encountering major grid problems, even with low penetrations of intermittent renewable electricity: US, 5.4 percent of 2015 electricity consumption; China, 3.9 percent; Germany, 19.5 percent; Australia, 6.6 percent. In fact, I have come to the rather astounding conclusion that even if wind turbines and solar PV could be built at zero cost, it would not make sense to continue to add them to the electric grid in the absence of very much better and cheaper electricity storage than we have today. There are too many costs outside building the devices themselves. It is these secondary costs that are problematic. Also, the presence of intermittent electricity disrupts competitive prices, leading to electricity prices that are far too low for other electricity providers, including those providing electricity using nuclear or natural gas. The tiny contribution of wind and solar to grid electricity cannot make up for the loss of more traditional electricity sources due to low prices. Leaders around the world have demanded that their countries switch to renewable energy, without ever taking a very close look at what the costs and benefits were likely to be. A few simple calculations were made, such as "Life Cycle Assessment" and "Energy Returned on Energy Invested." These calculations miss the fact that the intermittent energy being returned is of very much lower quality than is needed to operate the electric grid. They also miss the point that timing and the cost of capital are very important, as is the impact on the pricing of other energy products.
BusinessGreen:  Seeing the light? Thousands of UK churches switch to renewables
Thousands of churches in the UK have either switched to renewable electricity or are registered to do so, a group of Christian charities said today. The figures, released by Christian Aid, poverty charity Tearfund and Catholic aid agency CAFOD, show that over 3,500 churches are making the move away from fossil fuels. The numbers include the 16 Catholic dioceses – with a total of 1,922 parishes – which are now sourcing green electricity following an alliance between two Catholic organisations, the Interdiocesan Fuel Management and Churchmarketplace. Some of the Catholic organisations made the decision to switch to clean energy following the release last year of the Pope's 920 page encyclical for the environment, Laudato Si, the charities said. Meanwhile, over 900 Salvation Army sites – a majority of its UK locations – and a third of Britain's Quaker Meeting House have switched to clean energy, while close to 700 individual churches from denominations such as Methodist, United Reformed Church, Church of England and Baptist congregations have also signed up to source clean power through the BigChurchSwitch.org.uk website. In addition to switching to clean energy, around 340 congregations have also signed up to a broader scheme dubbed 'Eco-Church', committing to a range of environmental improvements, the charities said. The update was released to coincide with the World Day of Prayer for the Care of Creation, which encourages Christians to pray and work for the protection of the environment and launches the beginning of the month-long 'Creationtide' season which incorporates traditional Harvest Festival activities.
Computer Weekly:  Internet of things will help ease transition to renewables, says National Grid chief
Power-hungry domestic appliances, such as dishwashers, fridges and washing machines, will soon begin to use the internet of things (IoT) to operate more efficiently and smooth out spikes in demand, helping keep the lights on as the UK transitions away from fossil fuels towards cleaner renewable energy. This was the prediction made by the National Grid's executive director, Nicola Shaw, who said by using smarter products, the need to build conventional power stations fired by gas could be reduced. Gas-fired stations generate around 30% of the UK's total power needs, according to 2015 figures. The old Department of Energy and Climate Change – since wound up by prime minister Theresa May and subsumed into a new Department of Business, Energy and Industry – had committed to eliminating coal-fired power stations, responsible for around 20% of UK power generation, by 2025. This means there will soon be a growing need to make up for a shortfall in electricity generation while more renewable options come on-stream. Speaking to the BBC, Shaw said adjusting peak demand using what she termed the "internet of energy" could effectively smooth over between 30% and 50% of daily fluctuations in demand on the grid, going some way to plugging the gaps in generation capacity. She said having historically generated power at large facilities that was then distributed to homes and businesses, these homes and businesses were now generating electricity themselves, usually through solar panels, and storing it for use later, which is becoming increasingly viable at a smaller-scale. At the same time, she said, others were adjusting how they use their appliances to take advantage of cheaper power at certain times of day, with some providers already offering tariffs that help them do this.
Greentechmedia:   National Grid Goes Big Into Energy Storage With 201MW of Fast-Acting Batteries
U.K. grid operator National Grid has just put its money behind one of the world's single largest procurements of energy storage. Late last week, the owner and operator of the transmission grid in England and Wales announced 201 megawatts of winning bids of its first-ever tender for "enhanced frequency response." Out of a list of some 64 pre-qualified bidders, National Grid picked eight vendors with a combined 201 megawatts of projects, ranging in size between 10 and 49 megawatts apiece, with a total value of £66 million ($86.4 million). The biggest winner was EDF Energy Renewables, which won a £12 million ($15.7 million) tender for a 49-megawatt project at its West Burton natural-gas-fired power plant — just under National Grid's 50-megawatt cap for the program. Vattenfall won a £5.75 million ($7.5 million) tender for a 22-megawatt project at the Welsh Pen y Cymoedd wind farm, and E.ON U.K. won a £3.89 million ($5.1 million) tender for a 10-megawatt battery at its Blackburn Meadow combined heat and power plant. Other winners included Low Carbon Storage Investment with a combined £15.35 million ($20.1 million) tender for two separate projects of 10 megawatts and 40 megawatts each; Element Power with a £10.1 million ($13.2 million), 25-megawatt project; Belectric with a £14.65 million ($19.2 million), 10-megawatt project; and Renewable Energy Systems with a £4.2 million ($5.5 million), 10-megawatt project. All told, it's one of the biggest energy storage procurements announced so far this year, and certainly a big step forward for the U.K. storage market.
Guardian:  Brexit vote pushing up household energy bills
Energy experts are warning that household energy prices could be about to rise for the first time in two years, driven partly by higher import costs following the Brexit vote. The Co-op started the ball rolling when it told some of its 500,000 energy customers that, from 1 October, it would be raising bills by between 3% and 6% – the latter equating to a potential rise of almost £70. The price of wholesale gas has steadily risen over the last three months but Britain is facing a double hit because gas imports from the continent are about 10% higher still, due to a fall in the value of sterling against the euro. "This is a worrying warning bell that the wholesale price honeymoon may be drawing to a close. Wholesale prices are now climbing at the fastest rate in years, driven by upward pressure on the cost of energy imports from the falling value of sterling following the EU referendum, future supply concerns and higher transmission costs," said Claire Osborne, energy expert at uSwitch. "Unfortunately, it's the smaller suppliers who are less able to cope as they cannot buy their energy as far ahead as the big six [companies]. The danger is that other small suppliers could now follow suit and raise their prices – just in time for winter."
Commonspace:  Scotland, Ireland and Northern Ireland launch a celtic union of ocean renewable energy
A New Renewable collaborative network has been formed by Scotland, Ireland and Northern Ireland to develop research in the area of ocean energy and ocean technology. The formation of the new Ocean Power Innovation Network (Opin) has been led by the three state organisations of the three nations involved, Scottish Enterprise (SE), the Sustainable Energy Authority of Ireland (SEAI) and Invest Northern Ireland (INI). The groups met in Dublin this week to focus on plans for collaboration on future projects funding technological development and sharing technical knowledge. The network's mission is to advance innovation by learning from experts in other industries, to push the boundaries of what's possible in ocean energy and progress innovative ocean projects in a coordinated way. It will focus on collaborative initiatives, knowledge sharing, applied learning and creative thinking in ocean energy technology development. Jan Reid, senior manager at marine energy and low carbon technologies at Scottish Enterprise, said: "Our oceans provide a natural resource for renewable energy and although there have been many achievements and world firsts to date, the future of the industry will be shaped in the coming decade. "This initiative allows Scotland and Ireland to come together to build a strong value chain for marine energy, in addition to existing collaborations, and encourages companies to share and learn from well-established industries to accelerate their development towards future sustainable success."
Roy Spencer:  Global Temperature Update for August, 2016
The Version 6.0 global average lower tropospheric temperature (LT) anomaly for August 2016 is +0.44 deg. C, up a little from the July, 2016 value +0.39 deg. C. The July-August pause in cooling as La Nina approaches is unusual compared to the few other dissipating El Nino events in the satellite period of record; recent weeks' ENSO predictions from CPC have suggested the coming La Nina won't be as stong as previously forecast. Also, warmth elsewhere is offsetting cooling in the tropical Pacific, keeping global average temperatures up; the CFSv2 model average surface temperature for August as compiled at Weatherbell.com was +0.42 deg. C.
Climate Audit:  Was early onset industrial-era warming anthropogenic?
A recent PAGES 2k Consortium paper in Nature, Abram et al., that claims human-induced, greenhouse gas driven warming commenced circa 180 years ago, has been attracting some attention. The authors' claim that the start of anthropogenic warming can be dated to the 1830s is based on model simulations of climate change from 1500 AD on. A simple reality check points to that claim being likely to be wrong: it flies in the face of the best estimates of the evolution of radiative forcing. According to the IPCC 5th Assessment [Working Group I] Report (AR5) estimates, the change in total effective radiative forcing from preindustrial (which the IPCC takes as 1750) to 1840 was –0.01 W/m2, or +0.01 W/m2 if changes only in anthropogenic forcings, and not solar and volcanic forcings, are included. Although the increase in forcing from all greenhouse gases (including ozone) is estimated to be +0.20 W/m2 by 1840, that forcing is estimated to be almost entirely cancelled out by negative forcing, primarily from anthropogenic aerosols and partly from land use change increasing planetary albedo. Total anthropogenic forcing did not reach +0.20 W/m2 until 1890; in 1870 it was still under +0.10 W/m2. It is not credible that a negligible increase of 0.01 W/m2 would have had any measurable effect on ocean or land temperatures globally; it is doubtful that an increase of 0.1 W/m2 would do so. Even a change of 0.20 W/m2 would have affected global mean surface temperature (GMST) by less than 0.1°C.
Fairtrade Australia: Climate change to wipe out coffee
There is strong evidence that rising temperatures and altered rainfall patterns are already affecting coffee yields, quality, pests, and diseases—badly affecting economic security in some coffee regions. Without strong action to reduce emissions, climate change is projected to cut the global area suitable for coffee production by as much as 50 per cent by 2050. By 2080, wild coffee, an important genetic resource for farmers, could become extinct. Leading global coffee companies, such as Starbucks and Lavazza, publicly acknowledge the severe risks posed by climate change to the world's coffee supply. Consumers are likely to face supply shortages, impacts on flavour and aroma, and rising prices. In the next few decades, coffee production will undergo dramatic shifts—broadly, away from the equator and further up mountains. Production will probably come into conflict with other land uses, including forests. Rising CO2 levels may boost the growth and vigour of the coffee plant, but there is no guarantee this 'fertilisation effect' will offset the risks imposed by a more hostile climate.
Breitbart:  "Clexit"
First there was Brexit, now there's Clexit – or "Climate Exit". The Clexit Coalition represents a growing movement of individuals no longer buying that the "science" behind climate change is settled. They argue that all harmful, costly and unscientific climate treaties should be torn up and are on a mission to have their voices heard and their opinions represented fairly in the media. Viv Forbes, Founding Secretary of "Clexit" (Climate Exit), writes: "For at least a decade we have been told by the UN/IPCC, by most government media and officials, by many politicians, and by the Green "charities" and their media friends that "the science is settled". We are lectured by Hollywood stars, failed politicians and billionaire speculators that anyone who opposes the World War on Carbon Dioxide is ignorant, mischievous or supporting some hidden vested interest. We endure calls for an end to free speech for climate sceptics, smearing with derogatory terms like "denier", and even aggressive punishments like dismissal and legal action against sceptics for speaking out. The new low is the use of anti-racketeer legislation against sceptics. The tide is turning, and informed opposition is growing. It is time for the thinking media to give sceptical evidence and conclusions a fair go in the court of public opinion."