This week's Blowout features a blackout, specifically the long-anticipated outage that plunged South Australia into darkness last week. But it was caused by strong winds that took down transmission lines, not by too much wind power on the grid. Or was it?
Stuff:  Storm knocks out power to entire state of South Australia
Much of South Australia is still without power after the entire state was knocked off the grid by an extreme weather system that severed much of its power supply.
A mass blackout began on Wednesday afternoon, after a storm took down three transmission lines and nine towers in the Port Augusta region, forcing the electricity connection between South Australia and Victoria – known as an "interconnector" – to be shut down. Wind turbines, which make up an estimated 40 per cent of the state's power generation, were unable to operate as winds were too high, leaving much of the state in the dark. Crews worked overnight to try to get the state back on the grid, but three of the four transmission lines moving power between Adelaide and the state's north, and 23 towers across the network, were damaged, network operators ElectraNet said early on Thursday. By 12.10am local time transmission had been restored to the city's central business district and most of the Adelaide metropolitan area. Power transmission would be progressively restored throughout the rest of the state "as it is safe to do so", and SA Power Networks would gradually restore the power supply to homes and businesses. Work would begin on Thursday morning to assess the extent of the damage to the network. There was significant damage in the north and east of Port Pirie, north of Adelaide, and the Eyre Peninsula, in the state's west. However, more gale force winds were forecast for Thursday, and could delay restoration efforts or cause further damage, ElectraNet warned.
Associated Press: After storm causes power outage, Australia debates clean energy
A rush by Australia's state governments to switch to clean electricity sources could undermine the country's energy security, the federal government warned Thursday after all of South Australia state lost power. The state's power operator, however, said the outage was unavoidable regardless of electricity sources, and the opposition accused the ruling party of using the crisis to score political points. South Australia state lost power on Wednesday as it was lashed by two tornados, thunder storms and fierce winds that caused traffic chaos, stranded people in elevators and prompted police to warn residents to stay inside. Lightning struck a power plant and at least 22 transmission towers were toppled by high winds, officials said. The conservative federal government said the blackout was caused by extreme weather, but questioned whether South Australia's heavy reliance on solar and wind-generated power made its network less resilient. "There is no doubt that a heavy reliance on intermittent, renewables … does place very different strains and pressures on a grid than reliance on traditional baseload power," Prime Minister Malcolm Turnbull told reporters. (State Premier) Weatherill said power surges triggered by the weather caused the state's coal-fired generators and links to the national grid to shut down to protect themselves, resulting in the statewide blackout. "This was a weather event, this was not a renewable energy event," he told reporters.
Guardian:  South Australia's blackout explained (and no, renewables aren't to blame)
Just before the blackout occurred, windfarms were producing about half the state's electricity demand – they were not shut down as a result of the high winds. And ElectraNet, the owner of the downed high-voltage lines, made clear the blackout was caused by the storm damage to their network. If the recently closed Port Augusta coal power station was still operating, it would have been cut off by the downed distribution lines too. And that would have likely made the disruption worse, since it would have created an even bigger sudden change to the network. But that didn't stop politicians and most media outlets reporting the false information. The deputy prime minister, Barnaby Joyce, said on Sydney radio station 2GB this morning: "Obviously we know that South Australia has had a strong desire to become basically all renewable energy and the question has to be asked does this make them more vulnerable to an issue such as what happened last night." South Australian senator Nick Xenophon, who has often expressed anti-wind sentiments, also jumped on the bandwagon. "We have relied too much on wind rather than baseload renewables, rather than baseload power, including gas which is a fossil fuel but it is 50% cleaner than coal and a good transitional fuel," he said. The irony is that if anything, more wind energy might have actually made the system more robust against this sort of rare event. If there was more generation distributed around the state, it might have limited the impact of the loss of the transmission lines.
Economic Calendar:  EIA Is Still Calling for Massive Nuclear Power Growth
Uranium prices have languished with the commodity hovering around an 11-year low amid dull near-term demand for the commodity. However, over the longer-term things are still supposed to improve with the Energy Information Administration in its "Today in Energy" report on Wednesday issuing its bullish expectations for the uranium market. According to the EIA's International Energy Outlook 2016, the total global nuclear generation will increase by 73% through 2040, from 2.6 trillion kilowatt hours in 2015 to 4.5 trillion kilowatt hours. Countries that are not a part of the Organization for Economic Cooperation and Development will account for 86% of the increase, with China alone making up more than 54% of total growth. In 2015, China had 34 operating nuclear reactors, with a total capacity of 27 gigawatts (GW), and by 2040 the country is expected to produce 1.2 trillion kilowatt hours of electricity from nuclear power. This expansion is going to require a great deal of uranium. This planned expansion is not just a rumor; it is currently underway. China has a long-term strategy for nuclear power development. Right now, China is constructing 20 nuclear reactors, and is aiming to bring one reactor online about every five months. By 2032, China is expected to be the largest global user of nuclear power.
Dawn:  UN trims nuclear power growth forecasts
The UN atomic agency predicted Friday continued growth in nuclear power in the coming 15 years but trimmed its projections because of low fossil fuel prices and competition from renewables. "Nuclear energy, in the long run, will continue to play an important role in the world's energy mix," the International Atomic Energy Agency said in a new report. The low end of its forecast sees worldwide nuclear power generating capacity expanding 1.9 per cent by 2030 to 390.2 gigawatts (GW) – a gigawatt is one billion watts of electrical power – from 2015. The upper end foresees an expansion of 56 percent to 598.2 GW. Previously the IAEA's projections were higher, estimating growth of between 2.4pc and 68pc. The low case assumes a continuation of current market, technology and resource trends with few changes to policies affecting nuclear power, the IAEA said. The high case assumes current rates of economic and electricity demand growth, particularly in Asia, plus countries turning more to nuclear to meet their commitments under the 2015 Paris Agreement on climate change.
National Review:  Hillary Takes the Nuclear-Energy Option
In a candidate questionnaire published in the September 13 issue of Scientific American, she said that addressing climate change is "too important to limit the tools available in this fight. Nuclear power . . . is one of those tools." She went on, pledging to make sure that the "climate benefits" of existing plants are "appropriately valued," adding that she will "increase investment in the research, development and deployment of advanced nuclear power." When it comes to energy issues, the former secretary of state has been downright Clintonesque. As a U.S. senator, she was an ardent opponent of corn ethanol. But in 2007, during her first run for the presidency, she switched her position and began praising ethanol, particularly during campaign stops in Iowa. She has also straddled the fence on nuclear. In 2007, she said nuclear "has to be part of our energy solution." A few months later, she said she was "agnostic" about nuclear energy. Then, in early 2008, during a Democratic primary debate in Las Vegas, she touted her "energy plan that does not rely on nuclear power." Nevertheless, Clinton has now come out in favor of nuclear. By doing so, she has broken with the orthodoxy of the anti-nuclear Left, a group that includes the New York Times editorial board, as well as the Sierra Club, the Natural Resources Defense Council, 350.org, the Union of Concerned Scientists, and many others. Furthermore, Clinton is contradicting her own party. For four decades, the Democratic party has either ignored nuclear energy or stated outright opposition to it.
Globe and Mail:  OPEC proved it still matters by ending the market-share battle
Proving pundits wrong and overcoming skepticism, two days of round-the-clock deliberations in Algiers brought about a landmark agreement in which the Organization of Petroleum Exporting Countries agreed to slash output. The decision marks the end of the battle for market share. "This is the end of the 'production war' – OPEC claims victory," Phil Flynn, analyst at Chicago-based brokerage Price Futures Group, told Reuters. "The cartel proved that it still matters, even in the age of shale." Output will be slashed to 32.5 million barrels a day. In August, OPEC averaged 33.24 million barrels a day. "We have decided to decrease the production around 700,000 [barrels a day]," Iranian Oil Minister Bijan Zanganeh told reporters after the meeting. "OPEC made an exceptional decision today. … After 2 1/2 years, OPEC reached consensus to manage the market," he emphasized. Apparently a sense of urgency had crept into OPEC ranks as officials sat down in Algiers for the marathon talks. "Our expectations about the rebalancing process have shifted," OPEC president Mohammed Bin Saleh al-Sada said in his inaugural address, before the closed-door session."It is evident that there is now a greater degree of urgency to ensure the market returns to balance as quickly as possible," he said. With many predicting the cartel's end, OPEC needed to act – a fact both realized and conceded.
Wall Street Journal:   Oil Wavers as Doubts Grow Over OPEC Deal
Crude oil futures flipped between gains and losses Friday as market participants continued to weigh a tentative agreement to cut production among members of the Organization of the Petroleum Exporting Countries and as investors cashed in recent gains. West Texas Intermediate crude for November delivery rose seven cents, or 0.15%, to $47.90 a barrel on the New York Mercantile Exchange. Brent, the international benchmark, fell one cent, or 0.02%, to $49.80 a barrel on London's ICE Futures Exchange. Crude has surged this week since OPEC members caught the market off-guard by reaching a preliminary agreement to slash the group's output to between 32.5 million and 33 million barrels a day, from 33.2 million barrels a day in August. A more definitive policy, including production caps for individual members, will be discussed and possibly ratified at OPEC's next meeting on Nov. 30 in Vienna. "By and large, I view the OPEC deal as short-term bullish and capable of lifting WTI to about the $50 mark," said Jim Ritterbusch, president of Ritterbusch & Associates. "It gives OPEC a chance to buy some more time for a couple of months and hopefully boost sentiment." But pushing past the $50 threshold could prove difficult, Mr. Ritterbusch and other analysts have said, because of pervasive doubts about whether the deal between members that have often been at odds in recent years will come together. Iraq has already said that it doesn't trust the production numbers OPEC typically relies on.
Reuters:  Iraq's OPEC revolt shows Saudi-Iran oil deal fragility
For years, debates in the OPEC conference room were dominated by clashes between top producer Saudi Arabia and arch-rival Iran. But as the two managed to find a rare compromise on Wednesday – with Riyadh softening its stance towards Tehran – a third OPEC superpower emerged. Iraq overtook Iran as the group's second-largest producer several years ago but kept its OPEC agenda fairly low-profile. On Wednesday, Baghdad finally made its presence felt. Iraq's new oil minister Jabar Ali al-Luaibi …. told the meeting the new ceiling was no good for Baghdad as OPEC had underestimated Iraq's production, which has soared in recent years. "These figures do not represent our actual production," he told reporters. If by November estimates do not change, "then we say we cannot accept this, and we will ask for alternatives". Luaibi went even further and asked a reporter from Argus Media – whose data OPEC uses among other sources to compile estimates of countries' production – to disclose from where Argus' estimates were coming. Iraq has seen spectacular gains in output in recent years and is asking oil majors to expand production further to above 5 million bpd from the current 4.7 million. "The deal is a bit of a farce," one OPEC source said.
Oil Price: More Oil And Gas Bankruptcies Yet To Come
The more than two-year oil bust has led to a shakeout in the oil industry, with high-cost and inefficient drillers forced out of the market. About 100 bankruptcies have been recorded in the North American energy industry, and stronger companies are damaged but leaner than they were before the collapse started in 2014. Nevertheless, the market may only be half way there – the industry could see another 100 bankruptcies before all is said and done, according to debt restructuring specialists. "I think we've got easily another 12 to 18 months, and we could see as many filed bankruptcies from here on out as have (already) filed in the upstream sector," Bill Rhea, a consultant with J.W. Rhea & Associates, told CNBC. In 2015, a lot of companies survived because they had hedged their output at much higher oil prices from the year before. But now, with fewer and fewer companies protected from lucrative hedging, the entire industry is more or less exposed to $50 oil and below. Moreover, a large number of indebted oil companies have been limping along, kept alive by creditors eager to avoid getting burned by a default. Creditors piled on more debt to keep drillers operating, hoping for a rebound in oil prices. But that cannot continue forever, and at some point lenders and investors may decide to pull the plug. "If there's not a complete 100 percent agreement, the only way you can solve those problems is through the bankruptcy process," Patrick Hughes, a partner at Haynes and Boone, told CNBC. "There's going to have to be more filings just because there's no price out there that's foreseeable that's going to bail these companies out," he added.
Climate Change News:  China cuts pollution at home, builds coal plants abroad
Chinese companies and banks are continuing to drive global coal expansion, as state owned companies, backed by state loans, build coal-fired power plants across the world. This is despite commitments from China's top leaders to deliver clean energy and low carbon infrastructure for developing countries. The world's largest carbon emitter aims to reposition itself as a global green power. In a joint US-China statement at the White House in September 2015, President Xi Jinping agreed to strictly control public investment for overseas projects with high pollution and carbon emissions. However, these efforts are being undercut by Chinese backed coal power plants planned and under construction from Indonesia to Pakistan, Turkey to the Balkans –as well as in Africa and Latin America. These could boost global emissions and lock developing countries into fossil fuel intensive energy systems for decades. New data collected by chinadialogue and the CEE Bankwatch Network shows that since 2015 many new Chinese coal plant project deals have been announced and are under development. "The majority of these projects are under loan consideration by China's policy-driven financing, and supplied by equipment from the country's largest power generation manufacturers," said Wawa Wang, public finance policy officer at CEE Bankwatch Network. Chinese banks and companies are currently involved in at least 79 coal fired generation projects, with a total capacity of over 52 GW, more than the 46 GW of planned coal closures in the US by 2020.
Star:  Ontario government scraps plan for $3.8 billion in renewable energy projects
Ontario is blowing off plans for more wind and solar power as it feels the heat over high electricity bills less than two years before a provincial election. In its latest effort to curb prices, Premier Kathleen Wynne's government is axing plans to sign another $3.8 billion in renewable energy contracts, Energy Minister Glenn Thibeault said Tuesday. The move — which the Progressive Conservatives have demanded for years — will prevent $2.45 from being added to the average homeowner's monthly hydro bill in the coming years. Thibeault called it a "common sense" decision after the province's electricity planning agency recently advised there is no "urgent need" for additional supply given Ontario's surplus of generating capacity. "I've been tasked to find ways to bring bills down," said Thibeault, who was appointed minister last June. "When our experts said we didn't need it, that's when I acted." There may be more measures to come, Thibeault hinted in a speech prepared for the Ontario Energy Association on Tuesday night. He pledged to "take a prudent look at every policy decision that has been made and determine if there is work we can do to reduce costs to Ontarians."
Cleantechnica:  Lowest-Ever Solar Price Bid (2.42¢/kWh) In Abu Dhabi
Abu Dhabi Electricity and Water Authority received a total of 6 bids for the proposed 350 MW solar PV project planned to be built in the town of Swaihan, Abu Dhabi. Out of 6 bids, the lowest ever bid of 2.42¢/kWh has been submitted by the JinkoSolar–Marubeni consortium. The results of the tender are not out yet, as authorities will now evaluate the proposals for technical and economic viability. The current bid of 2.42¢/kWh is the lowest so far globally, and by quite a bit — it is shockingly low. This bid is 20% lower than the previous record bid of 2.91¢/kWh submitted at an auction in Chile last month. The second-lowest bid in the Abu Dhabi tender was reportedly not much higher, at 2.53¢/kWh, and was submitted by a local firm. These bids also beat the 2.99¢/kWh bid) submitted by a Masdar-led consortium for an 800 MW solar PV project in Dubai. The Abu Dhabi solar park was initially planned for 350 MW. However, media reports state a possible increase in project size, as bidders were allowed to bid for larger capacities. The final capacity of the solar power park may well increase to 1 GW. In recent months, large solar power parks around the globe have received bids less than 4.00¢/kWh — in India, Chile, the UAE, and elsewhere. Many large developers — including Italy's Enel, TSK, ACWA, Abdul Latif Jameel, and Engie reportedly pulled out of the Abu Dhabi tender due to expected high competition and concern over a drastic drop in prices.
Science Alert:   Typhoon-powered wind turbines could power Japan for 50 years straight
Engineer Atsushi Shimizu says an array of his generators could power Japan for up to 50 years from a single typhoon – and considering six such storms have hit the country this year, we're talking about a lot of potential energy. "Japan actually has a lot more wind power than it does solar power – it's just not utilised," Shimizu told Junko Ogura and Jenni Marsh at CNN. "Japan has the potential to be a superpower of wind." While the technology has yet to face an actual typhoon, it's designed to cope with unpredictable and violent wind patterns, thanks to its omnidirectional axis, and its adjustable blade speeds ensure that it don't spin out of control. Key to the invention is the principle of the Magnus effect – the way air curves around anything that rotates (like a basketball), and applies pressure on it at the same time. In the company's simulated tests, the turbine achieved a 30 percent efficiency level. That's lower than the normal 40 percent, but then again, normal turbines can't operate in typhoons. And the reduced power efficiency might not be such a big deal, anyway, given the massive amount of energy we're talking about here. In one go, typhoons can produce a level of kinetic energy that's half the entire electrical generating capacity of our planet. The only issue is being able to physically trap it. But there are certainly challenges ahead. Even if Shimizu and his team figure out how to catch all the energy from a typhoon, current battery technology might not even be capable of storing it.
The typhoon turbine
Bloomberg:  EU Reaches Deal for Fast-Track Approval of Paris Climate Accord
European Union nations agreed to a fast-track ratification by the 28-member bloc of the Paris climate agreement, a step that could enable the most sweeping accord to combat global warming to come into force next month. The European Parliament, whose consent is needed to finalize the fast approval procedure, is scheduled to hold a plenary vote on Oct. 4 in Strasbourg, France. Slovakia, the holder of the rotating presidency of the EU in the second half of this year, aims for the bloc to finalize the union-level approval by Oct. 7, a date that matters because the climate deal will be enacted 30 days after its ratification requirements have been met. If the approval criteria — ratification by at least 55 parties accounting for 55 percent of global emissions — are reached at the beginning of next month, the first meeting of the parties to the agreement could take place during the next annual United Nations climate conference, scheduled to start on Nov. 7. So far 61 parties responsible for almost 48 percent of pollution have approved the accord. EU members account for 12 percent of pollution. The EU, which wants to lead the global fight against climate change, has come under increasing pressure to formally join the deal after U.S. President Barack Obama and Chinese President Xi Jinping ratified it on Sept. 3. India plans to approve the agreement on Oct. 2.
Wind Power Monthly:  Energy transition is "no walk in the park"
Europe is no longer the number one in renewable energies said WindEurope CEO Giles Dickson in Hamburg, reflecting a soberly thoughtful atmosphere that pervaded the exhibition and conference. German delegates certainly had plenty to be thoughtful about. The Energiewende — the transition from fossil fuels and nuclear to renewables — has so far involved picking the low-hanging fruit, but it is now causing disruptions, said Andre Poschmann, Germany's economy ministry expert on EU electricity issues and market integration. At the root of this is a grid crisis. German transmission system operator Tennet has heralded an 80% increase in grid charges for 2017 entirely due to higher costs for network stabilisation. And roughly half the costs are committed to compensation for wind curtailment due to transmission bottlenecks, mainly in northern Germany. In 2015, wind curtailment by Tennet cost €350 million, conventional power station redispatch measures amounted to €200 million and the network reserve, kicking in after redispatch measures, a further €150 million. Two important transmission projects from north to south Germany are about three years behind schedule, according to Tennet. The 80% increase on expected higher, but not yet specified, network stabilisation costs in 2016, "has triggered a huge discussion", said Hans-Dieter Kettwig, managing director of German turbine maker Enercon.
PV Magazine:  EVs to require 150GW of new capacity in Europe by 2050
For electric vehicles to account for 10% of all traffic on Europe's roads by 2050, the continent needs to allocate approximately 25 GW of solar PV capacity to support this transition, according to a new study commissioned on behalf of the European Environment Agency (EEA). Conducted by Germany's Öko-Institut and Transport & Mobility Leuven, the study finds that for electric vehicles in Europe to reach a tipping point, their share in passenger road transport needs to increase 80% by 2050. To achieve this, the sector would require an additional 150 GW of new energy generation capacity. However, if the positive emission reduction effects of these extra cars on the road are to be felt, half of that 150 GW generation capacity needs to be sourced from renewables, with wind accounting for 47 GW and solar 25 GW. If Europe can increase the share of electric vehicles on its roads to 10% by that date, and with renewables supporting half of that growth, the continent could see its Co2 emissions reduced by 84% against 2010 levels. An alternative, non-renewables scenario was posited in the study and found that CO2 emissions would increase by 18 million tons in 2030 and 30 million tons in 2050 if conventional fossil fuels were employed to generate the extra terawatt hours of electricity required.
Yahoo:  More German Coal Plants Face Early Retirement as Profit Dwindles
A quarter of hard coal-fired generation capacity in Europe's largest economy may shut ahead of schedule if plant operators forgo spending on upgrades to keep aging stations open, according to Nena AS, an Oslo-based energy consulting firm. Steag GmbH, the nation's fifth-biggest power producer, is considering shuttering at least five of its 13 German coal stations before plan, Juergen Froehlich, a spokesman for the utility, said by e-mail. As German coal plant profitability lingers near its lowest levels in at least five years, other utilities may follow Steag, helping ease a surplus of generating capacity exacerbated by the rise of renewable energy, according to Goldman Sachs Group Inc. While utilities have shut about 18 percent of Germany's current hard coal-fired capacity since 2011, only 9 percent more is slated to close through 2019, according to consultants Pira Energy. "You have a lot of old hard-coal plants in Germany and you need to take investment decisions now if you want to continue operating them," Bengt Longva, a senior analyst at Nena, said by phone.
Guardian:  Hinkley Point gets go-ahead
The UK has signed its £18bn contract with France and China to build the Hinkley Point C nuclear power station, giving the final go-ahead for construction at the site in Somerset. The deal was finalised at a low-key ceremony in London, just two months after Theresa May alarmed her French and Chinese counterparts by putting the entire project under review. EDF, the French nuclear contractor, and its Chinese partners had to cancel their previous plans for a signing ceremony at the last minute when the review was announced in July. The project finally got approval this month, after Greg Clark, the business secretary, announced there would be some new restrictions on future investments in critical infrastructure if there were national security concerns. Clark attended the signing ceremony on behalf of the UK, alongside Jean-Bernard Lévy, the chairman of EDF, and He Yu, chair of China General Nuclear. The event was also attended by Jean-Marc Ayrault, the French foreign minister, and Nur Bekri, a senior official at the National Energy Administration of China.
Bloomberg:  China to Submit Homegrown Nuclear Reactor Design for U.K. Review
China will submit its homegrown Hualong One nuclear reactor design for U.K. review as it moves toward building a pair of reactors in southern England and seeks to expand exports to other nations. State-owned China General Nuclear Power Corp. will send the design of the reactor to U.K. regulators for approval, which the company aims to complete in five years, it said in a statement Thursday after signing an atomic energy accord in London. The regulator must clear the reactor design before construction can begin. CGN plans to build two Hualong One reactors, each with output capacity of 1.15 gigawatts, at the proposed Bradwell B project in southern England, where CGN will hold a 66.5 percent interest. The reactors are part of a broader nuclear development deal first announced in October between CGN, France's Electricite de France SA and the U.K. government, which also includes two other atomic projects known as Hinkley Point C and Sizewell C. CGN has a 33.5 percent stake in the Hinkley venture. "It's a landmark event for CGN and for China's homemade Hualong One technology," Yan Shi, a Shanghai-based analyst at UOB-Kay Hian Holdings Ltd., said by phone. "The U.K. has one of the most rigid, if not the most rigid, nuclear power technology review regimes in the world, and passing that could pave the way for CGN to export Hualong One to almost any market."
Telegraph:  UK coal power falls to record low
Coal accounted for just under 6pc of electricity generation in the three months to June, down from more than 20pc in the same period of 2015, the latest Government figures show. Gas increased from just under 30pc to more than 45pc in the same period, representing "a large switch in generation from coal to gas, which will have reduced carbon dioxide emissions", according to the latest statistical bulletin. The figures highlight the dramatic decline of the fuel that was the dominant source of electricity in the UK as recently as 2013. The combination of European environmental rules, the UK carbon tax and the fall in gas prices have together seen coal rapidly fall from the generation mix as some plants close and others are not profitable to run for large parts of the year. "Coal fired generation fell by 71pc from 15.9 terawatt-hours (TWh) in 2015 Q2 to 4.6 TWh in 2016 Q2, due to reduced capacity caused by the closure of Ferrybridge C and Longannet and the conversion of a unit at Drax from coal to biomass during the previous year," the Government said. The share of coal generation seen in the second quarter was by far the lowest since the records began in 1998, and likely for far longer. In May, Britain experienced its first periods of zero coal generation since the era of centralised electricity generation began in the 19th century.
BBC:   North Sea oil: Falling off the cycle?
The global oil and gas industry will recover. That's for sure. The speed at which it does so partly depends on the informal meeting of the OPEC cartel in Algeria this week. What is less clear is whether the UK's offshore oil industry will recover to anything like its previous position. The latest assessment from the industry makes for some good news. Production is up for a second year. It has adapted to the downturn by slashing the unit cost of producing the average barrel of oil from British waters, down from $29 to $16. That's expected to level out at $14 or $15. That decline has come at a high price in terms of jobs, and the pay and conditions of those still in work. But in the boom and bust cycle of this industry, cost-cutting was essential if capital funds were to continue to flow. However, they aren't flowing fast enough to maintain the momentum the industry needs. Among many startling figures in the Oil and Gas UK economic report, one stand-out is the decline in committed investment from £4.3 billion last year to £100m this year. Companies have been re-classifying their reserves, removing billions of barrels from recoverable status. So, remember the Scottish independence referendum campaign claim of 24 billion barrels of oil? That was the oft-cited figure for what remained to be extracted from the waters around an independent Scotland. Well, where does that stand now?
Herald Scotland:  Ineos chief reacts after SNP ministers snub landmark shale gas arrival
Billionaire Ineos chief Jim Ratcliffe has challenged Nicola Sturgeon to cross the Atlantic to witness the benefits of fracking as the first ever shipment of US shale gas arrived in Scotland. The chairman and founder of the chemicals giant, which owns the Grangemouth industrial complex, also suggested the SNP is pandering to a "vocal minority" by refusing to back his plans to begin fracking in the central belt and expressed "disappointment" at SNP ministers for snubbing his celebration of a project he said would secure 10,000 jobs. The first of what will become weekly shipments of shale gas, extracted in Pennsylvania, arrived in the Firth of Forth yesterday and the industrialist insisted fracking had prevented Grangemouth, which is vital to the Scottish economy and infrastructure, from closing down. The Scottish Government faced criticism refusing to send a minister to represent it at the event to mark the new shale gas supply line, despite its agency Scottish Enterprise handing Ineos £9 million to help it with its plans. The Government has blamed "previous diary commitments" but it is understood several SNP ministers were invited around three weeks ago. The Scottish Tories said the failure of ministers to turn up following Ineos's £1.5 billion investment was "infantile" and "insulting". Asked why his message about the economic benefits of fracking weren't getting through to the Government, Mr Ratcliffe said "I don't know". He then added: "I think it's all about the vocal minority, and there's no science behind the arguments the vocal minority are making."
Guardian:  Brexit could trigger UK departure from Euratom
The UK's withdrawal from the EU could also force it to exit the Euratom Treaty on nuclear energy, ENDS has learned. The Euratom Treaty, which applies to all EU member states, seeks to promote nuclear safety standards, investment and research within the bloc. Although it is governed by EU institutions, it has retained a separate legal identity since its adoption in 1957. Brian Curtis, a member of the European Economic and Social Committee (EESC), told ENDS that his Committee had recently consulted the European Commission on whether Brexit would automatically lead to a UK exit of Euratom. Curtis said the Commission had responded affirmatively, arguing that the Treaty of the European Union (TEU) applies to the Euratom Treaty under article 106 of the latter agreement. This would mean, it said, that the reference to 'Union' in TEU's article 50 – which needs to be invoked by member states wishing to quit the bloc – would apply not only to the EU itself but to Euratom membership as well. According to EESC, a Euratom withdrawal by the UK – which recently approved the controversial £18bn Hinkley C project – could have major strategic implications for the EU nuclear sector. "But anticipating specific outcomes at this stage is problematic," the Committee added.
Mashable:  Exxon's climate change-related legal woes are mounting by the day
In addition to investigations by several state attorneys general and a separate inquiry on the part of the Securities and Exchange Commission, a new lawsuit filed in federal court on Thursday by a Massachusetts-based environmental group alleges the oil and gas giant has failed to take climate science research (including its own data) into account in operating an oil facility in the Boston area. The suit, filed by the Conservation Law Foundation (CLF), is significant because it is the first to allege that a private company is violating the Clean Water Act and hazardous waste laws by failing to adequately prepare for climate change impacts such as sea level rise and stormwater runoff from increased instances of heavy rainfall events. This case could also open the floodgates for more litigation against Exxon and the many other oil and gas companies that operate low-lying coastal facilities. According to the suit — filed with the U.S. District Court for the District of Massachusetts — the Exxon facility in Everett, Massachusetts, just to the northwest of Boston, has a stormwater drainage system that is easily overrun during extreme precipitation events, which are becoming more frequent due to climate change. The suit contends that climate change-fed heavy rainfall is flooding the facility, which emits harmful contaminants into a tributary of the Mystic River in violation of the facility's permit.
New York Times:  Pricing the Risks of Climate Change
Some companies, including Exxon Mobil, say the economics of climate change are too hard to predict for them to give investors hard numbers about the business impact of global warming. Federal regulators may disagree and are considering requiring Exxon to do just that for the value of its oil reserves. Now a long-shot legislative effort by a Florida congressman to prevent such a move by the federal government has become an unexpected flash point in the battle over disclosing climate-related risks — with potentially hundreds of billions of dollars in the balance. The congressional measure, an amendment to an appropriations bill, originally introduced in July by Representative Bill Posey, a Florida Republican, has been picked up in the Senate version of the legislation. Because the bill is tied up in a partisan debate over spending, there is no certainty the amendment will pass. But at a time when many Republicans dispute the very notion of climate change, the Posey measure has focused the debate over whether it is reasonable — or even possible — to expect companies to put a price tag on the environmental impact of climate change. The issue is not limited to Exxon and oil companies. The Posey amendment would allow real estate companies to stay mum on the risks posed to waterfront properties by rising seas, for example, and let food companies leave the impact of future water shortages unaddressed.
Power Magazine:  Magical Thinking about Energy Storage
Topping the list for the renewables enthusiasts is the hype over electricity storage. Without economical storage, wind and solar can't carry the load. Today, only two realistic ways to store electricity exist outside of large coal piles, oil farms, and natural gas caverns: pumped storage and batteries. Neither are low-cost; batteries today are prohibitively expensive. Pumped storage can work in limited circumstances. But the renewables community focuses mostly on batteries, as anything associated with hydro is tref. Their love of yet-unknown battery technology rests on predictions technology breakthroughs and the role of government. The current leader of the pack is lithium-ion batteries, which first showed up about 1991 to power laptop computers and cell phones. Lithium ion technology isn't sufficient to transform the electric sector, as Tesla has acknowledged, addressing the idea among some advocates that used Li-ion car batteries could be used to support the grid. Among the troubles facing Li-ion technology is that they degrade, even when not used; deep discharge can kill the battery; and they can generate enough heat to catch fire or explode. Lots of effort is aimed at finding a successor to the Li-ion battery, including a decades' old Department of Energy spawned program called the U.S. Advanced Battery Consortium, dating back to the Bill Clinton administration. Industry and government have been looking for an acceptable battery for a hundred years. So far, not much progress toward a commercial product. The U.K.'s Daily Reckoning web magazine recently reported, "Researchers have been trying to come up with better batteries for decades. Every May for the last nine years, the US Department of Energy hosts a symposium on the topic called "Beyond Lithium-Ion". It's telling that the name hasn't changed."
Phys.Org:  Reservoirs play substantial role in global warming
Washington State University researchers say the world's reservoirs are an underappreciated source of greenhouse gases, producing the equivalent of roughly 1 gigaton of carbon dioxide a year, or 1.3 percent of all greenhouse gases produced by humans. That's more greenhouse gas production than all of Canada. Writing in next week's journal BioScience, the WSU researchers say reservoirs are a particularly important source of methane, a greenhouse gas that is 34 times more potent than carbon dioxide over the course of a century. Reservoir methane production is comparable to rice paddies or biomass burning, both of which are included in emission estimates of the Intergovernmental Panel on Climate Change. The researchers acknowledge that reservoirs provide important services like electrical power, flood control, navigation and water. But reservoirs have also altered the dynamics of river ecosystems, impacting fish and other life forms. Only lately have researchers started to look at reservoirs' impact on greenhouse gases. "While reservoirs are often thought of as 'green' or carbon neutral sources of energy, a growing body of work has documented their role as greenhouse gas sources," Deemer, Harrison and their colleagues write. Unlike natural water bodies, reservoirs tend to have flooded large amounts of organic matter that produce carbon dioxide, methane and nitrous oxide as they decompose. Reservoirs also receive a lot of organic matter and "nutrients" like nitrogen and phosphorous from upstream rivers, which can further stimulate greenhouse gas production.
National Geographic:  Global Warming Is Real—But 13 Degrees? Not So Fast
New research suggesting that the planet might already be committed to vastly greater warming than previously thought is being dismissed as deeply flawed by prominent climate scientists. A study published today in one of the world's top science journals, Nature, offers the most complete reconstruction to date of global sea-surface temperatures for the past two million years—a valuable addition to the climate record, scientists say. But the conclusions the study's author drew from that research—that even preventing any further increase of greenhouse gases in the atmosphere could still leave the Earth doomed to a catastrophic temperature rise of up to 7 degrees Celsius (about 13 degrees Fahrenheit)—isn't supported by the data, several top scientists said. "This is simply wrong," said Gavin Schmidt, chief of NASA's Goddard Institute for Space Studies. The study's author, a former postdoctoral researcher at Stanford University, said she wasn't attempting to offer a detailed climate forecast. But she examined the past's tight link between sea-surface temperature changes and natural releases of carbon dioxide and tried to show what that might imply for the future. Her result: an alarming 3 to 7 degree Celsius temperature rise by several thousand years from now, even if fossil fuel emissions were capped today. "We do find this close relationship between temperature and greenhouse gases that is remarkably stable, and what the study is developing is the coupling factor between the two," said Carolyn Snyder, who now works on climate issues for the Environmental Protection Agency.
American Meteorological Society:  Atmosfear: Communicating the Effects of Climate Change on Extreme Weather
The potential and serious effects of anthropogenic climate change are often communicated through the soundbite that anthropogenic climate change will produce more extreme weather. This soundbite has become popular with scientists and the media to get the public and governments to act against further increases in global temperature and their associated effects through the communication of scary scenarios, what we term "atmosfear." Underlying atmosfear's appeal, however, are four premises. First, atmosfear reduces the complexity of climate change to an identifiable target in the form of anthropogenically forced weather extremes. Second, anthropogenically driven weather extremes mandate a responsibility to act to protect the planet and society from harmful and increased risk. Third, achieving these ethical goals is predicated on emissions policies. Fourth, the end-result of these policies—a non-anthropogenic climate—is assumed to be more benign than an anthropogenically influenced one. Atmosfear oversimplifies and misstates the true state of the science and policy concerns in three ways. First, weather extremes are only one of the predicted effects of climate change and are best addressed by measures other than emission policies. Second, a pre-industrial climate may remain a policy goal, but is unachievable in reality. Third, the damages caused by any anthropogenically driven extremes may be overshadowed by the damages caused by increased exposure and vulnerability to the future risk. In reality, recent increases in damages and losses due to extreme weather events are due to societal factors. Thus, invoking atmosfear through such approaches as attribution science is not an effective means of either stimulating or legitimizing climate policies.
Breitbart:  The Polar Ocean Challenge expedition escapes from the Arctic by the skin of its teeth
(The expedition) was supposed to show how amazingly navigable the Arctic Circle has become now that climate change is supposedly melting the polar ice caps at a dangerous and unprecedented rate. But according to one observer who has followed their progress closely (see comments at Paul Homewood's place), the intrepid explorers – including a 14-year-old boy – came within just two days of calamity, after being hampered by unexpectedly large quantities of a mysterious substance apparently made of frozen water. You'd never have guessed this listening to the expedition leader David Hempleman-Adams on the BBC yesterday. Though he admitted the journey had been a close-run thing, he maintained heroically that all that extra ice he had encountered was not a sign that the climate alarmists had got their predictions wrong. "We're not scientists. We weren't collecting data. It's wrong to suggest that this adventure will show that there's less ice," he explained – or rather tried to explain. "All we're trying to do is to make people more aware of the hundreds of scientists doing good work who actually do show that."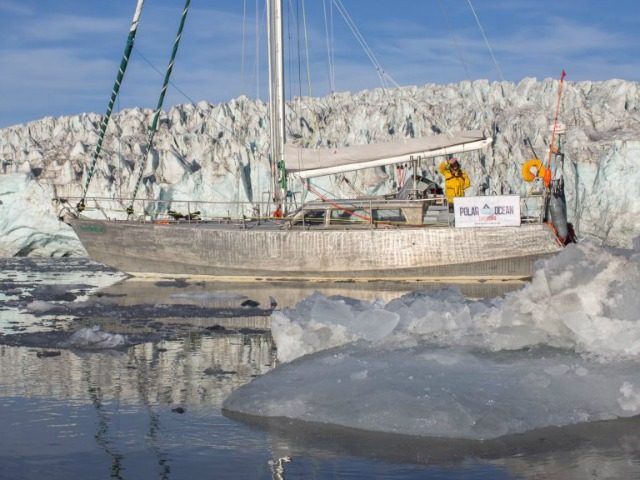 The good ship "Polar Ocean" meets the ice