This week's Blowout returns to the convoluted machinations of OPEC, whose recent decision to think about cutting production by up to 700,000 barrels/day has breathed new life into the US shale industry. The law of unintended consequences in action:
Oil Price:  OPEC Deal Triggers Hedging Race In U.S. Shale
Shale oil drillers in the U.S. are hedging their portfolio at breakneck speeds, using the rise in prices to actively hedge their production for 2017, according to banks and consultants, reports Bloomberg. Unfortunately, this may not augur well for OPEC.
After a gap of eight years, and after much haggling, OPEC recently managed to hammer out a deal-to-make-a-deal in Algiers to freeze production. But it looks like instead of creating a balance in the oil markets, OPEC has ended up with the opposite. The sharp rally in crude from the low $40s a barrel to close to $50 a barrel has in fact, invigorated the shale oil industry. "We are seeing significant producer flows which early estimates suggest could be the highest we have seen all year," Adam Longson, commodity strategist at Morgan Stanley in New York said in a note to clients, reports Bloomberg. This hedging not only ensures that the shale oil will continue to flow, it is likely to give the industry a boost, to increase their production levels for the next year. Goldman Sachs believes that U.S. oil production will rise by 600,000 to 700,000 barrels a day in 2017, effectively neutralizing the proposed 700,000 barrels a day cut by OPEC.
In this weeks bumper blowout: OPEC deal and oil prices; major oil find in Alaska; North Sea drilling plunges; floating nuclear in Russia; Russia suspends plutonium agreement; coal mining in India, China, USA and Poland; too much renewables; the Australian outblack; global super grid; Gibraltar rules the waves; megadrought in America; fracking in the UK; coal gasification in Scotland; kite power in Scotland; Canada's carbon tax and UAH global warming at +0.44˚C.
Financial Post:  OPEC's 700,000-barrel question: Who will sacrifice output to balance markets?
Market speculation has been rampant ever since OPEC members agreed to a tentative oil production freeze at its meeting in Algeria last week. OPEC agreed, tentatively, to cut its collective production to between 32.5 and 33 million barrels per day (bpd). Based on today's levels, that would amount to as much as a 700,000 bpd cut at a time OPEC production is still inching upward. Determining specifically where those cuts will come from is impossible. Data for OPEC production varies wildly, and the numbers provided by OPEC representatives are often bigger or smaller than reality. Omar Al-Ubaydli, a economics researcher based in Bahrain, says OPEC exceeds its production quotas 96 per cent of the time. Data compiled by Ned Davis Research, a Florida-based firm specializing in commodity and economic research, suggests that the last time monthly OPEC production aligned with its stated production targets was in 1995. OPEC nonetheless maintains an ability to influence day-to-day movements in oil markets. Following the agreement in Algeria, which is essentially an agreement to talk about a future agreement, prices for crude benchmark West Texas Intermediate rose six per cent. Prices slumped again slightly in the following days. Moreover, any production curbs on the part of OPEC — if they manage to curb production at all — would likely come from movements that are already underway rather than active cuts on the part of member states, one analyst says. "You're getting things that would've happened anyway being repackaged in a nice, bullish 'OPEC is back' wrapper," said Seth Kleinman, the head of European energy research at Citigroup.
Wall Street Journal:  Oil Explorer Claims Major Alaskan Find
A little-known energy exploration company said on Tuesday that it has made a world-class oil discovery in remote Alaska, potentially breathing new life into the state's declining North Slope. Caelus Energy LLC, a closely-held firm backed by private-equity fund Apollo Global Management LLC, said it made the oil find in the shallow waters of Smith Bay, about 300 miles north of the Arctic Circle. The company says it expects to be able to extract between 1.8 billion and 2.4 billion barrels from the discovery, probably using barges built along the Gulf Coast, then towed to Alaska and permanently sunk in the bay to create man-made drilling islands. If those initial estimates prove to be correct, the discovery would be substantial—larger than Exxon Mobil Corp. 's 2015 discovery off the coast of Guyana in South America. Caelus said it planned to build an $800 million, 125-mile pipeline that will carry the oil underneath state-owned waters to connect with existing pipelines.That idea likely will generate strong support from a state grappling with plummeting oil revenue. If Alaska can't find a way to reverse steep declines in its oil production, which are putting the Trans Alaska Pipeline in jeopardy of freezing up, it could face a near-total collapse of the oil industry and its entire economy. Adding new barrels from Smith Bay could extend the pipeline's life. Alaska Gov. Bill Walker said on Tuesday that the find underscores why it is important that Arctic land remains open to further exploration. "In this day and age of technology and regulatory requirements, I am sure it will be done safely," he said. "We look forward to the discovery being turned into oil in the pipeline."
Mining:  World's No. 1 miner BHP Billiton puts its money on oil and gas
Speaking to investors Wednesday, BHP's petroleum president Steve Pastor said a crude shortage is likely to emerge next year, adding that company's substantial oil business, which includes shale deposits in the US, was well placed to supply the world's ongoing demand for related products. "While currently well supplied, underlying fundamentals suggest both oil and gas markets are improving more quickly than our minerals commodities," Pastor said. BHP, which in January this year took a massive $7.2 billion write-down on its US shale unit, said the market has changed substantially since then and that its board is mulling the future of the BP-operated Mad Dog 2 oil and gas project in the Gulf of Mexico. A decision on this, the miner said, will be taken within six months and such operation could enter production by 2022. BHP is also considering additional investments of as much as $2.5 billion in existing project options. The reason behind these moves, Pastor noted, is that population growth and rising incomes are expected to boost oil demand to more than 100,000 barrels of liquids per day by 2025. And a third of that, he said, will need to come from new sources, which means there's a significant opportunity to make investments in growth. The company said unit cash costs in its conventional petroleum business are expected to be around $10 per barrel of oil equivalent over the next two years, giving it some of the best returns in the industry. It also said its shale assets are generating cash at current prices.
Bloomberg:  North Sea Oil and Gas Drilling Activity Plunges to All-Time Low
The number of rigs drilling for oil and gas in the North Sea, home of the Brent crude benchmark, plunged in September to the lowest in nearly 35 years as companies cut spending to weather low prices. Baker Hughes Inc., the services company that tracks drilling activity worldwide, said just 27 rigs operated last month in the North Sea, the lowest number since records started in January 1982. The previous low was set in October 1999, when oil prices plunged to $10 a barrel.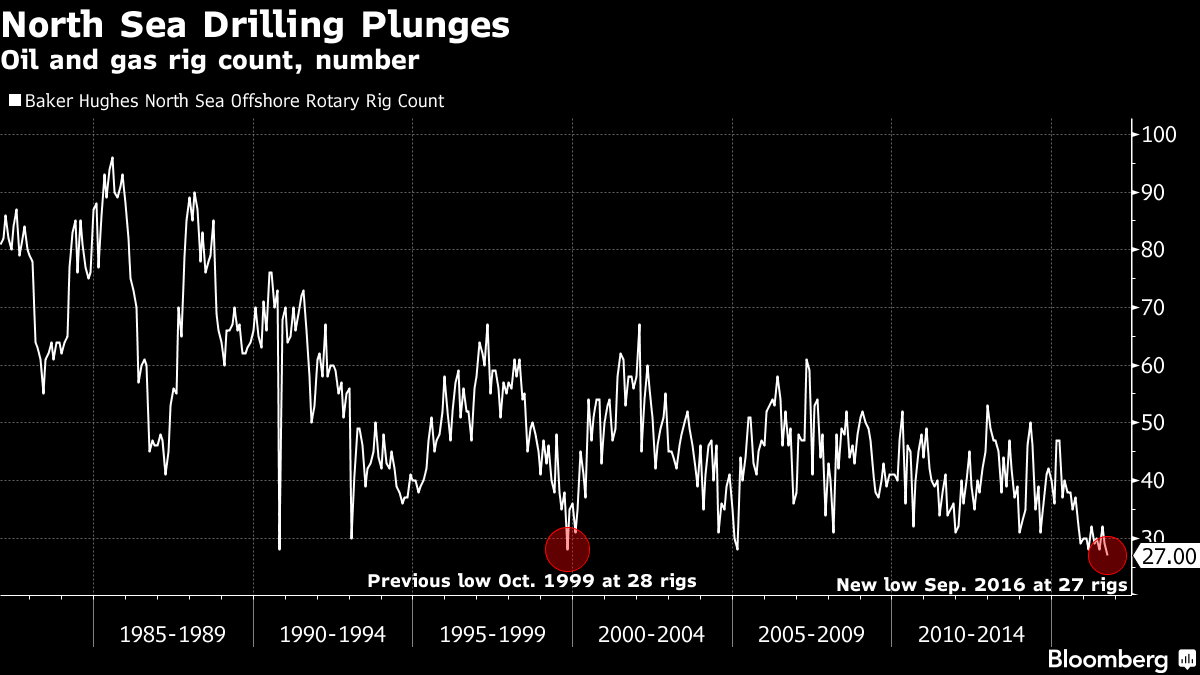 RT:  Russia starts work on Arctic dock for 1st-ever floating nuclear power plant
The world's first floating nuclear power plant is set to start producing power and heat in 2019. While the plant is already being tested, construction of the dock has begun on the Arctic coast in Russia's Far East. The construction works on the dock, which will host the floating nuclear power plant 'Akademik Lomonosov', kicked off Wednesday in the bay of the city of Pevek, Chukotka, RIA Novosti reports. The plant, work on which was announced back in 2007, will consist of the floating power-generating unit, the dock with onshore facilities for transmitting electricity and heat, and waterworks. The facility, which is scheduled to start operating by the end of 2019, is set to replace the generating capacities of the Bilibino nuclear power plant and Chaunsky thermal power plant, which currently supply Chukotka Region with energy and heat.According to the manufacturer, the new NPP has electric power capacity of 75 MW, almost twice as much as Bilibino. The power-generating unit for 'Akademik Lomonosov' is currently going through dock trials at the Baltic shipyard in St. Petersburg, known for manufacturing ships of Russia's nuclear icebreaker fleet and the world's only shipbuilder with experience building civilian naval reactors. The 21,000-tons unit will have two Russian-designed KLT-40S reactors, low-enriched uranium-fueled reactors used in some of Russia's icebreakers, and two steam-driven turbines. One unit is able to provide enough electricity to power a city of 200,000 people. It can also produce 300 megawatt of heat that can be transferred onshore, equal to saving some 200,000 tons of coal every year. The cost of the floating plant is estimated at around 30 billion rubles (US$480 million), according to Sergey Zavyalov, head of the plant construction.
Engineering & Technology:  Miniature nuclear power stations available within decade
There has been a lot of talk lately about small modular reactors (SMR's), small-scale versions of pressurised water reactors, the most common technology to be found inside nuclear power plants. These modular units, completely manufactured in factories and easily assembled on site, could deliver up to 300MW of power each and could present a viable alternative to building massive plants such as Hinkley Point. However, uranium enrichment firm URENCO has decided to go even further and develop a miniature nuclear power plant so small and cheap that it could power a single village or a factory, essentially empowering users to have their own nuclear power plant in their own back yard. "A single unit would occupy an area the size of two squash courts," explained Paul Harding of URENCO, overseeing the project called U-Battery. "The footprint of each unit is about the penalty area of a football pitch. Each unit is designed to give 10 megawatts of thermal output of which around 40 per cent can be converted into electricity, so you can get four megawatts of electricity from a single installation." Unlike the larger SMRs, U-battery is a high temperature gas cooled reactor akin to currently developed generation IV nuclear reactors. It uses grain-like TRISO fuel that is not designed for reprocessing but spent after one use. According to Harding, the technology is perfectly safe by design and doesn't pose any risk to its users or the environment. The remotely controlled U-battery was designed with renewable energy generation in mind and the team envisions it could serve as a back-up power generator for solar and wind power plants.
Bloomberg:  French Nuclear Woes Push Power Prices in Europe to Record
The lowest French nuclear availability for the time of year since at least 2009 and a drop off in expected supply from German reactors this winter are helping extend a bull market for European electricity. German power for the three months to March rose 28 percent since the start of September while the French equivalent gained 63 percent, according to broker data compiled by Bloomberg. Prices could rise even further as France will have to import more power next month during times of high demand, according to Pira Energy. France has seven fewer reactors available than at the same time last year after operator Electricite de France SA announced it needed to halt 18 units for safety checks. That comes as only about 60 percent of German atomic plants will be available from Dec. 30 because of maintenance, with the fleet not back to full strength until the end of January, according to data from European Energy Exchange AG. French nuclear availability is at about 63 percent compared with 78 percent at the same time in 2015, according to data from grid operator RTE. As well as the boost from France, German power prices are also benefiting from a 62 percent increase in European coal this year and the highest carbon prices in more than three months.
Manila Times:  South Africa's nuclear power scheme stalled again
South Africa, a country beset by frequent power outages, will have to wait a little longer before pressing ahead with a highly contentious and very costly expansion of its ageing nuclear power fleet. Exactly how long remains unclear. Last week was supposed to mark a key step forward in plans formulated back in 2010, but at the 11th hour the government balked. Early last month, the energy ministry announced it would finally issue a tender for the construction of between six and eight power stations with a combined capacity of 9,600 megawatts on Friday, September 30. But on Thursday, the ministry pulled the plug, announcing the procurement process had been postponed to allow for further consultations. But it reiterated its commitment to a program the government says is essential to meeting rising demand for electricity.In a continent where two thirds of the population lack electricity, South Africa is the only country with a civilian nuclear industry, with two reactors in service for the past 30 years.
World Nuclear News:  Russia suspends plutonium agreement with USA
Russia has suspended its 2000 agreement with the USA to reduce their surplus weapons-grade plutonium. The suspension was made via a presidential decree issued yesterday 'on the management and disposition of plutonium designated as no longer required for defence purposes and related cooperation in this area and the protocols to this agreement'. The two countries were each required to dispose of 34 tonnes of weapons grade plutonium under a weapons reduction agreement signed in June 2000. They reconfirmed the deal in 2010, but President Barack Obama's FY2017 budget submission proposes a "dilution and disposal" approach as enabling the material to be disposed of sooner, at lower cost and with lower technical risks than conversion to mixed-oxide (MOX) fuel. In April, Putin said the USA was failing to meet its obligations to destroy plutonium by instead permitting a reprocessing method that allows plutonium to be extracted and used again in nuclear weapons. The bill Putin submitted to the State Duma yesterday sets out pre-conditions for the agreement to be resumed. These include reduction of US military infrastructure and troops in countries that joined Nato after 1 September 2000 and lifting of all US sanctions against Russia – imposed after Russia's annexation of Ukraine's southern Crimea peninsula in 2014 – and "compensation for the damage they have caused".
Bloomberg:  India to Overtake U.S. as World's Biggest Coal Miner After China
India is set to surpass the U.S. as the world's biggest coal producer after China by 2020, as state-miner Coal India Ltd. ramps up output to meet demand from domestic power producers, according to BMI Research. The South Asian nation's share of world output will increase to 12.7 percent by 2020 from 9.8 percent in 2016, BMI said in a report Thursday. It cautioned that the country will still fall short of the government's ambitious coal output target and domestic demand will continue to exceed production up to 2020. India, where coal accounts for 61 percent of electricity generation capacity, is seeking to reduce imports of the fuel by boosting domestic output. India foresees coal as a dominant source of energy at least for a couple of decades, while other countries, including the U.S., are moving faster toward replacing the fuel with cleaner energy sources such as natural gas to meet tougher emissions standards. India plans to expand coal output to 1.5 billion metric tons by 2020 from an estimated 634 million tons in the year ended March 31. China produced nearly 3.7 billion tons of coal last year, according to the country's National Bureau of Statistics.
Thomson Reuters:  Pro-coal Poland approves climate deal
Poland signed up to the Paris climate agreement on Thursday, ending doubts that the coal-dependent nation might defy other European Union members that have endorsed the shift away from fossil fuels. Poland, whose economy is heavily dependent on coal, has often been the least enthusiastic of EU nations in climate policies, fearing it will face big costs, but has come round to support the Paris agreement. On Thursday, Polish President Andrzej Duda signed the ratification bill for the climate deal, after 402 lawmakers voted in favour in parliament earlier in the day, versus just 36 who voted against. "We are very happy that the majority of MPs has acceded to our proposal. We hope for a smooth completion of the legislative process," the environment ministry's spokesman said. EU nations Germany, France, Portugal, Austria, Slovakia, Hungary and Malta formally joined up on Wednesday, adding to major emitters led by China and the United States. The EU ratifications pushed support for the pact to nations representing 58.82 percent of global greenhouse gas emissions, above a threshold for entry into force of 55 percent. In total, 73 countries out of 195 have ratified the agreement, according to the U.N. website.
Fox Business:  US approves coal mine expansion, citing "minor climate impact"
U.S. officials approved a 117 million-ton expansion of a Montana coal mine after concluding that burning the fuel would have a minor impact on the nation's overall greenhouse gas emissions, according to documents released Thursday. The expansion of the Spring Creek Mine, Montana's largest coal mine, would generate roughly 160 million tons of carbon dioxide over the next five years, according to an Interior Department analysis of the project that was conducted under a court order. Those emissions would be about one half of 1 percent of projected annual U.S. emissions of the climate changing gas in 2020. Even if the agency blocked the mine expansion, federal officials said power plants served by Spring Creek could obtain coal from mines on private reserves, negating any possible decrease in emissions. The expansion was first approved in 2012 then held up by environmentalists waging a legal campaign in courthouses across the region to stop or delay mining on public lands in the Western U.S. Environmentalists with WildEarth Guardians had sued the Interior Department to challenge the expansion of the mine, which extracts coal from publicly owned reserves, saying it would make climate change worse.
Climate Central:  Oil, Gas and Cows Culprits in Methane Spike, Study Says
When trying to figure out why atmospheric concentrations of methane — a potent greenhouse gas driving climate change — have been rising continuously since 2007, fingers often point to North America's shale oil and gas boom over the last decade. But a National Oceanic and Atmospheric Administration study published Thursday in the journal Nature paints a different picture of the role oil and gas have played in the global methane spike. Using an emissions database 100 times larger than those used before, the scientists set out to update estimates of global methane emissions. They used the differences in methane isotopes to determine their sources — fossil fuels, biomass burning, microbes, agriculture and others. They found that biological sources such as cattle, landfills and agriculture account for up to 67 percent of total human-caused methane emissions. The team found that while fossil fuel development is responsible for more methane pollution than previously thought, it accounts for just 20 to 25 percent of all the world's methane emissions. Over the last decade, the oil and gas industry has clamped down on methane leaks from wells and pipelines, cutting methane emissions by up to 8 percent. But a huge boom in oil and gas production during the same time has balanced those cuts, keeping the industry's methane emissions roughly constant, the study says.
Utility Dive:  Hawaii solar sector on "brink of collapse"
Hawaii's solar industry appears to be in trouble, with employment in the sector taking a hit since the end of net retail rate net metering and the state's largest utility reaching the capacity cap on a popular successor program. According to the Hawaii Solar Energy Association (HSEA), there are more than two dozen solar companies operating and almost all have cut jobs since the state lowered remuneration rates last year. The sector has lost about 450 jobs, with total employment now just above 600. The Honolulu Star Advertiser reports Hawaiian Electric Co. has now reached a cap on its grid-supply program in all of its service territories, meaning new customers no longer have an option to sell excess capacity back to the utility. A less popular self-supply program remains, but relatively few customers have opted for it. "The abrupt end of grid-supply has pushed the local solar industry to the brink of collapse, and swift action is needed to prevent more layoffs and harm to customers," HSEA President Rick Reed said. Solar advocates have asked regulators to revise the program and lift the caps, but Hawaiian Electric, the dominant utility, has called for caution.
Technology Review:  Texas and California Have Too Much Renewable Energy
Solar and wind power are coming online at rates unforeseen only a few years ago. That's a good thing if your goal is to decarbonize the energy sector. But if you're a utility or independent power producer and you make your money selling electricity, it can be not such a good thing. In places with abundant wind and solar resources, like Texas and California, the price of electricity is dipping more and more frequently into negative territory. In other words, utilities that operate big fossil-fuel or nuclear plants, which are very costly to switch off and ramp up again, are running into problems when wind and solar farms are generating at their peaks. With too much energy supply to the grid, spot prices for power turn negative and utilities are forced to pay grid operators to take power off their hands. That's happened on about a dozen days over the past year in sunny Southern California, according to data from Bloomberg, and it's liable to happen more often in the future. "In Texas, power at one major hub traded below zero for almost 50 hours in November and again in March," according to the state's grid operator. In Germany, negative energy prices have become commonplace, dramatically slashing utility revenues despite renewable energy subsidies that bolster electricity prices much more than in the United States. The ideal setup is for places with abundant renewable energy (many of them in remote areas) to store and ship power to energy-hungry cities on the coasts, forcing fossil-fuel plants to curtail production and, eventually, shut down. But such large-scale storage doesn't exist yet.
Australian:  Malcolm Turnbull to put the wind up states over SA power blackouts
The Turnbull government will confront the states over the -danger of statewide blackouts at an urgent meeting tomorrow to respond to the outage across South Australia last week, amid a furious political fight over ¬whether wind farms helped cause the failure. The states are being warned that their growing use of renewable energy will make their power networks more vulnerable to outages, leaving Australians at risk of blackouts from any repeat of last week's ferocious storm. The dispute over wind and solar power hardened yesterday after the energy market operator blamed the South Australian blackout on power failures along three major transmission lines and a subsequent drop in generation at six wind farms, leading to an overload at the crucial interconnector supplying power from Victoria. Energy Minister Josh Frydenberg told The Australian that ¬tomorrow's meeting with the states would put statewide blackouts on the agenda, with the Australian Energy Market Operator briefing ministers on its findings on the South Australian crisis and the risks for other states. Stepping up pressure on the states to overhaul their renewable energy targets in favour of a ¬national approach, Mr Frydenberg warned that intermittent power — such as from wind farms and solar — left customers at risk of further outages. "It's undeniable that the growing use of intermittent power has an impact on the system, leaving the states more vulnerable to power outages," he said. Malcolm Turnbull savaged South Australian Premier Jay Weatherill yesterday, saying he had failed to "keep the lights on" in South Australia. The comments came after the AEMO report ¬revealed the loss of wind power ¬before last week's blackout contributed to the state demanding so much baseload power from Victoria that its main interconnector overloaded and shut down. AEMO confirmed yesterday that 10 wind farms in South Australia had been ordered to limit generation on an ongoing basis, as it was concerned a failure, or trip, of multiple generators could re-occur following another disruption to the unstable grid.
CNBC:  Canada set to introduce carbon tax
Canadian Prime Minister Justin Trudeau has announced his government will introduce a plan that will see every Canadian jurisdiction put a price on carbon pollution by 2018. In a speech to Parliament on Monday, Trudeau said that provinces and territories would be able to put a direct price on carbon pollution or opt for a cap-and-trade system with the "expectation that it be stringent enough to meet or exceed the federal benchmark." Setting out his government's plans, Trudeau said that the proposed price on carbon pollution would start at 10 Canadian dol-lars ($7.60) per tonne in 2018, rising by 10 Canadian dollars each year, and hitting 50 Canadian dollars per tonne by 2022. "Provinces and territories that choose cap-and-trade systems will need to decrease emissions in line to both Canada's target and to the reductions expected in jurisdictions that choose a price-based system," he added. Trudeau's announcement drew criticism from some lawmakers, including Saskatchewan Premier Brad Wall, the Associated Press reported. "I cannot believe that while the country's environment ministers were meeting on a so-called collaborative climate change plan, the Prime Minister stood in the House of Commons and an-nounced a carbon tax unilaterally," Wall said in a statement posted on the government of Saskatchewan's website. Wall added that the disrespect shown by Trudeau and his government was "stunning."
Financial Times:  Airlines back UN accord to offset emissions growth by funding green projects
Instead of facing a patchwork of measures worldwide, airlines have backed a plan that will see them offset their emissions growth by funding projects that cut carbon pollution, such as wind farms or solar-power plants. The scheme will be phased in over several years from the early 2020s and cost the aviation industry as much as $24bn by 2035, according to estimates from the UN agency.Nations such as India had been worried about its effect on fast-growing emerging economies, but some environmental campaigners in Europe said the proposal did not go far enough. "Airline claims that flying will now be green are a myth," said Bill Hemmings of the Transport & Environment lobby group. "This deal won't reduce demand for jet fuel one drop. Instead, offsetting aims to cut emissions in other industries." The Center for Climate and Energy Solutions in the US was more positive, hailing what it said was a practical framework for harnessing market forces to limit growth in airline emissions, which are expected to triple by 2050. The International Air Transport Association (Iata) also welcomed the deal. It said: "The historic significance of this agreement cannot be overestimated. It is the first global scheme covering an entire industrial sector. The agreement has turned years of preparation into an effective solution for airlines to manage their carbon footprint."
Wind Power Monthly:  Renewable Energy Investors call for EU protection
Gamesa, Enel Green Power, E.on and RES are among a group of 11 energy companies that has called on the European Union to commit to investor protection for renewables projects. In a joint statement, the companies said that retrospective regulatory changes "erode investor confidence in the EU energy infrastructure" and lead to investors seeking redress in national courts or through international arbitration under the Energy Charter Treaty (ECT). The statement singled out Spain, Romania, the Czech Republic, Greece and Italy for making retrospective tariff cuts, and Finland and Poland for abrupt policy reversals and withdrawal of support to projects under development. According to the 11 companies, 50 investor-state disputes have been recorded in the past three years under the ECT, with Spain alone facing more than 25 lawsuits."The effects of abrupt policy changes have … contributed to the overall decline of renewable energy investment in the EU since 2010, and the collapse of investment in many countries," the statement said. The signatories have called on the EU to introduce a permanent dispute settlement mechanism independent of national courts, and to integrate a "grandfathering" principle to prevent retroactive changes and guarantee the economic viability of existing assets.
All Africa:  Nigeria Accuses Europe, Others of Blocking Efforts to Build Power Plants
The Nigerian government has accused western powers of being a stumbling block to Nigeria's effort to improve its electricity output through the use of coal. The Minister of Finance, Kemi Adeosun, made the allegation on Wednesday in Washington, U.S.A., during a discussion on the importance of addressing infrastructure gaps in developing countries at the World Bank, International Monetary Fund General Meetings. "We want to build a coal power plant because we are a country blessed with coal, yet we have power problem. So it doesn't take a genius to work out that it will make sense to build a coal power plant," she said. "However, we are being blocked from doing so, because it is not green. This is not fair because they have an entire western industrialisation that was built on coal-fired energy. This is the competitive advantage that was used to develop Europe, yet now that Nigeria wants to do it, they say it's not green, so we cannot. They suggest that we use solar and wind, which is the more expensive. So yes, Africa must invest in its infrastructure, but we must also make sure that the playing field is level," she said.
Cleantechnica:  Global Supergrid Funding To Reach $10.2 Billion By 2025
Navigant Research published its new report this week, Supergrids, analyzing the potential market for supergrids — large-scale, high-voltage transmission systems spanning countries, continents, and possibly even the globe one day. Such grids would allow multiple electricity generation technologies to input into one grid, creating a more reliable grid whilst simultaneously allowing the bulk integration of renewable energy. For example, a supergrid spanning the Middle East and North Africa, with links into Europe, would be able to utilize the plentiful solar resources of the MENA region and the North European wind energy resources, and mitigate variability with the sheer availability of renewable energy resources across such a large swath of the area, including the varying climate conditions. Just such an idea has been repeatedly posited, most recently earlier this year by Fraunhofer ISE, which investigated the role a supergrid between MENA and Europe could have in expanding renewable energy in North Africa, providing reliable and affordable energy to millions, while also creating stability for a European electricity grid. Navigant Research's recent report backs up the idea that supergrids might become more and more a potential solution, predicting that global investments into supergrids will increase from $8.3 billion in 2016 to $10.2 billion in 2025.
Power Technology:  Gibraltar wave power project surfs up possibilities across Europe
Phased construction of the Gibraltar plant, located at the Ammunition Jetty, began last year and it is already exporting electricity into the power grid. The system is currently composed of eight ocean energy converter units that supply 100kW, but when completed, with the help of an EU grant, the array will produce 5MW. It is then expected to meet 15% of Gibraltar's electricity demand. Power is supplied through the movement of floaters, which drive the hydro motor and a generator. This is then delivered to the shore via a subsea cable. The system allows for data to be transmitted back to shore in real-time and also provides a smart automation system that controls the power station's storm-protection mechanism. It is this innovation that is the key to ensuring a stable transmission of electricity to the grid. This EWP technology is different to other wave-power systems due to what the company describes as the tailored shape of its floats. These floats can shift their orientation as needed, relative to incoming waves, allowing for more motion to be drawn out of the wave. Another unique selling point is the system's advanced anti-corrosion protection. EWP says it expects its coatings, in combination with its arrangement of cathodes, to provide its technology with a lifespan of at least 30 years and up. The company is still developing the system but envisages future large–scale, commercial-size sea wave-power plants being built with up to 100 floats.
Huffington Post:  Krugman Wants Trump And Clinton To Debate Climate Change
Paul Krugman is calling on moderators of the two remaining presidential debates to press the candidates on global warming. In his Friday column in The New York Times, the Nobel prize-winning economist said climate change "should be a central issue in this campaign" and failing to push the issue would be "criminally irresponsible." "It's time to end the blackout on climate change as an issue," Krugman wrote. "It needs to be front and center — and questions must be accompanied by real-time fact-checking, not relegated to the limbo of he-said-she-said, because this is one of the issues where the truth often gets lost in a blizzard of lies." It's not like it wouldn't make for good TV. The candidates are starkly divided on climate change. If she wins, Democratic nominee Hillary Clinton has vowed to cut greenhouse gas emissions by up to 30 percent by 2025, in part by pushing President Barack Obama's Clean Power Plan to regulate utility companies. Donald Trump, on the other hand, has repeatedly called climate change a hoax, and suggested on Twitter it was invented by China to make U.S. manufacturing less competitive.
Ecowatch:  NASA: Megadrought Lasting Decades Is 99% Certain in American Southwest
A study released in Science Advances Wednesday finds strong evidence for severe, long-term droughts afflicting the American Southwest, driven by climate change. A megadrought lasting decades is 99 percent certain to hit the region this century, said scientists from Cornell University, the Lamont-Doherty Earth Observatory of Columbia University and the NASA Goddard Institute for Space Studies. "Historically, megadroughts were extremely rare phenomena occurring only once or twice per millennium," the report states. "According to our analysis of modeled responses to increased GHGs, these events could become commonplace if climate change goes unabated." Rising temperatures will combine with decreased rainfall in the Southwest to create droughts that will be worse than the historic "Dust Bowl" of the 20th century and last far longer. The megadrought study looked at conditions under a 2-degree Celsius level of global warming, 4 degrees and 6 degrees. With 4 degrees of warming, which is the rate the planet is currently heading for, megadroughts are almost a certainty. If the rise in global temperatures is kept to 2 degrees, which is the upper-limit goal of the Paris climate agreement, the risk of megadroughts is between 30 and 60 percent.
Reuters:  Norway oil and gas workers may strike, threatening UK gas supply
Workers at three onshore plants serving Norway's oil and gas industry will strike from Oct. 7 unless they get a new wage deal, the SAFE labour union said on Monday, potentially threatening Britain's natural gas supplies. Some 338 workers at Statoil's Melkoeya LNG plant, Shell's Nyhamna natural gas processing plant and ExxonMobil's Slagen refinery terminal would go on strike if talks on a new pay deal break down, the union said. The Melkoeya plant turns gas from the Arctic Snoehvit field into liquefied natural gas (LNG) which is shipped worldwide, while Nyhamna supplies about 20 percent of Britain's natural gas demand from the giant Ormen Lange field offshore Norway. "The onshore facilities would shut down, and would stop receiving both oil and gas," union official Roy Aleksandersen told Reuters.Shell and Statoil both said they were studying the impact of a strike. "We're awaiting the outcome of the mediation and are considering internally what the consequences of a potential strike could be," a Shell spokeswoman said. "We are working to assess which consequences this potentially could have for us," said a Statoil spokeswoman who declined to comment further. ExxonMobil was not immediately available for comment.
Oil & Gas Eurasia:  UK Allows More Gas Fracking
The British government has issued its second-ever fracking permit, writes Euronews. Shale gas company Cuadrilla will now test to see how much gas it can retrieve from the site in Lancashire in northwest England. It said commercial operations could start in 2018. The local authority had refused permission but central government in London overruled that. The approval is only Britain's second since a moratorium on fracking was lifted in 2012. The government's use of new powers to overturn a Lancashire County Council rejection of the permits shows its readiness to rule in favour of future fracking applications. The council rejected the permits in 2015 due to concerns about noise and traffic. However, the market price for gas in Britain has dropped around 30 percent since Cuadrilla first lodged its application in 2014. "The economics of shale extraction in the UK are still highly uncertain. The costs of UK shale will not be clearer until a significant amount of exploratory drilling takes place," said Jim Watson, director of the UK Energy Research Centre.
Express:  SNP bans underground coal gasification
The Scottish Government outlawed underground coal gasification (UCG) after a new report said it posed "serious environmental risks". Energy minister Paul Wheelhouse told MSPs the controversial technique would have "no place in Scotland's energy mix at this time". Mr Wheelhouse said he was asking ministers in London to revoke six licences to find test sites in the Firth of Forth and Solway Firth. Green campaigners welcomed the announcement but Tories warned it would leave the country lagging behind. Energy firm Cluff Natural Resources planned to spend more than £250 million building the UK's first deep offshore UCG plant at Kincardine in Fife, creating hundreds of jobs. It claimed the process could be worth £5.7 billion but shelved the proposals after the SNP Government imposed a moratorium last October. Ministers appointed Professor Campbell Gemmell, the former chief executive of environment agency Sepa, to review the process. Mr Wheelhouse said his report had found it was unproven, under-regulated and too risky to be approved.He said: "Having considered the report in detail, it is the Scottish government's view that UCG poses numerous and serious environmental risks and, on that basis, the Scottish Government cannot support this technology. Accordingly, UCG will have no place in Scotland's energy mix at this time."
Scotsman:  Scotland's wind power generation up by a third
Scotland's wind power output increased by more than a third in September compared to the same period last year. New data from WeatherEnergy shows that wind turbines provided 766,116 MWh of electricity to the National Grid during the month, up 36% from 563,834 MWh in September 2015. The output was enough to supply, on average, the electrical needs of 87% of Scottish households or 2.1 million homes. Wind power generated the equivalent of 44% of Scotland's entire electricity needs for the month when business and industry are included. For the first time on record wind generated the equivalent of all Scotland's electricity needs for the day during two days in a single month. There was also enough sunshine for homes fitted with solar PV panels to generate an estimated 70% of the electricity needs of an average household in Aberdeen, 69% in Dundee, 61% in Edinburgh, 60% in Inverness, and 50% in Glasgow.
Independent:  One of world's first kite-driven power stations to open in Scotland
One of the world's first commercial-scale, kite-driven power stations is set to be created near Stranraer in Scotland in what could be a major step towards finding the "magic solution" to humanity's energy problems. The firm behind the Stranraer project, Kite Power Systems has already demonstrated a small kite-driven power station in Essex. But it now plans to build a 500-kilowatt system at the Ministry of Defence's West Freugh Range near the southern Scottish town after securing planning permission. This will be the first of a significant scale in the UK and only the second in the world after a research project in Italy. The kites fly to heights of up to 450m in a figure-of-eight pattern, pulling a tether as they rise which turns a turbine that produces electricity. By having two kites working in tandem, one going up as the other floats back down, electricity can be generated continuously. David Ainsworth, business development director at Kite Power Solutions, the firm behind the system, told The Independent that the system was mainly designed to be used offshore with the West Freugh power station designed to demonstrate its capabilities."Our systems basically float and the cost of the mooring is much lower than a wind turbine," he said."It will be tariff-free, we just don't need Government to support it. Our potential investors believe it's going to take off in a big way."
RE news:  UK hydro storage is 'undervalued'
There needs to be a radical overhaul of the way pumped storage hydro's benefits are quantified to reflect the value it can bring to the electricity system, according to a new report by DNV GL. The report – 'The Benefits of Pumped Storage Hydro to the UK' – was funded by the Scottish Government, SSE and ScottishPower and makes several recommendations to encourage the expansion of the technology. It calls for market mechanisms that reflect the value pumped storage hydro brings to the electricity system. The government should also ensure that network charging arrangements are fair and considered through a holistic review, it added. The report noted that the UK electricity system already benefits from 24GWh of pumped storage capacity, split across four sites, largely in Scotland, with another 50GWh having planning permission. DNV GL said the technology provides system services and alleviates network congestion costs by storing excess generation in constrained zones for later use, thereby avoiding or deferring investment in network reinforcement. The technology also avoids wasting low-carbon electricity during periods of low electricity demand, as well as the environmental impact of new transmission infrastructure, the report said. Scottish Renewables policy officer Hannah Smith said: "We would like to see a more level playing field for pumped storage hydro which reflects the value it can bring to the electricity system."
Financial Times:  Brexit Briefing Gives Climate Change Low Priority
In London, climate change is emerging as a lower priority for Theresa May's cabinet than for any UK government since 1997. Whether under Conservative or Labour governments, Britain in the past two decades has been one of the EU's most forceful voices in favour of ambitious measures to combat climate change. However, it was striking that, in her "what will Brexit mean" speech on Sunday to the Conservative party conference, the prime minister did not mention climate change once. By contrast, in his 2015 party conference speech, David Cameron, Mrs May's predecessor, took pride in highlighting action to fight climate change as one of his government's most notable achievements. Almost immediately after assuming the premiership in July, Mrs May abolished the government's department for energy and climate change. In its place appeared a new ministry called the department for business, energy and industrial strategy. In case anyone is missing the message, the ministry's website offers the following mission statement: "The department brings together responsibilities for business, industrial strategy, science, innovation, energy and climate change." It is surely no coincidence that climate change is at the end of the sentence.
Roy Spencer:  UAH Global Temperature Update for September 2016:
The Version 6.0 global average lower tropospheric temperature (LT) anomaly for September 2016 is +0.44 deg. C, statistically unchanged from the August, 2016 value of +0.43 deg. C