This week it's back to OPEC, which recently agreed to cut its output by 1.2 million bpd in an attempt to increase oil prices supplemented by an additional 0.5 million bpd from Russia + other non-OPEC producers. What does this portend for the oil market? Industry opinion is unanimous. No one knows:
ETF Daily News:  Oil Is Going To $10 Or $90 In 2017, Depending On Who You Ask
In a Reuters poll of 29 analysts and economists carried out after the OPEC deal, Raymond James had the highest 2017 forecast for Brent price, at US$83 per barrel, while the poll saw Brent averaging US$57.01 next year.
On the opposing side is Shawn Driscoll, portfolio manager at the T. Rowe Price New Era fund, who told Barrons.com earlier this month that "we're in a secular bear market for oil", expected to go on for 10 to 15 years. Other analyst projections are "massively" underestimating how quickly and how big the U.S. shale comeback will be, Driscoll said, adding that he sees oil at below US$50 at the end of 2017, and a "dip below $40 a barrel" at some point in 2018.

Most of the other projections in the past month or two — prompted by the pending OPEC deal and then the cartel's agreement to cut output–have not only talked oil prices up, but made more analysts optimistic that an agreement would speed up the drawdown of the global oil glut. The market is likely to move into deficit in the first half next year by an estimated 600,000 bpd, said the International Energy Agency (IEA), as long as OPEC and non-OPEC producers manage to (and are willing to) stick to promised cuts. More than a month before the deal was announced, the World Bank raised its oil price forecast for 2017 to average US$55 next year, or US$2 more than its earlier forecast. At oil above US$55 next year, energy consultancy Wood Mackenzie sees the oil and gas industry turning cash flow positive for the first time since the downturn, and expects 2017 will be a year of "stability and opportunity" for the sector. In its latest Short-Term Energy Outlook from December 6, the U.S. Energy Information Administration (EIA) expects Brent Crude prices to average US$51.66 in 2017, with WTI Crude prices averaging US$50.66 next year. However, EIA warned: "The values of futures and options contracts indicate significant uncertainty in the price outlook."
We follow up with a mixed Christmas-stocking of energy stories from around the world, including how climate change now threatens Santa's personal transportation.
Fortune:  Optimism in OPEC Output Deal Leads to a Rise in Oil Prices
Oil prices edged up in tepid trading on Thursday, supported by strong U.S. data, a pause in the U.S. dollar rally and optimism that crude producers would abide by an agreement to limit output to prop up prices. Optimism that OPEC and non-OPEC oil producers would stick to a deal to cut output by almost 1.8 million bpd from Jan. 1 also supported prices, which have added to gains since the deal was agreed on Dec 10. "The announcements coming from Saudi Arabia, the United Arab Emirates, Qatar, Kuwait, Iraq, and Russia are all encouraging signs that they will abide by the cut and hopefully other countries will follow suit," OPEC member Kuwait's oil minister Essam Abdul Mohsen Al-Marzouq told reporters.
Seeking Alpha:  OPEC Production Cuts Have Already Failed – New Supply Rapidly Offsetting Quotas
Once the again the decision by OPEC to manipulate the price of oil by cutting production is proving to be totally futile, with the reopening of pipelines in Libya reinforcing the idea it was a bad decision from the beginning. OPEC members were correct on one thing. Unless all the members cooperated, along with key producers outside the cartel, the initiative would fail. With U.S. production starting to climb once again, Libya and Nigeria adding supply, and Russia strategically taking its time to comply with the quotas it agreed to, this deal is rapidly falling apart as to its effect on the oil market. It's going to get worse with output from the U.S., Libya and Nigeria expected to continue to climb.
Oil Price:  Goldman Flip Flops Again, Now Sees High OPEC Compliance
In just five days, Goldman Sachs has changed its mind about the expected OPEC cuts compliance, now seeing cartel members—especially Saudi Arabia—as having a "strong" incentive to stick to promised cuts, which prompted the bank to raise on Friday its WTI price forecast for the second quarter next year to US$57.50 from US$55. The forecast for WTI price for the first quarter of 2017 was left unchanged at US$55. Goldman Sachs also lifted its Brent Crude price forecast to US$59 from US$56.50 for the second quarter, and now expects Brent price to average US$57.40 next year, up by US$3.40 compared to previous estimates. Five days ago, Goldman was expecting low compliance to the cuts, and kept its WTI price forecast at US$55 for the first half of 2017. Having analyzed Saudi Arabia's fiscal revenue expectations and outlook for next year, Goldman now sees the compliance at 84 percent. "Ultimately, our work on Saudi Arabia's fiscal balance suggests that the kingdom has a strong incentive to cut production to achieve a normalization of inventories, even if it requires a larger unilateral cut, consistent with comments last weekend by the energy minister," Goldman Sachs said in a note today, as quoted by Platts.
Business Insider:   China's smog is so bad masks and filters are starting to sell out
Near-record pollution levels in parts of China this week proved a two-edged sword for the country's e-commerce titans: orders poured in for anti-smog products, but transport restrictions meant it was a challenge to get these delivered. Up to 50 million orders in north China alone face delivery delays due to grounded planes, closed highways and traffic bans, a spokeswoman for Alibaba Holding Group Ltd told Reuters, citing affiliate Cainiao Network Technology Co Ltd, which oversees China's largest logistics firms. Online shoppers splurged on masks, filters and other anti-pollution gadgets, with e-commerce firms and brands reporting record demand in response to 'red alert' warnings in 24 cities by mid-week. "In one day of red alert you'll probably do a month's sales," said Liam Bates, founder of Beijing-based Origins Technology Ltd, which makes air pollution monitors and air filters.
New York Times:  To Slow Global Warming, We Need Nuclear Power
Already, 60 percent of our carbon-free electricity comes from the 99 nuclear reactors that dot the nation's map. These reactors provide low-cost, reliable electricity for the United States, which uses nearly 20 percent of the world's electricity. But over the next decade, at least eight of these reactors are scheduled to shut down. That will push up carbon emissions from the American electricity sector by nearly 3 percent, according to the United States Energy Information Administration. In California, the closing of the San Onofre Nuclear Generating Station in 2012 contributed to a 24 percent increase in carbon emissions from the electricity sector, according to data from the California Environmental Protection Agency Air Resources Board. Carbon emissions from the electricity sector in New England rose 5 percent in 2015, the first year-to-year increase since 2010, largely because of the closing of the Vermont Yankee Nuclear Power Station in December 2014, according to ISO New England, the region's grid operator. In roughly two decades, the United States could lose about half its reactors. That's because, by 2038, 50 reactors will be at least 60 years old, and will face having to close. Without them, or enough new reactors to replace them, it will be much harder to reduce carbon emissions. Unfortunately, some of our federal policies to encourage clean energy, such as the Clean Energy Incentive Program within President Obama's Clean Power Plan, do not explicitly include or incentivize nuclear power. Likewise, some states have chosen to adopt policies, such as renewable portfolio standards, that do not include or incentivize nuclear power. At the same time, our energy markets do not currently account for the value of carbon-free power, a failure that puts nuclear power at an unfair and economically inefficient disadvantage to fossil fuels like coal and natural gas.
Japan Times:  Japan axes Monju Fast Breeder Reactor
Once envisioned as playing a key role in Japan's nuclear fuel-recycling policy, the controversial Monju prototype fast-breeder atomic reactor will now be scrapped, the government formally announced Wednesday. The reactor, in Tsuruga, Fukui Prefecture, has been a magnet for controversy, barely operating over the past two decades despite its planned key role. Wednesday's ministerial decision came in spite of a failure to obtain local support for the decommissioning plan. It was also the end of a process that included a discussion of Japan's overall fast-reactor policy by the government panel. The government has invested more than $8.5 billion in research and development for the reactor in hopes it would serve as a linchpin of nuclear fuel-recycling efforts. Because resource-poor Japan relies on uranium imports to power its conventional reactors, the government will still continue to develop fast reactors in pursuit of a nuclear fuel cycle that reprocesses spent fuel and reuses plutonium and uranium extracted through reprocessing. But Monju's fate is sure to prompt more public scrutiny of the fuel-cycle policy, with many nuclear reactors left idled after the 2011 Fukushima nuclear disaster. That crisis has left much of the public wary of nuclear power.
Reuters:  Canada's Trudeau says Trump very supportive of Keystone XL pipeline
Canadian Prime Minister Justin Trudeau said on Wednesday that U.S. President-elect Donald Trump was "very supportive" of TransCanada Corp's proposed Keystone XL crude oil pipeline in their first conversation after the U.S. election. "He actually brought up Keystone XL and indicated that he was very supportive of it," Trudeau told an event in Calgary, Canada's oil capital. "I'm confident that the right decisions will be taken." Trudeau, who too supports Keystone XL, said also he saw "extraordinary opportunities" for his country if the United States under Trump steps back from tackling climate change, a move that would make Canada relatively more attractive for green-technology investment. Trump has said he would approve the 830,000-barrel-per-day Alberta-U.S. Midwest Keystone XL which the Obama administration rejected over environmental concerns. Trump's election heartened investors in Canada's battered energy industry, which has struggled with two years of low prices and long-running concerns about market access. Critics of Trudeau's Liberals say Canada's environment policies will make the country less attractive to resource-based investment compared to the United States.
High Country News:  Canada's pipeline plans compromise its climate goals
Last October, many environmentalists let out a sigh of relief at the news that Canadians had elected a new prime minister: Justin Trudeau. For nearly a decade, they had watched in dismay as his predecessor, Stephen Harper, muzzled climate scientists and gutted environmental laws. With Trudeau in charge, the whole country looked greener. There were plans for a new nationwide carbon tax, an end to fossil fuel subsidies, and a goal of achieving net zero emissions by 2050. Just this week, Trudeau announced a freeze of offshore leasing in Canada's Arctic waters for at least five years. During last year's Paris climate negotiations, the new prime minister boasted, "Canada is back, my friends." But a rash of approvals for new fossil fuel projects has left many of those hopes dashed—alongside doubts about Canada's ability to meet its climate goals. In late November, the Canadian government announced long-awaited decisions on three major oil sands pipelines, approving two of them. For Trudeau, the mixed pipeline decisions reflect an effort to find balance between environmental protection and economic growth. Alberta's tar sands account for roughly three percent of Canada's economy and a large chunk of its exports, helping fund programs such as government provided health care. Though the new pipelines will allow Canada's carbon-intensive oil industry to expand, they will not, Trudeau insisted, compromise its commitment to reducing greenhouse gas emissions under the Paris Agreement.
Bloomberg:  World's Biggest Wealth Fund Excludes 15 More Coal Companies
Norway's $870 billion sovereign wealth fund expanded the list of miners and power producers excluded from its portfolio as it continues to cull its investments of coal-related businesses. After an initial exclusion of 44 companies, 15 more have now been banned, including U.S.-based Alliant Energy Corp. and Westar Energy Inc., Malaysia's Tenaga Nasional Bhd and Canada's Emera Inc., according to a statement from Norges Bank Investment Management. The exclusions are based on new criteria introduced by the government in February, impacting companies that rely on coal for at least 30 percent of their activities or revenues. The fund also excluded 30 subsidiaries, on top of eight that were taken out in April, it said. It placed 11 companies, including Endesa SA and The Southern Co., under observation for possible exclusion. "Further exclusions will follow in 2017," NBIM said in the statement. The fund always sells its holdings before making the exclusions public.
Reuters:  EU Commission favours keeping limits on Chinese solar panels
The European Commission has recommended keeping import duties and a minimum price for solar panels and cells from China for two more years, according to documents seen by Reuters. The European Union and China came close to a trade war in 2013 over EU allegations of solar panel dumping by China. But this was averted by an agreement to allow a limited amount of tariff-free panels at prices not below 0.56 euros per watt. The Commission is currently reviewing that agreement and also import duties of up to 64.9 percent for those outside the agreement all of which ended in Dec. 2015. In the documents, the Commission said ending the measures would likely lead to a continuation of Chinese subsidies for the solar sector and a significant increase in dumped imports of solar cells and modules. It also said the measures would only have a limited effect on demand and that comparisons between the 50,000 people working in importing and installation and the 5,000 to 10,000 in manufacturing were not appropriate. Job gains in the former could be outweighed by losses in the latter, it said. A separate document said the minimum panel price would be cut to 0.46 euros/watt.
Telegraph:  Macquarie takes a $1.6bn stake in Race Bank offshore wind farm
Macquarie has snapped up a 50pc stake in Dong Energy's giant Race Bank offshore wind farm in a $1.6bn deal which will also see the Australian investor take on part of the wind farm's construction risk. The 573MW offshore wind project is being built almost 17 miles off the Norfolk coast and is due to begin powering the UK grid at the end of 2018. Under the terms of the deal, Macquarie has agreed to take on half the wind farm's remaining construction costs, including the transmission lines connecting it to the shore. Samuel Leupold, Dong Energy's wind power boss, said Race Bank has attracted "a high level of interest" from a number of potential investors but that Macquarie had experience in offshore wind from previous investments and had successfully invested in infrastructure projects worldwide.For Macquarie, the deal deepens its interests in the UK's energy infrastructure after leading the consortium which snapped up National Grid's gas distribution networks in a deal valuing the business at £13.8bn.
National Geographic:  One of Earth's Most Dangerous Supervolcanoes Is Rumbling
A long-quiet yet huge supervolcano that lies under 500,000 people in Italy may be waking up and approaching a "critical state," scientists report this week in the journal Nature Communications. Based on physical measurements and computer modeling, "we propose that magma could be approaching the CDP [critical degassing pressure] at Campi Flegrei, a volcano in the metropolitan area of Naples, one of the most densely inhabited areas in the world, and where accelerating deformation and heating are currently being observed," wrote the scientists—who are led by Giovanni Chiodini of the Italian National Institute of Geophysics in Rome. A sudden release of hot magmatic gasses is possible in the near future, which could trigger a large eruption, the scientists warn. Yet the timing of any possible eruption is unknown and is currently not possible to predict. In response to the news, Italy's government has raised the volcano's threat level from green to yellow, or from quiet to requires scientific monitoring. Campi Flegrei means "burning fields" in Italian. Like other supervolcanoes—such as the one responsible for the geothermal features of Yellowstone—it is not a single volcanic cone. Rather, it's a large complex, much of it underground or under the Mediterranean Sea, that includes 24 craters, as well as various geysers and vents that can release hot gas.
National Public Radio:  Rare Snowfall Blankets Dunes in The Sahara
On Monday, a rare and beautiful thing happened: There was a dusting of snow on the red sand dunes of the Sahara. The snow fell on the northern Algerian town of Ain Sefra, which is known as the "gateway to the desert." Karim Bouchetata, an amateur photographer there, grabbed his camera and took a number of photos before the snow melted later that day. "Everyone was stunned to see snow falling in the desert; it is such a rare occurrence," Bouchetata told The Telegraph. According to Gizmodo, the last "major" snowfall in Ain Sefra was in February 1979, when it snowed for all of half an hour. The town lies about 1,000 meters (just under 3,300 feet) above sea level near the Atlas Mountains.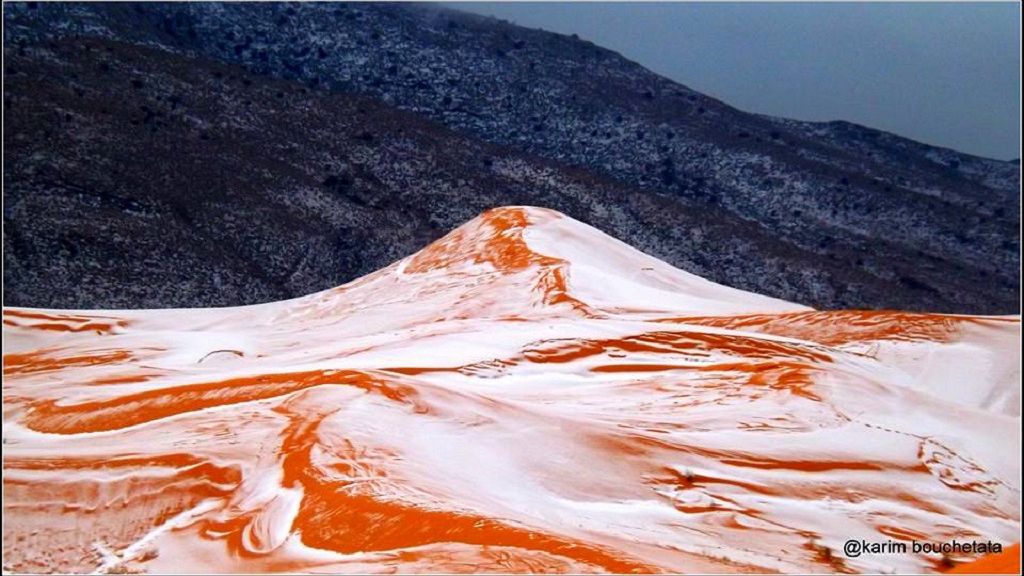 Huffington Post:  California to secede over climate change?
Some private citizen groups in California, distraught at the prospect of an America under President Donald Trump, are advocating that the state secede from the union. Constitutional scholars (and most Californians) assure us the separation is not going to happen. But is there any instance in which California could go its own way? What if Trump withdraws the nation from the United Nations Climate Change Accord and rejects the validity of the global warming threat altogether? Could and should that set the stage for environmentally precocious California to break ranks with the president and join the Climate Change Treaty as a separate entity? It is not all that outlandish, considering California would not be declaring itself a sovereign state. It would simply be using its existing progressive greenhouse gas emission reduction policies to directly participate in a worldwide crusade to slow the rate of human-induced global warming. That shouldn't exclude it from being a member of the United States in good standing. California's unilateral action could arguably be justified as a legitimate manifestation of States' Rights that would serve as an inspiration at home and abroad. We are talking about policies aimed at having 33 percent of the state's electricity come from clean, renewable energy by 2030 and 80 percent by 2050.
Washington Post:  Atmospheric methane levels are spiking
Atmospheric concentrations of methane are spiking, a team of scientists reports in an analysis published Sunday in the journal Environmental Research Letters. Methane concentrations in the atmosphere, they report, were rising only at about .5 parts per billion per year in the early 2000s. But in the past two years, they've spiked by 12.5 parts per billion in 2014 and 9.9 parts per billion in 2015. If you're a U.S. environmentalist, you may be tempted to attribute the news about spiking atmospheric methane levels to the strong growth in domestic oil and gas drilling in the past decade. After all, fugitive releases of methane to the atmosphere from drilling operations have been a major concern lately and have drawn regulatory actions from both the Environmental Protection Agency and the Interior Department under President Obama. But without denying that there may be some growth in methane emissions from global oil and gas, the new study does not point the finger there. "A substantial contribution of U.S. shale gas industry to the recent methane atmospheric increase seems unlikely," it concludes. Rather, it notes that two thirds of the world's methane releases come from the tropics, not the temperate latitudes, leading the researchers to single out the agricultural sector as a more likely cause of the growth — a conclusion that may prove contentious.
Blasting News:  Temperatures sink to -80 degrees F in Western Siberia, shattering records
Western Siberia is currently stuck in a mini Ice Age as temperatures plummeted to nearly -80 degrees Fahrenheit, breaking all previous cold records. And meteorologists say that even icier weather is coming. Temps tumbled to -62 degrees Celsius (-79.6°F) at the Bolshoe Olkhovskoe oilfield in the Khanti-Mansi region this week. And the Kazym village in the Beloyarsky district showed a biting -58 degrees C (-72.4°F). In the province of Nadym, the bone-shattering cold pushed past the -50 degrees C (-58°F) mark, forcing schools to shut down. In provinces like Yakutia, schools stayed open despite a bone-chilling -52 degrees C (-61.6°F). While these arctic temperatures are commonplace in eastern Siberia, it rarely gets this frigid in the west.
Mail:  France unveils the world's first solar panel road
A solar panel road, claimed to be the world's first, has opened in France. The 0.6 miles (1km) stretch of road in the small Normandy village of Tourouvre-au-Perche is paved with 2,880 solar panels, which convert energy from the sun into electricity. The 'Wattway' road features 2,800 sq m (9,186 sq ft) of panels and was showcased today at an inauguration ceremony attended by French minister for Ecology, Sustainable Development and Energy Ségolène Royal. The road is expected to produce 280 MWh of electricity a year. While the daily production will fluctuate according to weather and seasons, it is expected to reach 767 kWh per day, with peaks up to 1,500 kWh per day in summer. Some 2,000 motorists will use the RD5 road every day during a two-year test period. During that time, assessments will be made as to whether the road is capable of generating enough power to run the village's street lights.
BBC:  High Court rules fracking can go ahead in North Yorkshire
Anti-fracking campaigners have lost their legal challenge to a decision to allow fracking to take place in North Yorkshire. Third Energy was granted planning permission to extract shale gas at Kirby Misperton in Ryedale in May. Friends of the Earth and residents had challenged North Yorkshire County Council's decision in the High Court. Planners had voted 7-4 in favour of the application, despite more than 4,300 objections and only 36 representations of support. It was the first fracking operation to be approved in England since a ban was lifted in 2012. Campaigners had claimed in court the county council had not considered the impact on climate change and had not put provision in place for money to fund any remedial works.
Global Warming Policy Foundation:  UK Electricity Bills Set To Rise By £30 A Year with Power Rationed To Keep Lights On
The British Infrastructure Group, led by former Conservative minister Grant Shapps, warned lights could go out across the country next winter because there is not enough spare capacity in the system to cope with higher demand. There is just 0.1 per cent spare electricity in the current system, a dangerously small amount of headroom in case of emergencies over the winter months, the report warned. It cost the National Grid 800 times more than the standard price to buy additional power to cope with potential shortages in 2015. In total the company will spend £122.4 million on emergency power this winter and costs are expected to rise in 2016/17. As a result, National Grid is forced to pay a premium to keep power stations which do not operate most of the time in a state of readiness in case of shortages, costing millions of pounds in emergency payments. The grid expects to switch to a new scheme for coping with extra demand in 2018/19, but this will cost £1.1 billion by 2020 forcing bills up by £30 a year, the report warned. Hospitals and factories are also being asked to switch to back up diesel generators to ease pressure on the grid at peak times, leading to concerns about pollution. Daniel Mahoney, head of economic research at the Centre for Policy Studies, said: "Mismanagement of energy policy – both from the European Union and the UK Government – has left the UK with desperately narrow capacity margins."
Guardian:  Christmas electricity blackout report 'laughable'
A report that warned of Christmas blackouts next year and purported to come from a group of MPs has been discredited after it emerged it was only backed by a single MP and included misleading claims. The British Infrastructure Group (BIG), chaired by Conservative MP Grant Shapps, published a report on Monday that said coal power station closures and a drive for renewable energy had left the UK facing "intermittent blackouts for the foreseeable future". The dire prediction was attributed to a "group of MPs" in widespread media coverage, including the Sun, which wrote "Britain teeters on the brink of an energy crisis, MPs claim". Emails from Shapps to journalists before the report was published show it was billed as coming from a group of MPs. "The British Infrastructure Group of MPs (BIG) is releasing a new report warning of potential blackouts over this and next Christmas thanks to mismanagement of the UK's electricity networks," he wrote. But Shapps was the only MP to put his name to the report, titled Electric Shock, his office told the Guardian. Green campaigners said the report was "laughable" and "crap". Energy experts also said its central claim – that the UK was on the verge of blackouts next winter – was wrong and misleading.
Energy Matters (a different one):  Scotland's Wind And Solar Powered Ice Cream Company
Scotland's largest privately owned solar farm has generated enough power in its first year to create 3.3 million litres of ice cream. Mackie's of Scotland is based on a 1600 acre farm in Aberdeenshire where the wind, sun, land and cows help produce fresh milk and green power for the business – what they call their "sky to scoop" process. The 1.8MW solar farm consists of 7,000 solar panels and is on track to generate 1.5 million kilowatt hours in 2016, enough electricity to power 485 homes. Another smaller solar power system is located at the farm and 400 kW of heating power for the office and houses is sourced from a biomass plant. Mr. Mackie says his company now exports surplus green electricity to the mains grid, another step towards Mackie's goal of becoming the greenest company in Britain. Other sustainability efforts by the company include zero waste water practices and the use of natural fertiliser created with some substantial help from the farm's cows.
Washington Post:  Democrats call for special counsel to probe Trump team's focus on climate scientists
Nine Senate Democrats, led by Richard Blumenthal of Connecticut, called Friday for an investigation into a questionnaire sent by the Trump transition team to the Energy Department, asking for names of "employees or contractors" who attended United Nations climate change meetings under President Obama. The questionnaire was disavowed Wednesday by the Trump transition, which released a statement that it was "not authorized or part of our standard protocol" and that the individual who sent it had been "properly counseled." But the lawmakers still want the U.S. Office of Special Counsel to investigate the incident, saying the questions asked "appear to have violated long-standing federal laws designed to protect civil servants against coercion for partisan purposes." Their move appeared to escalate the controversy surrounding the questionnaire and the fears it stoked among scientists about how the incoming administration will treat their research, particularly on the most hot-button issues like climate change. In their letter, the Democratic senators cited not only the question about employees who attended climate change meetings internationally but also a request for a list of "all Department of Energy employees or contractors who have attended any Interagency Working Group on the Social Cost of Carbon meetings," and a "list of the top 20 salaried employees" at various national laboratories. "Taken together, these questions seem to demonstrate a clear intent to retaliate or discriminate against federal employees," the letter states.
RE News:  EU approves German auction system
The European Commission has found Germany's plans to support renewables through auctions to be in line with EU state aid rules. Germany introduced amendments to its clean energy bill in July, aiming to generalize the use of tenders to support projects. As of next January subsidies will mainly be granted through competitive tenders. This will promote the steady deployment of renewable energy whilst maintaining competition in the German energy market, the EU Commission said. Technology-specific auctions will be organised for wind and solar power projects above 750kW as well as biomass and biogas plants with more than 150kW of capacity. "The amendments to the German EEG law we approved today make sure that one of the largest renewable support schemes in the EU will be based on auctions," EU competition commissioner Margrethe Vestager said. "The decision allows Germany to organise separate auctions for different renewable energy technologies to keep its electricity grid stable, and commits Germany to test alternative auction designs for the future through pilot projects."
RE News:  EU gives green light for Drax 3
The European Commission has approved Drax's plan to fully power a third generating unit of its Yorkshire facility with sustainable biomass. Drax said it will now complete the upgrade of the third of its six units to run on wood pellets, a project that started in July 2015. The decision backs the government's support for the £650 investment plan to switch half of the Drax power station capacity from coal to biomass. "Drax now leads the world in biomass technology – three million households are powered with renewable energy generated by Drax and we're the largest carbon saving project in Europe," chief executive Andy Koss said. "We have demonstrated how to reinvent a coal-fired power station, using an existing asset so there are no hidden costs to the grid and it is quick to achieve. With the right support from the government, we could upgrade the remainder of the power station to run solely on biomass and provide up to 8% of the UK's total electricity from sustainable sources."
Climate Central:  New EU Wood Energy Rules Threaten Climate, Forests
As American foresters ramp up logging to meet the growing demand for wood pellets by power plants on the other side of the Atlantic Ocean, a new European wood energy proposal would allow the power plants to continue claiming their operations are green for at least 13 more years, despite releasing more heat-trapping pollution than coal. Most of the wood fueling converted coal plants in England, Denmark and other European countries is coming from North American forests. Each month, about 1 million tons of tree trunks and branches from southern U.S. pine plantations and natural forests is being turned into pellets and shipped to European power plants, mostly to Drax power station in the U.K. The growing transatlantic trade is being financed with billions of dollars in European climate subsidies because of a regulatory loophole that allows wood energy to count as if it's as clean as solar or wind energy, when in reality it's often worse for the climate than burning coal. Only the pollution released when wood pellets are produced and transported is counted on climate ledgers. Actual pollution from the smokestack — by far the greatest source of carbon pollution from wood energy — is overlooked.
See News:  Europe's solar installations down 18% year-on-year
Europe's solar photovoltaic (PV) generation capacity grew by 1.56 GW in the third quarter (Q3) and by 5.3 GW in the first nine months of 2016, SolarPower Europe said Tuesday. Deployment in Q3 and 9-month was down by 10% and 18% year-on-year, respectively. This is mainly because of policy changes in the UK which created a rush before support for solar power dropped significantly. For the first nine months of 2016 the UK added about 1.5 GW, which compares to 4.1 GW a year back. This year's total may reach 7.1 GW if fourth-quarter installations are similar to these in 2015. Last year Europe added 8.6 GW. SolarPower Europe is calling for a 35% renewables target by 2030, up from the proposed 27%, so as to better align with the goals of COP21. It also said priority dispatch and access for renewables need to be kept in a generation scheme still dominated by inflexible power sources. Finally, the organisation says the proposed approach to capacity mechanisms needs to be improved if Europe is willing to eliminate power generation overcapacities. "In light of the Paris COP21 agreement it is concerning that the European solar market growth is slowing down, especially now that solar has become the lowest-cost power source in many European regions today," said Michael Schmela, SolarPower Europe's executive advisor and head of market intelligence.
Cleantechnica:  Solutions For Massive Transition To Australian Renewable Grid Exist, Supporting Policies Do Not
Chief scientist Alan Finkel has outlined the case for serious and urgent market reform in Australia's energy markets, saying the solutions for the massive and "unstoppable" transition to a grid based around wind and solar exist, but the market structures and the supporting policies do not. In a 58-page preliminary assessment of how Australia is placed in the "biggest transition" since the electricity industry was created more than a century ago, the five-person panel headed by Finkel says consumers are at the very center of change. These consumers are being battered by soaring grid costs, but they also have technologies available to them to reduce their bills and help manage the transition to a grid supporting a high level of renewable energy. These technologies, such as rooftop solar and battery storage, are the "antithesis of the centralised energy model," Finkel notes, and are a big test for Australia's fleet of ageing and polluting power stations, and for its policy makers and market rules. But, in stark contrast to the myth-making and hyperbole that has dominated the national stage, particularly in the last week, the Finkel report calmly notes these changes, and the solutions, which are ready made but not yet given the go ahead. This lack of preparedness, it suggests, is the major reason South Australia was caught short in its blackout of September 28, and why other states may also be at risk. But it need not be so, and the answer is to look forward to new technologies and system designs, not to old centralized thinking.
Australian:  Forecast heatwave generates rush for diesel generators in South Australia
Businesses and households in South Australia are scrambling to secure their own back-up power supplies as the state's wind-¬reliant electricity grid faces its first big test this weekend since September's statewide blackout. Since the devastating blackout on September 28 and another partial outage on December 1, there has been a spike in demand for generators. The state's Labor government, which has a renewable energy target of 50 per cent by 2025, says everything is being done to prevent blackouts over the scorching Christmas period, with 40C days forecast for Adelaide on Christmas Day and Boxing Day. The sudden loss of power cost businesses at least $367 million, $100m of which was borne by BHP Billiton's Olympic Dam mine in the state's far north. At the time, only 12 per cent of companies had back-up generators. Genpower Australia salesman Nick Phillips said since the blackout, small businesses had outlaid thousands of dollars to ensure their lights and freezers would stay on in the event of a summer power failure. As one of the state's largest sellers of industrial diesel generators, Genpower has seen a 50 per cent spike in sales and service calls in the past three months compared to the same period last year.
PV Solar Report:  What Happened to the Energiewende?
Germany led the world for the number of solar installations during 2012. This relatively small European nation added 7.60 GW of capacity to the grid. Then their numbers started going downward: 3.30 GW of new solar capacity in 2013; 1.56 GW in 2014; 1.4 GW in 2015. As of October 31, only 0.79 GW of new capacity has been added this year. Germany's critics are once again hailing the imminent demise of this nation's renewable revolution. What happened to Energiewende? "For large-scale PV systems, Germany has switched from a government-set feed-in tariff to a market-driven auction system. The intention is to ensure grid expansion can keep pace with the deployment of new renewables and guarantee grid stability, to move towards a more market-oriented model, and to increase competition" said Daniel Stephens, of Germany Trade And Invest. (But) The Lenz Blog quotes Hans-Joseph Fell, president of the Energy Watch Group, as saying, "The auction volume from April 2015 to August 2016 was only an anemic 740 MW. And only 121 MW of that has been actually built until September 16 of this year. … And with only one third of those ceilings actually built, the result is a complete disaster. I recall that Germany used to build 7 GW of solar a year under a market-based feed-in tariff. Now we get close to nothing. This doesn't make any sense. Cost of new solar has gone down. Why stop now?
Energy Voice:  Scots declare Brexit red lines after renewed independence threat
Scotland is putting forward plans to remain in Europe's single market after vowing to seek independence from the U.K. should its voice be ignored in Brexit talks. First Minister Nicola Sturgeon on Tuesday will detail her semi-autonomous government's red lines on keeping access to free trade and labour as the U.K. heads into talks on withdrawing from the European Union next year. She reiterated at the weekend her stance on calling for a fresh vote on breaking away from England and Wales if Scotland's demands aren't met. "Losing our place in the single market would be potentially devastating to our long-term prosperity, to jobs, investment and people's livelihoods," Sturgeon said in a statement before the publication of a Scottish government paper on the issue. "Our proposals deserve full and proper consideration." It leaves British Prime Minister Theresa May fighting on two fronts and, potentially, having to confront two divorces from unions that looked solid less than a year ago. Scots chose to remain in the U.K. in an independence referendum in 2014 but the nationalist leadership renewed its push for full autonomy after the Brexit vote on June 23.
Business Insider:  Sturgeon's Brexit plan: Keep Scotland in the single market even if the UK leaves
Scotland's First Minister Nicola Sturgeon on Tuesday detailed her bold proposal to keep Scotland in the European single market after Brexit, even if the rest of the UK leaves. The plan, published in a paper titled "Scotland's Place in Europe," calls for the whole of the UK to remain the single market, but outlines a separate plan for a "substantial" transfer of powers which would allow Scotland to remain part of the free-trade zone. Sturgeon added that she would most likely call a second independence referendum if Prime Minister Theresa May doesn't agree to these requests. Speaking at a press conference to launch the paper, Sturgeon cited analysis which suggested that leaving the single market could destroy 80,000 jobs in Scotland, and cost every worker £2,000 over a decade. She called for the UK government to clarify whether it intends to remain in the single market and customs union or as soon as Article 50 is triggered. She said: "It would make no economic sense whatsoever for the UK to leave the single market. It would be entirely democratically justifiable for the UK to remain within it." Sturgeon accepted, however, that it was "unlikely" May would opt to retain the UK's single market membership, given the pressure she is under to reduce immigration.
Scotsman:  Scotland's renewables figures good, but still some questions
New figures released yesterday showing how the country exceeded its renewable energy target for 2015 are to be welcomed. The data revealed that some 59.4% of Scotland's gross electricity consumption came from renewable sources, a significant spike on the 50% target. The question now, however, is how does the sector and the country as a whole continue to make progress? There is an ambitious target to deliver the equivalent of 100% of Scotland's electricity consumption from renewable sources by 2020. While the latest figures offer encouragement in that regard, there is also a need for pragmatism. Supporters of renewables have yet to give a convincing answer to the question of how to supply Scotland's base load. As things stand, that capacity is met by nuclear and fossil fuels. Unless there is a change, costly imports will play an increasingly prominent role in that mix in order to secure security of supply. The mix of our power sources is delicate and forever changing, but the issue of base load or back up capacity is not going to go away any time soon. While the commendable work that has been done to cement Scotland's reputation as a leader in green energy should continue, there is clearly a need to look at the bigger picture.
Herald Scotland: Turbines are threat to migrating birds, study finds
Birds of prey are at serious risk of crashing into offshore turbines as they migrate over open water, according to new research. Scientists have discovered that unlike seabirds, which tend to avoid offshore structures, raptors such as hen harriers are attracted to the turbines by an "island effect". Researchers at Aarhus University, Denmark, led by Henrik Skov, set up two bird finding radars and a laser rangefinder on a narrow strait on the Baltic Sea off the north coast of Germany during the autumn migration. One of the radars was placed next to Nysted wind farm and the other placed further up the Danish west coast. After watching the birds migration route, scientists spotted a large number of sparrowhawks, kites, harriers, buzzards and falcons flying through the sound. The researchers found the the birds were deliberately making a beeline for the turbines and flying away from their normal route out of Scandinavia. According to the study, the birds became more attracted to the structures as the head winds increased. Writing in the Royal Society journal Biology Letters, the scientists suggested that the animals were trying seek shelter for bad weather. They said: "Birds are attracted to offshore structures for various reasons."However, An 'island effect' similar to the process which causes attraction of land-bird species to small islands is perhaps the most likely driver behind the attraction behaviour."
Blue & Green Tomorrow:  Flexible grid could save UK up to 8 billion/year on energy bills

The idea of two-tier networks for different households is simply not on the cards, and would face unprecedented political pushback if it got anywhere near to being implemented. Rather than penalise the poorest households, developments in smart metering and flexible technology will allow everyone to take back control of their bills, at a time when household finances are becoming increasingly stretched. Indeed, the National Infrastructure Commission estimates that a flexible grid could save the UK as much as £8 billion per year on energy bills. The costs of renewable energy have fallen faster than anyone expected. Onshore wind is now clearly the cheapest form of generation, even taking into account to 'fill in the gaps' when the wind isn't blowing. The UK's electricity system has never been more flexible, and as technologies such as storage and demand-side measures begin to appear on grid-scale, this ability to respond to changes in renewable output will become cheaper and easier to control. Last week's capacity market is clear evidence of this, with batteries, demand-side measures and peaking gas plants the big winners.
Utility Week:  Trafford power station reneges on capacity agreement
Trafford power station has reneged on its capacity agreement after failing to meet its financial commitment milestone, despite a three-month extension. The 1.9GW project in Greater Manchester is one of only three new combined cycle gas turbine (CCGT) plants to secure capacity market contracts to date, and is also by far the largest. "This decision has been taken with regret but we understand that the government needs to have a clear picture of what generation capacity is going to be physically available in the future and we did not have sufficient certainty that our Trafford combined-cycle gas turbine project would be completed in the time required", developer Carlton Power said in a statement. The firm has invested "significant resources" into completing the development of the plant and would be ready to start construction in January 2017 if it could tie down financing. "It has been acknowledged by the government and others that new high-efficiency CCGT plants are essential for the UK market in order to achieve the aims of security of energy supply and low cost of energy with the smallest possible environmental impact", the statement added. "However, it has become increasingly apparent that the current arrangements for supporting the development of new generation capacity do not give sufficient comfort for this to be brought forward without substantial and unacceptable risk to investors."
Reuters:  New lease of life for aluminium plant in Scottish Highlands
Liberty House and SIMEC, owners of Britain's only aluminium smelter, are to invest 120 million pounds ($149.76 million) in a project at the plant in Lochaber, Scotland to make aluminium wheels for the car industry. Rio Tinto (RIO.AX) (RIO.L) had sold the 47,000 tonne smelter in the foothills of Britain's highest mountain Ben Nevis, and two hydro-electric power stations to the two groups in November. "Liberty aims to protect the existing 170 jobs in Lochaber and progressively expand metal manufacturing and downstream engineering there," the companies said on Monday. They said this would eventually bring up to 2,000 direct and supply-chain jobs to the heart of the Scottish Highlands and adding around 1 billion pounds to the local economy over the next decade. The Scottish government said it would support the project by guaranteeing the power purchases of the aluminium smelter for a 25 year period. Liberty also bought the Dalzell steel plant in Motherwell and its sister works at Clydebridge in Glasgow from Tata Steel for a symbolic sum in April this year, with the Scottish government underpinning the process.
Washington Post:  The "Warm Arctic, Cold Continents" theory
Last month, temperatures in the high Arctic spiked dramatically — a move that corresponded with record low levels of Arctic sea ice during a time of year when this ice is supposed to be expanding. A buoy close to the North Pole just reported temperatures close to the freezing point of 32 degrees Fahrenheit, which is 10s of degrees warmer than normal for this time of year. But these bursts of Arctic warmth don't stand alone — last month, extremely warm North Pole temperatures corresponded with extremely cold temperatures over Siberia. This week, meanwhile, there are large bursts of un-seasonally cold air over Alaska and Siberia once again. It is all looking rather consistent with an outlook that has been dubbed "Warm Arctic, Cold Continents" — a notion that remains scientifically contentious but, if accurate, is deeply consequential for how climate change could unfold in the Northern Hemisphere winter. The core idea here begins with the fact that the Arctic is warming up faster than the mid-latitudes and the equator, and losing its characteristic floating sea ice cover in the process. This also changes the Arctic atmosphere, and these changes interact with large scale atmospheric patterns that affect our weather (like the jet stream and the polar vortex). The result can be a kind of swapping of the cold air masses of the Arctic with the warm air masses to the south of them. The Arctic then gets hot (relatively), and the mid-latitudes — including sometimes, as during the infamous "polar vortex" event of 2013-2014, the United States — get cold.
Scientific American:  Red-Nosed Reindeer Face Climate Change Threat
At the top of the globe in the Canadian Arctic Archipelago, near the North Pole, a thin layer of soil above the permafrost thaws for just three months each year. When it does, the tundra bursts into bloom. The flowers are favorite summer foods of the Peary caribou, Rangifer tarandus pearyi, a petite, white-bearded subspecies of reindeer. With their noses stained red from the flowers of purple saxifrage, they are truly red-nosed reindeer in the summer. But foraging for flowers under summer's midnight sun is a short-lived luxury. Finding food in winter has always been harder, and climate change is only making the problem worse. One particular weather pattern is freezing the Peary caribou's assets. The reindeer can forage just fine in snow, provided it is not too deep, nosing through the powder to reach the underlying vegetation. But as the Arctic warms, precipitation increasingly takes the form of rain. When rain falls onto snow in the High Arctic winter, it creates a sticky situation that soon freezes solid. The ice that forms on the soggy snow's surface or in layers below can prevent Peary caribou from accessing the plants they need to survive.