We lead off this week with the Didcot B power plant fire and its potential impact on UK electricity supply:
Penn Energy:  Half of Didcot B shut down indefinitely
The blaze, which began in one of the station's cooling towers and quickly spread to three others, has shut down half of the plant's generating capacity indefinitely. The Didcot B combined cycle power station generates over 1.3 GW of electricity when fully operational. As a major supplier of energy to the National Grid, there are concerns that a prolonged partial outage at Didcot B could disrupt reliability as winter approaches in the UK.
Telegraph:  Didcot fire raises risk of winter blackouts and soaring prices
The fire at Didcot power station has raised the risk of Britain facing blackouts and soaring prices this winter, a leading energy analyst has warned. Just one or two more unexpected events – such as power plant closures – "could cause a serious security of supply event, and a probable surge in wholesale prices", Peter Atherton of Liberum Capital said. "The loss of this plant would not normally be a cause for concern. But UK energy policy has managed to engineer historically low reserve margins as we head into winter. The odds are still that UK will escape a security of supply crunch this winter. But the mere fact that a security of supply crisis is a material possibility is in itself a sign of huge policy failure in our view."

"I've been reassured by National Grid that there is no risk to electricity supplies," said Ed Davey, secretary of state for energy and climate change.
21 more stories below the fold, including the EU's new energy targets, stress tests to see whether Europe can survive a Russian gas cutoff, oil in sub-Saharan Africa, whether fracking in UK will ever get off the ground, problems with solar in Japan but no worries with coal in Australia, whether sodium can save nuclear power and how climate change is shrinking goats.
Mail:  EU energy targets to add £150 to energy bills
David Cameron was urged to ditch EU green energy targets last night, amid warnings they will add £150 to the average family's bills over the next five years. The Prime Minister will travel to Brussels this afternoon to debate stretching new targets that will require Britain to slash carbon emissions by 40 per cent by 2030. But a new report from the respected think tank Open Europe warns that existing targets are already putting Britain's economy and living standards at risk, and calls for them to be ditched.
Euractiv:  EU leaders set energy and climate targets
EU leaders Thursday night (23 October) committed by 2030 to reduce greenhouse gas emissions by at least 40%, and increase energy efficiency and renewables by at least 27%. But the efficiency and renewables targets were watered down. The European Commission had called for an efficiency goal of 30%. That was reduced to 27% across the EU. The EU level target is not legally binding at the national level. The renewables target of at least 27% is binding at EU-wide level but, after opposition from countries such as the United Kingdom, it will not be binding at national level.
The Guardian:  explains why the EU set these targets
Finally, here's one last graph on why the EU is setting all these targets. We're the black line – the world is currently on track for the worst case scenarios for future global warming: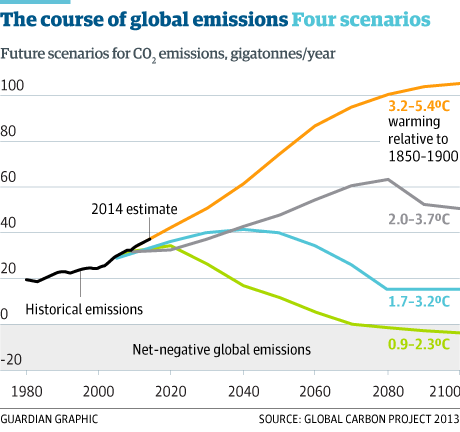 New York Times:  EU orders UK to pay extra $2.7 billion
The request for the money, which is about 1.7 billion pounds, came after a recalculation of data showed that the British economy performed better in recent years than previously thought. That suggested that its payments into the European Union budget should rise according to the bloc's formula for contributions. The payment would come in addition to Britain's annual payment of about $13.8 billion to the bloc's treasury. Mr. Cameron quickly rejected the demand as "totally unacceptable."
Euractiv:  Stress test measures EU capacity to survive without Russian gas
According to the report, in all scenarios the Eastern member states and the Energy Community countries (Ukraine, Moldova and the Western Balkan countries) would be affected most. However, if countries cooperate and supply each other with gas they have available, the effects of the disruption could be largely mitigated. In the absence of cooperation between members, serious supply shortfalls of 40% or significantly more could materialise, at least towards the end of the 6-month disruption period, for Bulgaria, Romania, Serbia, the former Yugoslav Republic of Macedonia and Bosnia and Herzegovina, the report finds. Shortfalls of similar magnitude would apply for Lithuania, Estonia and Finland in the scenario of a total halt of Russian supplies to the EU. Hungary and Poland would also be substantially affected, albeit to a lesser degree, by shortfalls of 30% and 20% respectively.
RIA Novosti:  Putin slams west for refusing to accept legitimacy of Crimea reunification
Russian President Vladimir Putin has commented on the West's position on Crimea's reunification by likening it to the Latin proverb, "What is permissible for Jove is not permissible for an ox." Putin pointed out that Western countries consider Kosovo's declaration of independence legitimate, while refusing to accept Crimea's right to self-determination, granted to any nation by the UN charter. The decision to hold a referendum in Crimea was made by a legitimate representative body of power, the Crimean parliament, following a coup in Ukraine, the Russian president reiterated. Crimea's reunification with Russia is in accordance with international law whatever some might say. In that respect, the Russian president recalled the saying "Quod licet Jovi non licet bovi".
UPI:  Russia militarizing Arctic Ocean
Russia has begun a large-scale militarization of the Arctic Ocean region, with a military command structure planned by 2017. It comes after recent discoveries of oil and natural gas reserves under the ocean floor, and the possibility a potential Northern Sea Route — an alternative to the Suez Canal — could soon be established as global climate change causes melting of Arctic ice. Former Soviet bases are being reactivated, a 6,000-soldier permanent military force will be established in the northwest Russia's Murmansk region, and radar and guidance systems are planned in the area, the Russian news agency RIA Novosti reported.
Coal Guru:  Ukraine buying coal from Russia
Physical coal traders said that Ukrainian coal market participants have been sourcing low-calorific coal from Russia because of domestic shortages. Ukraine is traditionally a major coal supplier to Turkey but has become a coal importer since several major coal mines, supplying the country's thermal coal power plants, were bombed during its geopolitical conflict with Russia. Vital infrastructure such as railway lines, roads and bridges were also damaged during the conflict, which has made it challenging for coal to be delivered to power plants in Ukraine.
Tass:  Ukraine to go west for nuclear
Ukraine's Prime Minister Arseniy Yatsenyuk has instructed the national operator of nuclear power plants, Energoatom, to speed up completion of power generating units, which are still in the phase of construction, and to reorient cooperation from Russia to the EU at the same time. "The National Atomic Energy Corporation should step up completion of power-generating units and do this work in cooperation with European companies, not the Russian ones," Yatsenyuk said at a meeting of the cabinet of ministers. "The task of completing these power units is on the agenda," he went on. "This should be done swiftly enough and, first and foremost, with assistance from European partners. We are not with Russia, we are with the Czech Republic, we'll get a contract with Skoda."
Telegraph:  UK faces fracking bust amid OPEC price war
Experts have warned that a rush to start fracking for oil across Britain may already be over before it has even begun as the slump in global crude oil prices makes the controversial method of drilling look increasingly uneconomic. Bids from oil companies for licences to search and potentially drill for oil onshore in the UK are due on October 28. The auction of mineral exploration rights across vast swathes of the country will, it is hoped, spur a shale oil and gas "revolution" similar to that which has helped transform the US economy. However, the recent sharp declines in the price of oil traded on global markets – Brent is down around 25pc since hitting $115 per barrel in June – have cast a cloud of uncertainty over the process of opening up the UK to fracking due to the high costs associated with the process.
Malaysian Digest:  Japan nuclear power restart could punish global oil prices
Japan's reboot of nuclear power, expected to begin early next year, is set to punish oil imports the most as utilities slash the use of their highest-cost fuel and shut aging oil-fired plants, a survey of Japan's nine biggest power companies showed. Utilities in Japan are keen to close oil-burning units, not only because crude and fuel oil are their most expensive fossil fuels, but also because the plants are costly to maintain. This could see the world's No 3 oil consumer cutting use further just as weak global demand and ample supply are already pushing the international Brent benchmark to multi-year lows.
Forbes:  US to produce more oil than Russia for decades
The U.S. shale oil and gas renaissance has effectively stripped Russia from its status as biggest non-OPEC oil producing state. And Russia won't recover for the next 25 years. Or more, according to the U.S. Energy Information Agency. U.S. oil and gas production is seen going from 9.8 million barrels a day in 2011 to 14.2 million per day in 2020. By then, Russia will produce an average of 10.7 million barrels daily. And while Russia's oil production will rise by an average of 0.6% year over year between now and 2040, U.S. oil production will be a little bit better, at around 1% growth per year. The EIA has American oil and gas production peaking in 2020, but its inevitable decline will still outpace Russian production. For instance, by 2030, the U.S. is expected to average 13.2 million barrels daily while Russia will be pumping out 11.2 million.
Reuters:  Record number of applications for Denmark oil and gas permits
Denmark has received a record number of applications for oil and gas permits in its latest licensing round, including from A.P. Moller-Maersk's oil unit, Royal Dutch Shell and Hess. The Danish Energy Agency said it had received 25 applications from 15 companies by Monday's midday deadline. The licensing round was restricted to the south-western end of Danish waters, but there were no specific areas or blocs involved. The licences will be awarded next year.
Oil & Gas Journal:  Mexico to open bidding with shallow water areas
The country plans to open its areas in a bidding sequence starting with shallow water. After that, bidding will involve extra-heavy oil, unconventional assets, and deep water. The first round is expected to involve 169 blocks with most of those blocks involving crude oil ranging from light, sweet crude to heavy oil. The initial round will include some natural gas offshore and in unconventional plays.
The Hill:  Lifting export ban will reduce US gas prices
Lifting a decades-old ban on crude oil exports would reduce gas prices for consumers and increase the size of the economy, according to a new federal report. The Government Accountability Office (GAO) report, released on Monday, said repealing the ban would "likely increase domestic crude oil prices but decrease consumer fuel prices. "Lifting the ban would help bring the price of domestic crude oil closer to the international prices of crude, which would be beneficial to producers, the report states, and prevent a slowdown. "Removing export restrictions is expected to increase the size of the economy, with implications for employment, investment, public revenue, and trade," GAO states. "For example, removing restrictions is expected to contribute to further declines in net crude oil imports, reducing the U.S. trade deficit." Removing restrictions would also increase domestic production, to the equivalent of 8 million barrels per day this year.
Business Recorder:  30% of global oil & gas discoveries in sub-Saharan Africa
Almost 30 percent of global oil and gas discoveries made over the last five years were in sub-Saharan Africa, reflecting growing global appetite for African resources, the World Energy Outlook Special Report said. The report said that Nigeria is the richest resource centre of the oil sector, but regulatory uncertainty, militant activity and oil theft in the Niger Delta are deterring investment and production, Nigeria News Today Reported. Consequently, Angola is set to overtake Nigeria as the region's largest producer of crude oil until the early 2020s. It noted that the value of the estimated 150,000 barrels lost to oil theft each day amounting to more than $5 billion per year, would be sufficient to fund universal access to electricity for all Nigerians by 2030.
Reuters:   Australian coal to be exempted from Chinese tariffs
Australian coal will be exempt from controversial new import tariffs imposed by China when the two countries sign a free trade pact, Treasurer Joe Hockey said after a meeting in China, although the timing of a deal has yet to be finalised. Australia and China are trying to seal a free trade agreement (FTA) before the end of this year after nearly 10 years of negotiations, in a bid to boost two-way trade already worth more than A$150 billion ($132 billion).
WSJ:   Solar power bottlenecks in Japan
In recent weeks, five Japanese utilities that operate relatively small grids said they were temporarily blocking new solar projects from hooking up to the grid. The utilities said their grids could be put at risk because of the volatility of solar facilities, which can produce a large volume of electricity on clear days and then drop abruptly to zero when dusk falls. Representatives of the companies said they were continuing to accept solar power from homes and small facilities with capacity of less than 10 kilowatts. A Kyushu Electric spokeswoman said the company would also work with new solar facilities if they used storage batteries to prevent a sudden surge of electricity onto the grid. "But otherwise, the capacity would be well above the typical demand in low seasons if we accept everyone. It is impossible," she said.
UK Government:  No more solar subsidies on UK agricultural land
New rules will ensure more agricultural land is dedicated to growing crops and food. Farmers will lose their right to claim subsidies for fields filled with solar panels under new plans to ensure more agricultural land is dedicated to growing crops and food. The move will help rural communities who do not want their countryside blighted by solar farms. The change, which will come into effect from January 2015, will mean that farmers who choose to use fields for solar panels will not be eligible for any farm subsidy payments available through the Common Agricultural Policy for that land.
Scientific American:  Can sodium save nuclear power?
Sodium, the sixth-most abundant element on the planet, is being held up as the key to one of several new types of nuclear reactor being developed as governments grapple with the problem of making atomic energy more environmentally friendly, safe and financially viable. Launched by the United States in 2000, the Generation IV International Forum (GIF) has 13 member countries including China, Russia, France, Japan and Britain, which have whittled down nearly 100 proffered concepts to focus research on six nuclear reactor models. By far the most advanced of the six is the sodium-cooled fast reactor (SFR), developed by France, Russia and China from a concept pioneered in the United States in the 1950s. The SFR's main advantage is that it can burn spent uranium and plutonium.
Mail:  Climate change shrinks goats
Goats are shrinking as a result of climate change, researchers have claimed. They say Alpine goats now weigh about 25 per cent less than animals of the same age in the 1980s. Researchers say it is a stark indication of how quickly climate change can affect animals. (Image credit WUWT):