We lead off this week with a real blowout. It happened a couple of days ago about fifty miles south of where I live. Even Red Adair would have had trouble with this one:
Colima volcano, Mexico, November 21, 2014 (credit Oronegro)
This video catches the initial explosion.
In other news, the approach of winter –
ABC News: Ice forms on Lake Superior weeks ahead of schedule:
The first sightings of ice on Lake Superior and the Great Lakes overall usually occur during the beginning to middle of December. However, a perfect combination of last season's record ice coverage, cooler summer temperatures, and an early blast of arctic air this fall has allowed for areas of ice to form earlier than normal for the second year in a row.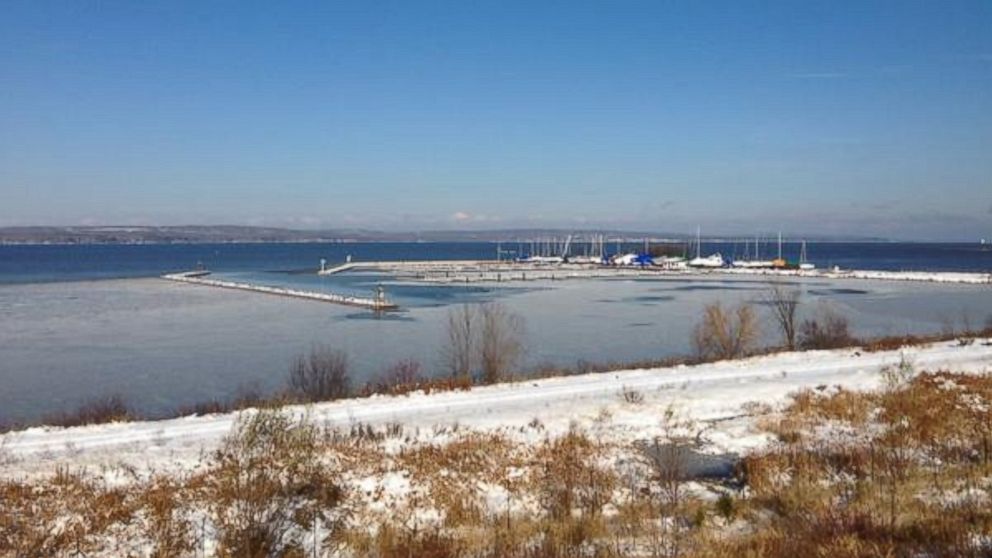 – once more focuses attention on the energy situation in Europe. More stories on this below the fold, along with problems at Scottish nuclear plants, setbacks at Hinkley Point, the EC sues Poland, shale gas in the US, an Iraq/Kurdistan oil deal, Australian coal to Ukraine, the world's longest continuously-producing oil well and how climate change is killing chocolate.

USA Today: Are Europe's energy hopes fading into darkness?
It's going to be chilly this winter for the wallets of consumers in Lisbon, where gas prices are up 62 percent since early 2011 and electricity costs have risen 26 percent during that time. Over in Berlin, citizens are preparing to shiver under their topcoats, though they might burn up over their electricity bills — which have outstripped inflation growth by three times.
Bloomberg: Europe risking blackouts without clean coal
Europe faces power shortages in the next decade unless it balances its drive for low-carbon energy with investment in clean-coal and nuclear generation, according to the International Energy Agency. Policy makers must boost incentives for coal-fired power that includes carbon-capture technology and spur investment in new atomic plants to replace aging reactors, Maria van der Hoeven, the executive director of the IEA, said in an interview. The investment in round-the-clock, or baseload, power is needed to cover intermittent wind and solar supply, she said.
Euractiv:  Germany's climate targets unattainable with dirty coal
Economists at the German Institute for Economic Research are calling for old coal-burning facilities to be shut down as soon as possible, indicating that it's the only way Germany will reach its climate target for 2020. Shutting down old coal plants would create a moderate increase in energy market prices. However, this shift is likely to make power generated from natural gas profitable again, according to a study released on Wednesday (19 November).
Azerbaijan State Telegraph Agency: Azerbaijan rides to the rescue
On 18 November, The European Azerbaijan Society (TEAS) organized a timely debate in Parliament to discuss the future of the UK's energy supply and how this may be secured in the future. David Hamilton MP, who hosted the debate, explained the background to the current crisis: "The biggest question is security of supply. It has become apparent that there is the potential for blackouts across the UK. Renewable energy technology has a role to play, but the public cannot wait for these systems to be constructed."
Express:  Radioactive leak at Dounreay
A fire at a Scottish nuclear power plant led to an "unauthorised" release of radioactivity in to the environment, an investigation has revealed. Site operators said they had identified "unacceptable behaviours and practices" by staff at the Dounreay plant on the north coast of Scotland. Dounreay Site Restoration Limited (DSRL) revealed trace amounts of tritium were released during the blaze, but said they did not pose a risk to the public.
BBC:  Unscheduled outage at Torness
A nuclear reactor at the Torness power station in East Lothian has gone offline in an unplanned outage, its operator has said. EDF Energy said the 640MW Torness 2 reactor went offline at 01:16 on Friday. The unit was expected to remain unavailable for seven days, the firm said. It means nearly 5GW of British nuclear capacity is offline. Paul Winkle, Torness Power Station director, said: "The reactor shutdown safely and cooling to the reactor was maintained at all times. There were no health or environmental impacts."
This is Money:  Setback for Hinkley Point C
Families will be roasting their turkeys using power from EDF's latest nuclear reactor by the Christmas of 2017. That was the promise of the French energy giant's British boss Vincent de Rivaz at the start of the decade. But the flagship scheme to build Hinkley Point C nuclear power station, the first in the UK in 25 years, risks turning into a turkey of its own. The turbines will not begin whirring until 2023 in the latest forecasts. And the project – initially expected to cost £10billion – could now see EDF fork out as much as £25 billion.
Guardian:  Steven Chu warns UK its nuclear plans risk becoming financial drain
Steven Chu, the former US energy secretary and Nobel prizewinning physicist, believes using a variety of reactor designs – as the UK looks poised to do – is not the best way to keep costs down. "Unless we can learn to build nuclear on schedule and on budget it will be a financial drain. Other countries have learned how to do this: South Korea has built 10 plants exactly the same and the tenth plant was only 60% of the cost of the original one. The cost came marching down because they just kept doing the same thing," he told the Guardian.
Oil & Gas News:  INEOS moves to become biggest player in the UK Shale Gas Industry
INEOS has today announced it is planning to invest $1 billion in UK onshore Shale gas exploration and appraisal. Substantial further investment would follow if the company moved into development and production. If INEOS wins all the Petroleum Exploration and Development licences (PEDLs) it has bid for from the Department of Energy & Climate Change (DECC), the company would become the biggest player in the UK's Shale gas industry. The vast majority of the INEOS bids are in Scotland and the North of England, where the local populations have either a mining or an industrial heritage. INEOS believes that an indigenous Shale gas industry would transform UK manufacturing and that the gas can be extracted safely and responsibly.
BBC:  Wave power firm Pelamis calls in administrators
Wave power technology firm Pelamis has called in administrators KPMG after failing to secure development funding. The Edinburgh-based firm has been testing its wave energy converters at the European Marine Energy Centre (EMEC) in Orkney for a number of years. But in a statement Pelamis said it had "reluctantly" moved to appoint an administrator. KPMG said it was seeking a buyer who could protect the business and its 56 employees.
Solar Power Portal: UK installed solar capacity reaches 5GW
According to the latest weekly analysis by NPD Solarbuzz on UK PV market deployment, the UK's cumulative capacity has now reached 5GW. This makes the UK only the sixth country to have more than 5GW capacity. Germany remains the undisputed leader with more than 36GW. China, Japan, Italy and the US each have more than 10GW installed.
Agriland: Biomass to provide half of Ireland's renewable energy by 2020
The 2009 EU Renewable Energy Directive set Ireland a binding target of having 16% of its final energy consumption from renewable sources by 2020 and include biomass. It is expected that approximately half of the 16% renewable energy target will be met by energy from biomass, according to the Minister for Agriculture, Simon Coveney.
Euractiv: EC sues Poland over shale
The European Commission has begun legal proceedings against Poland for amending its national laws to allow shale drills at depths of up to 5,000 metres without first having assessed the potential environmental impacts. In June, Brussels sent Poland formal notice that it was opening a case against it for infringing the Environmental Impact Assessment (EIA) Directive.
ZIK: Ukraine ready to sign shale gas agreement with Chevron
Ukraine has met all the terms to sign an operation agreement with US Chevron company to extract the shale gas in the Olesko area in Lviv and Ivano-Frankivsk oblasts, Nadra Ukrayiny board chairman Yaroslav Klymovych said Nov. 18, UNIAN reported. Nadra Ukrayiny and Chevron have held meeting to resolve the disputed issues and reconcile the interests of both sides, NU chairman said.The Ukrainian official called on Chevron to speed up the signing of the operation agreement.
TASS: Ukraine gets Australian coal
A total of 36,000 tonnes of coal from Australia have reached the port city of Mariupol in Ukraine's embattled Donetsk region, the press service of the city council reports on Thursday. Ukraine is facing deficit of certain types of coal as a result of warfare in Donbass (the Donetsk and Luhansk regions), where coal of these brands was produced and where there is about 2 million metric tonnes of such coal at state mine depots. According to the Energy and Coal Industry Ministry, the import requirements for these brands total 1 million tonnes a month. At the moment, Ukraine is buying coal from South Africa at the price of 86 dollars per tonne, but when coal reaches Ukraine the price grows to about 110 dollars per tonne due to transport and other costs.
Reuters: Oil deal between Iraqi Kurdistan and Baghdad
After years of friction, the two sides last week struck a deal in which Kurds will give half of their overall oil shipments to the federal government and Baghdad will pay overdue civil servants' salaries in the region. Oil has been at the heart of a feud between the Arab-led government in Baghdad and the ethnic Kurdish-run northern enclave, with disputes over oilfields, territory and crude revenues shared between the two regions.
Express Tribune: Qatar lowers LNG price for deal with Pakistan
Qatar has revised downward the price of liquefied natural gas (LNG) to clear the way for a deal with Pakistan following a sharp decline in energy prices in the international market in the wake of increased LNG supplies."Qatargas, which was seeking $18 per million British thermal units, has now pushed it lower to $14-16," said Shoaib Warsi, Managing Director of Sui Southern Gas Company (SSGC), while talking to the media here on Friday. For spot purchases, he said, the LNG price had come down to $10 per mmbtu in the market.
South China Morning Post: China plans more nuclear plants and renewable energy
China will boost oil exploration, use less coal and more natural gas, build more nuclear plants and develop renewable energy under a new seven-year development plan. The State Council's newly released plans for 2014-2020 marks the latest attempt by policymakers to limit the nation's appetite for energy. Reflecting its rapid industrialisation and economic growth, China has become a voracious consumer of energy, changing global energy markets and the geopolitics of energy security. The document sets out five strategic tasks for the nation's energy development. The first is to achieve greater energy independence by promoting clean and efficient use of coal, increasing domestic oil production, and developing renewable energy.
New York Times: Coal Rush in India Could Tip Balance on Climate Change
"If India goes deeper and deeper into coal, we're all doomed," said Veerabhadran Ramanathan, director of the Center for Atmospheric Sciences at the Scripps Institution of Oceanography and one of the world's top climate scientists. "And no place will suffer more than India."
Reuters: The G20 summit
Leaders from the G20 group of nations agreed on Sunday to boost flagging global growth, tackle climate change and crack down on tax avoidance, but ties between the West and Russia plummeted to a new low over the crisis in Ukraine. Russian President Vladimir Putin left the G20 summit in Brisbane early as U.S. President Barack Obama accused Russia of invading Ukraine and Britain warned of a possible "frozen conflict" in Europe. Several Western nations warned Russia of further sanctions if it did not withdraw troops and weapons from Ukraine.
Yahoo News: US Senate rejects Keystone pipeline by one vote
The US Senate rejected by a single vote a bill that would have approved construction of the Keystone XL pipeline to bring crude oil to Gulf coast refineries from Canada's controversial tar sands. Rejection of the $5.3-billion project came by the narrowest of margins and Republicans immediately vowed to approve the bill early in 2015 when the new Congress convenes with them in control of the next Senate.
Bloomberg: OPEC underestimate resiliency of US oil output – Yergin
OPEC was mistaken in thinking that U.S. shale oil production would be unprofitable once crude prices slipped below $90 a barrel, according to Pulitzer Prize-winning author Daniel Yergin. "One of the big surprises for many is how resilient the shale oil sector is in the United States because of technology, efficiency," Yergin said in an interview today after speaking at the 10th Annual Columbia University Energy Symposium in New York. "The speed with which it's going up the learning curve compensates for the speed with which they are going down the price curve."
Bloomberg: Some Texas shale unprofitable at $75 oil
With crude at $75 a barrel, the price Goldman Sachs Group Inc. says will be the average in the first three months of next year, 19 U.S. shale regions are no longer profitable, according to data compiled by Bloomberg New Energy Finance. Those areas, which include parts of the Eaglebine and Eagle Ford in East and South Texas, pumped about 413,000 barrels a day, according to the latest data available from Drillinginfo Inc. and company presentations. That compares with the 1.03 million-barrel gain in daily national output over the past year, government figures show.
Bloomberg: Baker Hughes rig count down
The slowdown in the U.S. oil-drilling boom spread to two of the nation's largest fields this week. The Permian Basin of Texas and New Mexico, the country's biggest oil play, lost four rigs targeting crude, dropping to 558, Baker Hughes Inc. said on its website today. Those in North Dakota's Williston Basin, the third-largest and home to the Bakken shale formation, slid to the lowest level since August, according to the Houston-based field services company's website. It was the first time in four weeks that oil rigs dropped in the Williston.
KOMO News: Oregon wind farm sues to block release of bird death data
Pacificorp of Portland, Oregon, is seeking an injunction in U.S. District Court in Utah to prevent the Interior Department from releasing information it considers confidential. The Obama administration has said it planned to turn over the material to The Associated Press, which sought it from the Interior Department in March 2013 under the U.S. Freedom of Information Act. Using documents, emails and interviews with former wildlife officials, the AP in articles published last year documented more than four dozen eagle deaths in Wyoming since 2009, and dozens more in California, New Mexico, Oregon, Washington and Nevada. Corporate surveys submitted to the federal government and obtained by AP showed at least 20 eagles found dead in recent years on Pacificorp wind farms in Wyoming.
Bloomberg: The 153-Year-Old Oil Well That Hasn't Stopped Pumping Yet
About 70 miles north of Pittsburgh, a pothole-pocked dirt road along the side of a warehouse leads to a solitary oil well, undeterred by the recent plunge in crude prices. McClintock No. 1, the world's oldest continually producing oil well, is still going after 153 years, quietly churning out about 1/10 of a barrel a day from a small spot in a clearing of trees.
Global Post: Climate change killing chocolate
All signs point to a pretty terrifying future for the world if scientists' warnings about climate change continue to fall on deaf ears. But now, it looks like our inability to address climate change adequately might cost us one of the world's most pure, innocent, and wonderful pleasures: chocolate.