The big news this week is OPEC's decision not to support oil prices by cutting production, so that's what we lead off with (photo credit Guardian):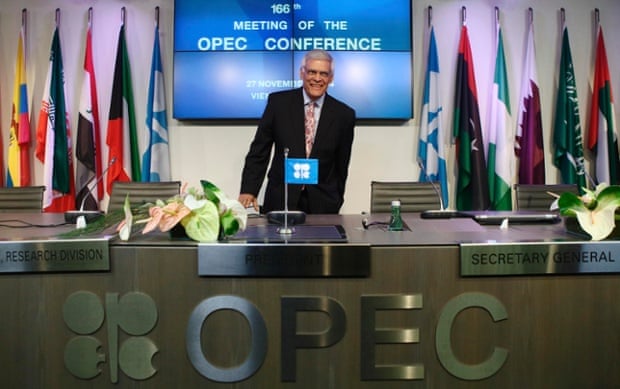 CNN Money: OPEC: No cut in oil production and prices keep falling
OPEC countries failed Thursday to agree to a cut in oil production that was desperately sought by some member states worried about the recent drop in prices. Officials met for six hours of negotiations in Vienna. It would have been the first cut in production since 2008. But Saudi Arabia, the largest among OPEC members, was against the cut in output — in a bid to retain market share and hold off competition from U.S. shale production. Brent crude, the European benchmark, was down by about 7% at $72.60 after it was announced that production will remain around 30 million barrels a day. The price of light crude, the U.S. benchmark, plunged about 7% to below $69 per barrel. Analysts say a cut of around 1.5 million barrels a day would be needed to support oil prices.
More on OPEC below the fold, plus stories on dwindling energy supplies in Ukraine, low oil prices and sanctions biting in Russia, a gloomy future for the North Sea, Peterhead fails a stress test, a new EU renewables project, an invisible force field surrounding the Earth and how climate change will prevent your flight from taking off while drying out your turkey.

Fox News: How low can it go? Oil, gas prices in freefall as OPEC reels from US fracking
In just a matter of months, the price of a barrel of oil has dropped from more than $100 to about $70, and gas is now cheaper than it has been in years. But a recent report conducted for the American Petroleum Institute claimed oil would cost twice as much as it does now if it weren't for America's fracking boom, which wrings oil and natural gas out of shale miles underground. But the next question could be whether the fracking industry can survive the low prices it brought. "The shale boom is on a par with the dot-com boom," Russian oil baron Leonid Fedun of OAO Lukoil told Bloomberg. "The strong players will remain, the weak ones will vanish."
CNN Money: OPEC's message to US shale: Drop dead
Despite tumbling prices — the lowest since 2010 — the cartel surprised the energy industry by deciding to keep pumping oil at current levels. One motivation is to squeeze higher-cost producers in North America, including the booming U.S. shale industry that has reshaped the global energy landscape. OPEC is betting lower oil prices will force U.S. producers to throw up the white flag and cut back on production because they won't be able to turn a profit. "The gauntlet has been thrown down for Western Hemisphere producers like Brazil, Canada and the United States," Bespoke Investment Group wrote in a note to clients on Friday.
Reuters: Russian minister says Moscow to follow OPEC decision not to cut oil output
OPEC's decision to abstain from cuts in oil production has forced Russia not to proceed with its own cuts, Russian First Deputy Prime Minister Igor Shuvalov said on Saturday, TASS news agency reported. Just two days prior to the OPEC meeting in Vienna, Russia sent its delegation, led by Igor Sechin, a long standing ally of President Vladimir Putin and head of Russia's top oil producer Rosneft, to the Austrian capital for meetings with some OPEC members. Shuvalov said, however, that Russia did not ask OPEC for production cuts. Russian experts say its is hard for the country to cut its production suddenly as its harsh climate and challenging geology means it cannot simply stop wells from pumping oil. Russia expects to keep its production stable next year at over 10 million barrels per day.
Fortune: Russian Finance Minister on oil slump, sanctions
We will lose around $40 billion a year because of sanctions, and around $90-100 billion a year, if we assume a 30% drop in the price of oil," Anton Siluanov told a conference in Moscow Monday, according to news agency reports. Siluanov's comments go against the grain of bravado from President Vladimir Putin and foreign minister Sergey Lavrov, both of whom have repeatedly tried to play down the impact of U.S. and E.U. sanctions in the wake of Russia's annexation of Crimea and its sponsoring of an armed rebellion in the eastern provinces of Ukraine. They are, however, consistent with Siluanov's own earlier warnings about the need for Russia to tighten its belt and make big cutbacks in the light of the new economic reality. Siluanov has already warned that the big increase in defense spending earmarked for the next three years is unaffordable.
Globe & Mail: Alberta energy firms face harsh new reality as oils slide steepens
Canada's energy sector faces the prospect of a lengthy downturn in oil prices and broad spending cuts after OPEC said it does not intend to cut production – a move that sent crude prices and energy shares plunging. Investors immediately punished Canadian energy companies in reaction to the Organization of the Petroleum Exporting Countries' decision Thursday to stand firm on its production plans, defying industry hopes for a cut.
The Journal: Confidence falls in the North Sea oil and gas industry
Confidence has fallen to a six year low in the North Sea oil and gas industry amidst calls for the Government to provide urgent support in next week's Autumn Statement. Declining production levels, record low exploration levels and falling oil prices – combined with rising costs – are producing a pernicious cocktail of uncertainty on the United Kingdom Continental Shelf.
International Business Times: Alex Salmond's North Sea Oil Dreams Dashed by OPEC Outlook
First Minister Alex Salmond's argument that the revenues from North Sea oil would be a golden ticket if Scotland became independent after September's referendum has received a devastating blow. According to the latest monthly report from the Organisation of Petroleum Exporting Countries (Opec), the average oil output in 2013 from the North Sea registered its lowest level since 1977.This represented a roughly 10% decline from the previous year of 90 thousand barrels per day (tb/d) and could undermine the arguments a number of Scottish nationalists regarding the North Sea oil and gas cash cow which would be available to Scots. What is even worse for Salmond, the report said that this trend of lower production could deepen this year. "Projected production in 2014 could be lower than actual production in 2013 by 70 tb/d to average 0.80 mb/d, since supply is likely to experience fewer unplanned shutdowns in 2014 compared with 2013. On a quarterly basis, UK oil output in 2014 is expected to average 0.84 mb/d, 0.78 mb/d, 0.73 mb/d and 0.83 mb/d, respectively," said Opec.
Globe & Mail:  Why the collapse in oil prices is such a huge win for China
The mere fall in oil prices is a huge win for China: the basic math of a tumble from $115 to $72 a barrel suggests annual savings to the country's drivers and industrial users equivalent to more than 1.5 per cent of current GDP. Natural gas prices that are tied, or indexed, to oil will also fall, potentially providing a major leg up for China's ambitions to move away from coal and toward a cleaner-burning source of energy.
Globe & Mail:  OPEC: Why oil prices will bounce back … eventually
(RA note: one thing notable about this article is the sources it cites, which are the Economist, Société Générale, Elon Musk, the International Monetary Fund, Deutsche Bank and … Euan Mearns.)
TASS:  Russia says no to shale gas
The board of directors of Russia's gas monopoly Gazprom sees no immediate reason for developing shale gas production in Russia, says the company's news release following a meeting of the board of directors on Thursday. The directors agreed that shale gas production in Russia still looks not feasible at the moment. "The main reasons are the considerable reserves of natural gas, whose production costs are far lower than that of gas that may be extracted from shale rock, and the negative effects of shale gas production on the environment," the news release says.
Exploration World: Shale gas takes over in US
A new report from the U.S. Energy Information Administration revealed that in 2013 gross withdrawals of natural gas reached a new high, with gas from shale operations making up the largest portion of U.S. production for the first time. According to the EIA total natural gas gross withdrawals in the U.S. surpassed 82 billion cubic feet per day in 2013. Added up, the EIA estimates total natural gas production in the U.S. sat around 30.005 trillion cubic feet in 2013, an increase of roughly 15.15 percent over 2009. Interestingly enough, in that same period of time, the number of gas producing wells in the U.S. declined by about 1.18 percent to settle at 487,286 in 2013. While counterintuitive, this trend is easily explained by advances in drilling and production technology, such as increased use of pad drilling which allows multiple horizontal wells to be tied into one small production site.
Pravda: Ukraine halves natural gas consumption
The consumption of natural gas for hot water and heating supplies for common Ukrainians was halved in October 2014 in comparison with October 2013, officials with Kyivenergo said. The reduction in natural gas consumption was due to the limits for natural gas in accordance with the decision of the government. In addition, in 2013, the heating season in Kiev started on October 1, and in 2014, it was launched on October 21.
Yahoo News: Shortage of coal, not gas, is Ukraine's problem
A shortage of coal, rather than gas, is likely to plunge Ukraine into freezing darkness this winter as conflict in its east seals off supplies that used to make it self sufficient. Kiev has said any hopes it had of Russian coal coming to the rescue were dashed when Moscow suspended exports. Ukraine has declared a state of emergency in its electricity market and blackouts are imminent unless it can import coal, analysts and industry officials say. "We have no energy reserves now, everything works on maximum and every technical problem can lead to sharp power cuts," said Andrey Favorov, managing director of energy investment company Energy Resources of Ukraine.
Utility Week: Peterhead fails winter back-up test
The Peterhead gas-fired power unit contracted by National Grid to help guard against the increased risk of blackouts this winter, has failed the test run it was paid £250/MWh to carry out. The test was scheduled to take place over Thursday until 19.50 GMT, but National Grid data shows that the maximum available output from the plant unexpectedly fell from 780MW to zero shortly after 14.00 GMT."We cannot comment in detail on the proving test, but we will be discussing the results of the test with SSE," a spokesman for National Grid told Utility Week. The 32 year-old plant is under contract with National Grid to be available to provide back-up generation over the coming winter months in the event that demand outstrips the UK's dramatically tightening supply margins.
BBC: Lowest number of winter deaths on record in UK
The lowest ever number of winter deaths was recorded last year, official figures for England and Wales show. An estimated 18,200 excess winter deaths occurred in 2013-14, the lowest number since records began in 1950-51. Last winter was notably warmer than in previous years and had a relatively mild flu season which contributed to the lower number of deaths.
UK government: UK government releases third quarter energy stats
Highlights for the 3 month period July 2014 to September 2014, compared to the same period a year earlier include:

• Primary energy consumption in the UK fell by 5.7%, on a temperature adjusted basis it fell by 5.9
• Indigenous energy production fell by 5.5% with oil output down by 12.4% due to maintenance activities.
• Nuclear output down 16.2% due to outages whilst gas production up 3.5% due to low output in August 2013.
• LNG imports doubled, accounting for 46% of total gas imports.
• Lower coal generation due to the closure of plants, gas share now higher than coal, a reverse of the picture seen over the past two years; gas provided 40.8% of electricity generation by Major Power Producers, with coal's share at 23.7% and nuclear at 22.6)
• Wind generation by Major Power Producers up 9.6%, due to increased capacity, whilst overall renewables up 26% with growth in biomass.
• Low carbon share of electricity generation by Major Power Producers up 0.3 percentage points to 35.5%, despite fall in nuclear generation
• Petrol and diesel prices continued fall seen since July, reflecting lower crude oil price.
H&V News: EU announces new £250bn renewables plan
European Commission president Jean-Claude Juncker has announced a £250bn investment plan to drive new infrastructure projects across Europe, including renewable energy and power network upgrades. Mr Juncker said the European Fund for Strategic Investments will "breathe new life" into Europe.
New York Times: Solar and wind energy becoming cheaper than conventional fuels
For the solar and wind industries in the United States, it has been a long-held dream: to produce energy at a cost equal to conventional sources like coal and natural gas. That day appears to be dawning. The cost of providing electricity from wind and solar power plants has plummeted over the last five years, so much so that in some markets renewable generation is now cheaper than coal or natural gas. Utility executives say the trend has accelerated this year, with several companies signing contracts, known as power purchase agreements, for solar or wind at prices below that of natural gas, especially in the Great Plains and Southwest, where wind and sunlight are abundant. Those prices were made possible by generous subsidies that could soon diminish or expire, but recent analyses show that even without those subsidies, alternative energies can often compete with traditional sources.
Wall Street OTC: Earth protected by invisible force field, says MIT
This new invisible force field protecting Earth does a very good job at blocking highly radioactive electrons populating Earth's upper atmospheric region. NASA said these "ultrarelativistic" electrons were extremely aggressive and they easily circulate in space at speeds very close to the speed of light. They also fry everything on their way from spacecrafts to communication satellites. NASA says although these electrons are attracted towards Earth by its magnetic field, they cannot get closer than 7,200 miles to it due an invisible shield-like barrier, never detected before. This barrier protects Earth from harmful cosmic radiation and has already done a good job in the past by deflecting several solar blows directed towards Earth. It seems that this mysterious force field operates on low frequency electromagnetism, but its source is still uncertain.
CNBC: World locked into 'alarming' global warming – World Bank
The world is locked into 1.5°C global warming, posing severe risks to lives and livelihoods around the world, according to a new climate report commissioned by the World Bank. The report, which called on a large body of scientific evidence, found that global warming of close to 1.5°C above pre-industrial times – up from 0.8°C today – is already locked into Earth's atmospheric system by past and predicted greenhouse gas emissions. Such an increase could have potentially catastrophic consequences for mankind, causing the global sea level to rise more than 30 centimeters by 2100, droughts to become more severe and placing almost 90 percent of coral reefs at risk of extinction.
Guardian: The perils of geoengineering
Fighting global warming by reflecting sunlight back into space risks "terrifying" consequences including droughts and conflicts, according to three major new analyses of the promise and perils of geoengineering. But research into deliberately interfering with the climate system must continue in search of technology to use as a last resort in combating climate change, scientists have concluded. Billions of people would suffer worse floods and droughts if  technology was used to block warming sunlight, the research found. Technology that sucks carbon dioxide from the air was less risky, the analysis concluded, but will take many more decades to develop and take effect.
American Meteorological Society: How climate change will keep your flight from leaving
For a given runway length, airport elevation, and aircraft type there is a temperature threshold above which the airplane cannot take off at its maximum weight. Climate change is projected to increase mean temperatures at all airports and significantly increase the frequency and severity of extreme heat. These changes will negatively affect aircraft performance, leading to increased weight restrictions especially at airports with short runways and little room to expand. For a Boeing 737-800 aircraft, we find that the number of weight restriction days between May and September will increase by 50-200% at four major airports in the United States by 2050-2070 under the RCP8.5 emissions scenario.
Lansing State Journal: Expert says climate change negatively affecting turkey meat quality
Gale Strasburg balks at the suggestion that he is trying to save Thanksgiving. He is a food scientist. He doesn't rescue holidays. But he is trying to save the rest of us from a future of dry and stringy Thanksgiving turkeys. Turkeys as it happens, are vulnerable to heat and cold. Exposure to extreme temperatures early in their development can create changes in the quality of their meat that last all the way to the dining room table.