Our lead-off story this week features an unusual act of solidarity on the part of UK political leaders: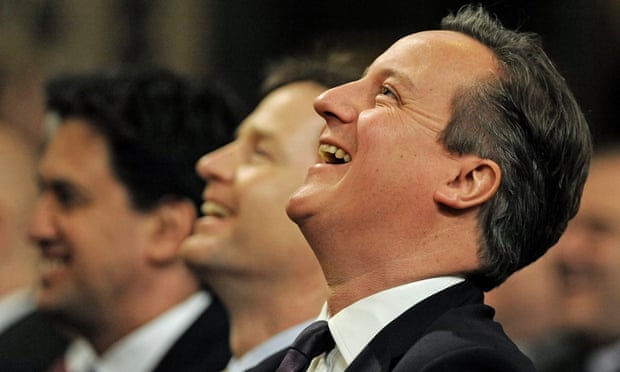 Guardian:  Cameron, Clegg, Miliband sign joint climate pledge
David Cameron, Nick Clegg and Ed Miliband have signed a joint pledge to tackle climate change, which they say will protect the UK's national security and economic prosperity. The prime minister, deputy prime minister and leader of the opposition have all clashed over green issues, but the joint declaration states: "Climate change is one of the most serious threats facing the world today. It is not just a threat to the environment, but also to our national and global security, to poverty eradication and economic prosperity." "Acting on climate change is also an opportunity for the UK to grow a stronger economy, which is more efficient and more resilient to the risks ahead," the joint statement says. "It is in our national interest to act and ensure others act with us." The declaration was hailed as "inspiring leadership" by Al Gore.
More stories below the fold, including whither oil prices, is OPEC winning, blackouts in S. Africa, nuclear in Egypt, China discovers gas in disputed waters, UK and Austria at loggerheads over Hinkley, Groningen gas curtailment, Germany to legalize fracking and how climate change will cause megadroughts in the US.
Forbes:  Divergent oil price forecasts
Now, there is a divergence between those who think the price will recover to $100 in the near future (12-18 months) and possibly go much higher, and those who expect a period of a few years at roughly current levels. OPEC's al Badri and ENI head Claudio Descalzi have both suggested low prices could lead to a new crunch and $200, while many more have argued that $80-90 is a likely range by year end (Harold Hamm of Continental Resources, and John Hofmeister, formerly of Shell), while perennial TV presence T. Boone Pickens says $90-100 in 12-18 months. Contrast this with those who think $100 is not likely to be reached soon, including David Fyfe of Gunvor Group, Barry Aling of Gaffney Cline, and Prince Alaweed bin Talal, BP being more specific in predicting no recovery for 3 years. Citicorp and Goldman Sachs see no major price change soon.
Reuters:  Higher oil forecasts suggest OPEC tactics are paying off
The world's three big energy agencies are forecasting higher demand for OPEC's crude oil this year, a sign the producing nations' strategy to let prices fall is starting to win them back market share from rivals who are cutting output. In reports this week, The International Energy Agency and the Organization of the Petroleum Exporting Countries have raised by at least 200,000 barrels per day (bpd) their estimates of demand for OPEC crude in 2015, while the U.S. government's Energy Information Administration forecasts OPEC will pump 140,000 bpd more. At the same time data suggesting a forthcoming economic recovery has raised hopes for improving oil demand: Euro zone economic growth accelerated unexpectedly in the final quarter of 2014 as the bloc's largest member, Germany, expanded at more than twice the expected rate.
Reuters:  OPEC says oil's drop hitting other producers faster than thought
OPEC forecast on Monday that demand for its oil this year would be much higher than previously thought, as its strategy of letting prices fall to hurt other producers begins to take effect. In a monthly report, the Organization of the Petroleum Exporting Countries (OPEC) forecast demand for its oil would average 29.21 million barrels per day (bpd) in 2015, up 430,000 bpd from its previous prediction. That would raise demand for the group's crude to above the level seen last year, with OPEC's forecast for production growth outside the group slashed by a third due to a slowdown in the U.S. shale boom and lower oil investments globally. It said non-OPEC supply would rise by only 850,000 bpd this year, down 420,000 bpd from last month's forecast.
Wall Street Cheat Sheet:  Can U.S. Shale Rival OPEC as a Swing Producer?
Nevertheless, while individual shale companies will certainly burn out and fold up shop, collectively they may act as a second major spare capacity player. The International Energy Agency (IEA) released a report that suggests shale production will bounce back when oil prices rise. The IEA expects U.S. shale production to contract toward the end of this year, but could rebound in subsequent years as prices rise, particularly beginning in 2017. U.S. shale will then rise to 5.2 million barrels per day by 2020, up from just 3.6 million barrels per day in 2014.
Bloomberg:  South Africa's energy crisis
South African President Jacob Zuma said his priority is to solve the energy crisis in the country that's curbing output at mines and factories and stifling economic growth, including adding more nuclear power by 2023. "We will pursue gas, petroleum, nuclear, hydropower and other sources as part of the energy mix," Zuma, 72, said in his annual state-of-the-nation speech in Parliament in Cape Town on Thursday. "The country is currently experiencing serious energy constraints which are an impediment to economic growth and is a major inconvenience to everyone in the country." Zuma's speech follows nine consecutive days of rolling blackouts implemented as demand for power outstripped supply. State utility Eskom Holdings SOC Ltd., which provides 95 percent of the nation's electricity, has warned of almost-daily blackouts until the end of April.
RT News:  Russia and Egypt sign nuclear deal
Russia will contribute to building "a whole new nuclear power industry" in Egypt, President Vladimir Putin has announced as the two countries have signed a number of agreements after a meeting in Cairo. The leaders of Russia and Egypt have signed "a memorandum of understanding to build the first nuclear plant in [the northern city of] El-Dabaa," Egyptian President Abdel Fatah al Sisi has told reporters at a news conference at Cairo's Al Qubba presidential palace. Russia would contribute not only to the construction of a nuclear power plant, but also staff and scientific research, President Putin said. Moscow and Cairo have agreed a contract for a total of four units of 1200 MW each.
The Diplomat:  Decline in Chinese coal mining profits
Of all the indicators released about China's 2014 economic performance, some of which are surprisingly positive, China's coal mining industry stands out as one of the worst performing sectors of the year, with a decline in industrial profits of 46.2 percent. The coal mining industry faced falling prices and excess capacity in 2014, after a four-year run, from 2009 to 2012, of above-average prices. The industry's malaise became highly visible in the media last year as several shadow banking loans to coal mining companies faced potential default in 2014. A large part of the drop-off in coal industry profits can be attributed to increased reliance on cleaner sources of energy and decreased dependence on coal around the world and even in China itself.
Bloomberg:  US Department of Energy abandons CCS project
On the banks of the Illinois River, about 60 miles west of the state capital in Springfield, an old coal-fired power plant sits waiting for its future to arrive. Last year workers came to give it a makeover. Using almost $1 billion in stimulus money, the project was supposed to become the poster child for clean-coal technology. Rather than spewing into the sky, the carbon dioxide produced as the plant burned coal would be captured into a pipeline buried below corn and soybean fields. It would run 30 miles east to Jacksonville, where the gas would be injected 4,000 feet underground. The resurrection was short-lived. On Feb. 3, the Department of Energy announced it was withdrawing support. Environmentalists who want investment in renewable power technologies rather than fossil energy cheered the decision. "We don't need it, and we can't afford it," Bruce Nilles, head of the Sierra Club's Beyond Coal campaign, says of carbon-capture projects.
Telegraph:  Are wood chips really worse that burning coal?
You don't often find the main political parties agreeing, especially this close to a general election. So it's refreshing that – amid all the sound and fury – David Cameron, Ed Miliband and Nick Clegg yesterday jointly pledged, as part of a common assault on climate change, to end burning coal in power stations until technology is developed to remove carbon dioxide from its emissions. Yet, strange to say, some environmentalists are campaigning for it to continue. This week two US green groups – the Natural Resources Defence Council and the Dogwood Alliance – met the Energy Secretary Ed Davey to urge him to stop Europe's second biggest polluter, Drax power station, cutting coal use. The reason for this apparent illogicality is that the groups believe that using apparently environmentally friendly wood can be three times worse for the climate than burning the world's most polluting fuel, and threatens some of the world's most wildlife-rich forest.
Mail:  UK and Austria at odds over Hinkley
The Government has backed a call to the senior European official responsible for energy policy to insist that the UK must remain able to build new nuclear plants amid a growing diplomatic row with Austria over the Hinkley Point C project. The Prime Minister refused to accept a letter the Austrian chancellor Werner Faymann tried to hand to him at this week's meeting of European leaders in Brussels in connection with the dispute and told him no other country could dictate the UK's energy policy. According to a leaked memo, the Austrian deputy ambassador in London reportedly told his Government in Vienna that the UK will take "every opportunity" to damage the country if Vienna does not drop a legal challenge to the construction of the £24.5 billion plant.
Reuters:  Groningen gas supplies to be curtailed?
Gas supplies to Europe from the massive Groningen field in the Netherlands could be curtailed as Dutch lawmakers debating on Thursday face public protests over earthquakes blamed on the site ahead of elections next month. The parliament debate comes as the Netherlands and the European Union seek to diversify energy needs in the wake of the worst confrontation with Russia since the Cold War. The Dutch, the EU's largest gas exporter, can supply their households and power plants for years, but supplies will start dwindling in 2025, and they will soon become a net importer.
Fuel Fix:  China discovers gas field in South China Sea
China said its recent gas discovery in the politically volatile South China Sea could yield 100 billion cubic meters of natural gas, underlining Beijing's determination to extract resources from waters claimed by several nations. The Lingshui 17-2 gas field was discovered 150 kilometers south of China's southernmost island of Hainan, and the Ministry of Land and Resources has approved it as a large-scale find, the official Xinhua News Agency said.
Guardian:  Germany moves to legalise fracking
Germany has proposed a draft law that would allow commercial shale gas fracking at depths of over 3,000 metres, overturning a de facto moratorium that has been in place since the start of the decade. Shale gas industry groups welcomed the proposal for its potential to crack open the German shale gas market, but it has sparked outrage among environmentalists who view it as the thin edge of a fossil fuel wedge. Senior German officials say that the proposal, first mooted in July, is an environmental protection measure, wholly unrelated to energy security concerns which have been intensified by the conflict in Ukraine.
Cleantechnica:  Renewable Energy Demand Surges In 2014
The European market for renewable energy, documented with Guarantees of Origin, increased by 26.5 % in 2014 compared to 2013. For the first time, the demand surpassed 300 TWh, according to statistics from the Association of Issuing Bodies (AIB). This is nearly one tenth of all electricity demand in Europe (ca. 3,300 TWh) and one-third of all electricity from renewable sources in Europe (ca. 900 TWh). The figures have been announced by ECOHZ, a Norwegian company that offers renewable energy with Guarantees of Origin (GO) to electricity providers, businesses and organisations.
Energy Collective:  Europe Loses Billions in Badly Sited Renewable Power Plants
European countries could have saved approximately $100 billion if each country had invested in the most efficient capacity given their renewable energy resources, that is, by installing wind turbines in windier countries and solar power plants in sunnier places. The World Economic Forum's (WEF) latest "Future of Electricity" Report identifies suboptimal deployment of renewable resources due to poor cross-border coordination among the top policy design challenges EU countries are facing in incentivizing investments in renewable energy development.
WWF:  Flying start to 2015 for wind power in Scotland
Analysis by WWF Scotland of data provided by WeatherEnergy found that for the month of January wind turbines alone provided an estimated 1,307,629MWh of electricity to the National Grid, enough to supply, on average, the electrical needs of 146% of Scottish households (3.5 million homes) – This represents an increase of 27% compared to January 2014, when wind energy provided 1,033,130MWh.
Recharge News:  Nordlink to go ahead
The 1.4GW Nordlink power link between Norway and Germany is set to enter construction after its three backers gave the green light to their investments. Network operators TenneT and Statnett, along with finance group KfW, signed ownership agreements for the project today. It is expected to require a total investment of about €1.5bn-€2bn ($2bn-$2.7bn). The HVDC cable link is described as a "cornerstone" for Germany's Energiewende – its shift towards renewable energy. Norway and Germany are foreseen exchanging wind and hydropower via Nordlink, which aims to be operating by the end of 2018.
BBC:  UN agrees draft text for Paris climate summit
UN climate talks in Geneva have ended with agreement on a formal draft negotiating text for the summit in Paris in December. The document, which runs to 86 pages, builds on negotiations in Peru last year."I am extremely encouraged by the constructive spirit and the speed at which negotiators have worked during the past week," said Christiana Figueres, Executive Secretary of the United Nations Framework Convention on Climate Change (UNFCCC). "We now have a formal negotiating text, which contains the views and concerns of all countries. The Lima Draft has now been transformed into the negotiating text and enjoys the full ownership of all countries," she added.
Washington Post:  Global warming caused the record Boston snowfall
"Heavy snows mean the temperature is just below freezing, any cooler and the amount would be a lot less," adds Kevin Trenberth, a climate expert at the National Center for Atmospheric Research. "Warmer waters off the coast help elevate winter temperatures and contribute to the greater snow amounts. This is how global warming plays a role." When climate experts see an extremely warm ocean off the east coast and record snowfall in Boston, it fits a big picture for them. It doesn't yet for most of us, but sooner or later we're going to have to get past the idea that global warming and huge amounts of snow are somehow contradictory.
Washington Post:  Global warming to cause megadroughts in US
The long and severe drought in the U.S. Southwest pales in comparison with what's coming: a "megadrought" that will grip that region and the central Plains later this century and probably stay there for decades, a new study says. Thirty-five years from now, if the current pace of climate change continues unabated, those areas of the country will experience a weather shift that will linger for as long as three decades, according to the study, released Thursday. Researchers from NASA and Cornell and Columbia universities warned of major water shortages and conditions that dry out vegetation, which can lead to monster wildfires in southern Arizona and parts of California.