This week we feature Germany, which has successfully weathered the recent solar eclipse that threatened to play havoc with the German grid: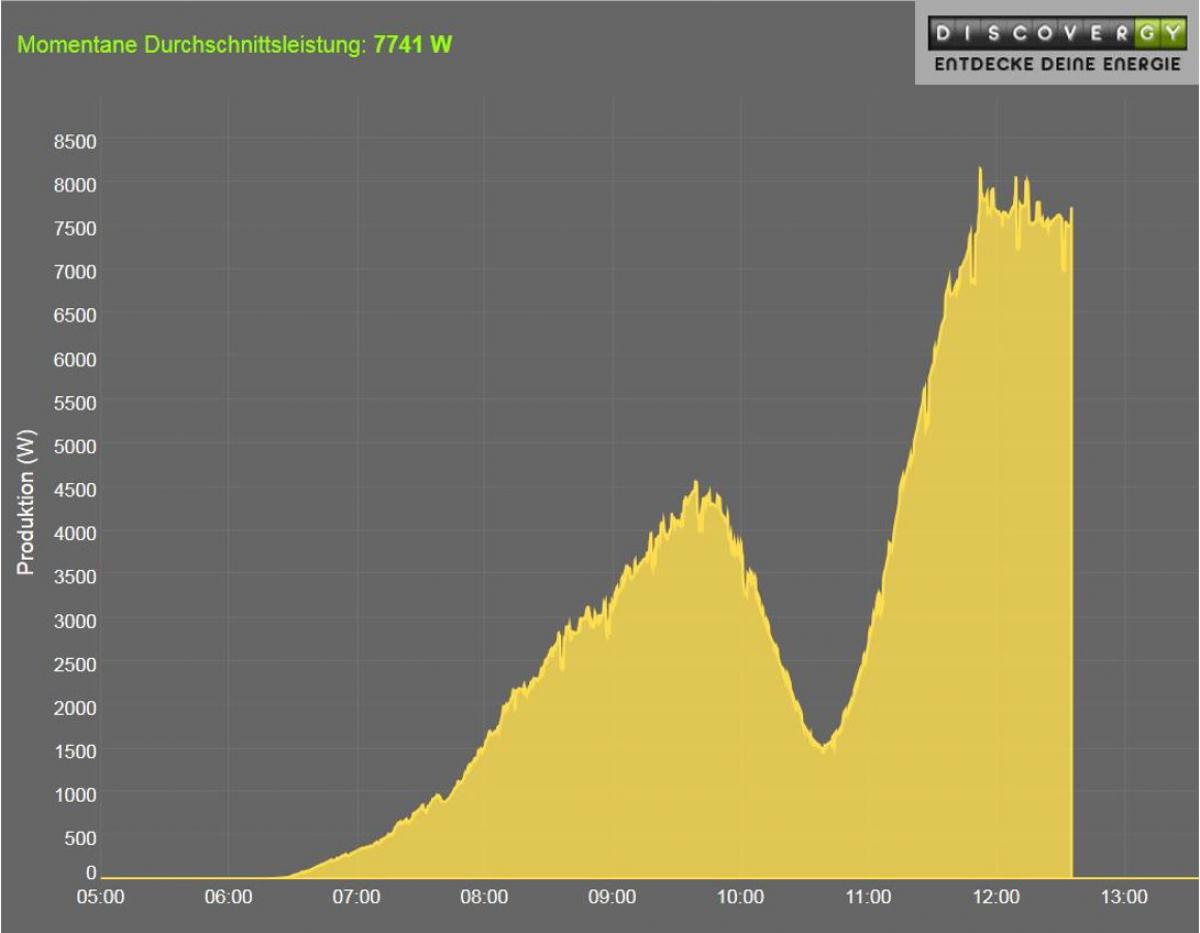 The solar gap: Power supply in Germany stayed stable despite a solar eclipse taking out most of its solar power production just before the lunchtime peak. Source: Discovergy Solar-Monitor on 100 photovoltaic meters, 2015.
Deutsche Welle:  German power net survives solar eclipse
With Friday a bright sunny day, there were worries ahead of time about the consequences of the solar eclipse scheduled to occur in the morning. Engineers knew it would cause a massive, sudden drop in solar electricity input – followed by a massive increase when the eclipse came to an end later in the morning. There had never been such a massive and rapid drop and rapid increase in solar power before in Germany. The eclipse cut off 65 to 80 percent of incoming sunlight, depending on one's vantage point. The task faced by engineers at Germany's four big electricity network operating companies was to make sure that the resultant huge solar power production fluctuation wouldn't destabilize the grid. The engineers carefully prepared measures well ahead of time, coordinated all across Germany, aimed at stabilizing electricity supplies by ramping fossil-fuelled power plants up and down, timed carefully to offset the solar eclipse, so as to avoid any sudden voltage fluctuations that might cause the grid to crash. By noon, it was all over – and the engineers at the country's four network operating companies were content with the morning's work. "Good preparations paid off, we were able to handle all swings in production," said Ulrike Hörchens, spokeswoman for Tennet, one of the four network companies – the one that manages the highest share of PV input. The system had passed the stress test.
More stories below the fold, including OPEC and its victims, Longannet, Superstorm Sandy and sea level rise, progess at Fukushima, Scots want more wind power, the coming wave of bankruptcies in coal, the Royal Society's pronouncements on climate change challenged, Norwegian pension funds and how Al Gore wants to put a price on climate denial.
Oil Price:  Saudis Claim Conspiracy Theorists, Not OPEC, To Blame For Oil Price Crash
A top Saudi official said on March 15 that Thomas Friedman and other conspiracy theorists are to blame for the crash in oil prices. Rather than an oversupply and weak demand causing an imbalance in global oil markets, Dr. Ibrahim Al-Muhanna, the advisor to Saudi Arabia's Petroleum Minister, said that excessive speculation drove the oil bust. "The recent price fall was due largely to expectation and perception about future supply and demand… and the ever-present – and incorrect – belief in conspiracy theories," Al-Muhanna said at the Institute of International Finance Spring Membership Meeting on March 15. Al-Muhanna admitted that supplies were building over the course of 2014, but said that demand "remained strong" and that the price fall was unjustified given market fundamentals. After prices started to fall, the media and market analysts drove the narrative to unfounded levels.
Moscow Times:  Oil Crash Is Crushing Russia
After crude fell 50 percent last fall, the Ministry of Economic Development forecast a 3 percent GDP contraction this year, along with 12 percent inflation. The crash in oil prices will not only test President Vladimir Putin's domestic support. It will upend Russian foreign policy, challenging the modernization of the country's armed forces while diminishing its influence in Asia and Europe. Russia doesn't just need petroleum to fuel its tanks and planes, but to pay for them as well. Because oil and gas revenues comprise half the federal budget, defense spending is tethered to energy prices. The slump comes at a particularly inopportune time for the military. Even if its resources were not being consumed in eastern Ukraine, Russia's ongoing initiative to improve its armed forces is extremely costly, with defense expenditures set to soar 44 percent from 2013 to 2016. Shrinking energy revenues are now curtailing those ambitions by constraining the budget. According to Finance Minister Anton Siluanov, the crash will deprive the Kremlin of $180 billion in 2015 alone. Despite this shortfall, the Finance Ministry's official stance is to leave military allocations untouched, choosing instead to decimate funding for every other sector.
CNN:  Oil price slump is choking Nigeria
Nigeria's currency is trading at a record low against the U.S. dollar, the stock market has slumped 15% this year — making it the worst performer in Africa — and financial reserves are being depleted. "It's going to be a very difficult year," Nigeria's Finance Minister Ngozi Okonjo-Iweala told CNN. "We've had a more than 50% fall in the price of oil and that has naturally impacted the economy." Nigeria is currently pumping about 1.8 million barrels of crude oil per day, making it OPEC's 7th biggest producer — alongside Angola. It relies on oil for 70% of its income, and needs a price of nearly $120 a barrel to balance its budget, according to Deutsche Bank. It is a crisis that is affecting rich and poor. Nigerian billionaire Aliko Dangote, the richest man in Africa, has lost over half of his $25 billion wealth in the crisis, according to Bloomberg. Much of that has been wiped out by the falling currency and the stock market crash.
Telegraph:  OPEC not Osborne holds key to North Sea oil
Although the Chancellor George Osborne deserves credit for the job of saving Britain's shattered economy from dropping into the abyss over the last five years, only time will tell if he did enough in his final Budget of the current Government to save the North Sea from the depths of despair. At first glance, the cuts to taxation and incentives intended to boost exploration for new reserves will provide some much needed immediate relief for the region, which has been battered by months of lower oil prices and a growing number of job cut announcements. However, in global oil and gas industry terms these concessions are little more than a drop in the ocean. It is questionable whether this will be enough to arrest the North Sea's decline given the financial realities of $50-a-barrel oil. The big danger is that the North Sea will now become a legacy region where the majority of new investment is directed into decommissioning old infrastructure instead of finding new reservoirs of crude.
Telegraph:  UK Green levies on energy bills to treble by 2020 because of renewable targets
Green levies on energy bills will treble by 2020 because of renewable targets, official figures suggest. The cost of environmental levies to support projects such as wind farms, solar panels and biomass plants will rise from £3.1billion last year to £9.4billion by the end of the decade, according tothe Office for Budget Responsibility. Separate figures published last year show that the policies account for 5 per cent of energy bills at present – equivalent to £68 a year – to 15 per cent of an annual energy bill by 2020, equivalent to £226. The rise is being driven by renewable energy targets, which require 30 per cent of Britain's electricity to come from renewable sources by 2020.
Daily Caller:  Green Energy Causes Record Spike In US Electricity Prices
In 2014, American households saw the largest electricity price increases in 6 years, according to government data, as utilities are forced to use more green energy and invest in energy efficiency and grid improvements. Energy Information Administration data shows that U.S. residential electricity prices "experienced large increases in retail electricity prices during 2014, with the average U.S. residential price increasing 3.1% over the previous year." Last year's price increase was the highest of any year since 2008 when prices rose 5.7 percent. EIA says "increased investment in transmission and distribution infrastructure, rising requirements to generate electricity from renewable energy sources, and utility investment in demand-side efficiency" combined have increased prices.
World Bank:  The Renewable Electricity Grid: The Future Is Now
(W)ith the right combination of new policies and investments, countries can integrate unprecedented shares of variable renewable energy into their grids without compromising adequacy, reliability or affordability. Making the transition to large-scale renewable energy supply requires substantial shifts in thinking and infrastructure: grid modernization, adoption of new technologies, reworked business models for utilities, and updated policy and regulatory frameworks. The new ESMAP report, Bringing Variable Renewable Energy Up to Scale: Options for Grid Integration Using Natural Gas and Storage, looks at a number of new approaches to facilitate these shifts and ensure the success of this transition. These approaches include strengthening interconnections between areas, diversifying the contribution of different renewable energy sources from various locations, and building up complementary generation and demand response technologies. The report builds upon previous reports on the topic published by the World Bank and other international organizations, by focusing on the important role that natural gas and energy storage can play in integrating variable renewable energy sources.
SeeNews:  New study says 71% of Scots want more wind parks
Support for wind power in Scotland seems to have increased over the past couple of years as a survey from last month indicates that 71% of Scottish adults say yes to the continued development of wind parks there. This compares to positive answers from 64% of Scots polled in February 2013, industry body Scottish Renewables said on Wednesday, while presenting the results of an independent survey conducted by YouGov. Now, about 81% of Scots aged 18-24 would like to see more wind farms being developed. At 65%, the figure was lowest among people that are 55 years of age or older. Scotland's onshore wind power capacity has climbed 20% over the two-year period, Scottish Renewables noted. For this latest online survey, YouGov has polled 1,008 Scottish adults between February 24 and February 25. Two years earlier it interviewed 1,003 people for the same purpose.
Business Green:  Energy Minister downplays blackout threat from Longannet closure
Energy minister Matt Hancock has rejected claims by ScottishPower that the UK could experience energy blackouts if it closes Scotland's last coal-fired power plant within the year. Iberdrola-owned ScottishPower has decided not to upgrade Longannet power station in Fife under the European Industrial Emissions Directive and has threatened to shut the facility by the end of March 2016 unless it wins a contract to provide back-up supply. Scottish generators, including Longannet, supply around 12 per cent of the UK's energy and ScottishPower has repeatedly warned that its closure could lead to blackouts across the country.With a decision on Longannet's future possibly expected as early as this week, Labour's Shadow Energy Secretary, Tom Greatrex, asked Hancock in the House of Commons today if the government believed ScottishPower's prediction to be true. But the minister rejected the suggestion that the UK's energy security would be put at risk and said he will aim to publish government analysis on the issue. "I have looked in detail at those claims and they are not correct," he said. "National Grid's assessment of the situation is that there is not a threat to security of supply from the closure of Longannet."
Guardian:  Fossil fuels are way more expensive than you think
A new paper published in Climatic Change estimates that when we account for the pollution costs associated with our energy sources, gasoline costs an extra $3.80 per gallon, diesel an additional $4.80 per gallon, coal a further 24 cents per kilowatt-hour, and natural gas another 11 cents per kilowatt-hour that we don't see in our fuel or energy bills. The study was done by Drew Shindell, formerly of Nasa, now professor of climate sciences at Duke University, and Chair of the Scientific Advisory Panel to the Climate and Clean Air Coalition. Shindell recently published research noting that aerosols and ozone have a bigger effect on the climate in the northern hemisphere, where humans produce more of those pollutants. Shindell estimates carbon pollution costs us $32 per ton of carbon dioxide emitted in climate damages, and another $45 in additional climate-health impacts like malnutrition that aren't normally accounted for.
Financial Times:  BHP chief: stop saying gas is cleaner than coal
Oil and gas groups should stop claiming to be better for the climate than coal, the head of one of the world's biggest coal miners has demanded in a sign of a deepening rift among fossil fuel companies in the run-up to global talks on cutting carbon emissions. Andrew Mackenzie, chief executive of BHP Billiton, said calls to switch from coal to gas as a way of reducing emissions were "a very western, rich country solution". He argued that developing countries have easier access to coal than gas and will need to "burn coal cleanly" to continue to emerge from poverty. "I think there is a marketing ploy, which is 'give up coal and burn more gas'," Mr Mackenzie said in an interview. "I am not against the trend, but come on — the last time I looked there was plenty of carbon in methane and there is huge amounts of carbon in oil, and the carbon emissions from transport are just as much a problem as the carbon emissions from coal-fired power stations."
Oil Price:  A "Wave of Bankruptcies" About To Hit Coal Industry
The future for the coal industry is looking "increasingly bleak," according to an investor's note from Macquarie Research. The analysis firm also said that "a wave of bankruptcies" appear to be just over the horizon as coal mining companies deal with mounting debt and a shrinking market. The coal markets have collapsed in spectacular fashion over the last few years due to a perfect storm of factors. U.S. coal producers first had to compete ferociously with shale gas in America's electric power sector as fracking took off about a decade ago. That forced an array of coal plants to shut down as cheap gas washed over the country. Subsequently a regulatory crack down from the federal government – including forthcoming restrictions on greenhouse gases – further dimmed the growth prospects of coal. But U.S. coal producers always had the international market, and exports stepped up in concert with falling domestic consumption. Now the foreign buyers are shrinking as well. China, the one country that the coal industry could count on for ceaseless growth in coal consumption, actually burned 2.9 percent less coal in 2014 than it did the year before.
Bloomberg:  China Revives Nuclear Power
China approved the construction of new nuclear reactors for the first time since Japan's Fukushima disaster in 2011 as the world's biggest polluter seeks to drive protective masks out of fashion. China approved two reactors this month as it vowed to cut coal use to meet terms of a carbon-emissions agreement reached in November between President Xi Jinping and U.S. counterpart Barack Obama. About $370 billion will be spent on atomic power over the next decade, Bloomberg New Energy Finance estimates. Plans to triple nuclear capacity by 2020 to as much as 58 gigawatts — almost equal to Australia's total electricity resources — were frozen after the Fukushima meltdown in 2011.
RT News:  TEPCO confirms almost all nuclear fuel has melted in Fukushima Reactor 1
Tokyo Electric Power Co. (TEPCO) and the International Research Institute for Nuclear Decommissioning (IRID) have been working since February, studying the interior of the reactor building at the Fukushima No. 1 nuclear plant. TEPCO, which is in charge of operating the plant, used cosmic rays to inspect the reactor building. By analyzing the flow of muons, which are subatomic particles generated when cosmic rays collide with the atmosphere, the utility was able to create an X-ray like image of what the inside of the reactor looks like. Muons can pass through concrete and iron, but they are blocked and change direction when they hit high density substances, such as uranium or plutonium. This creates a 'shadow' and allows them to draw a map of where the fuel is in the reactor. TEPCO came to the conclusion that the fuel had melted because no fuel shadows showed up around the reactor's core and it was therefore likely that it had fallen to the bottom of the building and into a containment vessel. TEPCO now faces the challenge of trying to remove the melted fuel rods from the reactor, which is likely to be carried out by robots, due to the extremely high levels of radiation in the building, which suffered a meltdown following the March 2011 earthquake and tsunami.
Daily Caller:  Obama Quietly Pushes To Sign Global Climate Treaty This Year
The Obama administration has been quietly working behind the scenes to convince world leaders to sign onto an international agreement to lower carbon dioxide emissions at the next United Nations climate summit in December. Over the past few months, President Barack Obama has worked to secure emissions reduction promises from China and India while sending U.S. officials to talks in Bonn, Geneva and Lima, according to Politico. The White House is trying to set the stage for its crowning achievement: a global climate treaty. "If I can encourage and gain commitments from the Chinese to put forward a serious plan to start curbing their greenhouse gases, and that then allows us to leverage the entire world for the conference that will be taking place later this year in Paris," Obama told VICE News in an interview. Not only does Obama hope to get an international climate deal approved, he's trying to propose one that doesn't need Senate approval.
EOS:  Sea Level Rise Added $2 Billion to Sandy's Toll in New York City
To those who think that climate change is an abstract concept, one that might possibly affect their grandchildren in the far-off future, scientists at Climate Central have a ready response. They have calculated that sea level rise over the 20th century caused more than $2 billion in additional damage during Hurricane Sandy in New York City alone. That additional damage can be attributed to largely human-induced climate change that has already occurred, says Scott Kulp of Climate Central."We cannot say that Sandy itself was a result of climate change," Kulp told Eos, but "we can attribute at least part of the flooding damage from Hurricane Sandy to climate change. It's a warning for the next decades to come." Sandy hit the U.S. East Coast on 29 October 2012, with a storm surge measuring 2.8 meters, causing extensive flooding in Manhattan and the four outer boroughs of New York City. The last 20 centimeters of that surge would not have existed were it not for sea level rise since 1900, according to Kulp and his colleagues in the United States and the Netherlands.
Daily Mail:  Royal Society is wrong on climate change
Human-sourced carbon dioxide is at best one of many factors in causing climate change, and humility in front of this complexity is the appropriate stance. Yet the Society continues to produce a stream of reports which reveal little sign of this. The latest example is the pre-Christmas booklet A Short Guide To Climate Science. Last year also saw the joint publication with the US National Academy of Sciences (NAS) of Climate Change: Evidence And Causes, and a report called Resilience. Through these documents, the Society has lent its name to claims – such as trends towards increasing extreme weather and climate casualties – that simply do not match real-world facts.
EurActiv:  Member states reassert sovereignty over energy mix ahead of EU summit
European Union governments have reasserted their authority over their national energy policies, before leaders meet to discuss the bloc's plans for Energy Union on Thursday (19 March). A more effective, flexible market design that will integrate renewables is needed, according to draft summit conclusions, obtained by EurActiv. Any public energy subsidies at national level must not unbalance the internal market, the text says. But the new design should ensure "the right of member states to decide their own energy mix is respected," states the leaked paper, which is dated Monday 16 March. Environmental campaigners fear this keeps the door open for national governments to frack for natural gas, and mine and use other fossil fuels.
Blue and Green Tomorrow:  Norwegian pension fund asks companies to reveal climate change strategies
The Norges Bank, manager of Norway's Government Pension Fund, has called for companies it investment in to test their business strategies against global climate change efforts. According to WWF-Norway, if other funds follow suit it could be the start of the "tipping point" the world needs to stop financing polluting energy sources. The Norwegian sovereign wealth fund is the largest in the world at $893 billion (£604bn). It accounts for 1% of all shares globally, investing in over 7,000 companies. Traditionally it has been linked to fossil fuels, resulting in it being known as the 'oil fund'. In its latest annual report the Norges Bank has updated its expectations for how the companies it invest in should approach climate change. The report states that companies should look at how their business models will work in various scenarios, such as low emissions, and how national and international climate commitments will have an impact.
Bloomberg:  Al Gore says climate change deniers should pay a price
If former Vice President Al Gore had his way, denying global warming would carry repercussions. Speaking at the South by Southwest technology conference in Austin, Texas, Gore called climate change "accepted science," and said that government officials who continue to deny it should pay a "price." "We need to put a price on carbon to accelerate these market trends," Gore said, referring to a proposed federal cap-and-trade system that would penalize companies that exceeded their carbon-emission limits. "And in order to do that, we need to put a price on denial in politics."