This week's blowout features the alarming decrease in the UK's reserve margin over the last four years. Don't forget to put candles on your shopping list:
BBC:  Electricity blackouts risk up, says National Grid
The risk of blackouts this winter has increased compared with a year ago, according to National Grid. It says the closure of some power stations will have left spare capacity on the system at just 1.2% – the worst for a decade. The grid has secured extra supplies by paying £36m to have several plants on standby and by asking some industries to switch off power. However, it also means overall spare capacity is now expected to be about 5%. "It's clear that electricity margins for that coldest, darkest half hour of winter are currently tighter than they have been, due to power stations closures", said Cordi O'Hara, National Grid's director of market operations. To ensure the lights stay on, for the second year running, National Grid will pay firms like Centrica and SSE to keep power plants in reserve. It is also paying large energy users, such as Tata Steel, to switch off. A total of 2.56GW of power has been secured, which National Grid said would increase overall margins to 5.1%.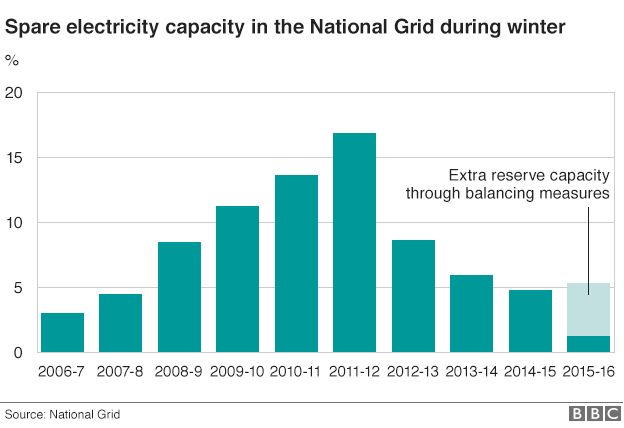 Stories below the fold on the Iran Nuclear deal, Mexico's lease sale, gas overtakes coal in the US, the nuclear iron curtain, Tories to junk more renewables subsidies, a wind generation record in Denmark, no progress towards Paris, wind, solar, snow & coal in Australia, the West Antarctic Ice Sheet, what global warming will do to your loaf of bread and how pot growers are sabotaging Colorado's energy targets.

Vox:  What the Iran nuclear deal means for oil prices
From an economic standpoint, one of the most significant aspects of today's US-Iran nuclear deal is that it could open up Iran's vast crude oil reserves to the rest of the world. Once Europe and the US ease their sanctions, Iran can ramp up crude production and exports, locking in this new era of low oil prices. But here's the catch — this won't all happen immediately. It will likely take at least six months before we see any significant oil impact from the deal, and possibly even longer than that. Even if all goes according to plan, the US and EU won't lift sanctions on Iran until 2016 at the earliest. Once that happens, Iran can finally start selling some of the roughly 30 to 40 million barrels of oil it currently has stored in vast floating tankers off its coast. That could push down, modestly, on oil prices. But after that, it might take years for Iran to get production in its crippled oil fields back to pre-sanctions levels. The country does possess vast crude reserves — but that doesn't mean it's all coming online tomorrow. Iran is sitting on some 158 billion barrels of crude oil, the fourth-largest proved reserves in the world. But thanks to a slew of sanctions by the United States and Europe in recent years — meant to pressure Iran over its nuclear program — the nation's oil fields have fallen into serious decline, driven by a lack of investment.
CNN:  If Iran gets green light to export its oil, expect this
With the real possibility that Iran and the West reach a détente soon, removing sanctions from the Iranian economy, the oil majors could rush in. That could open up new opportunities for it to not only sell the large volume of oil that it has sitting in storage, and boost output at some of its existing oil fields, but Iran could also bring in international oil companies to develop some new fields. At the OPEC meeting in early June 2015, several oil companies gushed over the potential in Iran. They also visited Iran for more direct talks. The FT reports that Royal Dutch Shell and Italian oil giant Eni traveled to Tehran in May and June to discuss areas of cooperation. According to the EIA, Iran has several upstream projects in the works, and the removal of sanctions could accelerate their development. The Yadavaran field, which is being developed by Sinopec, could come online in three phases over the next several years. It could begin pumping 85,000 barrels per day in 2016, but eventually, after the third phase is completed, the field could produce around 300,000 barrels per day. The North and South Azadegan fields, located near the border with Iraq, could also boost Iran's output. CNPC is developing North Azadegan and expects to produce 150,000 barrels per day by the end of the decade. South Azadegan could produce 260,000 barrels per day, but doesn't have a developer yet.
Economic Times India:  OPEC revises 2016 crude demand forecast upwards
OPEC on Monday revised upward its forecast for global crude oil demand growth for this year and also predicted a further increase for 2016 as the world economy picks up again. But the Organization of the Petroleum Exporting Countries warned that oil output would also continue to increase this year, which means the current supply glut and low prices are likely to remain unchanged until next year. In its July monthly report, OPEC said it expected global oil demand to increase by 1.28 million barrels per day — some 100,000 barrels more than in its June estimates. In 2016, demand growth is expected to hit 1.34 million barrels per day thanks to global GDP growth set to reach 3.5 per cent, up from 3.2 per cent this year. Total oil consumption should be 93.94 million barrels per day in 2016, the OPEC report noted. OPEC's latest figures differ from those of the International Energy Agency, which indicated last week that world oil demand growth would fall to 1.2 million barrels a day in 2016.
E&P Magazine:  Mexican lease sale disappoints

Mexico opened its doors to foreign oil and gas investors, offering acreage in shallow-water Gulf of Mexico, only to see that not many were willing to walk though. Of the 14 blocks up for bid, eight blocks received no bids and four had bids thrown out because they did not meet the government's minimum requirement of 40% pretax profits. The July 15 results, which fell short of expectations by some that oil and gas companies would jump at a chance to explore Mexico's hydrocarbon potential, comes as the industry continues to cope with lower than usual oil prices. "We were below the expectation," Juan Carlos Zepeda, commissioner of Mexico's National Hydrocarbons Commission (CNH), said after the bids were awarded. He added that without a doubt oil prices, which have been shrinking, and the crisis in Europe played a role. "But oil prices in the short term are not all of the answer. There are other considerations we need to be looking at." Analysis will be made, he added.
Bloomberg:  Shale oil output heads for record drop
Shale fields that powered the U.S. energy renaissance will suffer the biggest drop in output since the boom began after companies pulled more than half their drilling rigs. Production from the prolific tight-rock formations such as the Eagle Ford in southern Texas will decline 91,000 barrels a day in August to 5.36 million, the Energy Information Administration said Monday. Output from the Eagle Ford in Texas, the second-largest oil field in the U.S., is expected to fall 55,000 barrels a day in August to 1.54 million, about 10 percent below peak levels in March. Production in the Bakken region of North Dakota will decline 22,000 to 1.18 million, the EIA said. Yield from the Permian Basin in West Texas and New Mexico, the largest U.S. oil field, will continue to rise, by 5,000 barrels a day to 2.05 million. The EIA's oil-production estimates are based on the number of rigs drilling in each play and estimates on how productive they are.
The Street:  Natural Gas Overtakes Coal in US
The U.S. power industry recently hit a major milestone: generation fueled by natural gas sur-passed that of coal for the first time in history. According to a report by the U.S. Energy Information Administration in June, natural gas represented 31% of power production in April — the most recent month for which figures are available — vs. 22% five years ago, while coal dropped to 30% vs. 44% over the same period. Utilities and power producers are shutting down coal plants and converting them to natural gas when they can to comply with the Environmental Protection Agency's new Mercury and Air Toxics Standards. Electric power data provider SNL Energy estimates that about 4,600 megawatts of U.S. coal-fired generation has already retired this year through April, and another 7,700 megawatts will close in the rest of 2015, or about 4% of installed U.S. coal capacity. SNL expects the pace of retirements to ease somewhat next year, when units with one-year compliance extensions under the standards finally close, but it still expects nearly 7,300 megawatts of coal-based power will shut down in 2016 and another 7,000 megawatts between 2017 and 2022.
Phys Org:  The New Nuclear Iron Curtain
Germany and Austria, stalwarts of the rich West, have long decided to go strictly nuclear free, while new EU members of the East—hungry for energy to fuel economic growth—are avidly increasingly reliance on nuclear power. The Czech government's decision last month to launch a vast, long-term expansion of nuclear power production has deepened the divide. Part of the plan is to build a new nuclear reactor near the border with Austria, outraging the wealthier Alpine nation. "This concept gives an idea about from what we will produce electricity in the year of 2040," Czech Industry and Trade Minister Jan Mladek told The Associated Press. "That is about 50 percent from nuclear energy and 25 percent from renewable resources. It's a clear message how we want to reach a low carbon economy." Slovakia and Hungary, former communist EU nations, have also been building new nuclear reactors, and Poland is considering launching its own nuclear energy program. These countries see atomic energy as a cheap and clean way to power the economy—and say it's unfair for rich EU countries to tell them what to do.
Mirror:  Moorside nuclear plant moves ahead
The site of a new £10billion power plant in Britain has been confirmed, creating up to 21,000 jobs. A deal to secure the land needed was completed to pave the way for Europe's biggest new nuclear project. Venture group Nugen paid an undisclosed sum for the site at Moorside, near Sellafield in Cumbria. It will see three nuclear reactors constructed on the land which was owned by the Nuclear Decommissioning Authority (NDA). The sale follows months of tests to ensure the area is suitable. The three Westinghouse reactors planned will have a combined output of 3.4 gigawatts, almost seven per cent of the UK's total electricity needs. Early building work will start in 2017 with a target date of 2024 for the first of three reactors starting to produce power. The other two would follow in 2025 and 2026. Energy Minister Andrea Leadsom said: "Backing the next generation of nuclear projects is a key part of our long-term plan to power the economy with clean, secure energy and keep bills as low as possible for hard working families and businesses."
Daily Mail:  Tories consider slashing more green subsidies
The Tories have already announced that taxpayer subsidies for wind farms are to be axed a year early. But the government is expected to go much further and review all support given to green energy which is funded by levies on bills worth £4.3billion-a-year. The solar industry in particular is braced for an announcement on cuts to its support. The Cabinet discussed this week election promises to focus on only 'backing good-value green energy' with a promise to 'cut emissions as cost-effectively as possible'. There will be a major expansion of nuclear and gas, but solar farms and plans for a tidal lagoon to generate power off the cost of Swansea could be ditched. We need to deal with those extra costs at the top of the electricity bill,' one Cabinet source said. 'There is a hardening view in the Cabinet that we've got to deal with green subsidies.'
SNP:  'Outstanding' new figures show Scotland's renewables strength
The SNP is today welcoming further 'outstanding' figures showing the strength of Scotland's renewable energy sector – and repeated calls for this progress not to be put at risk by the 'reckless' actions of the Tories in government. Figures published by WWF Scotland for June 2015 show that output from wind energy alone in Scotland increased by 120 per cent based on figures from the previous year – supplying enough energy to meet the electrical needs of 70 per cent of Scottish households and for 33 per cent of Scotland's entire electricity needs for the month. SNP MSP Mike Mackenzie has lodged a motion in the Scottish Parliament condemning the UK Government's cut to the subsidy for onshore wind energy paid through the Renewables Obligation which has now achieved cross-party support. Commenting, Mr Mackenzie said: "Today's figures show that Scotland has a real opportunity to be a world leader on renewable energy – and this excellent progress must not be put at risk by the reckless approach of a Tory government with scant regard for Scotland's interests."
Express:  Power line exposed as "white elephant"
A hugely controversial power line through the heart of Scotland has been exposed as a £600million "white elephant" due to the end of onshore wind turbine subsidies. Energy minister Fergus Ewing has admitted the 137-mile Beauly-to-Denny line will not be at full capacity when it becomes operational in November. With public cash support to wind farms due to end next April 1, critics said it would no longer be necessary to carry vast amounts of renewable electricity from the Highlands. Beauly-Denny consists of around 600 steel pylons each up to 215-feet high – taller than the Scott Monument – running through the heart of some of Scotland's most iconic scenery, including right past the Wallace Monument and Cairngorms National Park. The project was originally estimated at £330m but has since almost doubled, with all costs to be met by household electricity bills. Dr John Constable, chairman of the Renewable Energy Foundation, said: "The case for that line was never made. Beauly to Denny should never have gone ahead. Like the wind farms themselves, it was unaffordable and unacceptable".
Businessgreen:  Reforms to make EU number one in renewables
The European Commission has today published a wide-ranging package of reforms designed to ensure the continent's energy sector delivers on the bloc's over-arching target to cut emissions by at least 40 per cent by 2030. The proposals, dubbed the "Summer Package", include plans to strengthen energy efficiency efforts by returning to the A to G energy labelling scale for appliances and tighten the cap for the EU emissions trading scheme (ETS) from 2020 onwards. They were accompanied by the launch of a public consultation on proposals for a new energy market design for the bloc, intended to make it easier to trade power across borders and integrate growing levels of renewable energy on to the grid. Aspects of the proposals were welcomed by green business groups, but critics also warned the planned reforms to the EU ETS would not address the ongoing oversupply of allowances in the market and as such would struggle to mobilise sufficient clean energy investment.
Guardian:  Wind power generates 140% of Denmark's electricity demand
So much power was produced by Denmark's windfarms on Thursday that the country was able to meet its domestic electricity demand and export power to Norway, Germany and Sweden. On an unusually windy day, Denmark found itself producing 116% of its national electricity needs from wind turbines yesterday evening. By 3am on Friday, when electricity demand dropped, that figure had risen to 140%. Interconnectors allowed 80% of the power surplus to be shared equally between Germany and Norway, which can store it in hydropower systems for use later. Sweden took the remaining fifth of excess power. "It shows that a world powered 100% by renewable energy is no fantasy," said Oliver Joy, a spokesman for trade body the European Wind Energy Association. "Wind energy and renewables can be a solution to decarbonisation – and also security of supply at times of high demand."
Sydney Morning Herald:  Australian government pulls the plug on wind and household solar
The Abbott government has opened up another front in its war on renewable energy by pulling the plug on investments in the most common form of alternative energy, rooftop and small-scale solar. As a storm raged over the government's directive to the Clean Energy Finance Corporation to no longer back wind energy projects, it emerged that it has also put a stop to solar investments other than the largest industrial-scale projects. The solar industry has been left fuming by a letter to the CEFC by Treasurer Joe Hockey and Finance Minister Mathias Cormann in which they direct investments in household and small-scale solar to be "excluded" from the $10 billion fund in future. The draft investment mandate calls for "mature and established clean energy technologies … to be excluded from the corporation's activities, including extant wind technology and household and small-scale solar".
Breitbart:  Abbott approves massive new coal mine
Last week a contentious A$1.2bn open cut coal mining project was given the thumbs up by the Environment Minister, Greg Hunt, allowing for 268 million tonnes of coal to be extracted until 2046. The mine is in the state of New South Wales. The project, the third begun under Mr Abbott in less than 12 months, was approved after rigorous environmental testing and consultation with the local community. Mr Abbott's stated belief is that fossil fuel not renewable energy holds the key to a viable future – not just in Australia but across the developing world. In November last year he said: "For the foreseeable future coal is the foundation of prosperity. Coal is the foundation of the way we live because you can't have a modern lifestyle without energy, you can't have a modern economy without energy. So if we are serious about raising people's living standards in less developed countries, if we are serious about maintaining and improving living standards in countries like Australia, we have to be serious about making the best use of coal."
RenewEconomy:  Giant wind & solar complex to challenge Abbott's coal plans
The Canberra-based renewable energy development company Windlab is proposing a world-leading mega wind and solar project for north Queensland, in a proposal that could directly rival a Coalition push to build a new coal-fired generator in the same area. Roger Price, the CEO of Windlab, told RenewEconomy on Tuesday that the company was proposing a 600MW wind farm combined with a 600MW solar PV farm in what it is calling the Kennedy Energy Park. The facility, to be located near Hughenden, around 300km inland from Townsville, would deliver up to 80 per cent of local electricity demand – and at a capacity factor of around 70 per cent – at rates cheaper than a new coal plant. "This is an absolutely world class resource," Price said. "We believe we can deliver nearly baseload power for a price of around $100/MWh. You are not going to build a new coal-fired generator for that sort of price."
BBC:  Snow and cold in Australia
South-east Australia has shivered through some of its coldest weather in decades, thanks to an icy cold snap. Strong winds and snowfall hit Victoria, New South Wales, and even the "Sunshine state" Queensland saw snow. The low pressure system that caused the cold fronts is expected to last for much of the week ahead. Severe weather warnings are in place for Victoria and NSW, and icy conditions have closed some major roads, including parts of the Great Western Highway.
Yahoo News:  Ministers in Paris to boost flagging climate talks
Foreign and environment ministers and other high-level officials from 45 countries are set to gather in Paris Monday seeking to re-energise climate talks mired in technical details and political squabbling. Just four months ahead of a UN conference in the French capital tasked with producing a historic climate pact, US scientists this week said 2014 was a record year for sea level rise, land temperatures, and the greenhouse gases that drive dangerous global warming. But overwhelming consensus on the urgency of the problem has not translated into significant progress on united action to prevent the planet from overheating. "The negotiations have not, strictly speaking, begun yet," Laurence Tubiana, France's chief climate negotiator, told journalists this week. The 32 foreign and environment ministers and 13 senior negotiators in Paris, working under the guidance of France's chief diplomat Laurent Fabius, have their work cut out for them. A draft agreement emerging from earlier rounds is little more than an exhaustive laundry list of problems and options, and is too unwieldy, Tubiana said.
Slate:  World leaders offer lackluster climate plans
For advocates of the atmosphere (which should be pretty much everyone who breathes), this December's meeting of world leaders in Paris is a really big deal. For the first time, it's expected that virtually every country on Earth will agree to plans to reduce global emissions. Over the last few months, countries have been submitting drafts of those plans—which likely will be nonbinding, thanks to the recalcitrant U.S. Congress. Now nations responsible for more than half of world emissions have submitted their proposals. Looking at those plans in detail gives a preview of what the likely outcome of the Paris talks will be—and it ain't pretty. The climate policies currently in place worldwide would lead to a projected 3.9 degrees Celsius temperature rise this century, according to Climate Action Tracker, a group of independent climate research organizations. The pledges announced so far for Paris would only shave about 0.8 degrees off that figure. The worst laggards are Australia, Canada, Japan, Russia, South Africa, and South Korea. Together, these countries account for about 15 percent of global emissions—about the same as the United States, whose proposal wasn't much better. Japan's plan, submitted to the United Nations on Friday, is especially weak. "With the policies it already has in place, Japan can almost reach its proposed [emissions] target without taking any further action," said Climate Action Tracker's assessment. Given these plans, the organizers of the summit aren't too optimistic about making change happen, nor are scientists.
Christian Science Monitor:  Why the West Antarctic ice sheet is melting
Melting ice in West Antarctica may not be just another product of global warming as previously thought, a recent study suggested. Instead, new evidence points to a different, more literal kind of global warming: the naturally high temperature of the Earth itself, not just the air and water around it, may be what is causing ice to melt, according to re-searchers at the University of California at Santa Cruz. After measuring geothermal heat under the West Antarctic ice sheet for the first time, researchers found it was "significantly higher" than data from around the region had previously indicated. But Andrew Fisher – Earth and planetary sciences professor and lead author on the paper published Friday in Science Advances – was quick urge caution on the study's implications: the rapid melting of the ice sheet in recent years cannot be fully explained by high core earth temperatures, because the heat was present as the ice sheet was forming, he told UC Santa Cruz in a news release. Instead, these temperatures may have merely set the stage for global warming to do its work.
Sydney Morning Herald:  What global warming will do to your loaf of bread
This is what global warming will do to your loaf of bread. On the right is a loaf made from grain grown in today's climate conditions. On the left is a loaf made from grain that sprouted in concentrations of carbon dioxide that are expected by mid-century if greenhouse gas emissions aren't reduced significantly. It was baked at the Australian Grains Free Air CO₂ Enrichment facility (AgFace) in Victoria by a research group studying the effect elevated carbon dioxide will have on crops such as wheat, lentils, canola and field pea. AgFace leader Glenn Fitzgerald said the effect of high carbon dioxide on grains is complex. On the one hand, it makes plants such as wheat and canola grow faster and produce greater yields but, on the other hand, they contain less protein. Elevated carbon dioxide also alters the ratio of different types of proteins in wheat, which, in the case of bread, affects the elasticity of dough and how well a loaf rises. "We don't understand completely why that's the case," said Dr Fitzgerald, a senior research scientist with the Department of Economic Development, Jobs, Transport and Resources.
Denver Post:  Pot growers sabotaging Colorado's energy plans
Surging electricity consumption by Colorado's booming marijuana industry is sabotaging Denver's push to use less energy — just as the White House perfects a Clean Power Plan to cut carbon pollution. Citywide electricity use has been rising at the rate of 1.2 percent a year, and 45 percent of that increase comes from marijuana-growing facilities, Denver officials said Wednesday. Denver has a goal of capping energy use at 2012 levels. Electricity is a big part of that. The latest Xcel Energy data show cannabis grow facilities statewide, the bulk of which are in Denver, used as much as 200 million kilowatt hours of electricity in 2014, utility officials said. City officials said 354 grow facilities in Denver used about 121 million kwh in 2013, up from 86 million kwh at 351 facilities in 2012. Lighting companies are working with pot companies to test the potential for LED lamps to reduce electricity use without hurting plants, Xcel spokesman Mark Stutz said. Xcel is advising companies on how much electricity different lights use, he said.