We begin this week's Blowout with good news from BP:
Telegraph:  The Earth is not running out of oil and gas
The world is no longer at risk of running out of oil or gas, with existing technology capable of unlocking so much that global reserves would almost double by 2050 despite booming consumption, BP has said. When taking into account all accessible forms of energy, including nuclear, wind and solar, there are enough resources to meet 20 times what the world will need over that period, David Eyton, BP Group head of technology said. "Energy resources are plentiful. Concerns over running out of oil and gas have disappeared," Mr Eyton said at the launch of BP's inaugural Technology Outlook. With new exploration and technology, the resources could leap to a staggering 7.5 trillion boe, Mr Eyton said. "We are probably nearing the point where potential from additional recovery from discovered reservoir exceeds the potential for exploration."
A focus on the United States below the fold, beginning with Obama's not-unexpected rejection of the Keystone XL pipeline and moving on to the parlous state of the US nuclear industry. Then the usual mix, including rifts in OPEC, Canada to get serious about cutting emissions, blackouts in Adelaide (but not in the UK), the Exxon global warming investigation, China's coal consumption revised upwards, Icelink under way, the Galloper wind farm resurrected, Antarctica gaining ice, the coming magnetic pole reversal, floating wind turbines, the solar power tower, how whisky can help neutralize radioactive waste and how global warming will cause less sex and fewer babies.
White House:  Obama rejects Keystone
This morning, Secretary Kerry informed me that, after extensive public outreach and consultation with other Cabinet agencies, the State Department has decided that the Keystone XL Pipeline would not serve the national interest of the United States. I agree with that decision. First: The pipeline would not make a meaningful long-term contribution to our economy.  Second: The pipeline would not lower gas prices for American consumers. Third: Shipping dirtier crude oil into our country would not increase America's energy security. What has increased America's energy security is our strategy over the past several years to reduce our reliance on dirty fossil fuels from unstable parts of the world. Three years ago, I set a goal to cut our oil imports in half by 2020. Between producing more oil here at home, and using less oil throughout our economy, we met that goal last year — five years early. In fact, for the first time in two decades, the United States of America now produces more oil than we buy from other countries.
USA Today: Obama to attend Paris climate change conference
While announcing his rejection of the Keystone XL oil pipeline, President Obama con-firmed Friday he will attend an upcoming summit in Paris on a global climate change deal. "Three weeks from now, I look forward to joining my fellow world leaders in Paris, where we've got to come together around an ambitious framework to protect the one planet that we've got while we still can," Obama said. Obama cited climate change, and the need to emphasize cleaner sources of energy, in rejecting the proposed pipeline designed to move oil from the tar sands of Canada to the Gulf of Mexico. Later this month, some 80 heads of state and more than 40,000 others are expected to attend the Paris climate change conference that is scheduled to begin Nov. 30 and run until at least Dec. 11. Obama is expected to attend the opening session and stay in Paris for only a day or so.
White House:  Obama Administration Announces Actions to Ensure that Nuclear Energy Remains a Vibrant Component of the United States' Clean Energy Strategy
As detailed in the Climate Action Plan, President Obama is committed to using every appropriate tool to combat climate change.  As America leads the global transition to a low-carbon economy, the continued development of new and advanced nuclear technologies along with support for currently operating nuclear power plants is an important component of our clean energy strategy. The President's FY 2016 Budget includes more than $900 million for the Department of Energy (DOE) to support the U.S. civilian nuclear energy sector by leading federal research, development, and demonstration efforts in nuclear energy technologies. DOE also supports the deployment of these technologies with $12.5 billion in remaining loan guarantee authority for advanced nuclear projects through Title 17. DOE's investments in nuclear energy help secure the three strategic objectives that are foundational to our nation's energy system: energy security, economic competitiveness, and environmental responsibility.
The Hill:  US Nuclear power plants warn of closure crisis
The nuclear power industry is sounding the alarm over the latest in a series of plant closures, warning that an energy source central to meeting President Obama's climate change goals is deteriorating. With nuclear providing the majority of carbon emissions-free electricity in the United States, utilities and suppliers in the industry say Obama's planned 32 percent reduction in power-sector carbon is impossible if reactors keep shutting down. Entergy Corp. announced this week its plans to close the FitzPatrick Nuclear Power Plant near Syracuse, N.Y., the seventh nuclear power plant to announce impending closure in recent years, out of the 60 plants currently operating throughout the country. A few weeks earlier, Entergy said it would close the Pilgrim Nuclear Generating Station in Massachusetts. They're both major losses in the industry's efforts to counter the nation's dwindling nuclear power operations. Proponents argue that nuclear power should get special treatment that gives it a leg up, given its lack of air pollution and reliability.
Daily Caller:  US Frightfully Behind Rest Of The World In Nuclear Power
Of the 59 new nuclear reactors under construction worldwide to help meet increasing demand for electricity, only 4 of them are being built in the United States, just enough to compensate for shutting down older reactors. Four new nuclear reactors are expected to enter service by the end of the decade, but that will barely offset those reactors leaving service due to cheap natural gas, which has driven American power prices lower than nuclear plants' operating costs. The FitzPatrick nuclear plant in New York is scheduled to shut down as soon as 2016 due to concerns about profitability. Other plants such Pilgrim Nuclear Power Station in Massachusetts and Oyster Creek Nuclear Generating Station in New Jersey are also scheduled to shut down due to financial concerns. Two other reactors, the Vermont Yankee reactor and Wisconsin's reactor, have already been closed due to competition from cheap natural gas. The world's largest nuclear plant operator, Électricité de France, withdrew from a joint venture that would have created three new American nuclear plants–after it had already invested billions of dollars. U.S. regulators recently gave the go-ahead for the country's first new nuclear reactor in 20 years to begin commercial operations. However, approval for the construction of this reactor took an incredible 43 years due to scandals, red-tape, and environmental concerns.
Reuters:  Exit now, pay later: Germany's rushed farewell to nuclear power
As the Fukushima disaster approaches its fifth anniversary, Germany's utilities are in crisis and struggling to shoulder the shutdown bill. There are fears the government may have to bail them out. Since Fukushima, shares in Germany's top three energy groups – E.ON, RWE and EnBW – have lost an average 56 percent, or 50 billion euros in combined market value, while racking up 65 billion euros in net debt, about twice their current combined market value. They have filed lawsuits against the government, claiming more than 24 billion euros related to Merkel's nuclear policy, which they claim is unfair and has rid them of one of their main profit centers overnight. Before the Fukushima crisis, German nuclear capacity was around 21,500 megawatts (MW). It is now 11,357 MW and will cease in 2022, when the last of the reactors will be shut down. Germany's nuclear capacity now only accounts for about 6 percent of the country's total capacity. Government officials counter that all four big utilities have brought the pain on themselves by failing to adjust their business models quickly enough to respond.
Wall Street Journal:  OPEC Members at Odds Over Group's Long-Term Goals
The Organization of the Petroleum Exporting Countries has delayed completing its internal report on long-term strategy as tensions deepen among members over an extended oil-price slump, according to delegates to the group. OPEC's long-term strategy report was expected to be made final Wednesday at an OPEC staff-level meeting in Vienna before being submitted for ministerial approval next month. But attendees at the meeting said OPEC delegates—who represent national governments with competing interests—couldn't agree on language defining the group's long-term mission. Algeria, Iran and Venezuela—which have been heavily hit by lower oil prices in the past year—supported language in the report saying the group wanted to maximize revenue and restore the ability to either influence prices or production, the delegates said. Those goals clashed with language advocating "fair" prices as a goal, which was proposed by OPEC's central secretariat and supported by Saudi Arabia, the group's kingpin, the delegates said. Though it may seem like semantics, "it's a debate that goes at the heart of the organization's existence," an attendee said.
New York Times:  China Burning Much More Coal Than Reported
China, the world's leading emitter of greenhouse gases from coal, has been burning up to 17 percent more coal a year than the government previously disclosed, according to newly released data. Even for a country of China's size, the scale of the correction is immense. The sharp upward revision in official figures means that China has released much more carbon dioxide — almost a billion more tons a year according to initial calculations — than previously estimated. The increase alone is greater than the whole German economy emits annually from fossil fuels. Officials from around the world will have to come to grips with the new figures when they gather in Paris this month to negotiate an international framework for curtailing greenhouse-gas pollution. The press office of the International Energy Agency said by email that the organization would revise its own data to reflect China's revisions, starting with numbers for 2011 to 2013 that will be released Wednesday. The agency estimated, based on the new figures, that China's carbon dioxide pollution in 2011 and 2012 was 4 percent to 6 percent greater than previously thought. But some scientists said the difference could be much larger.
North American Windpower:  Wind Breaks Records Across The U.S. In October
Hitting a number of new records in October, many U.S. grid operators, including the Electric Reliability Council of Texas (ERCOT) and Midcontinent Independent System Operator (MISO), had a big month in terms of wind generation output. On Oct. 22, ERCOT reached a record 12,238 MW of output at 12:48 a.m. – accounting for 36.83% of its overall load at the time. The grid operator had notched its previous record of 11,467 MW in September. Not long after, MISO confirmed via Twitter that it had reached a wind peak record of 12,383 MW on Oct. 28 – surpassing its 11,930 MW record from Jan. 8. Furthermore, a blog from the American Wind Energy Association (AWEA) mentions wind output records reached on other U.S. grids for the month, including the Southwest Power Pool, ISO New England and Xcel's Public Service Co. of Colorado. AWEA attributes the jumps in wind output in part to the country's "wind rush": advances in turbine technology that are creating new development opportunities for sites with, for example, lower average wind speeds. AWEA also notes the Competitive Renewable Energy Zone initiative in Texas as a catalyst for wind production.
Guardian:  Monster blackout in Adelaide leaves 45,000 SA properties without power
Power was cut to more than 45,000 properties across South Australia late on Sunday after the failure of an interconnector linking SA to Victoria. The monster blackout hit homes and businesses from Sellicks Beach, south of Adelaide, across the metropolitan area and into the Barossa Valley. SA Power Networks said electricity services had been cut to customers in response to a direction from the energy regulator late on Sunday night to begin rotational load shedding. The loss of the interconnector followed a planned shutdown at a Victorian power station earlier on Sunday but it was unclear if the two incidents were directly related. SA Power Networks apologised to customers for the disruptions and said supplies had been restored to most customers by 1am on Monday."SA Power Networks does not generate electricity, we are reliant on upstream supply," the company said. "The loss of capacity from Victoria resulted in automatic load shedding to avoid wider issues."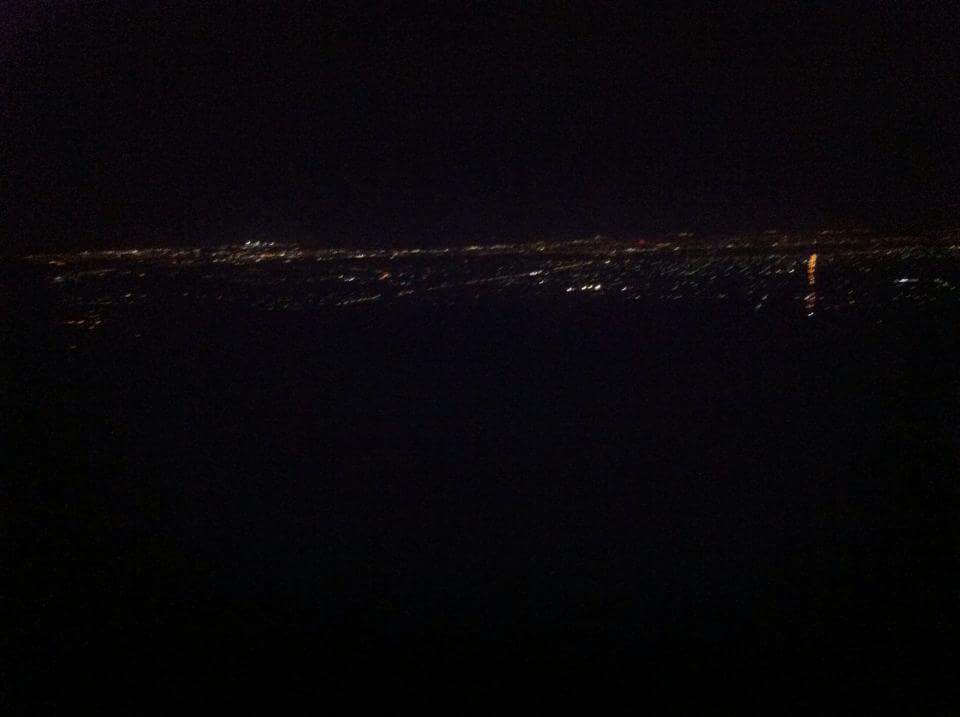 Adelaide without interconnectors. Image credit Ben Byrne
DeSmog Canada:  Canada's New Climate Change Minister 'Excited' To Tackle Emissions
It's already big news that Canada now has a Minister of Environment and Climate Change, Catherine McKenna. But it might be even more newsworthy that McKenna is promising that Canada will be a constructive player at the upcoming UN climate talks in Paris next month. After years of international scrutiny for playing an obstructive role in international climate negotiations and a former environment minister who performed awkward linguistic gymnastics to avoid using the words "climate change," McKenna's enthusiasm signals a new era for Canada's role on the global climate stage. Although the Liberal government isn't armed with the kind of targets most climate advocates would like to see, McKenna said she plans to demonstrate Canada is taking a new approach to climate change. "Our priority is certainly to show we have an ambitious agenda," she said, indicating the Liberal government's full-fledged climate plan is in development. "We're going to figure out a plan to make a huge reduction in emissions and show that Canada is back, that we believe that climate change is a massive problem and we need to be playing a significant role to tackle it and that we're there at the table to play a constructive role with the other governments."
Reuters:  EDF to review grid business strategy
French utility EDF is reviewing the strategy of its high-voltage grid business, an asset that analysts have long believed may be partially sold to fund investment in nuclear power. EDF needs 55 billion euros ($60 billion) to upgrade its ageing nuclear plants, plans to invest 18 billion pounds to build two plants in Hinkley Point, Britain and spend several billion euros to buy Areva's reactor business. French utility EDF is reviewing the strategy of its high-voltage grid business, an asset that analysts have long believed may be partially sold to fund investment in nuclear power. EDF needs 55 billion euros ($60 billion) to upgrade its ageing nuclear plants, plans to invest 18 billion pounds to build two plants in Hinkley Point, Britain and spend several billion euros to buy Areva's reactor business. EDF Chief Executive Jean-Bernard Levy has also outlined a strategy to invest in renewable energy and expand in emerging markets, but with EDF's balance sheet stretched and few non-core assets left to sell, a partial sale of grid company RTE is one of its few options for raising cash quickly.
Washington Post:  Exxon under investigation for misleading the public about climate change
A spokesman for Exxon Mobil confirmed Thursday that the company had received a subpoena from the office of the attorney general of New York, Eric Schneiderman, related to the subject of climate change and was "assessing" its response. The investigation focuses on whether Exxon Mobil intentionally clouded public debate about science and hid from investors the risks that climate change could pose to its business according to a person familiar with the matter. The inquiry seeks a variety of documents and records from the company, according to the person familiar with the probe, who spoke on condition of anonymity because the contents of the subpoena have not been made public. Schneiderman is also conducting a similar investigation regarding Peabody Energy, a leading coal company. The person familiar with the matter suggested that other energy companies could also face scrutiny. Environmental advocates hailed the probes as a major victory. For well over a decade, such organizations have been probing alleged links between Exxon, the world's largest publicly traded energy company, and the raising of public doubt about climate change.
Guardian:  National Grid makes urgent call for companies to reduce electricity usage
Earlier on Wednesday, National Grid issued an urgent request for energy companies to make more power available after multiple breakdowns at UK power stations. Power firms were asked to supply an extra 500 megawatts (MW) between 4.30pm and 6pm, a period when power demand surges, with some people still at work and others arriving home and turning the lights on. Severn Power sold electricity to the National Grid at £2,500 per megawatt hour during the afternoon, industry sources confirmed, compared with the typical price at that time of about £60. National Grid issued the original request by sending a "notification of inadequate system margin" (NISM), a warning that there was not enough power in reserve to keep the lights on in the event of an unforeseen emergency. Shortly before 6pm, National Grid issued a further statement saying suppliers had responded to its urgent request and 40MW of extra power had been ordered, so the NISM had been withdrawn. Energy analysts at the stockbroker Jefferies said that while the National Grid's warning could have been just "one of those things", it could be a sign of system stress as coal-fired power stations close. "It is self-evident that the UK power system is under increasing stress. Eventually that stress will manifest itself via security-of-supply events," the company said in a note.
BBC:  National Grid gets back-up power supply
The UK power industry has provided more electricity generation after a request from the National Grid. There had not been a risk of electricity supplies being disrupted, it said. National Grid earlier issued a Notification of Inadequate System Margin (NISM) as a result of multiple energy plant breakdowns. "The market duly responded to this signal," the company said. The National Grid described the NISM as "one of the routine tools that we use to indicate to the market that we would like more generation to come forward for the evening peak demand period". An additional 500 megawatts had been requested between 16.30 and 18.30 on Wednesday. "More generation came forward and about 40 MW of demand side balancing reserve was ordered so the NISM has been withdrawn," National Grid said. The National Grid plans to increase significantly its use of demand side management to keep the system in balance.
Guardian:  National Grid spends more than £2.5m to prevent power shortages
National Grid spent millions of pounds seeking to prevent power shortages on Wednesday after using all but one of its "safety nets". The electricity transmission firm revealed it was forced to call on a range of measures when power reserves ran low, including buying power at short notice and asking industrial users to turn down their usage. National Grid spent at least £2.5m after issuing a notice of inadequate system margin (NISM) on Wednesday afternoon asking power companies to provide more electricity. It paid the owner of Severn power station, Calon, about £2,500 per megawatt hour to provide an extra 500MW for two hours. On a normal day the typical cost for immediate power would be closer to £60 per megawatt hour. National Grid also used one of two new powers designed to prevent power cuts. These have already cost the National Grid £36.5m to put in place – adding 50p to the average annual household energy bill – but incur extra costs when called on.
Citizens Advice:  Scrapping support for onshore wind developments could hit energy customers
Citizens Advice says a pledge to end new subsidies for onshore wind farms could stifle crucial attempts to lower bills and reduce harmful emissions. The new report, Generating Value?, from the national charity says excluding onshore wind – one of the cheapest renewable technologies in the UK – from auctions for future subsidies could drive up electricity bills. The absence of onshore wind from the auctions could result in more expensive technologies being purchased instead. Researchers suggest it could add as much as £0.5billion to bills over the 15-year duration of subsidy contracts, or the equivalent of around £30million a year. Those costs relate to a single auction round for new low carbon generation, but there may be a number of auctions over several years, so the total cost to consumers may be higher still. The report welcomes efforts by the Government to rein in the costs of deploying low carbon generation, but says the policies on onshore wind could be counterproductive.
Utility Week:  Icelink deal expected in six months
A new government-backed deal to bring Icelandic geothermal power to the UK via the world's longest undersea power link is expected to come within the next six months. Ministerial talks have begun following a meeting between UK prime minister David Cameron and his Icelandic counterpart, Sigmundur Gunnlaugsson late last week in which the two leaders agreed to establish a UK-Iceland Energy Task Force to study the power cable plans. The Sunday Times reports that the financier behind the scheme Edi Truell expects the details of the financial support deal to be in place by next May. The £5 billion project will give the UK access to Iceland's abundance of geothermal and hydropower which currently accounts for 95 per cent of Iceland's power use. The Icelink could bring 1.2GW of renewable power capacity to the UK by 2023. At this early stage, the price remains uncertain, but Bloomberg New Energy Finance's central estimate of £86/MWh brings it in cheaper than new nuclear. The power cable is expected to take at least seven to ten years to build once construction starts.
Guardian:  £1.5bn Galloper windfarm to go ahead with new backers
Construction of a £1.5bn windfarm off the Suffolk coast is to go ahead in November after three new partners were found to back the project. The future of the Galloper windfarm was left in doubt last year when energy company SSE pulled out of the project, blaming the cost and the subsidy regime. The remaining partner, RWE Innogy, halted work. But RWE Innogy announced on Friday that Siemens Financial Services and the investment and financial services group Macquarie Capital, along with the UK government's Green Investment Bank, had become joint 25% equity partners. Scheduled to become operational in March 2018, Galloper will become one of the larger offshore windfarms in British waters with a capacity of 336MW, or enough to power 336,000 homes. The announcement follows Dong Energy's confirmation on Wednesday that it was going ahead with an extension to a windfarm in the Irish sea that will make it the world's biggest. Together, the two projects mean that there is 10GW of offshore wind capacity built, under construction or with financing secured in Britain, double the current operational capacity of 5GW, said the trade body RenewableUK.
BBC:  The Forties Pipeline at 40
In 63 and a bit years, the Queen's had a hand in much of the British economy; opening factories, bridges and the Border railway, launching ships, asking why no-one foresaw the financial crash, and adding her royal warrant to Deeside suppliers of Balmoral's comestibles and household sundries. But the event that took her to Aberdeen 40 years ago was perhaps the most significant economic event in her reign. That was when she pressed the button that started the Forties pipeline flowing. It wasn't the first oil brought ashore. That had been in June 1975, by tanker. But the pipeline network was vital to making the North Sea viable. It's the risk that the pipeline networks throughout the North Sea may no longer be viable at the current oil price that is one of the industry's big concerns about the next 40 years. So there's not much celebration as the Forties turns 40.
Christian Science Monitor:  Are floating wind turbines the future of clean energy?
A Norwegian oil and gas company has been given the go-ahead to harness the record-breaking winds off of Scotland's shores. Using a different sort of Scandinavian windmill, Hywind, a project of Norway's Statoil, got permission from the Scottish government to build the world's largest floating wind farm. Hywind turbines introduce a potentially exciting innovation in the field of wind energy: unlike typical turbines, the five being put in place by Statoil will "float," while secured to the seabed by a tripod-style mooring-and-anchoring system. The turbines will be connected by cables, with one cable running electricity from the wind farm to the shore 25 kilometers away at Peterhead, on the northeast coast of Scotland. If successful, the pilot project will have a generating capacity of 135GWh of electricity annually, with the potential to "power up to 19,900 houses," according to a statement from the Scottish government. The potential power would be roughly 12 percent cheaper to generate compared to the global utility average, according to independent environmental analysts at the UK-based Carbon Trust.
American Bazaar:  Innovative solar power harnessing technology gets US patent
The US Patent Office has considered it unique and has granted patent titled "Transpired Solar Collector Chimney Tower" to SolarWall inventor John Hollick and his associate Dogan Eryener. The invention uses a transpired solar collector to take advantage of a well-known phenomenon – warm air rises. The solar updraft tower has three essential elements: solar air collector, chimney or tower and a wind turbine combined now in a novel way. Mounting the SolarWall panels over acres of land with a tall chimney in the center creates a tremendous stack effect that draws air through each square foot of panel towards the chimney where the moving air turns a turbine to produce electricity. The ground is also heated during the day, and at night the stored heat is released to continue its journey up the chimney," states Hollick. A small test system has confirmed the system performance and plans are underway to construct a one megawatt pilot system with a chimney hundreds of feet high.
NASA:  Mass gains of Antarctic Ice Sheet greater than losses
A new NASA study says that an increase in Antarctic snow accumulation that began 10,000 years ago is currently adding enough ice to the continent to outweigh the increased losses from its thinning glaciers. The research challenges the conclusions of other studies, including the Intergovernmental Panel on Climate Change's (IPCC) 2013 report, which says that Antarctica is overall losing land ice. According to the new analysis of satellite data, the Antarctic ice sheet showed a net gain of 112 billion tons of ice a year from 1992 to 2001. That net gain slowed to 82 billion tons of ice per year between 2003 and 2008. "We're essentially in agreement with other studies that show an increase in ice discharge in the Antarctic Peninsula and the Thwaites and Pine Island region of West Antarctica," said Jay Zwally, a glaciologist with NASA Goddard Space Flight Center in Greenbelt, Maryland, and lead author of the study, which was published on Oct. 30 in the Journal of Glaciology. "Our main disagreement is for East Antarctica and the interior of West Antarctica – there, we see an ice gain that exceeds the losses in the other areas."
Express:  Earth faces 200 years of solar radiation blasts as 'magnetic poles shift', say NASA
The Earth could be left powerless to defend against blasts of solar radiation from the Sun for up to 200 YEARS, leaving us at risk from skin cancer and worldwide electronic communication blackouts, NASA scientists have warned. Climate researchers believe we are heading towards a reversal of the planet's magnetic field, an event that has happened before and has been attributed to wiping out the Neanderthal species. Bruce Jakosky, MAVEN principal investigator at the University of Colorado, Boulder, said when the switch does take place, the Earth's magnetic field which prevents the Sun's dangerous radiation getting through, would be neutralised for around 200 years. He revealed the detail during an historic announcement about how Mars lost 99% of its atmosphere and its oceans that could have housed early life. Mr Jakosky explained that Mars had been blasted by solar winds, which had stripped it of its atmosphere, for billions of years since the beginnings of our solar system. He said: "When the polar shift happens the Earth will have no magnetic field for about 200 years." During that time the Sun's solar blasts are expected to strip away at our atmosphere as they did on Mars billions of years ago. But he thankfully added that 200 years would not be long enough for the Sun to significantly reduce the atmosphere for life to die out.
Spirits Business:  Whisky by-products to clean up radioactive waste
Researchers from the Environmental Research Institute in Scotland hope to clean up toxic waste at the Dounreay nuclear site using a "biosorption" process – where biological materials absorb radioactive isotopes. Scientists believe grain left over from whisky production may be a "sustainable solution that can be sourced locally", and are also testing seaweed, crab shells and coffee grounds. The radioactive isotope is present in liquid waste inside Dounreay's Shaft, which is situated in the shores of Pentland Firth approximately 65 metres below ground. Radioactive waste was disposed at the Dounreay nuclear site from 1959 to 1977, when an explosion ended the practice. Mike Gearhart, who leads the Dounreay Shaft and Silo project team, told the BBC: "We are pleased to be working with ERI to identify a sustainable solution that can be sourced locally. "We still have a number of issues to address but results to date have been very promising."
Gizmodo:  Climate Change Causes Less Sex and Fewer Babies
Three researchers at the National Bureau of Economic Research have published a working paper showing how increasing temperatures over the next century could mean fewer babies born–because, to paraphrase Cole Porter, it'll be too darn hot. Did you know that just one day over 80 degrees is correlated with a .4 percent decrease in birthrates nine months later? Yep–just a moderately hot day can have a "large and statistically significant" effect on rates of birth, say Tulane University's Alan Barreca, UC Santa Barbara's Olivier Deschenes, and the University of Central Florida's Melanie Guldi. The trio studied this effect using the biggest dataset of birth rates and temperature records available, spanning across the US from 1930 to 2010. They compared temperature fluctuation over those 80 years, looking at state-by-state data to account for region differences (for example, the South has way more days over 80 degrees, and births tend to spike in September compared to the rest of the country) as well as other things that could effect birth rate–for example, how summertime planting season could prevent people from having sex during those months.