This week's blowout features Bjorn Lomborg's scathing analysis of the world's plans to combat global warming ……
Lomborg:  Paris climate promises will reduce temperatures by just 0.05°C in 2100
Governments have publicly outlined their post-2020 climate commitments in the build-up to the December's meeting.
• The climate impact of all Paris INDC promises is minuscule: if we measure the impact of every nation fulfilling every promise by 2030, the total temperature reduction will be 0.048°C (0.086°F) by 2100.
• Even if we assume that these promises would be extended for another 70 years, there is still little impact: if every nation fulfils every promise by 2030, and continues to fulfil these promises faithfully until the end of the century, and there is no 'CO₂ leakage' to non-committed nations, the entirety of the Paris promises will reduce temperature rises by just 0.17°C (0.306°F) by 2100.
• US climate policies, in the most optimistic circumstances, fully achieved and adhered to throughout the century, will reduce global temperatures by 0.031°C (0.057°F) by 2100.
• EU climate policies, in the most optimistic circumstances, fully achieved and adhered to throughout the century, will reduce global temperatures by 0.053°C (0.096°F) by 2100.
• China climate policies, in the most optimistic circumstances, fully achieved and adhered to throughout the century, will reduce global temperatures by 0.048°C (0.086°F) by 2100.
• The rest of the world's climate policies, in the most optimistic circumstances, fully achieved and adhered to throughout the century, will reduce global temperatures by 0.036°C (0.064°F) by 2100.
….. which has not been universally well received:
Read on to learn about Bjorn Lomborg debunked, OPEC's drop in oil production, the oil inventory glut, Amber Rudd's problems, UK policy deterring investors, the Swansea Bay tidal project on hold, Poland to mine less coal, Germany in danger of missing its Energiewende targets, CO2 emissions from the Ivanpah solar plant, curtailment payments to Scottish wind farms, security concerns at the Paris Climate Conference and the US legalizes asteroid mining.

ThinkProgress:  Bjorn Lomborg's New Paper 'Appears To Have No Basis In Fact'
Widely debunked confusionist Bjorn Lomborg has twisted the world's climate pledges beyond recognition to make it seem as if the upcoming Paris climate talks will have no impact on future warming. His purpose, beyond sowing confusion, is to justify this claim in his press release "Lomborg shows Paris commitments will reduce temperatures by just 0.05°C in 2100." In reality, China's commitment alone — which Lomborg explicitly ignores — reduces projected future temperatures by 0.4°C in 2100! Climate Interactive has previously documented that the Paris pledges, the intended nationally determined contributions (INDCs), would reduce projected future temperatures by about 1°C — and buy us another decade close to the 2°C path (see chart above). The experts at Climate Interactive looked at Lomborg's new paper and concluded that his collection of assumptions "appears to have no basis in fact" and that his "optimistic" cases "are, in fact, deeply pessimistic." John Sterman, Professor at MIT's Sloan School of Management and Director of MIT's System Dynamics Group, told Climate Progress: "Dr. Lomborg sets out to show that the INDCs are useless. To do so he grossly misrepresents the pledges. He constructs an incomplete accounting of the pledges that omits the pledges of many nations, ignores China's pledge to cap its emissions by 2030, and assumes that the [European Union countries] abandon their commitment to emissions reductions as soon as their pledges are fulfilled."
Wall Street Journal:  Sharp drop in Iraqi oil production drives OPEC's output down
A sharp drop in Iraqi oil production has driven OPEC's overall output down, as the seemingly relentless ascent of the country's energy industry started feeling the strain from security problems and insufficient investments. Iraq's production fell by 195,400 barrels a day in October to just over 4 million barrels a day. The overall output is still near record highs for Iraq, but the steep monthly drop offered fresh evidence that the country's surprising ramp up over the past year—when oil prices plunged—may not be sustainable. "In a low-price environment, we are approaching peak capacity from Iraq," Olivier Jakob, head of Swiss oil consultancy Petromatrix, said in a note Thursday. Iraq's decline was the largest in an overall output fall reported Thursday by the Organization of the Petroleum Exporting Countries in its closely watched monthly market report. The group produced 31.382 million barrels a day in October, down from 31.638 million barrels a day in September, still more than 1 million barrels a day higher than its stated output goal.
Bloomberg:  OPEC Says Oil-Inventory Glut Is Biggest in at Least a Decade
Surplus oil inventories are at the highest level in at least a decade because of increased global production, according to the Organization of Petroleum Exporting Countries. Stockpiles in developed economies are 210 million barrels higher than their five-year av-erage, exceeding the glut that accumulated in early 2009 after the financial crisis, the or-ganization said in a report. Slowing non-OPEC supply and rising demand for winter fuels could "help alleviate the current overhang," enabling a recovery in prices, it said. The group's own production slipped last month because of lower output in Iraq. "The build in global inventories is mainly the result of the increase in total supply outpacing growth in world oil demand," OPEC's Vienna-based research department said in its monthly market report. Oil prices have lost about 40 percent in the past year as several OPEC members pump near record levels to defend their market share against rivals such as the U.S. shale industry. While inventories peaked in early 2009 before OPEC implemented record production cuts, this time the group has signaled it won't pare supplies to balance global markets and U.S. output is buckling only gradually in response to the price rout.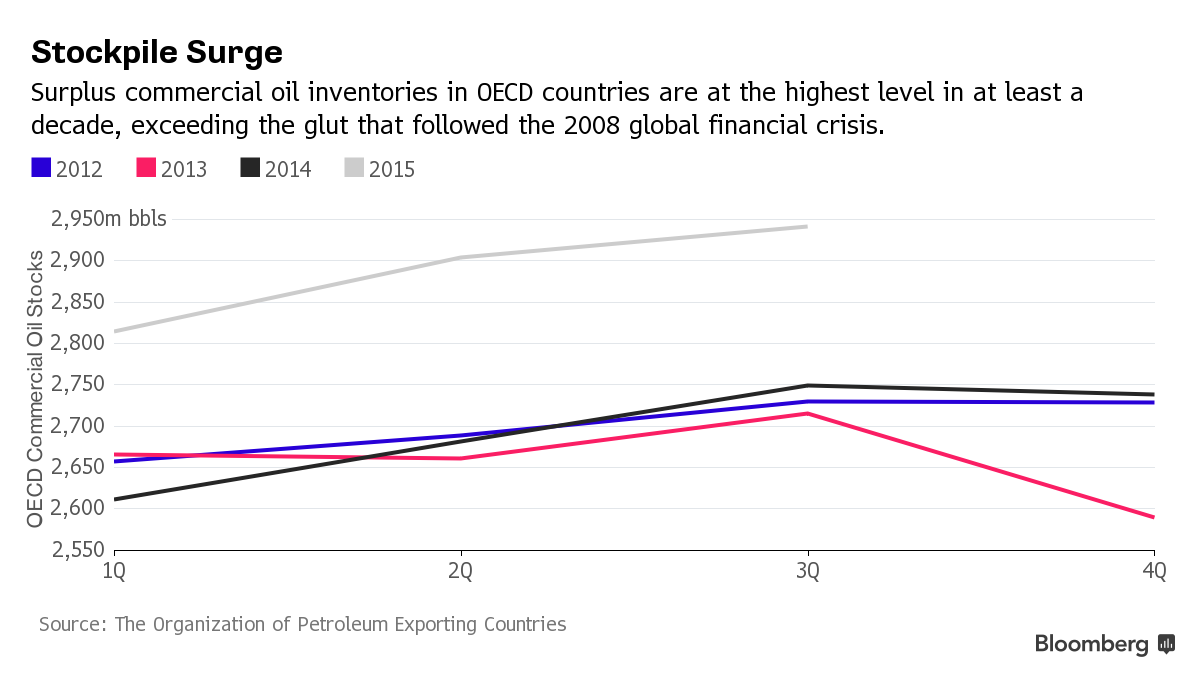 Nuclear Street:  IEA Sees Global Energy Shifts In Demand And Efficiency
The International Energy Agency said that world energy demand could grow close to 33 percent between 2013 and 2040 with demand reaching a plateau in China, which has been the leading growth market in recent decades. While China's demand levels off, demand in India will take off, the IEA said in its 2015 World Energy Outlook report released Monday. "By 2040, China's net oil imports are expected to be five times those of the United States, while India's easily exceed those of the European Union," the IEA said. The price of oil is expected to reach $80 per barrel by 2020. However, while prices are low, markets will become increasingly vulnerable, given the point that only highly efficient producers will be able to stay in production. "Reliance on Middle East oil exports eventually escalates to a level last seen in the 1970s," the report says. Meanwhile, nuclear and hydropower is expected to hold steady in its portion of the energy mix, while coal's share of the mix slips from 41 percent in 2014 to 30 percent in 2040. The difference will be made up by renewable power sources other than hydropower. Renewables-based generation reaches 50 percent in the EU by 2040, around 30 percent in China and Japan, and above 25 percent in the United States and India, the IEA said.

Telegraph:  World energy watchdog fears 1970s oil crunch as Mid-East regains stranglehold
The world risks a return to the strategic oil crises of the 1970s as Mid-East producers regain their stranglehold on global supply and drive non-Opec producers out of the market, the International Energy Agency has warned. The Paris-based watchdog said upstream investment in crude oil ventures is collapsing. Low prices are forcing companies to abandon high-cost projects in the US, Canada, Russia, Brazil and parts of Africa, storing up a potential oil crunch in the future. It leaves the world economy dangerously reliant on Gulf supplies, unless counter-measures are taken in time. Fatih Birol, the IEA's director, said the oil industry needs $650bn a year of fresh investment just to keep output steady as old wells are depleted and the decline rate steepens, yet new outlays have fallen 20pc this year and are expected to drop by another 20pc next year. "This is what I am worried about the most. It is the first time since the 1980s that investment will have declined for two consecutive years, and it will have serious consequences," he said.
Edie:  MEPs fail to boost EU renewables, efficiency targets
The European Parliament's energy committee today (10 November) rejected a push by MEPs to increase the EU's 2030 climate and energy targets and to make them legally binding. MEPs from the Greens, Liberals, Europe of Freedom and Democracy group and Socialist and Democrats failed to get changes to the committee's report on Energy Union. Leaders agreed to cut greenhouse gas emissions by at least 40% compared to 1990 levels by 2030. That is a binding target. But heads of state and government watered down the 2030 targets for renewables and for energy efficiency, which are not binding at national level. MEPs today called for three binding 2030 targets of at least 40% greenhouse gas emissions, at least 30% for renewables, and at least 40% for energy efficiency. The amendment was rejected 31 votes to 30, after opposition from the majority European People's Party and the European Conservatives and Reformists Group.
Ecologist:  Rudd admits 25% green energy undershoot, misled Parliament
A letter from Energy Secretary Amber Rudd leaked to The Ecologist shows that the UK is on track to miss its legally binding obligation to achieve strict EU targets on renewable energy by an estimated 50TWh (terawatt hours), or 3.5% of its 15% obligation – that is a shortfall of almost 25%. This stands in stark contrast to her public position. On 17th September she told the House of Commons: "When it became apparent that we were way in excess of [spending limits on renewables], but were still meeting our renewables targets, it was right to limit the amount of money we were spending." As Rudd warns, this impending failure to meet EU renewables targets puts the UK at a double risk – of legal action taken in the UK, which the government would probably lose; and of enormous fines imposed by the European Court of Justice: "The absence of a credible plan to meet the target carries the risk of successful judicial review, and failing to meet the overall target in 2020 could lead to on-going fines imposed by the EU Court of Justice (which could take into account avoided costs) until the UK reaches the target level." But by misleading the House of Commons in her statement, she is now certain to have a more immediate problem on her hands – demands for her resignation and a full-blown Parliamentary investigation.
CNN:  Does climate change contribute to violence and war?
The war in Syria has claimed the lives of more than 250,000 people. From Syrian President Bashar al-Assad to ISIS, many of the culprits are well known. But has climate change contributed to the bloodshed as well? There are high-profile backers of this view, among them U.S. Secretary of State John Kerry. "It's not a coincidence that immediately prior to the civil war in Syria, the country experienced its worst drought on record. As many as 1.5 million people migrated from Syria's farms to its cities, intensifying the political unrest that was just beginning to roil and boil in the region," Kerry said this week in a speech at Old Dominion University in Norfolk, Virginia. While drought is not the only cause of the Syrian conflict, the idea is that it has helped drive up social unrest. It increased unemployment, exacerbated famine and water scarcity, and forced farmers from their homes and into cities, where violence began. There's scientific evidence to support the case. In a 2014 study published in the journal Weather, Climate and Society, climate expert Peter Gleick wrote that "water and climatic conditions have played a direct role in the deterioration of Syria's economic conditions." Furthermore, the idea that the drought, which was the worst ever recorded in the region, was worsened by climate change in the region was strengthened in another study published this year. Researchers at the University of California, Santa Barbara, and Columbia University say the multiyear drought that helped drive the conflict was made "two to three times more likely" by man-made global warming.
BBC:  UK energy policy 'deters investors'
The UK's international reputation for a strong and well-balanced energy policy has taken another knock. It has lost its previous triple-A rating from the World Energy Council (WEC) – a global body representing the energy sector. The authors of the WEC report said a vacuum in energy policy since the election was deterring investors needed to create new electricity supplies. The criticism from the WEC follows a complaint from the UN's chief environment scientist that the UK was turning away from renewables, just as they were being embraced by the rest of the world in the run-up to Paris climate talks this month. The WEC report ranks countries on their policies to keep the lights on, bills and carbon emissions down. It says the UK has been a leader in these policies. But its says the government's drastic withdrawal of subsidies for wind and solar power has deterred investors needed for new energy supplies. Electricity has become comparatively more expensive, and the UK remains on a "watch-list" over how it will secure its future energy supply. The report warned the UK faced the run-down of nuclear plants and the closure of coal-powered stations, alongside ageing infrastructure – meaning its ranking is set to fall in future assessments.It urged the government to ensure consistent policy to secure and maintain investments while reforms to the energy system are being implemented.
Mining:  Poland considers cutting coal production
Poland is considering to stop coal production at several of its mines until at least 2018 in an effort to help prices by reducing a global oversupply, while trying to keep state operations afloat and avoid job cuts. Poland's troubled coal mining sector became a focal point ahead of the recent parliamentary election, as the outgoing government failed to rescue the troubled Kompania Weglowa (KW), the EU's biggest coal miner. About 90% of Poland's energy is generated from coal, an industry with a strong local union, which can partly explain why Warsaw has long opposed the EU drive to curb carbon emissions. According to Eurostat data, around 83% of energy consumed in Poland is produced from black and brown coal, while in the rest of the EU the average is 28%. With UN climate negotiations in Paris coming up in December and the EU committing to cut greenhouse gas emissions by 40% on 1990 levels by 2030, Warsaw has been under significant pressure to reduce that figure. Currently, around 10% of the country's energy needs are met by renewables (the average in the EU member countries is twice as high, at over 20%) and only 4% comes from natural gas and oil (while in the rest of the EU it is 25%), mostly imported from Russia. Due to technological underdevelopment, the productivity of Polish mines is very low, with 648 tonnes of coal produced per worker per year while in the worst US mines it is more then 2,000 tonnes.
PV Magazine:  Germany will miss 2030 RE targets unless current policies change
A new report, REmap Germany, commissioned by The German Federal Ministry for Economic Affairs and Energy (BMWi), and compiled by the International Renewable Energy Agency (IRENA), looks at Germany's Energiewende (energy transition), which aims to grow the share of renewable energy in the country's gross final energy to 30% (2014: 13.5%). IRENA presents two scenarios it foresees for the Energiewende: (i) either renewables will comprise 27% of gross final energy (the Reference Case); or (ii) they could reach 37% (Remap 2030). The question of whether or not the target will be achieved comes down to policy, i.e. if current policies do not change, the targets will not be met, or exceeded.
RenewEconomy:  Car makers want used batteries used on the grid
Last week, Daimler announced an expansion of its battery business with a 13-megawatt-hour battery storage unit at a recycling plant in Lünen, Germany that uses "second-life" EV batteries — batteries that are too depleted to reliably propel a car, but still have a significant amount of remaining capacity. The 13-megawatt-hour battery system recently passed certification testing with the ISO, and is slated to begin regular operation early next year. There is strong demand for high-performing batteries in Germany, where renewable energies are expected to provide 33 percent of the country's gross electricity consumption in 2015, a large portion of which comes from intermittent renewables like solar and wind. Other countries in Europe, the U.S. and elsewhere are also looking for batteries to help stabilize their grids. While there's money to be made using EV batteries in energy markets, savings ultimately depend on how affordable the second-life battery packs are. Right now, that remains a big open question. "No one has a reworked battery cost," said Dan Bowermaster, program manager for electric transportation at EPRI, recently told GTM.
Independent:  Swansea tidal lagoon project delayed amid concerns over costs
Government officials are reviewing whether the technology behind a proposed £1bn tidal lagoon in Swansea Bay, the first of its type in the world, could be as easily exported as its backers have claimed. Executives at Gloucester-based Tidal Lagoon Power wanted construction to start in the spring after getting planning permission in June, but it has been delayed by 12 months. The postponement was partly blamed on negotiations with the Department for Energy & Climate Change (Decc) over the contract for difference (CfD), which is the subsidy the Government will pay for each unit of renewable energy produced by the lagoon. At £168 per megawatt hour, the CfD is nearly double the payment that EDF is guaranteed for electricity it will produce at Hinkley Point C. But, if successful, the lagoon could be replicated in at least five other locations on the west coast, including Colwyn Bay and Cumbria, which, combined, would produce 8 per cent of the UK's electricity. The lagoon would also help Britain to meet sustainable energy targets, and, potentially, develop a lucrative new export. But sources have told The Independent that officials also want to verify that other countries would be as interested in adopting the sophisticated technology as Tidal Lagoon executives argue. It is understood that Decc is also concerned about the strength of the private investment case, given that the project's price-tag is nearly double initial estimates. Officials also want to check that it will produce the electricity its backers have claimed: 155,000 homes for 120 years.
Utility Dive:  Ivanpah CSP project burns enough natural gas to qualify for California's cap-and-trade program
California Energy Commission (CEC) data shows the natural gas burned to supplement solar production by the Ivanpah Solar Electric Generating System in 2014 emitted over 46,000 metric tons of CO2, enough that the project will be required to participate in California's greenhouse gas cap-and-trade program. Ivanpah escaped being classified by the CEC as a non-renewable resource because natural gas burned at night to maintain the system is not counted toward its 5% fossil fuel allowance. Its 46,000 metric tons of CO2 exceed the 25,000 metric ton allowance for power plants and factories excluded from the state's cap-and-trade program. Detractors say they were misled about the project because the limited use of natural gas makes Ivanpah a "hybrid" facility and that was not satisfactorily disclosed. A spokesperson for project developer BrightSource Energy says the natural gas use was fully disclosed in explanations of the technology.
Express:  Scotland's wind farms get £5million handout because it has been too windy
Scots wind farms have been handed more than £5million this week because it has been too windy. The huge sum – equivalent to £873,476 every day – was paid out because the National Grid cannot handle the extra energy turbines produce during gales. The so-called "constraint payments" are paid by consumers through a subsidy added on to electricity bills. Latest figures show £58million was handed out to power firms across the UK over the past 12 months for shutting down turbines. The scale of the payments has soared in the last three years, according to the think-tank Renewable Energy Foundation (REF). In 2012, wind farms were paid £5.9million to switch off. On Monday £1,452,629 alone was given to wind farm operators north of the Border.
Telegraph:  Hinkley Point could bring down EDF, warns shareholders
EDF's £18bn project to build two nuclear reactors in Britain is so expensive and risky that it puts the survival of the French utility at risk, an association of employee-shareholders has said. EDF Actionnariat Salarie (EAS) said the interests of EDF are gravely threatened by the Hinkley Point project, which it calls "a financial catastrophy foretold" in which EDF has nothing to gain and everything to lose. "EAS asks the management of EDF to stop this risky project, whose financial risks are to big for our company and which could put EDF's very survival at risk," the association said. EDF staff own 1.72pc of the utility's capital, making employees the second-largest shareholder after the state, which hold 84.5pc, according to ThomsonReuters data.
SSE:  Peterhead back in service
SSE has today confirmed that Peterhead power station has returned to service following the completion of major upgrade work to improve flexibility and efficiency at the sta-tion. The upgrade work carried out at the station means it is now configured to operate in the market at loads between 240MW and 400MW, in line with its current Transmission Entry Capacity (TEC). Peterhead currently has a contract for 2015/16 under National Grid's Supplemental Balancing Reserve (SBR) meaning 750MW of additional capacity could be called upon at any time to provide back-up over the winter period. The station successfully provided SBR capacity during winter 2014/15. Peterhead also has a contract to provide voltage support to the electricity grid from April 2016.
RenewEconomy:  South Australia wants more clean emergy
The South Australian Labor government has announced a tender for "low carbon" energy as part of a plan to source all the government's needs from clean energy, just as the country's energy operator flagged that the state could reach 100 per cent renewables, with wind and solar and battery storage, within two decades. Premier Jay Weatherill announced the government would tender for 481GWh of "low carbon energy" – equivalent to around 140-180MW of wind or solar power – for government sites. This would meet all the government's electricity needs. "We are determined to make Adelaide a showcase city for low-carbon and clean technologies, to attract investment, drive innovation and create new jobs," Weatherill said. He canvassed technologies such as wind, solar PV, solar thermal, batteries, hydrostorage and efficient gas or hybrid proposals. Environmental groups welcomed the initiative, saying it could provide impetus for a 150MW solar tower and storage facility they would like to see replace the Northern brown coal power station in Port Augusta that will close in a few months. South Australia already supplies 40 per cent of its electricity demand from wind and solar, and scenarios canvassed in a report released today by the Australian Energy Market Operator say the state could generate more than its annual electricity needs from wind energy and solar PV alone, and could reach that mark well before 2034/35.
Guardian:  Will the lights go out in the UK this winter?
Anyone of a nervous disposition should mark 11 January in their calendar as the moment to have torches, candles or paraffin lamps at the ready. That is the day when, according to National Grid's forecast, the gap between Britain's energy needs and its power supply will be at its wafer-thinnest. To be clear, the power network company is as adamant as it can be that Britain will not be plunged into darkness by blackouts this winter. The energy regulator Ofgem agrees. "We're confident that National Grid has the levers to manage the electricity system even in the most testing conditions," it said. National Grid has been forced to find increasingly inventive and expensive weapons to stave off power cuts. And despite its beefed-up armoury, it still risks sailing closer to the wind than is comfortable. For most of this winter, the power network company should not have too much of a problem. The margin between supply and demand is "tight but manageable", with peak demand – on the coldest day at the busiest time – expected to be 54.2 gigawatts. This year, National Grid's crucial reserve margin – its capacity to produce more energy during peak demand – is 5.1%, meaning 57 megawatts will be available. The margin increased from a palpitation-inducing 1.2% only after it spent £36.5m in the summer – equating to 50p on the average energy bill – on two new additions to its toolkit. One of these tools, which the company describes as "last resort" measures, was deployed earlier this month as unexpected generating plant shutdowns ate into the reserve margin. National Grid pressed the button on the new demand side balancing reserve, under which firms are paid to turn down their power usage.
Guardian:  Energy companies back National Grid blackout planning
Energy companies E.ON and SSE have given their support to the National Grid, after it pledged to secure sufficient power supply to avoid blackouts over what some forecasters predict will be one of the most severe winters ever recorded. "We'll continue to diversify our investment in new and existing plant as we firmly believe that it's important to have a broad range of generation assets as we move to lower carbon technologies. Our efforts are helping the UK to maintain the necessary generation mix so that the country can have secure energy, affordable energy and sustainable energy in the long term," E.ON's UK chief executive, Tony Cocker, said. A spokesperson added: "We continue to invest significant sums on new and existing assets in the UK and market availability for all our plant is shown as appropriate. However, balancing the UK's electricity supply system is ultimately a matter for National Grid." A spokesperson for SSE said: "Security of supply is a matter for the government and National Grid – they have a range of tools at their disposal and as we saw last week they've worked. SSE plays its part by keeping its plant in good working order so they are ready when grid need them – and we let them know in good time when they are under maintenance. In addition we've recently brought back our Keadby gas-fired plant in Lincolnshire and we're increasing the flexibility and capacity of Peterhead Power Station in the north of Scotland."
Edie:  12 celebrities call for climate action
As we fast approach one of the most important climate change meetings of our generation, a host of celebrities from Leonardo DiCaprio through to Gary Neville (yes, really) are using their mighty influence to broadcast the issue of global warming and push for a strong global deal in Paris. From boyband-obsessed teenage girls to pint-guzzling football ultras, everyone has a role model; someone they admire, someone they respect and someone they'll listen to. Celebrities have the power to ignite behaviour change among the masses, often in just 140 characters. What better way to use this power than to raise awareness and call for urgent action to tackle global warming? Especially as we sit on the precipice of the UN COP21 climate conference – arguably the most important meeting of world leaders in the history of mankind. In the run-up to Paris, numerous Hollywood A-listers, musicians and athletes have got a whole lot more vocal about the planet we live on. So here at edie, we've taken a sample of these familiar faces that all have a similar message to spread. These celebrities may not actively be "green", but they still have tremendous potential to wade in on environmental issues…
Herald Scotland:  Anger as Scotland's green power target set to be missed
Scotland's ambitious target to meet the country's energy needs from green power is set to be missed, a study warns today. Industry body Scottish Renewables said the Scottish gov-ernment's goal would not be achieved by the 2020 deadline without further investment from Westminster. In an urgent plea to UK ministers, it warned uncertainty over the gov-ernment's plans could soon kill off major schemes vital to meeting the target. The new study suggests that on current trends renewables will generate the equivalent of 87 per cent of Scotland's energy needs by the end of the decade. It comes after a leaked letter from UK energy secretary Amber Rudd revealed the UK as a whole was unlikely to meet it EU obligation to generate 15 per cent of its power from renewables by 2020. According to reports, the minister suggested funding renewable schemes in other EU countries as a last resort measure to meet the target. Fergus Ewing, the Scottish energy minister, reacted angrily, accusing the UK Government of "attacking" the renewables sector, which has a proportionately bigger presence in Scotland than south of the Border.
Herald Scotland:  Salmond's £10m wave power prize 'should be scrapped'
Alex Salmond's £10million wave power prize should be scrapped, critics have claimed, amid fresh evidence of it sinking into chaos. The Saltire Prize, an ambitious international contest designed to make Scotland a world leader in wave and tidal power development, was launched with great fanfare in 2008. Earlier this year it was revealed none of the competitors could meet the qualifying criteria by the 2017 deadline. Despite that, the Scottish Government remained committed to awarding the prize, though it has now emerged that new rules to make it winnable will not not be drawn up until next year, just months before the close of the contest. Of the four remaining competitors, one, Aquama-rine Power, called in administrators last month. A fifth, Pelamis, pulled out after going into administration a year ago. Murdo Fraser, the Scottish Conservative MSP, said the prize had become a "white elephant" and called for the money to put to better use.
Australian Financial Review:  Costly wind and solar batteries good for Australian coal
Storage batteries used to back up wind and solar power are too costly to undermine Asia's booming demand for coal, the International Energy Agency says. The agency defended its resilient global coal demand projections against criticism that they exaggerate demand growth, especially from India and south-east Asia, for Australian coal. Critics say the forecasts, which suggest Australian coal exporters have a prosperous future despite slowing global growth in demand for coal, underestimate India's capacity to supply its own coal needs and the growth of wind and solar power. But Laura Cozzi, head of energy modelling at the IEA, said the agency expects demand for coal to boom in India and south-east Asia even though the region will splurge on wind and solar energy. That's because the batteries required to stabilise supplies from wind and solar power are too expensive for widespread adoption in poor countries striving to rapidly build manufacturing and other industries. "Batteries and other forms of flexibility will be badly needed to accommodate larger share of variable renewables, but we need to see a very steep decline in their costs, which so far cannot be taken for granted," Ms Cozzi told The Australian Financial Review in an email.
Takepart: Portland Bans New Oil, Coal, and Gas Projects
Clean energy advocates in the United States have added another win to their recent string of victories on Thursday, as Portland, Oregon became the first city in the U.S. to ban all new oil, coal, or natural gas export infrastructure. After listening to testimony from dozens of the resolution's supporters, Portland's city council voted 5-0 to ban new projects dedicated to transporting or storing fossil fuels intended for overseas markets. The oil and gas industry has proposed nearly 30 new fuel transportation, storage, and shipping projects across the Pacific Northwest, hoping to more easily move oil and gas from the middle of the continent to energy-hungry customers in Asia. According to the environmental think tank Sightline, the proposed new infrastructure would have five times the capacity of the Keystone XL pipeline, which was projected to move up to 35 million gallons of oil a day.
Popular Science:  US Senate Votes To Legalize Space Mining
"A United States citizen engaged in commercial recovery of an asteroid resource or a space resource under this chapter shall be entitled to any asteroid resource or space resource obtained, including to possess, own, transport, use, and sell the asteroid resource or space resource obtained in accordance with applicable law, including the international obligations of the United States." The bill has just passed in the Senate with unanimous approval and a few amendments. Now it will be sent back to the House of Representatives, which is expected to approve the changes, and then on to President Obama.
Asteroid mining machine. Image credit Deep Space Industries
Politico:  Paris attacks scramble Climate Conference plans
Organizers of the upcoming COP21 climate summit, and activists who had been planning massive marches around it, met separately in Paris Saturday to assess the impact of Friday's terrorist attacks. The attacks, which killed at least 128 people and placed France under a state of emergency, have underlined the risk inherent in holding such a high-profile conference in a city of 12 million people. "The government will decide on the action to be taken," Pierre-Henri Guignard, secretary-general of the COP, told Le Monde. European leaders will also meet in the coming days to discuss the implications of the attack. The global climate change summit is expected to draw tens of thousands of people, including more than 100 heads of state, between November 30 and December 11 to the Le Bourget conference center in a northeast Paris suburb. Activists have already started descending on the city to take part in rallies and demonstrations. Friends of the Earth France, which is organizing peaceful "mass mobilizations" in the weekends before and after the COP21, also called an extraordinary meeting Saturday to assess whether to change strategy in the wake of the terrorist attacks. A number of NGO representatives said Saturday morning that it was still too early to judge the effect of Friday's attacks on campaigns and attendance at the COP21.