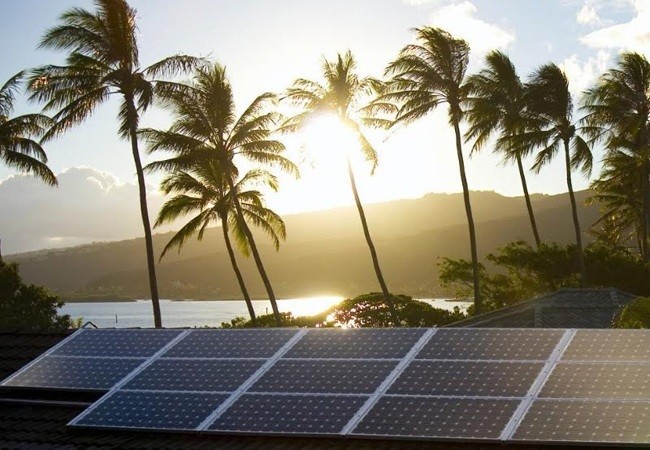 Hawaii's Renewables Portfolio Standard commits it to obtaining 100% of its energy from renewables by 2045, and Hawaii proposes to do this by wholesale replacement of fossil fuel generation with solar. This approach is theoretically possible, but only if there is enough energy storage (approximately 10GWh) to match day-night solar fluctuations of over 3GW to a substantially flat ~800MW load curve and if grid stability can be mantained with dominant solar generation. The Renewables Portfolio Standard also covers only electricity generation, which presently supplies only about a third of Hawaii's energy needs, so even if it's met Hawaii will still fall well short of its 100% renewable energy target.
Sources of data
Data for Hawaii are limited but adequate for a preliminary review. The main source of backup data for the 100% renewables claim is The Hawaiian Electric Companies 2016 Power Supply Improvement Plan . This is a four-book document that defies analysis because of its length (book four alone contains over 800 pages) and the Executive Summary provides little in the way of hard data. Other sources were:
EIA generation and installed capacity data
There are no publically-available grid data available for Hawaii, or at least none that I could find.
Hawaii's electrical generation system
Hawaii is a chain of islands unconnected by submarine cables. Electricity is supplied by three utilities, of which HECO, which serves Honolulu, is by far the largest.
Hawaian Electric Company (HECO): Island of Oahu, installed capacity 2,197MW
Maui Electric Company (MECO): Island of Maui and surrounding islands, installed capacity 424MW
Hawai'i Electric Light Company (HELCO): Island of Hawaii, installed capacity 397MW
Kaui generates only a small amount of electricity and is not considered in this review.
Figure 1: Hawaii's utility service territories. Note that there are no interconnections between the islands
Details of installed 2016 capacity are given in Figure 2. Note that Hawaiian utilities do not include intermittent renewables as "firm capacity", meaning that they don't get counted in "adequacy of supply" analyses. Other jurisdictions might take note:
Figure 2: Hawaii's 2016 installed capacity by type. Data from Hawaiian Electric Power Facts
The table below lists Hawaii's 2014 generation by source. Oil and coal dominate. Solar will be underestimated because distributed generation is not taken into account and because the data, the most recent I can find, are for 2014. According to Figure 2 total distributed solar capacity in 2016 was 465MW, which would generate around 750,000 MWh/year, or about 7% of total generation assuming no significant curtailment. The data are from the U.S. Energy Information Administration, Form EIA-923, "Power Plant Operations Report" and predecessor forms.
About 8% of total generation comes from a mixed bag of "other" sources, which EIA describes as follows: Other includes non-biogenic municipal solid waste, batteries, chemicals, hydrogen, pitch, purchased steam, sulfur, tire-derived fuels, waste heat and miscellaneous technologies Other biomass includes agricultural byproducts, landfill gas, biogenic municipal solid waste, other biomass (solid, liquid and gas) and sludge waste. Other gases includes blast furnace gas, and other manufactured and waste gases derived from fossil fuels.
The question now arises, how does Hawaii get from this fossil-fuel dominated generation mix to 100% renewables by 2045 (or maybe 2040)? Simple. It adds solar – a lot of it. In 2045, in the E3 Plan, there is approximately 2,100 MW of distributed generation PV, over 2,000 MW of grid-scale PV, 200 MW of offshore wind, 68 MW of waste to energy, and 160 MW of onshore wind. This gives a total of at least 4,500MW installed compared to the current 3,000MW, and 90% of the capacity is now solar. Figure 3 compares projected output from this generation mix against demand for Oahu in 2045. 82% of gross generation is solar, 14% wind and 4% "firm renewable", presumably mostly biomass:
Figure 3: Monthly renewable generation versus load, Oahu 2045: Graphic from 2016 Power Source Improvement Plan
Will this approach work?
To give it every chance I changed the rules. The plan shown in Figure 3 is derived from a complex computer model designed to minimize costs, and it still shows significant solar curtailment. However, just a little more solar would remove the gray winter "shortfall" areas and eliminate the need for seasonal storage, which as discussed in a potential solution to the problem of storing solar energy – don't store it is the simplest and cheapest option at 20 degrees north latitude. Once we eliminate seasonal storage we have to consider only the storage needed to handle daily and other short-term variations in solar output, which are normally more manageable.
To evaluate this option I first went to the Sunny Portal website and downloaded operating data for four solar PV installations on Oahu – Hawaii National Bank, Kalanimoku, Kaimuki and Coffee Systems Hawaii – converted the output into monthly capacity factors and plotted them up with the results shown in Figure 4. The plots match quite well, showing an average capacity factor of around 19% and a winter/summer range from about 14% to 22%:
Figure 4: Monthly solar generation from four operating installations on Oahu expressed as capacity factors.
The next step was to factor the generation from these systems up to match the December minimum in the monthly load curve. (I found that 5.9GW of solar, not 4.1GW, was needed to do this at the capacity factors shown in Figure 4.) The results show curtailment levels ranging from 35% in June down to zero in December and overall curtailment of 23%, which is not unacceptable considering that the curtailed generation has a fuel cost of zero.
Figure 5: 2045 generation mix after scaling to match solar generation to December demand. Wind and "firm renewable" are scaled off Figure 4
Figure 6 plots solar generation for a winter month (January 2015) and a summer month (July 2015) using scaled-up data from Figure 4. There is little difference between the two, with both showing night-day ranges of over 3GW. Demand, however, remains generally within the 0.7-1.1GW range. Clearly a significant amount of flexible and robust storage will be needed to match daily and other short-term solar generation fluctuations to demand:
Figure 6: January and July 2015 hourly solar generation scaled up from Figure 3 data
Figure 7 shows how much winter storage would be needed based on the Oahu demand curve for January 25, 2016 published by the EIA , which was the only demand curve for Oahu I could find. January solar generation is matched to demand for the day and the differences between generation and demand are accumulated to define storage requirements. I have assumed that wind and "firm" generation are constant and that all the variability is a result of solar:
Figure 7: Storage inflows and outflows needed to match solar generation to Oahu demand, January 2016
According to these results over 6GWh of storage would be needed to match solar generation to demand on this particular day, but 10GWh or more would probably be needed to handle the deficits during days of low solar generation, such as January 14 and 29 (Figure 6). The storage would also have to be robust to tolerate being charged and discharged each day at high ramp rates. The results also make it clear that demand side management will have no significant impact on the amount of storage needed.
Where is Hawaii to get this storage from? The emphasis is presently on batteries, but in the MWh or kWh, not the GWh range. In 2014 HECO put out an RFP for 200MWh of energy storage which has resulted in a few small projects in the pipeline but only one operating system – a 250kWh battery storage system on Oahu . Sights will have to be set much higher to achieve the amount of storage needed in 2045, but it's impossible to know whether battery technology will have advanced by 2045 to the point where 10GWh of battery storage would be technically and economically feasible.
There is also the question of grid stability. Can a grid that handles such large swings in solar input and which is supported by hardly any conventional generation maintain frequency between Hawaii's 59.3 – 60.5 hz limits? Grid stability experts with time on their hands are invited to skim through Book 4 and express an opinion.
And there is another fly in the ointment. MECO and HELCO report no problems, but HECO on Oahu already has doubts as to whether it will be able to keep the lights on after 2018:
Hawaiian Electric's reserve capacity, which does not include intermittent energy sources such as wind and solar, may not be sufficient to meet the Company's generating system reliability guideline in 2018 and beyond, assuming Waiau Units 3 and 4 are deactivated at the end of 2017 and the Schofield Generating Station is in service from 2018. Hawaiian Electric may seek to mitigate reserve capacity shortfalls in 2018 and beyond by deferring future deactivation of units, implementing additional Demand Response Programs, optimizing maintenance schedules, reactivating units that are currently deactivated (i.e., Honolulu Units 8 and 9), installing temporary distributed generation, increasing the capacity of existing utility or non-utility units, or acquiring additional firm capacity.

Outages for planned work and maintenance will continue to be more numerous and longer in duration than in previous years. Maintenance will continue to be a challenge for the existing units. As the generating units age they will need to be maintained more often and for longer periods of time. As the demand on existing generating units change to mitigate different resources on the system such as variable generation resources, the generating units operate harder to counteract the increasingly dynamic changes, which increase the likelihood of unscheduled (forced) outages and operations at derated power levels.
And yet another fly. The explosive growth in rooftop solar in 2013 and 2014 threatened to overwhelm a number of local grids, prompting the Hawaii Public Utilities Commission to cancel net metering provisions in 2015 and replace them with fixed price contracts that make rooftop solar a lot less financially attractive. This has had a negative impact on the distributed solar growth rate.
And one final fly. Like many other jurisdictions Hawaii has difficulty distinguishing between energy and electricity. ("Our Power Supply Improvement Plan accelerates the pace on the path to 100 percent renewable energy.") But the Power Supply Improvement Plan concentrates entirely on decarbonizing the electricity sector, which according to the 2014 State of Hawaii Energy Data and Trends supplies only about a third of Hawaii's energy needs:
Figure 8: Hawaii energy use by sector. Data from 2014 State of Hawaii Energy Data and Trends
So even if Hawaii were to achieve its goal of 100% renewable electricity tomorrow it would still be dependent on fossil fuels for about two-thirds of its total energy supply.
Conclusions
There are a number of isolated islands other than Hawaii that are currently planning to go "100% renewable" but they are small (El Hierro, the largest of them, has a peak demand of about 7 MW). Hawaii is much larger (peak demand on Oahu in 2015 was 1,232 MW) and is therefore a better example of how 100% renewable energy might work on the large scale. At this point the prospects for 100% renewable electricity by 2045 look shaky and the prospects for 100% renewable energy remote. Yet Hawaii utilities remain confident in their ability not only to meet their electricity goal but to surpass it:
Figure 9: Showing how Hawaii's utilities plan to exceed the Renewable Portfolio Standard of 100% renewable electricity before the 2045 target data. Graphic from the Power Supply Improvement Plan