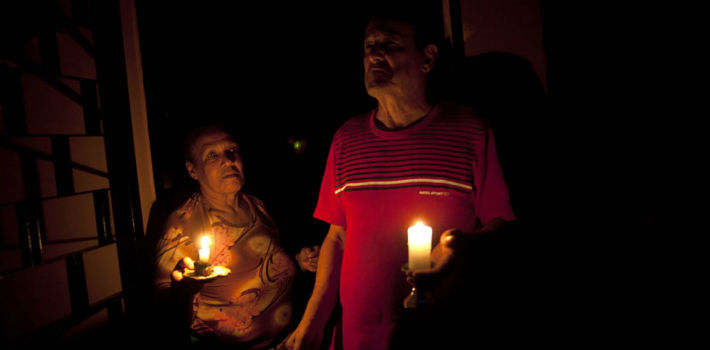 It's fashionable these days to blame everything that goes wrong with anything on human interference with the climate, and we had yet another example last week when President Nicolás Maduro of Venezuela fingered drought, El Niño and global warming as the reasons Venezuela's lights keep going out. In this post I show that his Excellency has not a leg to stand on when he makes these claims, but that because no one ever looks at the data everyone believes him.

International Business Times:  Venezuelan Leader Blames El Niño And Global Warming For Nation's Energy Crisis
The fierce El Niño event under way in the Pacific Ocean and warming global temperatures have helped create the brutal drought now racking Venezuela, President Nicolás Maduro said Wednesday night. Venezuela is facing its worst drought in almost half a century. The nation depends on hydropower for nearly two-thirds of its electricity, but the reservoirs that fuel its facilities are evaporating. Power outages in recent weeks have forced factories to send workers home early, slowing production, and many residents are now scrambling to secure enough drinking water supplies.
The fierce El Niño created the brutal drought now racking Venezuela, the worst in almost half a century. No pulling of punches. Boiled down to essentials, however, there are three issues here – a) is there really a "brutal" drought in Venezuela, b) if so, did the "fierce" El Niño cause it and c) has global warming made it worse? We'll take a look at these issues shortly, but first it's important to note that about 70% of Venezuela's electricity comes from one massive installation, the Guri dam on the Caroni River (officially the Simon Bolívar Hydroelectric Plant) which holds back a 4,000 square kilometer lake, about the same size as Rhode Island or Somerset.
Figure 1: The Guri dam and Lake Guri
It's hard to think of such a huge lake drying up, but that indeed now seems to be the case. According to this panampost article water levels are now so low that complete shutdown could result by early May if it doesn't rain in the meantime.
But why is Lake Guri drying up? Time to review the possibilities:
1. Drought:
Rainfall is as always the key variable here, and to check on rainfall around Lake Guri I selected the five Global Historic Climate Network V2 records shown in the Figure 2 Google Earth image. They ring Lake Guri except to the south, where there are no stations.
Figure 2: GHCN V2 rainfall stations around Lake Guri. Data KNMI Climate Explorer.
The monthly rainfall data for these five stations are shown in Figure 3:
Figure 3: Monthly rainfall, five GHCN V2 stations around Lake Guri
So where's the brutal drought?
Maybe we're standing back too far to see it, so let's zoom in on recent years:
Figure 4: Monthly rainfall, five GHCN V2 stations around Lake Guri, 2012-2016 data
Ciudad Bolívar had a dry 2015 but rainfall at the other four stations was about normal. Clearly there is no significant drought in Venezuela at the moment, brutal or otherwise, or at least not in the area around Lake Guri.
2. El Niño
The fact that there is no drought in Venezuela makes the impact of the recent El Niño irrelevant, but I did some work to see how closely monthly rainfall at the five stations correlates with the Niño3.4 Index over time anyway. Here are the results:
Niño3.4 versus San Fernando, R squared = 0.00
Niño3.4 versus Ciudad Bolívar, R squared = 0.00
Niño3.4 versus Tumeremo, R squared = 0.02
Niño3.4 versus Santa Elena, R squared = 0.04
Niño3.4 versus Puerto Ayacucho, R squared = 0.00
We can conclude from these results that ENSO events have historically had little or no impact on rainfall in Venezuela.
3. Temperature:
President Maduro also claimed that warming temperatures are exacerbating the "drought", which indeed they could if a) there was a drought and b) the temperature increases were large enough. But temperatures in Venezuela haven't increased that much, if at all. The trend line through the GHCNv2 temperature record for Ciudad Bolívar, the closest station to Lake Guri, shows a 0.2C increase at most since 1950:
Figure 5: Ciudad Bolívar monthly mean temperature anomalies
We can conclude here that Venezuela is not suffering too much from global warming either.
4. Undersupply 
This is of course the real reason. Venezuela does not have either the installed capacity or the reliable grid network needed to supply the country's electricity demand (the retail electricity price in Venezuela in 2014 was only $0.02/kWh) and it's being forced to drain Lake Guri to get whatever electricity it can.
5. Conclusions
President Maduro, that's four strikes. You're out.
But unfortunately he isn't. If you do a web search for "Venezuela drought" you will be hard pressed to find a single story that questions whether there really is a drought there. Everybody accepts that there is. And while it's widely acknowledged that Venezuela's difficulties are largely a result of mismanagement of its electricity sector it's still generally believed that there would be no electricity shortage if there were no drought. Indeed, it seems that all you have to do these days if your misguided energy policies happen to plunge your country into darkness is to go on television and blame it all on some aspect of climate change and you are off the hook.