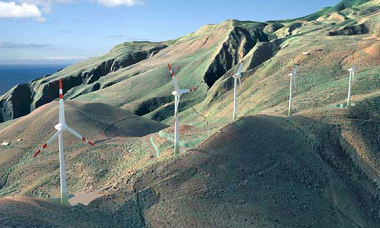 During July the hybrid wind-hydro Gorona del Viento (GdV) plant set a new record of 65.9% renewable energy delivered to the El Hierro grid, handily exceeding the previous record of 53.9% achieved in June. This was dominantly a result of a continuation of the sustained northerly winds that began in mid-June. Total renewables generation since full operations began at GdV in June 2015 is now 37.8%, up from 34.6% at the beginning of the month. (Data on GdV plant layout, operation and capacities are given in the September update. Previous posts on GdV are accessible through the El Hierro Portal.)
Figure 1 shows daily mean percent renewables generation since June 27, 2015 (data from Red Eléctrica de España (REE):
Figure 1:  Daily mean percent renewables generation since June 27, 2015.

The Table below updates the monthly grid statistics:
And Figure 2 shows the REE 10-minute generation data for the month:
Figure 2:  10-minute REE grid data for El Hierro, July 2016
There was actually nothing much new during July. Demand fluctuations during higher-wind periods are still being met by switching wind generation between the grid and pumping – i.e. by using the hydro system as a dynamic resistor. This procedure has been used since project startup and seems to have been selected as GdV's most efficient and stable mode of operation, although it wastes a large amount of wind power. Hydro generation is used to fill the gap when wind generation is deficient, but there's not that much hydro to go round. The hydro generation on July 25 and 26, for example, accounts for about 50MWh delivered from storage, or about a fifth of GdV's nominal reservoir capacity. This may be as much as the hydro system can deliver without compromising its demand-balancing capabilities.
Approximately five days of 100% renewables generation was recorded in three separate tests during July, but the conditions that triggered the startup and shutdown of these tests remain unclear. There was also a period of grid instability during July 20 and 21, when three grid malfunctions occurred in the space of about 30 hours. These are shown in more detail in Figure 3 should anyone care to speculate on the causes:
Figure 3:  Period of grid instability showing the three grid failures, July 2016
Figure 4 compares 10-minute wind generation at GdV with three-hourly wind speed readings at El Hierro airport for July. The correlation is not exact, but low-wind periods at the airport again broadly coincide with low output at the GdV wind farm. (Airport wind speeds in July 2016 averaged 7.9m/s compared to the 6.7m/s average during recorded during 2015.) Wind generation during the month was fairly consistently curtailed at between 7 and 7.5 MW when wind power exceeded demand:
Figure 4:  GdV wind output versus El Hierro airport wind speeds
In additional news, a paper on GdV authored by Energy Matters collaborator Hubert Flocard has made it to to the Canary Islands media. Hubert's paper is based on data from the first 6 months of operation and predicts that GdV will be able to supply only 46% of El Hierro's electricity demand. There has been no reaction as yet from GdV or the Island Council.