The Gorona del Viento (GdV) plant on the Canary Island of El Hierro is a flagship project designed ultimately to provide the island with 100% renewable electricity and to demonstrate that hybrid wind/pumped hydro systems can be used to generate 100% renewable electricity in other parts of the world. GdV comprises a wind park with 11.5 MW capacity and a pumped hydro storage plant with 11.3MW capacity, installed at a total cost of €84 million. This is the fifth in a series of operational updates that began in September last year. Details on GdV plant layout, operation and capacities are given in the September update. Previous posts on GdV are accessible through the El Hierro Portal.
March and April were better-than-average wind months at GdV, with renewable energy supplying 50.6% of El Hierro's grid demand in March and 47.3% in April. As a result the percentage of renewable energy delivered to the El Hierro grid since full operations began in late June 2015 increased from 32.2% at the end of February to 36.2% at the end of April. El Hierro monthly grid statistics since full operations began are summarized in the Table below.
Figure 1 plots average daily diesel and renewables (wind + hydro) generation since project startup. Of particular note is the week from April 13 through April 19, during which wind generated no energy at all for 76% of the time (127 of 168 hours) and renewables supplied only 3.6% of EL Hierro's grid demand.
Figure 1: Average daily percent renewables delivered to El Hierro grid
Figure 2 plots the 10-minute Red Eléctrica de España (REE) grid data for January and February 2016. Zero-diesel tests lasting for a total of 42 hours were performed without apparent incident on April 6th, 9th and 26th but do not seem to have led to any increase in the amount of wind power being integrated with the grid, so we can assume that the results were not entirely satisfactory. Load-matching is still being done by switching wind output between the grid and the hydro pumping station with the diesel generators operating in baseload mode when the wind is blowing strongly and by using the diesel generators in load-following mode during wind lulls.
Figure 2: January and February 2016 generation, 10-minute REE data
Another planned test on April 7 may have been aborted because it caused a partial grid outage. Between 1210 and 1220 a reduction in diesel generation from 1.8 to 1.1MW was accompanied by an abrupt 2.2MW decrease in demand – usually a sure sign that something has dropped off the grid. The grid was, however, back up and functioning within an hour (Figure 3):
Figure 3: April 7 zero-diesel test (?)
Over the last couple of months other information has come to light regarding the status of the GdV reservoirs. Reservoir balances estimated from water level photographs show that over time some 50,000 m3 of desalinated water is routinely pumped from the lower reservoir to the upper reservoir and allowed to flow back down again in order to balance generation with grid demand. But the total volume of water in the two reservoirs presently amounts to only about 90,000 m3, or about 17% of combined reservoir capacity. (150,000m3, the capacity of the lower reservoir, must be present in the upper reservoir and the lower reservoir must be empty to fully "charge" the pumped hydro system.) Moreover, historic photos suggest that the reservoirs have never contained any more water than this. As shown in Figure 4, the level of water in the upper reservoir has remained more or less the same for the last three years. There is also no evidence to suggest that a substantial amount of water has been extracted from the upper reservoir for irrigation. The ~100mm flexible pipe that was installed apparently for this purpose has now in fact been disconnected.
Figure 4: Photographic record of water level in GdV upper reservoir.
One possible explanation for this is a shortage of desalinated water. There is evidence to suggest that GdV is served by only one desalination plant (Tamaduste) and that other demands on this plant severely restrict the delivery of water to GdV.
Another is reservoir stability. In April 2011 the Barlovento reservoir on the island of La Palma to the north of El Hierro suffered a liner failure which caused a large volume of water to drain out of it: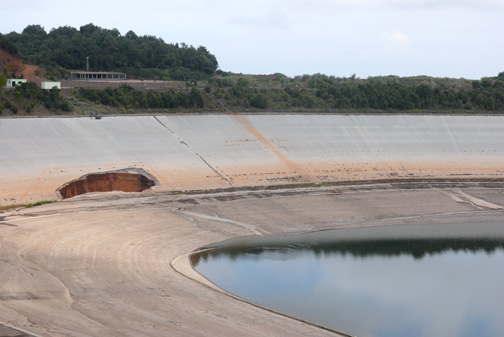 Figure 5: Failure of Barlovento Reservoir, April 2011
Barlovento was also constructed in an extinct volcanic crater underlain by weak rock, as are the GdV reservoirs, and it's possible that as a result GdV is unwilling to load the reservoirs any more than is necessary to support ongoing operations. A local perspective on the question was provided in this comment in an earlier post, English translation here.
I have read all the comments and see with astonishment that no one has mentioned the hydraulic and structural problems that the reservoirs can have, in particular the upper reservoir, which might explain why they don't fill it.
Barring unforeseen events the next GdV update will be at the end of June when the plant completes its first year of full operation.