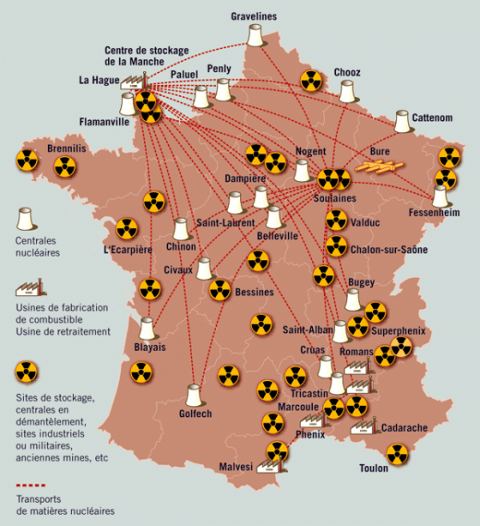 France's electricity generation since June has been running 5-10GW below normal because of nuclear plants being shut down for inspection. France has made up this shortfall by reducing electricity exports – generation from oil, coal, gas, hydro and renewables has stayed about the same. Exports to UK have decreased to the point where overall the UK now exports more power to France than it imports. The exports, however , occur dominantly during periods of low UK demand. The UK still imports up to 2GW of power from France during peak  periods, although it's unlikely that it would be able to do so should there be a protracted cold spell in Europe this winter.
Data Used
The data used in this post are from Gridwatch, which provides 15-minute grid data for France since October 2014 and five-minute grid data for the UK since May 2009. The UK data are of generally good quality except for some missing intervals. The French generation data contain missing intervals, the same data entered in different intervals, obviously suspect readings and intervals where zero has been entered to signify no data, and corrections have had to be made to clean the data set up. The French total export values are generally reliable but the export/import entries for individual countries (Germany, UK, Belgium, Spain, Italy and Switzerland) contain numerous suspect readings and often do not add up to anything resembling total exports, so they were not used in the analysis. All numbers are daily averages unless otherwise specified.
French Grid Data:
Figure 1 is a stacked bar chart showing France's average daily generation by source since the beginning of the Gridwatch data in October 2014. Nuclear continues to dominate despite the nuclear plant shutdowns:
Figure 1: France's total average daily generation by source, October 2014 to October 2016. The month divisions are approximate.
Figure 2 plots generation from all sources relative to demand since October 2014. France had a generation surplus before the nuclear shutdowns began in June of this year, but now generation and demand are at best in balance:
Figure 2: Average daily generation from all sources versus demand, October 2014 to October 2016
Figure 3 compares France's nuclear generation by month since October 2014. It's reported that a third of France's nuclear plants are now offline but 2016 nuclear generation is down by only about 8GW, or about 20%, relative to 2015 generation:
Figure 3: Average daily nuclear generation by month, 2014, 2015 and 2016
Figure 4 plots France's generation since October 2014 from nuclear plants, non-nuclear sources (oil, gas, coal, hydro, wind, solar) and "exports", which here are plotted so that diminishing exports show up as an addition to France's power supply. The decrease in nuclear generation is evident but there has been no significant increase in non-nuclear generation. The "exports" plot shows that France has made up its nuclear shortfall by cutting exports by 5-10GW relative to historic averages. As a result France is no longer a net power exporter – exports and imports are now roughly in balance.
Figure 4: France's daily average nuclear generation, non-nuclear generation and exports, October 2014 to October 2016
UK Imports/Exports
Average daily power flows recorded by Gridwatch since June 1, 2016 along the IFA interconnector that links the UK with France are summarized in Figure 5. Imports are plotted as positive values because they add to UK supply:
Figure 5: Average daily power flows along the France-UK IFA interconnector since June 1, 2016
Between the beginning of June and mid-August the UK fairly consistently imported ~1.5GW of electricity from France. In mid-August, however, imports from France began to decline, and since early October the UK has been exporting power to France for most of the time. Fortunately for the UK, however, power is exported to France dominantly during UK off-peak hours. During peak hours the UK still imports power from France up to the maximum 2GW capacity of the IFA interconector, as shown in Figure 6:
Figure 6: UK electricity imports from and exports to France, five-minute data, October 7 to 13, 2016
Discussion:
The fact that France has been able to compensate for the lost nuclear generation simply by reducing power exports suggests that the situation has not yet reached "crisis" levels and that it is unlikely to do so unless yet more nuclear plants are taken down for inspection. But if Europe experiences an unusually cold spell this winter while a number of plants are still down the loss of imported power from France could be the straw that breaks the camel's back in some of France's neighbors. (Which? I don't know because I can't find any up-to-date information on reserve margins in these countries. Maybe someone knows of some.)
But the UK is undoubtedly one. So long as France can continue to export up to 2GW to the UK during peak demand periods the nuclear plant shutdowns should not cause further deterioration in the UK reserve margin this winter. The problem, however, is that a cold spell could cause power flows from France to UK to dry up altogether. There have been occasions in the past where power flows from France to UK were in fact reversed during such cold spells even when no significant number of French nuclear plants were off line. Figure 7 below, which reproduces Figure 7 of my January 2015 post UK interconnectors – a double-edged sword, is an example. The first graph plots IFA interconnector flows over the wintry period in February 2012 when the UK exported power to France for about four weeks with the interconnector working at capacity for much of the time, effectively losing  4GW of peaking capacity in the process. If such conditions were to recur this winter it would probably be lights out for the UK, or France, or both:
Figure 7: UK power exports to France during January/February 2012 cold spell, five-minute Gridwatch data