Engineer Leo Smith developed the Gridwatch web resource to record UK power generation from various sources as reported by Balancing Mechanism (BM) reports. Power generation data for the UK are now available since 2009. Since November 2014, Gridwatch has also been recording generation data in France (thank you Leo) and this post is a first look at these data. The data cover only the period since November 20th, 2014 and are not always of top quality, but there's enough information to provide some interesting insights.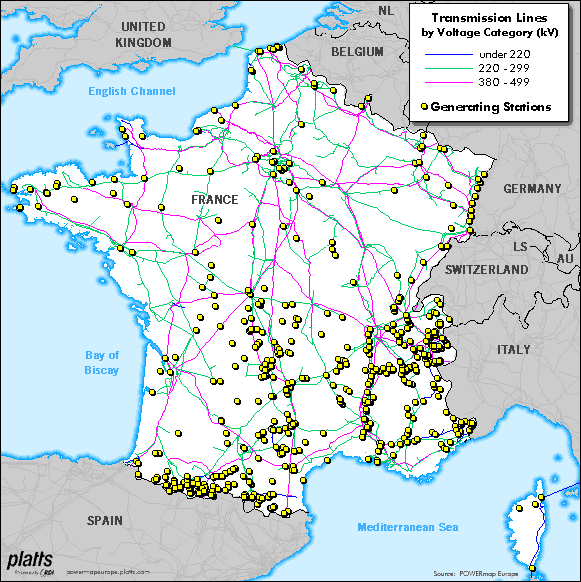 First some basic stats on generation and installed capacity in France (data from the entso-e statistical factsheet). Note that 90% of France's generation came from low carbon sources in 2013. The number increases to 101% when expressed relative to consumption:
Next some comparisons between France and the UK. Figure 1 shows electricity demand in the two countries over the four-week period between December 1 and December 28, 2014:
Figure 1:  Electricity demand in France and the UK, December 2014
France consumed significantly more electricity than UK over the period largely because it uses electric rather than gas heating, about which more later. Otherwise the demand curves ran closely parallel, with both show a daily range of +/-20MW and with peak demand occurring at more or less the same time (shortly after 6pm in France and shortly after 5pm in UK).
Figure 2 is a comparison of the amount of electricity the French grid says  it exported to the UK and the amount of electricity the UK grid says it received from France. This is basically a check of the veracity of the two data sets:
Figure 2:  French exports to UK versus UK imports from France, December 2014

The two should match, and if we ignore the French exports that exceed the ~2MW capacity of the IFA interconnector they more or less do. As can be seen, the French export/import data are not of the highest quality.
Third, wind generation. It's been claimed that combining wind output over large areas smooths out fluctuations, and UK and French wind farms combined cover an area of somewhere around a million square kilometers. But adding French wind to British wind doesn't smooth things out. If anything it makes the output even more spiky.
Figure 3:  Stacked bar chart, wind generation, UK and France, December 2014

Now on to the basic Gridwatch data. Figure 4 summarizes electricity supply and demand in France since November 20, 2014. The data are recorded at 15 minute intervals (UK data are recorded every 5 minutes) and the day markings on the X-axis correspond to ~1600 hours, which is approximately when peak demand in both countries occurs:
Figure 4:  Electricity supply and demand in France since November 20, 2014
Nuclear generation over this period overwhelmed other generation sources (which are plotted individually later). The problem is that it sometimes overwhelmed demand as well, even when other sources of load-following generation were presumably cranked down as far as they could go. As a result nuclear had to be cycled to follow load over ranges of up to 10MW during periods of low daily demand, such as between December 18th and 26th. Given that nuclear works best as baseload generation (and French nuclear plants were not designed with load-following in mind; more details here) the implication is that France has more nuclear capacity than it can efficiently use. The requirement to use nuclear in a partial load-following mode would certainly contribute to the low overall 73% load factor. (The nuclear load factor in the US in 2013 was 91%).
Yet the nuclear load factor over the 48-day period shown in the graph was 87%. How could it have been as low as 73% in 2013? The likely answer is provided by the graphic from éole.net reproduced below in Figure 5. Average demand in France in the summer months is around 45,000MW, barely half the average winter demand. France's 63,100MW of nuclear capacity could generate 45,000MW operating at a load factor of 71% and it could meet the 30,000MW average minimum summer demand operating at a load factor of only 47%. The load factors would be even lower in practice because there would still be a significant contribution from hydro and other peaking facilities.
Figure 5:  Weekly electricity consumption, France, 2001-2012
Figure 5 also shows winter peak demand increasing from ~70GW to over 100GW between 2001 and 2012 because of the rapid expansion of electric heating, which according to Renewables International increased French peak winter demand by up to 40GW in the winter of 2012. On February 8 heating demand in fact rose so high that the UK, which usually imports 2GW of power from France, had to export 2GW of power to France instead, as I discussed in this recent post . It seems that the skyrocketing growth in electric heating is beginning to create problems for France in meeting peak winter demand.
Now back to Figure 4. France is a net exporter of electricity (it exported 55.7 TWh in 2013). It was a net exporter during the period covered by the Gridwatch data, but overall it exported more when domestic demand was low – another indication that the French grid is becoming stressed during peak winter demand periods. More about exports later.
Now to the "other" generation sources. Presenting all of them on the same graph makes the data unreadable so I'm showing them in groups of two or three. Figure 6 shows hydro and pumped hydro, France's second largest generation source:
Figure 6:  Hydro and pumped hydro generation since November 20, 2014

According to these results water in the pumped hydro facilities was only pumped uphill. One assumes that at some point some of it came back down again and that the power generated is included in "hydro". Hydro was used to follow load but output bottoms out around 3GW, a limit presumably imposed by the need to maintain water flows below the dams.
Figure 7 shows the contributions from gas, coal and a negligible amount of oil. Both gas and to a lesser extent coal were used in load-following mode, with gas generation fluctuating between 7,500MW and a baseload level of about 2,000MW and coal between 3,500MW and zero.
Figure 7:  Gas, coal and oil generation since November 20, 2014

Figure 8 shows the contributions from wind, solar and biomass. The contributions from solar and biomass were negligible and wind generation was totally uncorrelated with demand (R squared = 0.003). The 29% load factor was, however, respectable.
Figure 8:  Wind, solar and biomass generation since November 20, 2014

One other aspect in which France differs from UK is in power exports and imports, which are becoming more important as Europe increasingly looks to interconnectors to balance wind and solar generation. UK has interconnector links with France, the Netherlands and Ireland with a total capacity of 4GW. France has interconnector links with Germany, UK, Belgium, Spain, Italy and Switzerland with a total capacity of around 15GW. Figure 9 shows flows over these interconnectors during the Gridwatch data period. (As noted earlier the French grid export-import data are not of the highest quality and I have had to throw out big chunks in the case of UK and Belgium. However, what remains is sufficient to show the basic picture):
Figure 9:  Interconnector flows between France and neighboring countries since November 20, 2014

I won't comment on these results except to observe a) that December 7th and 29th, the only days on which France imported rather than exported power, were the coldest of the month and b) that Germany is the only country France fairly consistently imported power from. The few periods during which it exported power to Germany coincide with periods of low demand when nuclear had to be cycled down, so presumably the exported power was surplus nuclear. Figuring out how flows to and from one country balance against flows to and from another is nevertheless a complex exercise, and it becomes even more complex when we consider that interconnector flows between France and its neighbors are also affected by interconnector flows between France's neighbors and other countries, such as between Germany and Scandinavia.
That's as far as I've gone so far. Maybe a follow-up post later.