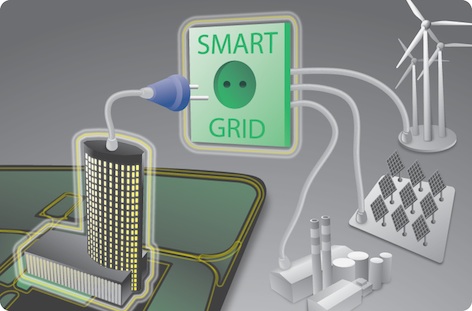 A smart grid is a computerized management system designed to distribute the power available to the grid in an efficient manner relative to demand while maintaining grid stability. It does not generate any power except in so far as it saves some energy that would be wasted with a less efficient system. Because of limited storage capacity a smart grid is also capable of maximizing energy use over only short periods; it will not solve the intermittency problem over longer ones. Consequently there will be extended periods over which the smart grid will have little or no renewable energy to deliver. Installation is also likely to be costly, and there are questions as to whether current designs based on computer simulations will work in practice.
As a geologist/geophysicist with no background in electrical engineering I had to think twice about writing this post, but smart grids are widely viewed as being an integral part of a green energy future and Energy Matters has never put up a post on them before. I don't think I've made any gross errors in this one but I'm sure someone will let me know if I have.
Characteristics of a smart grid:
According to Wikipedia :
A smart grid is an electrical grid which includes a variety of operational and energy measures including smart meters, smart appliances, renewable energy resources, and energy efficiency resources. Electronic power conditioning and control of the production and distribution of electricity are important aspects of the smart grid.
And:
The improved flexibility of the smart grid permits greater penetration of highly variable renewable energy sources such as solar power and wind power, even without the addition of energy storage. Current network infrastructure is not built to allow for many distributed feed-in points, and typically even if some feed-in is allowed at the local (distribution) level, the transmission-level infrastructure cannot accommodate it. Rapid fluctuations in distributed generation, such as due to cloudy or gusty weather, present significant challenges to power engineers who need to ensure stable power levels through varying the output of the more controllable generators such as gas turbines and hydroelectric generators. Smart grid technology is a necessary condition for very large amounts of renewable electricity on the grid for this reason.
Figure 1 shows a layman's layout of a smart grid:
Figure 1: A model set up of a smart grid network (data Vijayapriya & Kothari, 2011)
And figure 2 shows a layout of a small community smart (micro)grid for the more technically-minded:
Figure 2: Layout of a small community smart grid (data Guo et al 2012)
Smart grids regulate both electricity supply and demand in order to offset the impacts of spikes or other excursions in either, and in particular to achieve "peak load shaving". There is, however, a difference in approach between the way they treat supply and demand. The supply side of the smart grid is reactive. It takes the input power and redistributes it to where it's needed while maintaining frequency control and grid stability via sensors, high speed switches and other such electronic devices. The demand side is proactive. It interfaces supply with smart meters and smart devices in households, businesses etc. that the smart grid can turn on or off in order to match supply as closely as possible to the load curve – apparently with or without the consent of the home or business owner. As DOE puts it :
Demand response provides an opportunity for consumers to play a significant role in the operation of the electric grid by reducing or shifting their electricity usage during peak periods in response to time-based rates or other forms of financial incentives …. Methods of engaging customers in demand response efforts include offering time-based rates such as time-of-use pricing, critical peak pricing, variable peak pricing, real time pricing, and critical peak rebates. It also includes direct load control programs which provide the ability for power companies to cycle air conditioners and water heaters on and off during periods of peak demand in exchange for a financial incentive and lower electric bills.
I'll simply observe here that time-of-use pricing has been around for years (the three major California utilities at my last count had no fewer than 46 different rates) and so far has had done little to shave peak load in the places where it has been applied. Direct load control may therefore be the only option, but whether the public would stand for it is another question.
Analysis of smart grid performance:
Smart grid performance is presently analyzed through computer simulations that concentrate on managing the impacts on grid stability of short-term fluctuations caused by intermittent wind and/or solar input and/or rapid changes in demand. The results of the Guo simulations from which Figure 2 comes are fairly typical and are summarized in the graphs reproduced below in Figure 3. I'm not suggesting that anyone tries to interpret what they mean, it's just that results of this type tell us nothing about how the smart grid is likely to perform under real-life operating conditions – in particular whether it will be capable of filling demand using  intermittent generation. I've not been able to find any smart grid simulations that take actual generation data and plug them in to see what happens, although someone else may know of some:
Figure 3: Summary of results of Guo et al simulations.
Analyses like these in fact totally ignore the longer-term impacts of intermittency, such as protracted wind lulls and seasonal solar variations. The assumption seems to be that an adequate supply of renewable energy will always be available from somewhere and that the problem is simply one of distributing it efficiently without crashing the grid. And where is this adequate supply to come from? Well, when the wind and the sun fail it's further assumed that storage capacity will be adequate to take up the slack. Which brings us to
Energy storage:
Smart grids are designed to handle only short-term supply and demand variations, with the assumption apparently being that the storage facilities shown in Figures 1 and 2 will be large enough to store energy generated during off-peak periods for re-use, as Figure 1 puts it. The clear implication here is that the storage systems need only be large enough to handle daily load changes.
And indeed energy storage large enough to handle daily load changes may be achievable – although costly – using current battery technology. But as discussed in numerous previous posts there is no way storage could be made anywhere near large enough to handle extended wind lulls or seasonal variations in solar output*. Consequently it must be expected that any smart grid, or even a number of interlinked smart grids, will often not have enough renewable energy to fill demand, whereupon fossil fuel generation will have to cover the deficit.
*This of course does not apply in countries like Norway, where existing hydro resources would be sufficient to store large amounts of surplus wind or solar power. But in such countries there would be little point in achieving high levels of wind and solar penetration when all of the generation already comes from hydro.
The final question is:
How reliable are smart grid simulations?
With the exception of the limited real-life examples discussed below all of the presently available data on smart grid performance are derived from computer simulations, which prompts the question posed above. And the answer is, probably not very reliable at all.
Merino et al 2012 provides an example from the Gorona del Viento project in the Canary Islands of simulations that developed a theoretical solution to the grid stability problem at high levels of wind penetration but which has obviously not worked in practice. (In theory grid stability can be maintained by keeping three hydro turbines as a spinning reserve. In practice the entire hydro pumping system has had to be used as a dynamic resistor to waste surplus wind power, stabilize the grid and match supply to demand rather than to store surplus wind energy.)
There are also some excellent articles from "Planning Engineer" at Judith Curry's Climate etc. blog which go into the difficulties of predicting how a simulated high-renewables-penetration grid will work in practice. Here's a quote from one of them:
Policies to increase wind and solar may lead to unprecedented changes for the bulk power system. No one can say with any certainty that our existing models and study approaches are sufficient to guarantee that new problems associated with new technology (and the interaction of such technology with conventional technology) will not emerge. For example, series compensators were put into long transmission lines to enable long distance transfers of power without having excessive voltage drops. As modelled they worked well and no problems were anticipated. In practice it was discovered that they could produce catastrophic results ….
And why use simulations anyway? Because anything else is too expensive. As Guo et al put it:
Experimental studies of large-scale smart grids are usually not economically feasible. As an evidence, even for a microgrid, where the number of distributed energy sources and intelligent loads is quite limited, there are only a handful of test platforms around the world.
In short, there are no guarantees that any smart grid will work as planned.
Existing smart grids
The closest I can come to an operating smart grid system where any data are available is King Island, Tasmania (population 1,600, peak load 2.5MW, annual electricity consumption ~10GWh). Details of the system are:
Installed capacity:
Diesel: 6.00MW
Wind: 2.45MW
Solar pv: 0.39MW
Total: 8.84MW
Frequency & grid stability control:
Dynamic resistor for load-shedding
2 MVA flywheel-based uninterruptible diesel power supply
3 MW/1.6 MWh "advanced" lead acid battery storage
Demand side response:
Power to electric water heaters can be interrupted.
Further details on the operating system, including some interesting graphs, can be found here, here, here and here.
Clicking on the "King Island Tasmania Live Grid" sidebar brings up (after a delay) a real-time flow diagram showing how generation is switched between the different control units to match demand while keeping frequency within a few percentage points of 50 hertz. There seems to be no doubt that the system works at least in so far as grid stability is concerned. But it took King Island several years to get to this point, and there are the following offsetting factors.
1.  The system is expected to supply only up to 65% of King Island's demand with renewable energy, partly because of wind curtailment, partly because of lack of storage and partly because the wind farm is not large enough to generate enough power to fill annual demand anyway. The screenshot below, which I took at random a few days ago, shows 37% of the wind generation being curtailed by the dynamic resistor during a period of high-wind conditions when supply exceeded demand:
Figure 4: Screenshot of King Island grid flows during a period when wind generation exceeds demand
2.  With a 100% efficient system this curtailed power would be sent to storage – either to the batteries or the flywheel. But neither have anything like the storage capacity necessary to do this (the batteries can in fact store only enough power to supply island demand for about 16 hours). Consequently there are periods when the smart grid has no renewable energy to deliver, one of which is shown by the default values that appear before the real-time diagram activates. It's not known whether King Island has yet met its 65% renewables goal, but the absence of press releases in the last couple of years suggests that it hasn't.
3.  High costs. The project budget was initially estimated at $46 million but "was expected to come in well below this" (whether it did is not known, but even at $30 million the cost still comes out at about $10,000 per installed kilowatt). Needless to say the King Island project would not have gone ahead without subsidies, with the Commonwealth Government contributing up to a third of the total cost under its Renewable Energy Demonstration Program and Hydro Tasmania and CBD energy covering the rest "with support from the State Government".
A final question is what the 21kW of "demand response" shown on the screenshot means. If it's a measure of the savings generated by turning water heaters on and off then it's hardly worth the effort.
The one remaining example I can find is the Pacific Northwest Smart Grid Demonstration Project, a much larger-scale effort which the U.S. Department of Energy described thus:
The Pacific Northwest Smart Grid Demonstration (PNWSGD), a $179 million project that was co-funded by the U.S. Department of Energy (DOE) in late 2009, was one of the largest and most comprehensive demonstrations of electricity grid modernization ever completed. The project was one of 16 regional smart grid demonstrations funded by the American Recovery and Reinvestment Act. It was the only demonstration that included multiple states and cooperation from multiple electric utilities, including rural electric co-ops, investor-owned, municipal, and other public utilities. No fewer than 55 unique instantiations of distinct smart grid systems were demonstrated at the projects' sites. The local objectives for these systems included improved reliability, energy conservation, improved efficiency, and demand responsiveness.
And the results of the 16 smart grid tests? (No, I have no idea what an "instantiation" is either.) They are buried in 16 large pdf files accessible through the link shown above that I haven't had the time or inclination to go through, but the only quantitative conclusion I could find (in Front Matter.pdf) was this:
This simulation showed that the region's peak load might be reduced by about 8% if 30% of the region's loads were responding to the transactive system.
While some of the $179 million spent on the program went towards installing equipment this single conclusion still sounds like a poor return on the amount of money invested.
Wrapping things up:
This brief and incomplete layman's review of smart grids prompts the following conclusions:
Grids must contain complex frequency and stability control mechanisms if they are to handle high levels of renewables penetration. Hence some kind of "smart grid" will be needed.
Adding these mechanisms, however, is likely to be costly and there is no guarantee that they will work as planned.
Even if they do work as planned inadequate storage capacity and intermittency will limit renewables penetration. Regardless of how well the smart grid performs technically there will be extended periods when renewable energy generation plus energy in storage are inadequate to fill demand.
Backup fossil fuel generation will therefore always be required, although present-day smart grid designs implicitly take this requirement into account. It is in fact difficult to find a smart grid conceptual diagram which does not show a fossil fuel plant as part of the generation mix.
Endnote:  In an email he sent me after reviewing the draft post Euan Mearns posed the following questions:
Do Smart Grids offer real opportunity to integrate large amounts of variable renewable energy? Or are they simply another Green Dream born more out of hope than engineering?
I have to opt for the second conclusion. If the goal of a smart grid is ultimately to integrate large amounts of renewable energy with the grid then it won't succeed. No smart grid is smart enough to generate electricity when the wind doesn't blow and the sun doesn't shine.