According to reports the Pacific island nation of Kiribati is heading for a watery grave, courtesy of rising sea levels caused by man-made climate change:
Guardian:  In March the Intergovernmental Panel on Climate Change published the volume on adaptation of its fifth assessment report, confirming in starker terms forecasts first outlined by scientists in 1990. Within a few decades, small islands in the Pacific and Indian oceans risk being extensively or even completely submerged.
And the burial ceremony is already under way:
Huffington Post:  At the end of February the scenes in the South Pacific atoll island nation of Kiribati were dramatic and frightening. Waves crashed across the lagoon side of South Tarawa, the capital of Kiribati, swamping everything in their path. For the locals, there was nowhere to go as the waves left a trail of destruction, flooding the hospital in Betio, destroying food crops and fouling the already severely limited freshwater lens.
It sounds as if Kiribati is doomed, and a part of it may well be. But if so it will be because of too little water, not too much.
Shown on the map below is the island nation of Kiribati (pronounced Kiribas, by the way), which is made up of 34 islands with a total land area of 800 square kilometers dispersed over 3.5 million square kilometres of ocean. The two islands with tide gauge records, Tarawa and Kiritimati (pronounced Kirisimas and originally known as Christmas Island) are labeled:
Figure 1 shows the short tide gauge record for Betio, the nation's capital, on the island of Tarawa (data from PSMSL). The trend line shows a sea level rise of a little less than 90mm over the last 22 years, equivalent to a rate of rise of 4mm/year. This is indeed a substantial rate of rise, but it's questionable whether a trend line drawn through data this erratic that cover a period this short means very much.
Figure 1: Betio tide gauge record, monthly readings plotted relative to local datum
The Kiritimati record shown in Figure 2, however, is twice as long and therefore much more diagnostic. It's also a good match to Betio even through the records are 3,000km apart, with a trend difference since 1993 of only about 1 mm/year (Tarawa higher). The two records effectively verify each other:
Figure 2: Betio and Kiritimati tide gauge records
And how much sea level rise does Kiritimati show? About 40mm over the last 41 years, or 1 mm/year, according to the Figure 3 trend line. At this rate complete inundation of Kiritimati, which has a maximum elevation of 13m, will take 13,000 years.
Figure 3: Kiritimati tide gauge record, monthly readings plotted relative to local datum
Obviously Kiribati is not in imminent danger of disappearing below the waves. Recent studies in fact show that coral atolls in Kiribati and elsewhere in the Pacific tend to be growing in size rather than shrinking. But what causes the huge periodic variations in sea level at Betio and Kiritimati? As shown in Figure 4 the variations at Kiritimati are closely associated with the El Niño Southern Oscillation (I say "associated with" and not "caused by" because the sea level changes lead the Niño3.4 Index by several months, but a discussion of why this happens is outside the scope of this post):
Figure 4: Kiritimati tide gauge record versus Niño3.4 Index, monthly readings.
But regardless of the exact cause of the variations they have the impact of raising sea  levels at Kiritimati by up to 250mm above normal for weeks on end, the equivalent of 250 years of sea level rise at 1 mm/year. As far as I am aware no adverse impacts from sea level rises of this magnitude have as yet been recorded on Kiribati.
However, Kiribati does get periodically inundated by the "king tides" that occur when a spring tide comes accompanied by a storm surge . The king tide of February 8 and 9, 2005, which struck Kiribati with waves up to 2.8m high and caused widespread flooding (see image below) was one. (Although the residents can't complain too loudly. Were it not for the sediments these king tides bring in Kiribati would not be there):
These king tides are claimed to be an impact of man-made climate change and they indeed pose a threat to Kiribati, but they are part of the natural cycle in atoll environments and have nothing to do with man-made climate change. But the main threat to Kiribati comes from other issues that also have nothing to do with man-made climate change and which could ultimately force the resettlement of a large number of Kiribatians regardless of what the ocean does.
The first issue is overpopulation. The 103,000 citizens of Kiribati inhabit a land area of 800 sq km, but because of migration from outlying islands half of them now live in an area of 10 sq km in and around the capital of Betio on South Tarawa. And South Tarawa's population continues to grow.
Second is resource overutilization. Like all coral atolls South Tarawa gets its fresh water from an aquifer underlying the central lagoon where accumulated rainwater has displaced the salt water, and such aquifers will stay fresh as long as extraction isn't excessive. But even with water available for only two hours a day the demands of 50,000-plus people are already turning the South Tarawa aquifer brackish. As noted in this BBC article a large enough king tide could in fact shut it down altogether:
If the seawater came in over the top, it would have an immediate and catastrophic effect, causing salination for 15 months to two years – this could make the water undrinkable.
Third comes pollution. From the same BBC article:
… we have contamination from housing, agriculture, from people holding pigs, the sanitation practices …. water is very contaminated, especially where people live over the top of their wells. Nearer the islands' centres of population, the beaches are covered in all manner of waste from litter to excrement. When the tide is up, it does look like a paradise. When the tide goes out, you see the horrible degradation ….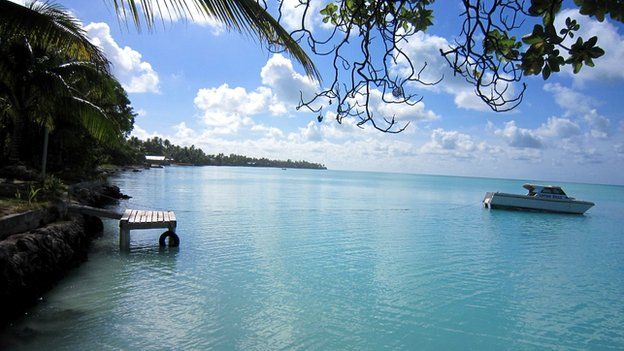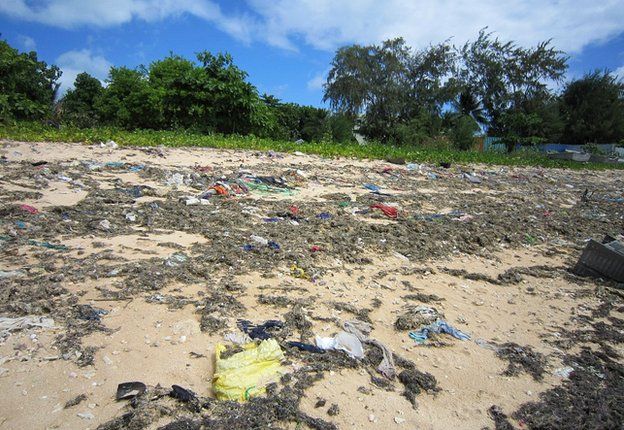 And the underlying cause of all these problems is, of course, poverty. Kiribati is a desperately poor country. Its $1,600 per capita GDP puts it on a par with Sudan.
So are there going to be refugees from Kiribati? Quite possibly, although they won't be fleeing climate change. They will be fleeing poverty. But we can be sure it won't be presented this way at the Paris Climate Conference.
A final comment. Last year Kiribati paid $8.77 million to purchase 2,000 hectares of replacement land in Fiji "to escape climate change". It would have done a lot better to use the money to fix the leaks in South Tarawa's water system.