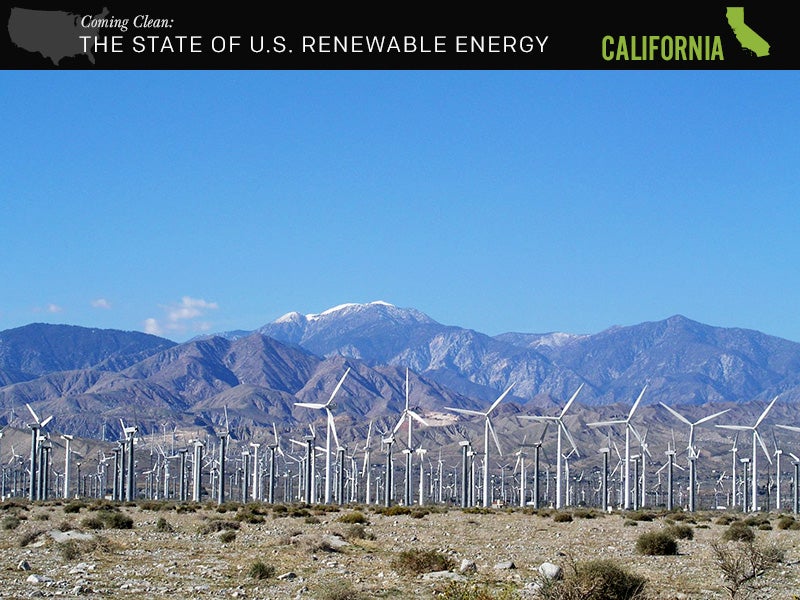 California is considered by many to be a world leader in the transition to renewable energy. But how much progress is it really making? This post looks into this question and finds that California has indeed significantly increased the percentage of renewable energy in its in-state generation mix – or at least would have done were it not for the impact of the recent drought on hydro output – but that it has made no progress towards increasing its zero-carbon generation, which because of the shutdown of the San Onofre nuclear plant remains lower than it was in 2002 even when the impact of the drought is factored out. This result underscores the importance of nuclear as a key ingredient in reducing CO2 emissions, a fact which seems to have escaped California's attention.
California's total generation
Figure 1 shows California's generation mix since 2002, the first year for which complete data are available. (All the data presented in this post are from the California Energy Commission almanac unless otherwise specified):
Figure 1: California annual total generation 2002-2015 (2015 import data from Forbes)
Over the last 14 years California's generation mix has consisted of roughly a third natural gas, a third imports and a third a mixed bag of nuclear, coal and renewable – mostly hydro – generation, although gas and imports have generally increased in importance in recent years. The 2015 generation mix is made up of 38.2% gas, 36.5% imports, 19.3% renewables and 6.0% nuclear. (Note that the flattening of total generation since 2008 is largely a result of the 2008 global recession. This pattern is repeated in just about all the developed countries.)
Imports
To segregate the entire generation mix by source, however, we need to know how California's imports break down. Figure 2 shows the data on imported electricity that the almanac makes available in its annual Total System Power reports , which cover the period 2002-2014:
Figure 2: Available data on California's annual electricity imports, 2002-2014
The data are incomplete except for 2007 and 2008, when coal generation made up about half of California's net imports. What happened in later years, when approximately half of the imported power is still not categorized? A 2015 study from SNL noted that up to 50% of Southern California's imports "still comes from coal-fired plants" and presented the plot of coal deliveries to out-of state plants owned by California utilities shown in Figure 3. The plot tends to confirm that imports of coal-fired power continued to provide a large fraction of California's imported power through 2014. The 2015 data show deliveries through July and would probably be similar to the 2014 numbers when the data from August through December are added.
Figure 3: Coal deliveries to out-of-state coal plants serving California 2010-1025. Data from SNL.But
But not all of the electricity produced from this coal goes to California. In December 2014 New Mexico regulators mandated a reduction in output at the San Juan plant and earlier in the year Southern California Edison sold its interest in the Navajo plant to Arizona Public Service. These reductions will show as credits on California's emissions and coal usage balance sheets, but the San Juan reductions had nothing to do with California and SCE's sale of Navajo won't even reduce emissions if APS keeps the plant running at the same level. Navajo is simply a book transfer of emissions from California to Arizona, or as the Los Angeles times less charitably puts it, a shell game.
So what to do about California's energy imports? I ignored them. Out-of-state plants are not subject to California regulations (which is why California utilities went out-of state in the first place), they allow California to claim credit for non-existent emissions and coal usage reductions and the data are woefully incomplete anyway.
In-state generation and installed capacity
In-state generation also provides an incomplete picture, but anything that happens, or does not happen, in California can unquestionably be laid at the feet of California's energy policies.
Figure 4 shows California's in-state generation mix from 2002 through 2015. Generation has historically been dominated by natural gas and remains dominated by natural gas, which accounted for 60.0% of total generation in 2015. Other notable features are:
The abrupt decrease in nuclear generation between 2011 and 2012, which was caused by the shutdown of the San Onofre plant.
The decrease in hydro generation during the recent drought.
The increase in solar generation since 2012
The lack of growth in biomass and geothermal generation
The decrease in total generation since 2006, with the balance made up by imports, as shown in Figure 1.
Figure 4: California annual in-state generation 2002-2015
In-state installed capacity since 2002 is shown in Figure 5:
Figure 5: California annual in-state installed capacity, 2002-2015
Since 2002 California has added more natural gas capacity (15,060MW) than wind and solar combined (11,132MW). The shutdown of the San Onofre nuclear plant in 2013 removed 2,133MW. There have been no significant changes in other generation sources, including hydro, biomass and geothermal.
Renewables penetration
Figure 6 now shows the percentage of renewables in the in-state generation mix as California regulators see it. Renewables penetration has increased from 14% in 2007 to almost 25% in 2015. It seems that progress is being made:
Figure 6: Percentage of renewables in California in-state generation mix. Includes solar, wind, biomass, geothermal and "small hydro"
But there's a problem with this plot. For reasons best known to themselves California regulators don't consider "large hydro" (more than 30MW) to be renewable and don't include it in their renewables totals. When large hydro generation is added we see no increase at all (which is maybe why it isn't included):
Figure 7: Figure 6 data with "large hydro" included
The reason Figure 7 shows no increase, however, is that the recent drought reduced California's hydro output to around half normal levels in 2014 and 2015, and since the state of California can't be blamed for the drought Figure 7 also gives a false impression of California's progress in developing renewables. What would the plot look like if there had been no drought? I simulated this scenario by assuming that California's in-state hydro generation continued at the average 2002-2011 level from 2012 onwards. The result is shown in Figure 8:
Figure 8: Figure 7 data assuming no drought. Simulated by setting total hydro output to 34.8GWh – the 2002-2011 average – from 2012 onward.
Now the blue line shows an increase comparable to the red line, along with 13% higher renewables penetration. Unfortunately California can't use it because it isn't what the data show.
Zero-carbon electricity
However desirable it may be to replace fossil fuel generation with renewable energy, a key goal of any renewables program is to reduce emissions, and this goal can be achieved only by increasing the percentage of "zero-carbon" generation in the mix. How has California done in this respect? Figure 9 shows the percentage of zero-carbon electricity, which includes nuclear as well as large hydro, in California's in-state generation mix. The trend line shows a decrease from 48% in 2002 to 39% in 2015.
Figure 9: Percentage of zero-carbon generation in California's in-state generation mix. Includes large hydro and nuclear generation.
Figure 10 shows the data with the impact of the recent drought on hydro generation removed using the procedure described in Figure 8. The trend line still shows a slight decrease:
Figure 10: Figure 9 data with the impact of the recent drought removed.
These decreases are a result of the shutdown of the San Onofre nuclear plant, which has more than offset any gains from wind and solar. Figure 11 shows what Figure 10 would look like if San Onofre were still operating. Even though Figure 11 adds only 2.1MW of nuclear – less than 3% 0f California's total in-state installed capacity – the change is striking. Expanding nuclear will clearly be a key ingredient if California is to reduce its electricity sector CO2 emissions:
Figure 11: Figure 10 data with San Onofre nuclear generation included
Yet California continues to move in the opposite direction. Pacific Gas and Electric, the owner of Diablo Canyon, the state's sole remaining nuclear plant, has just announced its intention to shut the plant down by 2025 after consultation with Friends of the Earth and other environmental groups. Apparently the state hasn't yet been officially approached. PG&E's rationale is given by PG&E Chief Executive Tony Earley, who:
acknowledged the changing landscape in California, noting that energy efficiency, renewables and storage are "central to the state's energy policy. As we make this transition, Diablo Canyon's full output will no longer be required," he said.
It's hard to say whether Mr. Earley really believes that California's future energy needs can be met with wind, solar and energy efficiency alone or whether he is just bowing to pressure from California's powerful environmental lobby. But if he really does believe in an energy future based entirely on intermittent renewables it may be time for PG&E's customers to think about heading for the hills.