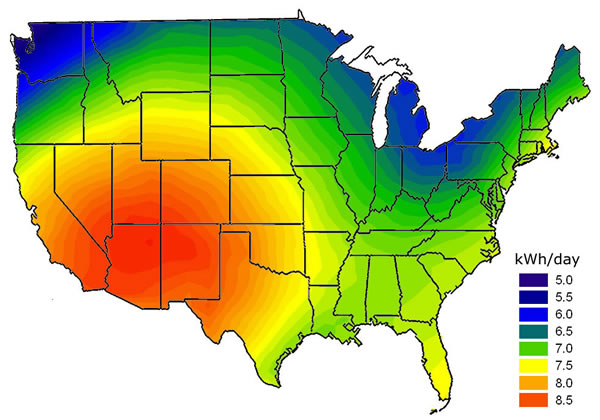 A post I wrote a little over two years ago concluded that solar PV capacity factors in the US ranged between 13% and 19% with an average of around 16%. Recently, however, the US Energy Information Agency published a table showing an average capacity factor of around 28% for utility-sized PV plants in the US in 2015. This post looks into the reasons for this large difference and also addresses the question of whether the EIA estimates can be used to predict future US solar PV output.

It concludes that the EIA estimate for utility-scale plants is probably overstated by several percent and that the overall capacity factor is further overstated because the EIA does not take smaller (mostly rooftop) arrays, which have a significantly lower capacity factor, into consideration. Assuming that future PV plant construction in the US is evenly split between utility-scale and "distributed" installations, and that large plant construction takes place all over the country and not just in California, an overall capacity factor of around 20% would be a reasonable assumption for planning purposes.
Data Sources:
Unless otherwise specified all the data used in this post are from the zipped EIA tables accessible through this link . The data are preliminary and the EIA cautions that they should not be summed, but having no other data to work with I summed them anyway.
All capacity factor estimates are generation-weighted. Note also that the EIA data apply only to "utility-sized" (1MW or greater) solar PV installations, so a large number of rooftop solar and other "distributed" solar installations are not included.
The EIA 2015 data include generation and capacity data for approximately 1,250 solar PV plants, but a number of them do not have complete data for the year and some of those that do give implausible capacity factors. After weeding these out I was left with 942 plants that could be considered to provide valid data. Basic statistics for these plants in 2015 are:
Installed capacity: 8,290 MWp
Annual generation: 18,291 GWh
Capacity factor: 25.2%
Data Review:
The 25.2% capacity factor listed above is about 3% lower than the ~28% calculated by the EIA from (one assumes) the same data set. As shown in Figure 1 this is an across-the-board effect, with the difference remaining reasonably constant at between two and four percent in all months:
Figure 1: Comparison of EIA monthly capacity factors and RA monthly capacity factors estimated from EIA individual plant data, 2015

What accounts for this difference? I went through the supporting EIA pdf but was unable to find any combination of capacity and generation data that allowed me to replicate the EIA capacity factor estimates. Another possibility is that my results are skewed by capacity additions during the year (I assumed the same capacity in each month), but this would not explain the constant difference between the plots. Besides, December 2015 generation was only 8% higher than January 2015 generation, indicating that there were no major capacity additions during the year.
However, the EIA data show a clear dependence of capacity factor on plant capacity, with plants larger than 50MW having higher and more consistent capacity factors, as shown in Figure 2. It's possible that the EIA might have given more weight to these larger plants when calculating averages, but that's speculation on my part:
Figure 2: XY plot of capacity factor versus installed capacity for 942 plants in the EIA data base, 2015

The average capacity factor of approximately 18% at 1MW is also broadly comparable to the 16% estimate in my previous post, which was based dominantly on plants less than 1MW in size. More about this later.
Using the EIA estimates as an average for the entire US is also invalid from the geographic standpoint. A disproportionate amount of megawatts of capacity and gigawatt-hours of generation come from plants located in California and in adjacent parts of Arizona, all of them in a comparatively small desert area where PV capacity factors are the highest in the country. (All of the plants with capacities of over 100MW shown in Figure 2 are in California or Arizona.) Table 1 summarizes the EIA data for each state with ten or more PV plants, ranked by capacity factor. The 12 states with fewer than ten plants are lumped together in the "Other" category:
Another approach is to compare the "Sun Belt" states (Arizona, California, Florida, Hawaii, New Mexico, Nevada and Texas) with the "Others" (Table 2). The solar-favorable areas of the Sun Belt states probably make up less than 10% of the total area of the US yet they generate over 80% of the country's solar PV electricity.
Figure 3 is a map of the US lower 48 summarizing the Table 1 data. Capacity factors decrease by up to 12% going from southwest to northeast. Coverage is quite good except in the Plains States, Montana, Wyoming and Idaho, where there are no data:
Figure 3: US state map summarizing the Table 1 results

Discussion:
Earlier I noted that the average solar PV capacity factor of approximately 18% at 1MW is also broadly comparable to the 16% estimate in my previous post, which was based dominantly on plants less than one MW in size. Figure 4 superimposes the capacity factors from the previous post on the EIA data out to 10MW. Visually the two data sets appear to line up. In combination they suggest a gradual decrease in capacity factor from about 21% at 5MW to about 16% in the low kilowatts range.
Figure 4: XY plot of 2015 EIA individual plant data with individual plant data from RA (Roger Andrews) 2014 post superimposed

The most likely explanation for this decrease is that utility-scale PV plants are sited in open, sunny areas with the panels pointed in the optimum direction and often with axial tracking capability. Residential and business-scale arrays, however, usually consist of fixed roof-mounted panels that point the way the roof points, which often isn't the optimum direction. Improvements in PV panel efficiency may also have contributed to an overall increase in capacity factors over the last few years but it's not possible to quantify the contribution from the available data.
The remaining question is what the overall capacity factor for new solar installations in the US is likely to be. There are of course a large number of variables that have to be taken into account, with the most important being:
What proportion of the new capacity will be utility-scale and what proportion residential-business scale?
In 2015 utility-scale solar made up 58% of total installed solar PV capacity and residential-business solar the remaining 42%, according to the EIA data. I have assumed a 50-50 split in the future.
   2. Where will the new capacity be built?
Up to now it has been concentrated in the sunny Desert Southwest, but capacity additions in this area will eventually become limited by the size of the Southern California/Arizona market, or by technical obstacles such as the California Duck Curve, or possibly by environmental constraints. For the US to "go solar" in a big way more utility-scale plants must be built close to major consumption centers in the eastern and central parts of the country and many households and businesses in these areas must be induced to install solar panels on the roof. I have therefore assumed that half of future US solar PV capacity will be installed in the Sun Belt states (developers will still have an incentive to go after the better resources) and that the other half will be installed outside the Sun Belt states, mostly close to centers of consumption in the Northeast US.
These two assumptions yield four sources of new solar capacity, each accounting for 25% of total capacity:
Utility-scale capacity in the Sun Belt with an average capacity factor of 27.5% (Table 2)

Utility-scale capacity outside the Sun Belt with an average capacity factor of 18.4% (Table 2)

Residential-business scale capacity in the Sun Belt with an average capacity factor of 17.5% (estimated from a segregation of the Figure 4 RA data)

Residential-business scale capacity outside the Sun Belt with an average capacity factor of 15.1% (from the same segregation)
These four sources have an overall capacity factor of (27.5+18.4+17.5+15.1)/4 = 19.6%. Twenty percent would therefore be a good round number for planning purposes, always assuming that US solar subsidies are maintained at the levels necessary to support further PV expansion.