The UK currently has four interconnectors totaling 4 GW of capacity:
 2 GW with France (the IFA link)
 1 GW with the Netherlands (the BritNed link)
 500 MW with Northern Ireland (the Moyle link)
 500 MW with the Republic of Ireland (the East-West link).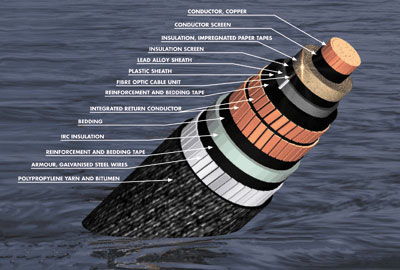 Section through a submarine cable (credit Subsea Cables UK)
Overall these interconnectors have contributed significantly to UK electricity supply over the last few years. In the third quarter of 2013 they in fact delivered almost as much electricity to the grid as wind and solar (6,031GWh vs. 6,680GWh).
The UK's energy plan assumes that more interconnectors will contribute to future energy security by allowing power surpluses on the Continent to be delivered to UK when power is in short supply. And the more interconnectors the better, hence additional interconnectors with France and Ireland plus new interconnectors linking the UK with Belgium, Denmark, Norway and Iceland are now in various stages of planning or construction. If all of them are completed on schedule the UK will have somewhere around 12GW of interconnector capacity – three times the current amount – by 2020.
But will these interconnectors increase UK energy security? Here we will look at what the four existing interconnectors have done so far.

Figure 1 shows the growth of net UK electricity imports since June 2011 (data from Gridwatch). The data are plotted as weekly averages to make them more readable and the month scale is approximate:
Figure 1: Net UK interconnector flows (weekly averages) since June 2011

According to the trend line the UK's electricity imports have increased by almost a factor of four since June 2011, although there have been periods during which the UK became a net exporter. We will get to them shortly, but first we will look at imports and exports by country. Here's France:
Figure 2: Net UK interconnector flows (weekly averages) with France

Imports from France are erratic and in February 2012 turned strongly negative (i.e. the UK was exporting power to France). Overall, however, they are dominantly positive, and during 2014 they have often been running at or close to the full 2GW capacity of the IFA interconnector. (The fluctuations are presumably a result of the "congestion revenues" pricing mechanism which according to Ofgem makes flows "dependent on the existence of price differentials between markets at either end of the interconnector". We can therefore assume that electricity flows dominantly to UK from France because French electricity is usually cheaper than UK electricity, all other things being equal.)
Figure 3 shows the Netherlands' contribution. Imports from the Netherlands are more stable than those from France but also turned negative on two occasions in 2011. The BritNed interconnector has also been running at or close to its full 1GW capacity for most of the time since the beginning of 2014.
Figure 3: Net UK interconnector flows (weekly averages) with the Netherlands
Figure 4 shows the sum of the two Irish interconnectors – Moyle to Northern Ireland and East-West to the Republic of Ireland (Ireland and Northern Ireland are linked by the Irish grid). The UK consistently exports electricity to Ireland, although the two interconnectors commonly operate at less than their combined 1GW capacity:
Figure 4: Net UK interconnector flows (weekly averages) with Ireland
We will shortly examine three of the periods since June 2011 when the UK became a net exporter of electricity, but to provide a point of reference we will look first at what happens when the grids are unstressed. Figure 5 plots interconnector flows against UK electricity demand for July 2014. Imports from France and the Netherlands are at full interconnector capacity except for sporadic decreases during minimum UK demand periods. Flows to Ireland are dominantly in the opposite sense, with exports from UK reaching their maximum during peak UK demand (which presumably coincides within an hour or so with peak demand in Ireland) and only minor imports to UK during off-peak periods. Interconnectors made a net positive contribution to UK energy supply in July 2014, but energy supply in low-demand summer months is of course not usually a concern.
Figure 5: UK Demand and interconnector flows, July 2014
Now to the periods when the UK exported electricity. First November/December 2011 (there were no flows to and from Ireland over this period):
Figure 6: UK Demand and interconnector flows, November/December 2011
Electricity flows over the period were inversely correlated with UK demand, with power imported from France and the Netherlands during lower-demand weekends but exported to France and the Netherlands on higher-demand weekdays. Weekend imports were effectively random relative to demand but weekday exports were highest (up to 3,000MW) during peak UK demand hours. Clearly the interconnectors were compromising UK energy supply, not reinforcing it, during this three-week period.
I've not been able to discover exactly what triggered the exports of electricity from UK to France and the Netherlands in November 2011 (weather does not seem to have contributed) but the underlying cause was Germany's post-Fukushima nuclear plant shutdown, which cut French power imports from Germany to the point where France had to import power from elsewhere. Computescotland predicted it:
With the recent German nuclear closure, losing it approximately 8GW may have a knock-on effect to the UK electricity market, impacting imports and exports and possibly at peak demand, as Germany, once a net electricity exporter becomes a net importer.
Second, January/February 2012:
Figure 7: UK Demand and interconnector flows, January/February 2012

This period coincides with a cold spell that stressed electricity supply all over Europe and led to a reversal of flow along the IFA interconnector with France that lasted with a few brief interruptions for over three weeks. Flow was also reversed along the BritNed interconnector during periods of weekday peak demand, mirroring what happened in November/December 2011. When Ireland is included the UK was often exporting over 3GW during peak winter demand periods. Clearly the interconnectors were compromising UK energy supply during this period too.
And the culprit? According to Reuters, Germany again:
France will for the first time import more electricity from Britain than from its long-standing partner Germany at peak time on Monday as the Germans are forced to retain spare generation during icy weather, the French energy minister said on Monday. "For the first time, the United Kingdom and not Germany is the main country which provides us with electricity imports," Energy Minister Eric Besson told reporters at the French electricity network control centre. Germany shut down eight of its oldest nuclear reactors last year in the aftermath of Japan's nuclear crisis and the current cold weather is putting Germany's tighter supply balance to the test for the first time since then.
Third, November/December 2013
Figure 8: UK Demand and interconnector flows, November/December 2013
Interconnector flows over this period mirror the January/February 2012 flows but at generally lower amplitude and for a shorter time. Again I am unable to discover exactly what the trigger was but the similarity to 2012 suggests that real or perceived shortages in Germany were once more the underlying cause, although the extreme storminess over this period may also have contributed. (December 2013, coincidentally, was the month DECC published a report entitled "More interconnection: improving energy security and lowering bills", in which it admitted in the fine print that "The evidence also indicates that interconnection projects can have very different and uncertain impacts, some negative, depending on: the markets involved; the connection point into the transmission system; timing; and how European energy systems evolve.")
What do the above results tell us? Basically that the UK's interconnectors can be relied on to deliver electricity in the summer and during low-demand periods in the winter when the UK doesn't need it but not during winter peak demand periods when it does – in fact they usually take it away instead. A double-edged sword indeed.
AFTERTHOUGHT: Fawley to the rescue.
One would like to think that the "congestion revenues" mechanism that governs interconnector flows is self-regulating to the extent that it doesn't require the UK to keep exporting electricity when the reserve margin falls to critically low levels. But unless the rules have changed in the last couple of years it seems that it does. According to an article in the Express the National Grid came within an ace of having to black out a million homes on January 16, 2013:
Alistair Buchanan, the outgoing head of energy regulator Ofgem said: "On Wednesday, January 16 (2013), due to unplanned outages and cold weather, National Grid had to find power to supply roughly a million homes to keep the lights on. Fawley, an oil-fired plant in Hampshire, was one of the power stations that responded. Next year Fawley will not be there."
The near-blackout, however, was only partly due to unplanned outages and cold weather. Exports made a major contribution. Figure 9 tells the story:
Figure 9: UK electricity demand and net imports/exports, January 16, 2013
Output from Fawley peaked at 970 MW at around 1600 hours. At this time 228 MW was being imported from France, 256MW was being exported to the Netherlands and 500 MW was being exported to Ireland. One could be excused for thinking that the UK's interconnectors are there to keep the lights on in Ireland.